Small Dopp kit wash bags that pack a big punch-our premium men's leather toiletry bags are excellent companions for travel and everyday trips to the gym alike. Quality and convenience for the modern-day gentleman.
[show more]
While offering generous storage for your toiletries and shaving accessories, these bags nicely fit into our range of travel bags. Inside you'll find spacious compartments and handy pockets-all with wipeable cotton and polyester canvas lining. The exterior of these wash bags is made from the highest quality Italian full-grain leather and sturdy zippers ensuring genuine durability so that you can use them with effortless ease both on your travels or on daily trips to the gym. An undeniably stylish and must-have accessory for any man.
Superior
Leather Wash Bag
$295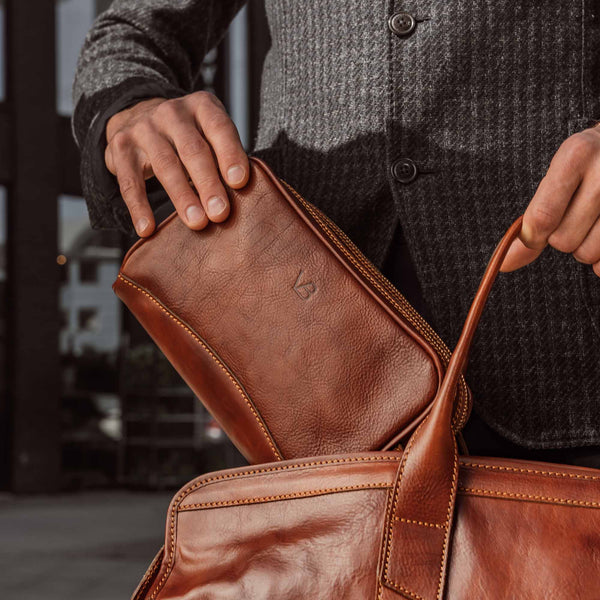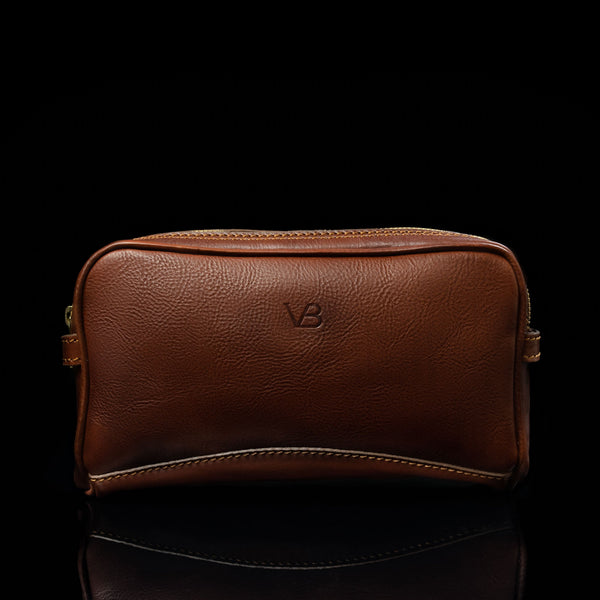 Solid Brown
Classic Tan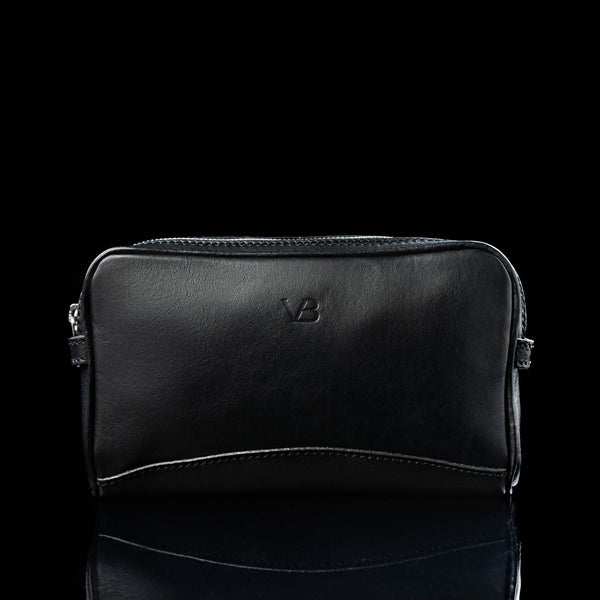 Elegant Black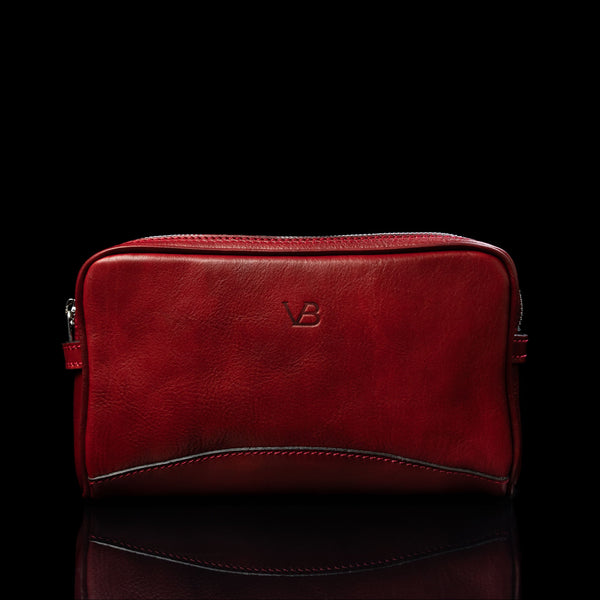 Deep Red
Majestic
Leather Valet Tray
$115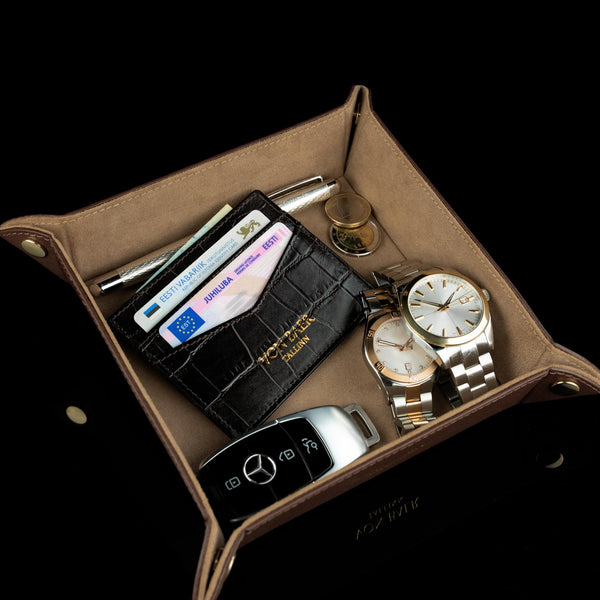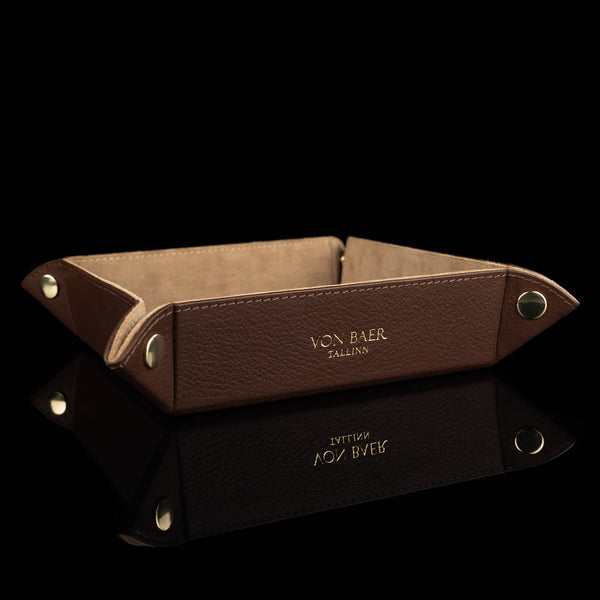 Solid Brown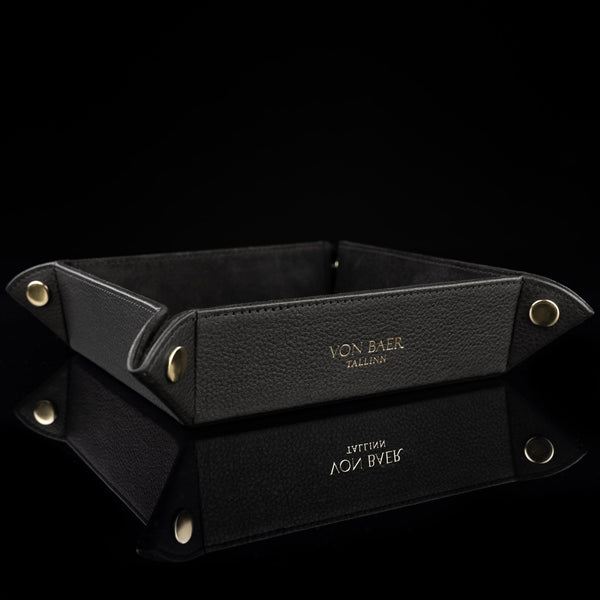 Elegant Black
Classic Tan
Show more
Leather Dopp Kit for Men
A dopp kit is designed to hold all of your toiletries in one place, ideal for travel, overnight stays, or trips to the gym. Our high quality toiletry kits use multiple zippered pockets, allowing you to store items separately, which is particularly useful if you think something is going to leak, or you want to keep certain items isolated. If you plan on taking them in your carry-on bag, make sure you also have a TSA-approved clear plastic bag to get your toiletries through airport security.
Travel Wash Bags
Our men's travel toiletry bags are designed for travel, with plenty of compartments to help you store all of your essentials, from your toothbrush and toothpaste, to your shaving kit, shaving cream, shampoo, and an electric razor. They can be used as a shaving bag, or a makeup bag too. A travel dopp kit has to contain everything you need when you're away from home, but it also needs to be travel-size, so it doesn't take up too much room in your travel bag or backpack.
Water-Resistant Lining
Toiletries can leak, which can cause havoc in your travel bag, such as staining your only shirt or pants. To mitigate against this, we use a waterproof lining in all our toiletry bags, so if one of your items leaks, you'll know the rest of your bag is well protected.
Full Grain Leather
We only use the highest quality full grain leather in our bags. This is to ensure it is the most durable type possible, and ensure that it ages with proper leather patina. It also smells better.
Monogrammed Toiletry Bags
Want to take your wash bag to the next level? Have it personalized! We offer a full monogramming service with our range, allowing you to customize it with a message or image.
Show less