Stylish leather backpacks that are perfect for carrying your laptop to college or work.

Made from real Italian full grain leather, and handcrafted for that premium finish you expect from Von Baer.
You can also personalise your laptop backpack for a special unique touch.
10X
Leather Laptop Travel Bag
$1,295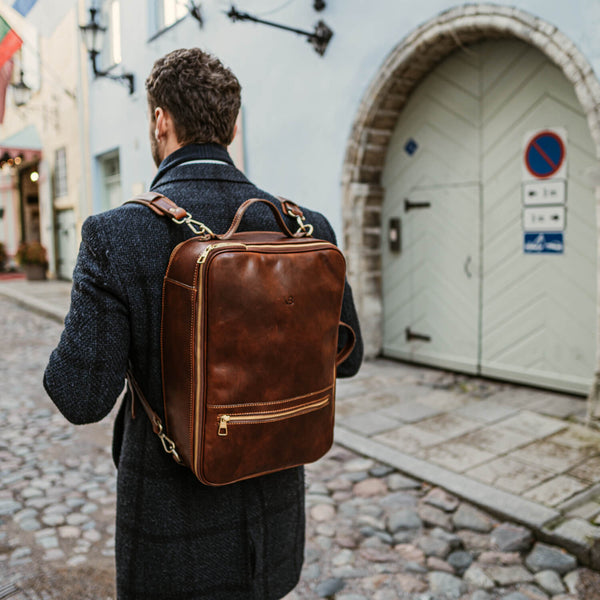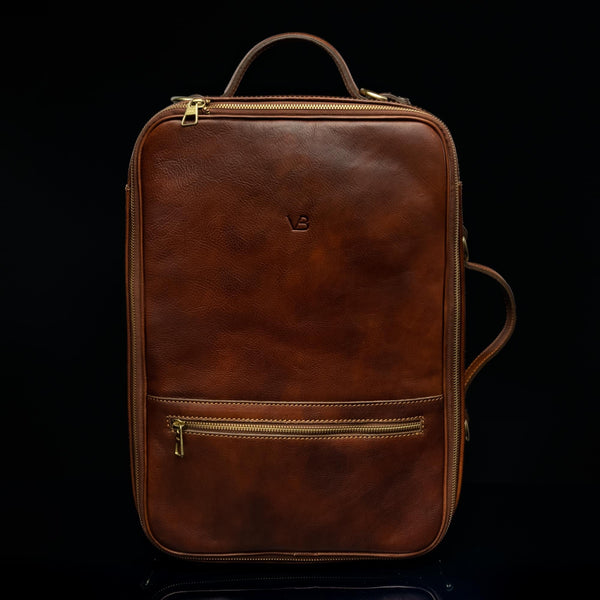 Solid Brown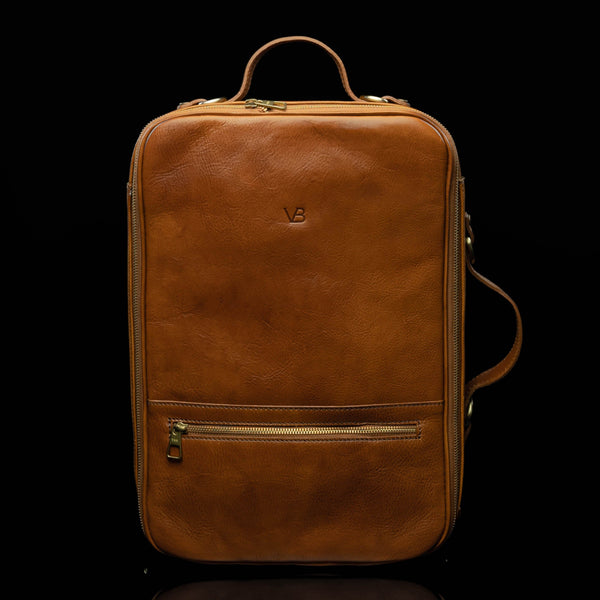 Classic Tan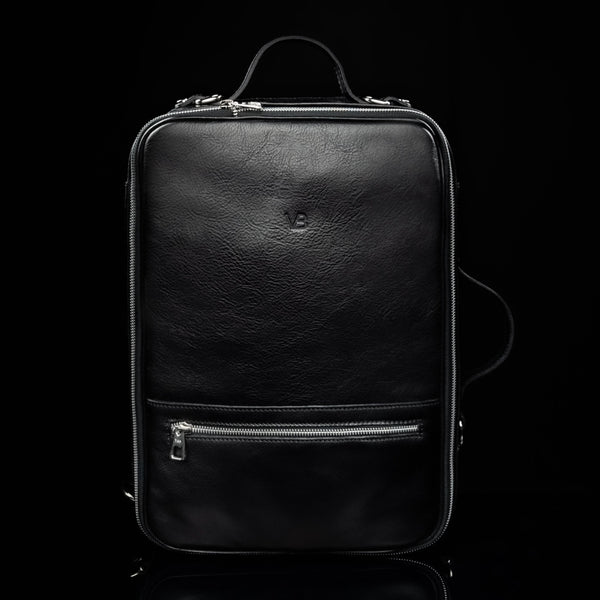 Elegant Black
Prime
Men's Leather Backpack
$795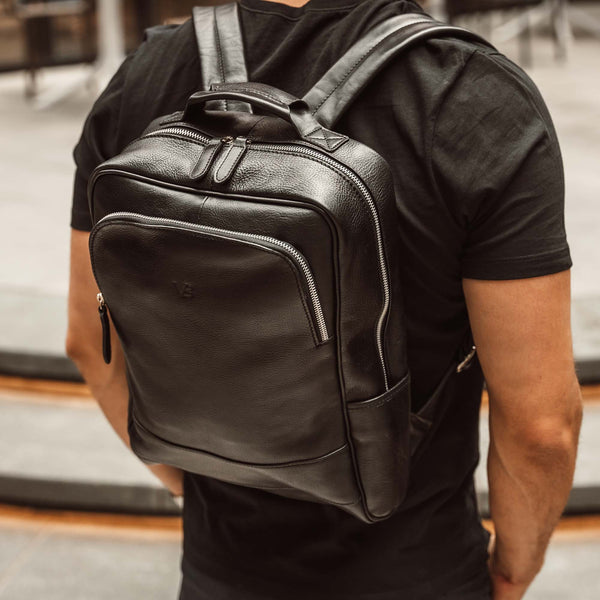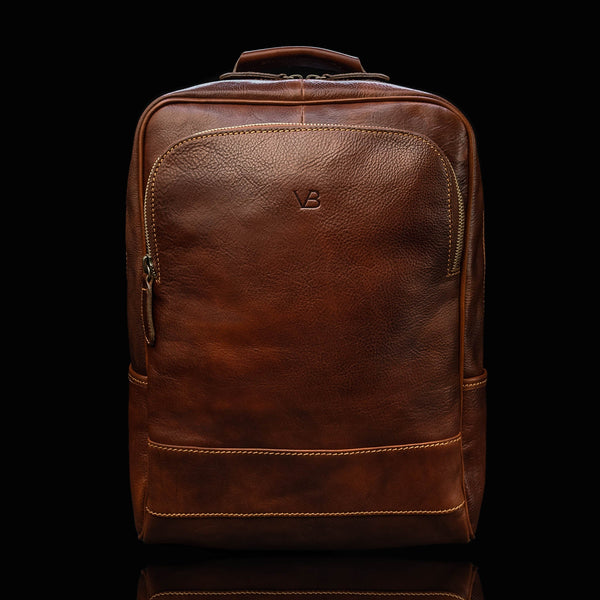 Solid Brown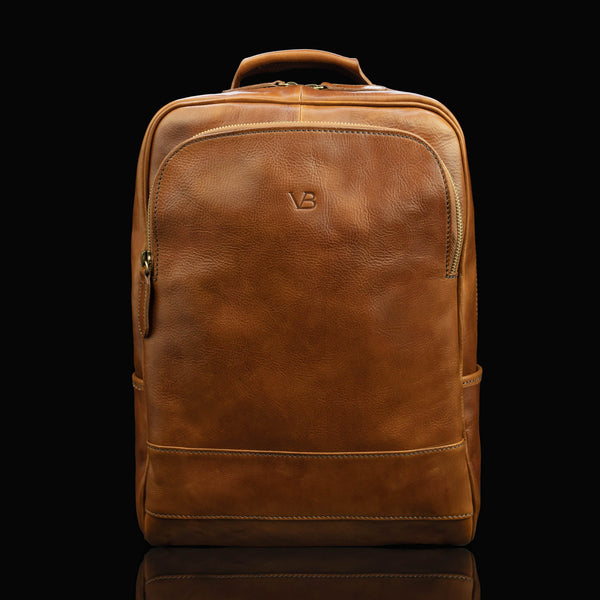 Classic Tan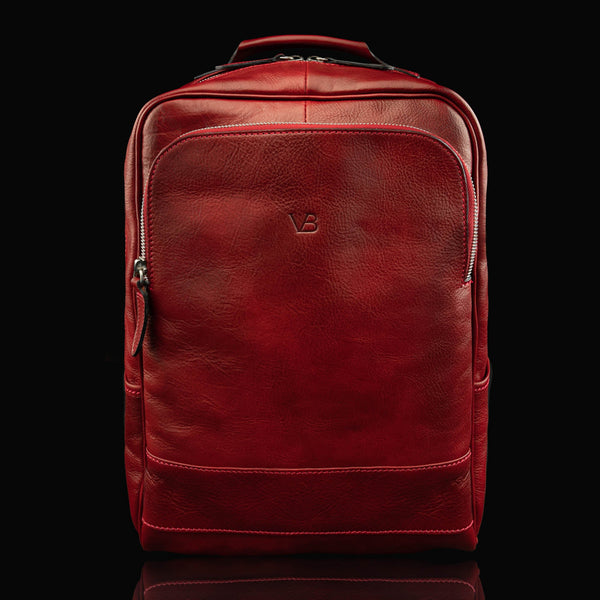 Deep Red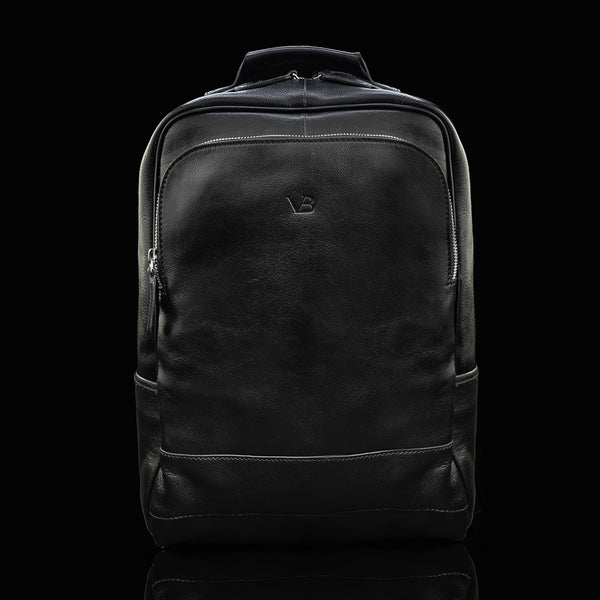 Elegant Black
No.3
Leather Messenger Briefcase
$895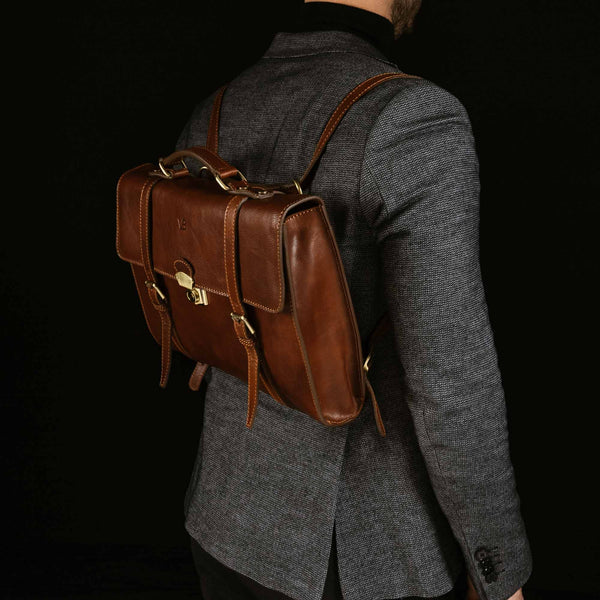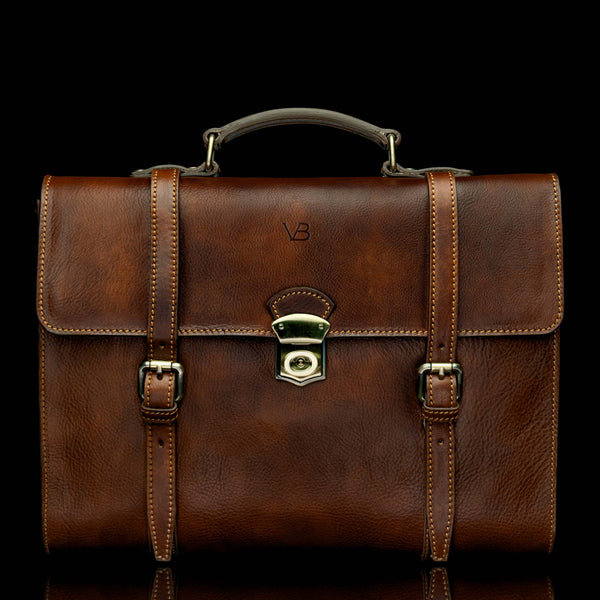 Solid Brown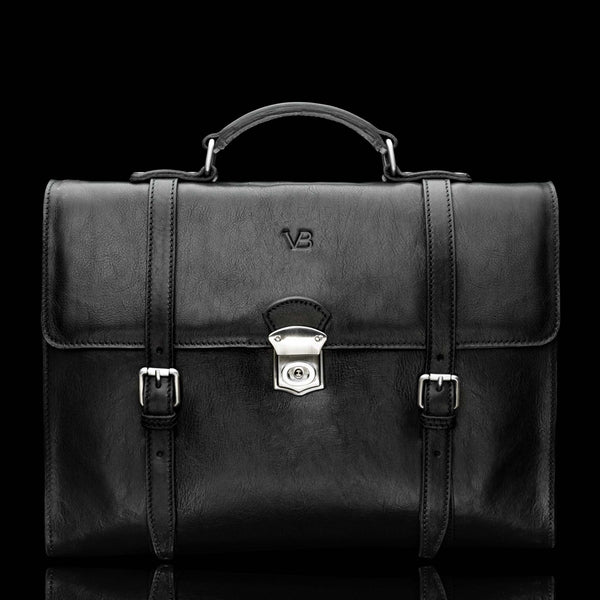 Elegant Black
Classic Tan
Liberty
Men's Leather Backpack
$795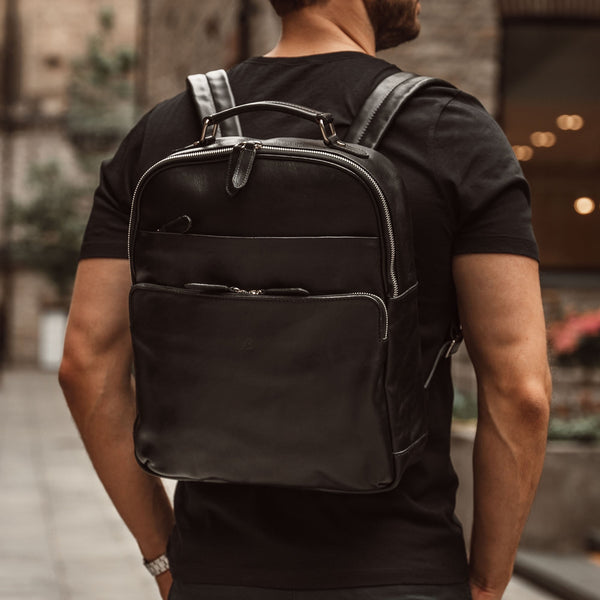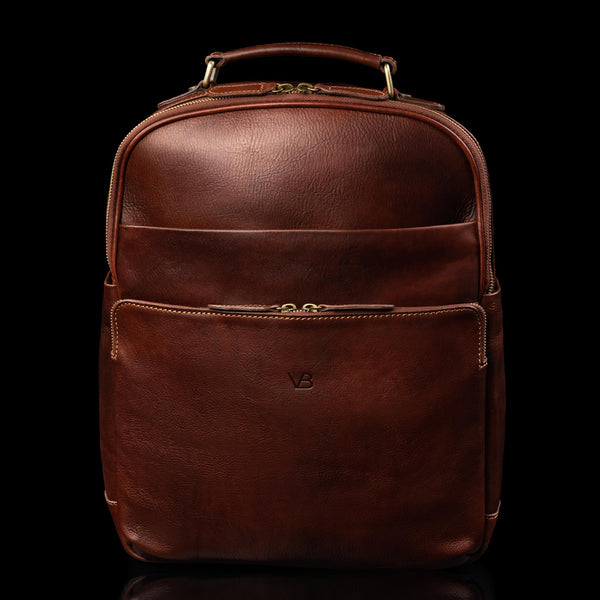 Solid Brown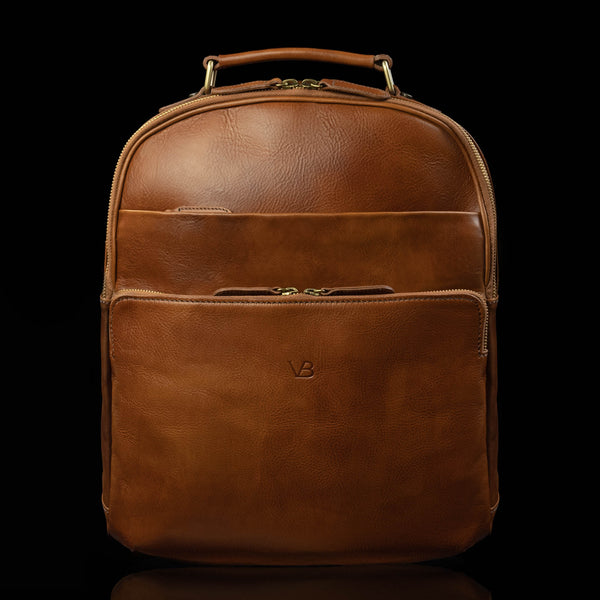 Classic Tan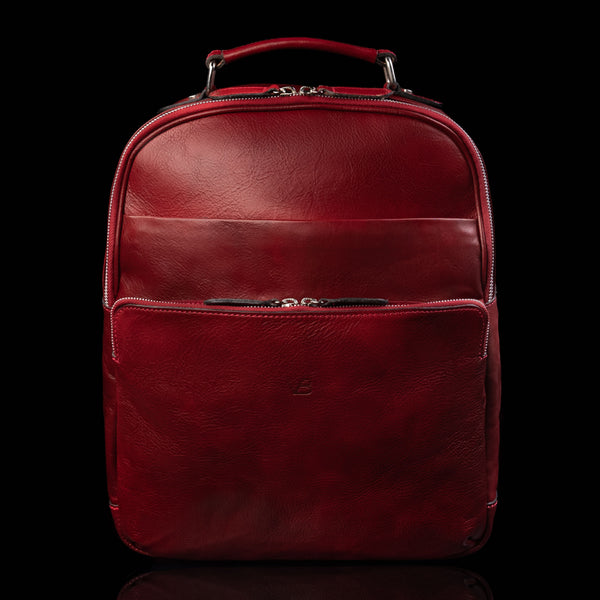 Deep Red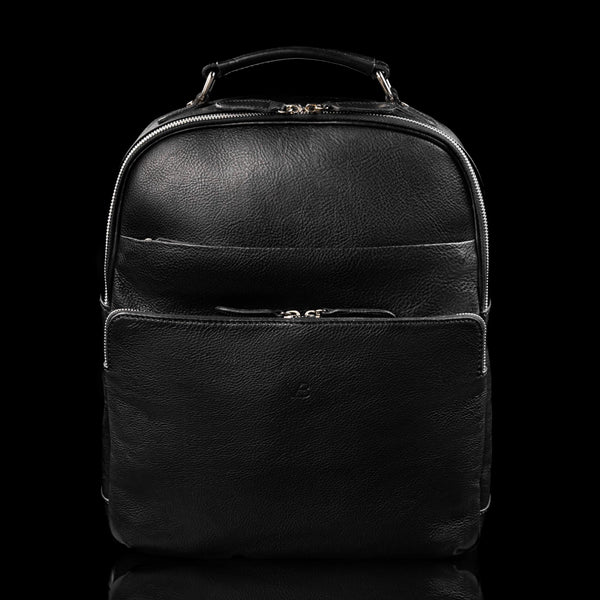 Elegant Black
What makes a Von Baer leather laptop backpack so special?
Handmade leather laptop backpacks
Von Baer laptop backpacks are expertly handcrafted by vastly experienced craftsmen in family-owned studios in Florence, Italy. This ensures every backpack meets the demands of your contemporary life without compromising on quality.

Highest quality full grain leather
We only use the finest full grain leather for our Italian leather laptop backpacks, which is the best that money can buy. You can tell when it's high-quality genuine leather, by the look and feel of the product, as well as how long it lasts. The Von Baer leather is vegetable tanned, handmade in small batches by artisan craftsmen in Florence, Italy.
Durable construction
Zips and metal on backpacks are common stress points, which is why the hardware Von Baer use is high-quality metals with YKK zippers, to ensure very durable moving parts. The bag lining is made from premium durable cotton, ensuring a soft yet strong inner to your backpack, able to handle the day-to-day of a busy commute.
Colors without compromise
Von Baer laptop backpacks come in 4 stylish leather colors, including black, brown, dark brown, or tan. These are all made from natural full grain leather, which ages nicely with leather patina. We also use solid brass hardware on all of our laptop backpacks.
Dedicated laptop compartment
Several Von Baer laptop backpacks come with a dedicated compartment for your laptop or tablet. Our range includes 13-inch, and 15-inch compartments, so choose one that fits the tech you own.
Personalized with a laser engraving
Instead of monogramming, we use a high-quality laser engraving to personalize your laptop backpack, ideal for your own bag or when buying as a gift.
These make fantastic briefcase bookbags, perfect for anyone going to school or college.
Full Grain Leather Backpacks with Laptop Compartments
At Von Baer, all of our backpacks are made from full grain leather, which is the highest quality leather you can make. They're handmade in Florence in Italy by master craftsmen with years of experience in the leather trade.
Our backpacks can handle up to a 15-inch laptop or 16-inch Macbook, and are appropriate for both men and women.

See all personalized backpacks.
Leather Colours
Our backpacks are available in Black, Brown, Tan, or Red Leather
Benefits
They can offer a host of benefits to your day-to-day routine. Let's take a look at some of these now.
Versatility
These multi-functional backpacks are renowned for their versatility and are great for weekend trips and office activities. They make it easy for you to transport your laptop, books, personal belongings, and travel items in one organized space.
Protection
Leather can provide outstanding protection for your gadgets. They can protect your tablet, laptop, and other sensitive electronic devices from potential damage.
Comfort
Many of these backpacks come complete with adjustable straps and an ergonomic design. They can distribute weight evenly to prevent strain from the shoulders and back, even after you've been carrying them for hours.
Durability
Leather is famed for its durability and strength. Many of these bags are designed to stand the test of time, and the best leather looks better as it ages.
Professional appearance
These bags often have a sleek and polished appearance and can add a layer of professionalism to your outfit, making it ideal for business meetings and your daily commute.
Maintenance
Leather is renowned for being relatively easy to maintain and clean so you can keep it looking fantastic.
Compatibility
These products are generally compatible with laptops from all the best brands and should also give you enough capacity for your other essentials.
Sustainability
Leather products are environmentally friendly when the material is ethically sourced. If you regard yourself as an eco-conscious individual and want to opt for something sustainable, this could be your best option.
How To Choose
Let's take a look at some of the factors you need to think about when you're looking for a suitable leather laptop backpack.
Material quality
Check the quality of the leather before you go ahead and make a purchase. Full-grain leather can be an ideal choice due to its durability and the way its aesthetic appeal improves over time. Top-grain and genuine leather may also work well for you if you are on a budget, although they aren't as durable.
Leather thickness
Leather thickness is also necessary. Also, thick leather can make your bag heavier, it can also make it more durable. If you transport heavy items regularly or use your backpack daily, thick leather could be the right solution.
Laptop size
Ensure the backpack can fit your laptop. If your backpack is too big for your laptop, you could risk putting your system at risk as it could move around too much and develop scratches. However, damage can also occur if you try to fit a large laptop into a smaller backpack.
Separate laptop compartment
If you have a section specifically designed for your laptop, it can deliver excellent protection and make it easier for you to access your device. Padded compartments are desirable as they can absorb shocks and reduce the risk of potential damage.
Comfort
Seek out a solution with padded straps and a sound carrying system, as this can minimize the strain on your back and shoulders. Certain higher-end models are ergonomically designed. These can be perfect for people with back problems and those who carry heavy loads regularly.
Storage space
Are you likely to be carrying items other than your laptop? If you have documents, books and accessories to carry, look for a backpack that has extra compartments. Alternatively, you may opt for a sleeker, more compact backpack if you prioritize minimalist design over storage space.
Design and aesthetics
Leather laptop bags are available in a host of styles. These include vintage, rugged, modern, and sleek. Your personal preferences may play a big role in determining which option is right for you. Many professionals prefer polished, streamlined designs, whilst students often look for more casual and rugged styles.
Backpack lining
High-quality fabric linings can give you more durability, whilst inferior linings can tear or fray way too easily. When this happens, your belongings could become vulnerable to damage.
Hardware quality
Seek out high-quality hardware, including buckles, zippers, and clasps. These can make your backpack last for longer before you need to replace it.
Durability
Make sure both the leather and the construction itself are highly durable. Tough stitching and hardware, including buckles and zippers, can extend your backpack's lifespan considerably. If you are using your backpack regularly, choose the most robustly constructed product you can afford.
Leather conditioning
Backpacks need occasional conditioning to ensure the leather stays supple and the lifespan is increased. By using a leather conditioner every so often, you can prevent drying out and cracking.
Weather resistance
Some leather bags come complete with waterproof and weather-resistant coatings. These can be highly beneficial when you have vulnerable equipment to protect or if you reside in a rainy climate. Remember that these features can change the appearance of your backpack and how it feels.
Maintenance
Leather needs specific treatments if its appearance and durability are to be retained. Some products need regular conditioning, while others require special cleaning products. Ensure you're happy to carry out the maintenance required before purchasing.
Price
There are many price variations when it comes to leather laptop backpacks. Even if you're on a tight budget, you may be able to find something suitable if you're willing to compromise on material quality, craftsmanship, or the manufacturer.
Warranty and brand reputation
Ensure you're buying from a reputable brand and a warranty is available. A good warranty will give you the peace of mind you require. It will ensure you're able to have the bag repaired or replaced if anything goes wrong.
What types of laptop backpack are available?
What types of laptop backpack are available?
Traditional laptop backpack
These laptops usually come with a large, cushioned central compartment that can hold your laptop.
You can also expect to gain access to smaller compartments that will allow you to store essential items.
These backpacks tend to offer a unisex and minimalistic design that's suitable for travel, casual environments and business.
These bags are very popular with corporate professionals who spend a lot of time commuting. The bags offer a great deal of durability and comfort whilst offering a highly professional appearance. Some of these bags also come complete with secret pockets designed for storing valuables.
Convertible laptop backpack
These backpacks are renowned for their durability. They can be carried in various ways.
You can wear a convertible laptop backpack like a traditional backpack or like a briefcase by using the side handle. Convertible laptop backpacks can easily be adapted for casual and professional settings.
Perhaps you're a freelancer who not only works in an office but in a coffee shop too? If so, this could be a great match for your needs. These bags were inspired by the convertible travel bags that became popular in the late 20th century.
Roll-top laptop backpack
These bags come with a rolling mechanism at the top and offer adjustable storage space. They are noted for their unique style.
The flexible storage space gives you extra capacity when you need it and ensures the compact design isn't compromised.
If you spend a lot of time working outdoors, this could be a great match for you. These bags are particularly popular with photographers who need the flexible storage for camera and camping equipment as well as a laptop.
The roll-top design first became popular amongst sailors due to its water-resistance credentials.
Slimline laptop backpack
These backpacks are designed with lightweight travel in mind. Although they have a slim design, they come with a number of compartments to make organization easier.
They are renowned for their sleek and distinctive profile and are particularly popular amongst students thanks to the way they can hold textbooks and a laptop without looking bulky.
The bag's design gives you ample storage space by utilizing vertical storage compartments.
Expandable laptop backpack
Expandable laptop backpacks have a zip mechanism around the perimeter. This gives you additional storage space when unzipped. This bag is noted for its adaptability and gives you more space when you have more items to carry.
If you're a professional with a demanding job and need to carry a large number of documents alongside your laptop, this could be the right solution for you. Expandable suitcases inspired this bag design.
These backpack subtypes each offer unique characteristics and benefits. They can cater to various lifestyles and requirements. The classic leather construction gives you both timeless style and durability. The unique features are designed to meet a host of specific requirements.
Which alternatives to leather laptop backpacks are available?
Which alternatives to leather laptop backpacks are available?
Various alternatives are available if you need bags that will support you on a daily basis no matter what you need them for. Let's take a look at some of the most popular right now.
Professional work environment
Leather laptop bags are great for business environments as they allow you to maintain a professional image whilst providing your laptop with all the support it needs.
However, a briefcase or messenger bag could be also be ideal. These bags come with shoulder straps and offer ample comfort.
If you need something with a more formal look, you could opt for a briefcase. A briefcase could be particularly ideal if you drive to work and are mainly carrying documents and your laptop.
Travelling
A rolling suitcase or a travel-specific backpack could be ideal if you're a frequent traveller. These normally come with special compartments for travel essentials and can make it easier for you to transport heavy items.
Casual and everyday use
If you need an alternative to a leather laptop bag for casual or everyday use, you could opt for a traditional backpack or a canvas tote bag.
These options are less formal and are often durable enough to withstand daily wear and tear.
Education
A traditional book bag or school backpack could meet your needs if you need a solution for an educational environment. These bags tend to give you more space for your textbooks and can look more suitable in an educational environment.
What to consider after making your purchase
What to consider after making your purchase
There are many things you'll need to think about once you have proceeded with your purchase. Let's take a look at some of these right now.
Adjusting to weight
Even if your backpack is manufactured from the finest leather, it may be heavier than a typical fabric model. This is down to the way the materials are of a premium nature. To make the transition easier, you can begin by carrying lighter items.
You can start adding more during the process of becoming used to the weight. Although it may take a while to get used to the extra weight, benefits including durability can outweigh the cons.
Maintenance and cleaning
Although the idea of maintaining a leather product could seem daunting, the reality shouldn't be too difficult.
You can clean your backpack with a soft, dry cloth when you're removing dust and dirt. If you spot minor stains, you can treat them with a special leather cleaning.
Try not to expose your backpack to extreme heat or moisture as these can damage it.
Scratches and scuffs
Your backpack may become slightly scratched as you go about your daily activities. However, the ageing process can actually add more character to your bag.
You can buff out smaller scuffs with a soft cloth. If you find deeper scratches, you can treat these with a small amount of leather conditioner.
Space management
There are many quality bags on the market that maximize space without forcing you to compromise on style.
If you do want to manage your space effectively, add the heaviest items to the bottom of your bag. You can use the pockets to house smaller items. This will help you stay organized and maintain the shape of the backpack.
Ageing and color changes
Leather is renowned for the way it ages with grace. The leather your bag is made from may change color over time and start to look deeper and richer due to the patina process. This process ensures your bag tells a rich story.
Frequently asked questions
Frequently asked questions
Which laptop sizes can these bags accommodate?
Most backpacks are designed to fit laptops of specific sizes. Look at the product description to find out if a specific bag can accommodate yours.
How durable is the leather used to make backpacks?
Full-grain and top-grain leather are the most durable options available to you. You can save money by purchasing products made from what's branded as 'genuine leather', though this won't be as robust or long-lasting.
How can leather backpacks be cleaned and maintained?
Try to avoid exposing your backpack to excessive moisture. When it's time to clean your backpack, use a soft, dry cloth. You can also use specialized leather cleaners for deep cleaning. Make sure you comply with the manufacturer's instructions.
Is the backpack resistant to water?
Leather is noted for being naturally water-resistant but not waterproof. If you want to prolong the life of your leather backpack, you can use a leather protectant. This will make it more water-resistant. You should also avoid exposing your backpack to heavy downpours.
What types of leather can be used to make backpacks?
Full-grain, top-grain, bonded, and genuine leather are all used to manufacture backpacks. Each of these has its pros and cons.
How much weight can a leather backpack hold?
This depends on factors like the construction quality and materials used. Check out the product description if you want to know how much weight a specific backpack can withstand.
Does the backpack have extra compartments for items other than a laptop?
The vast majority of leather laptop backpacks come with multiple compartments. You should find that most laptops have sections you can place your charger, phone, pens, and notebooks in.
How comfortable are laptop backpack straps?
Many laptop backpacks come with padded straps as well as a cushioned back panel to deliver extra comfort during long periods of use.