Stylish leather travel bags with a dedicated laptop compartment.

Made from the highest quality full grain leather, handmade in Florence, Italy.
Ideal for professional business travel. Personalizable with a laser engraving.
Weekender
Men's Leather Weekend Bag
$1,095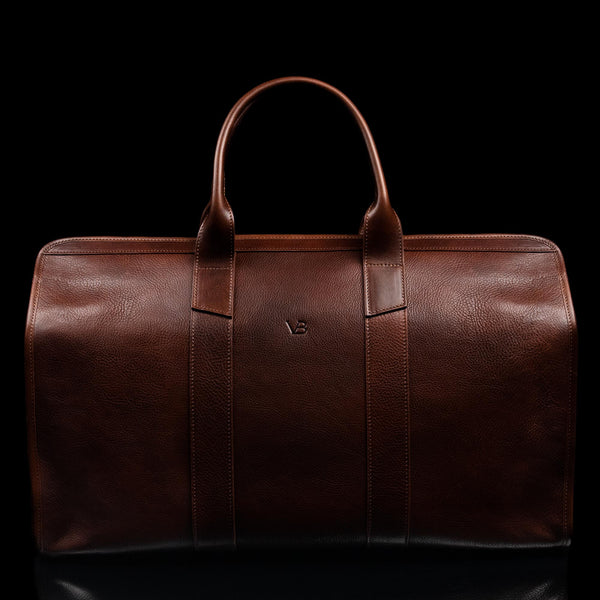 Solid Brown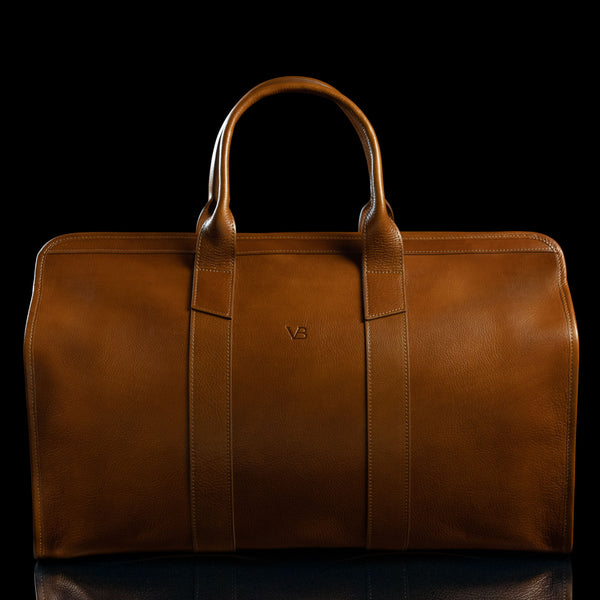 Classic Tan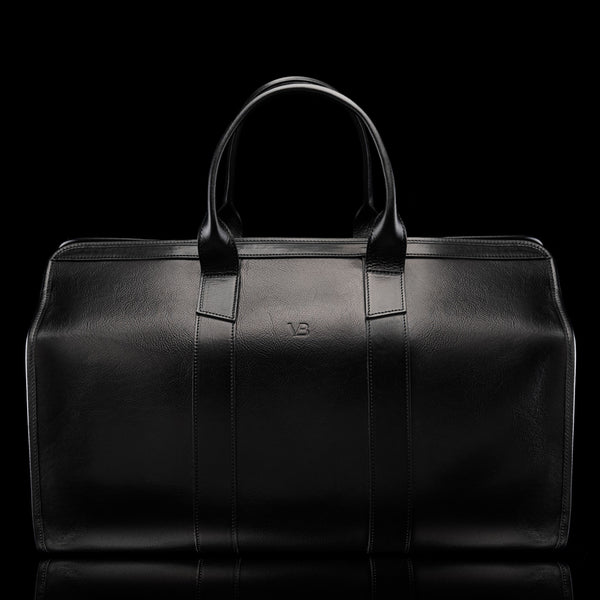 Elegant Black
Voyager
Leather Carry-on Bag with Wheels
$1,195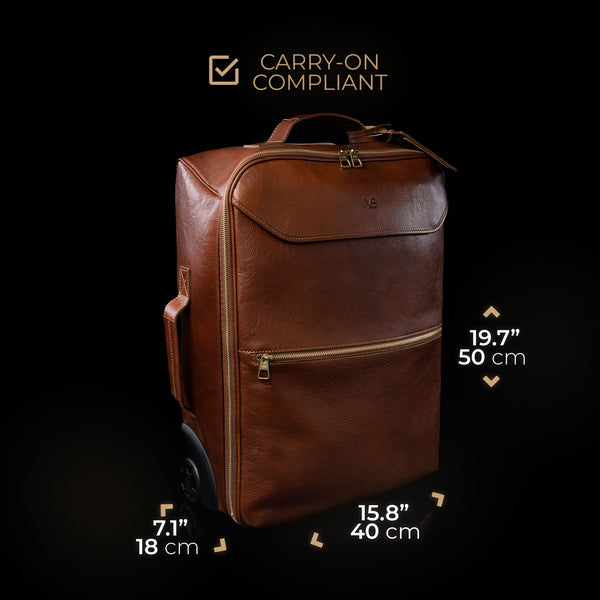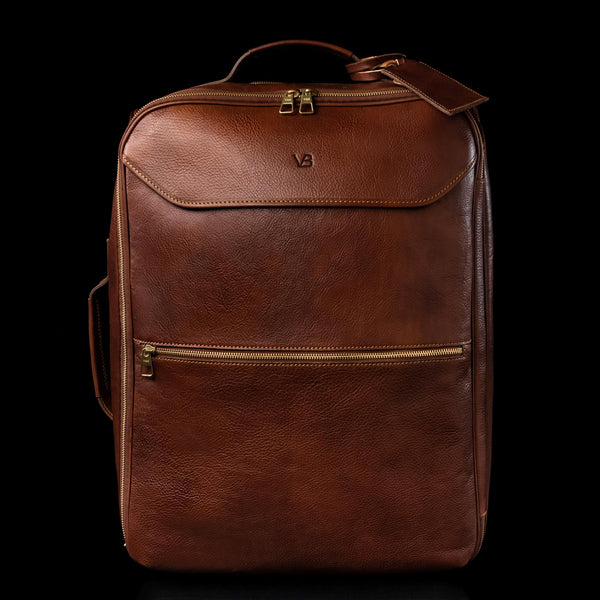 Solid Brown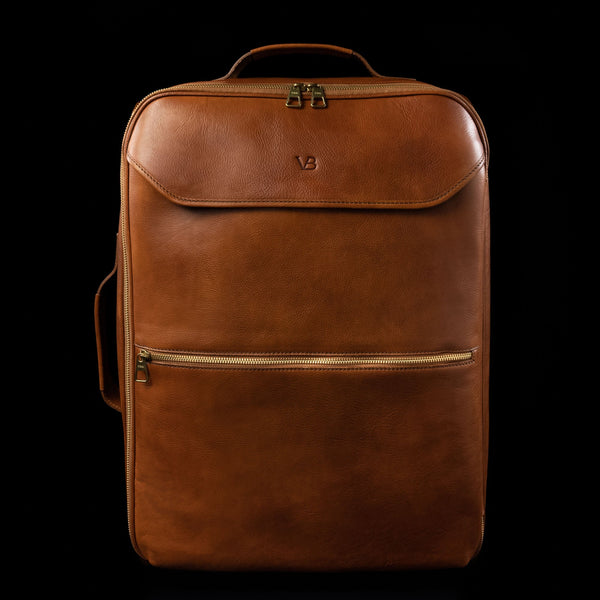 Classic Tan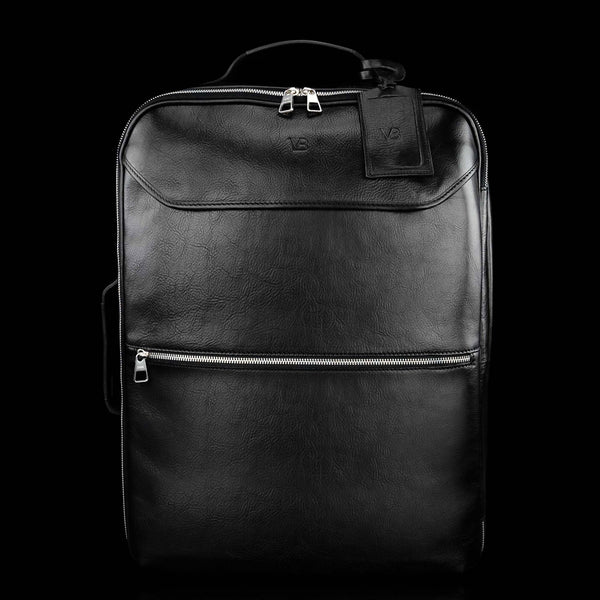 Elegant Black
City
Leather Laptop Bag
$995
Solid Brown
Elegant Black
Deep Red
10X
Leather Laptop Travel Bag
$1,295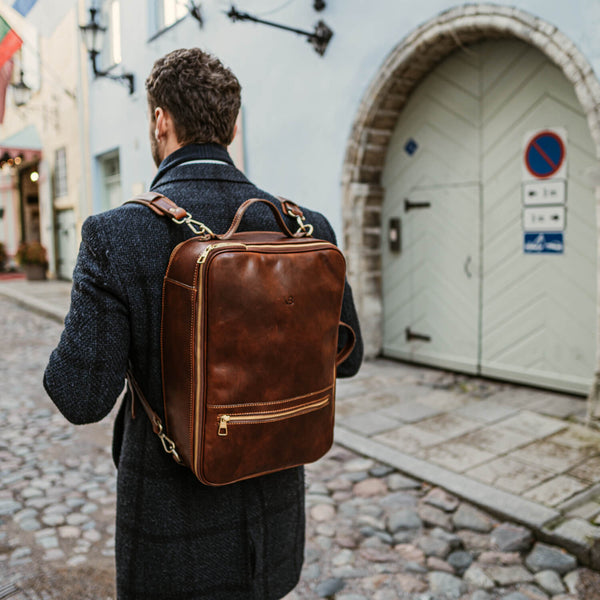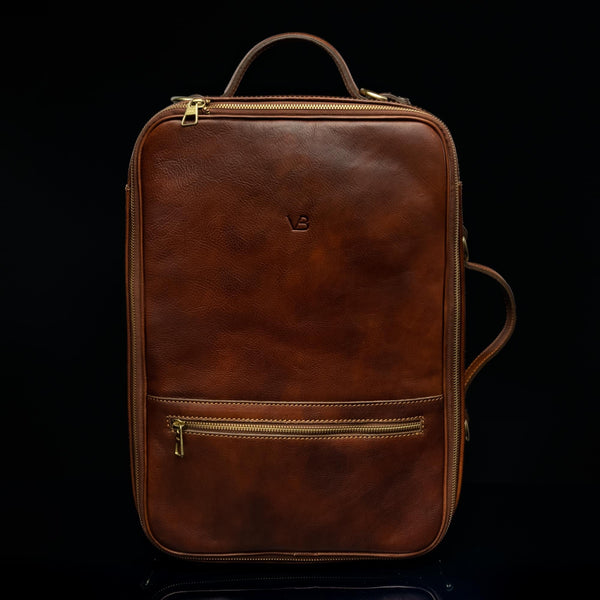 Solid Brown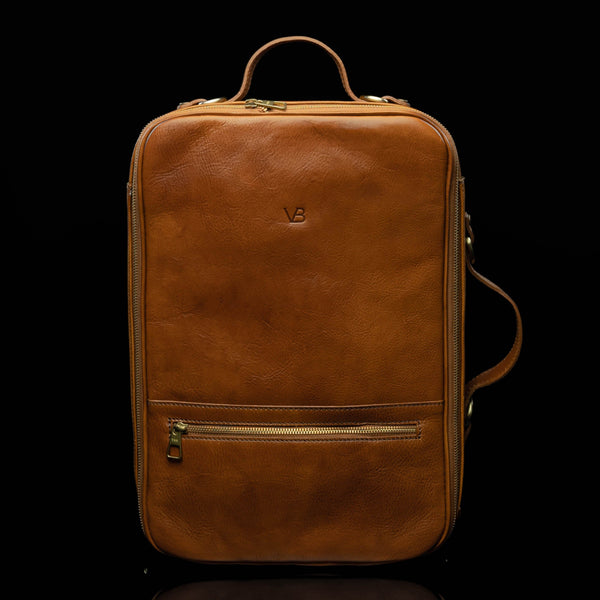 Classic Tan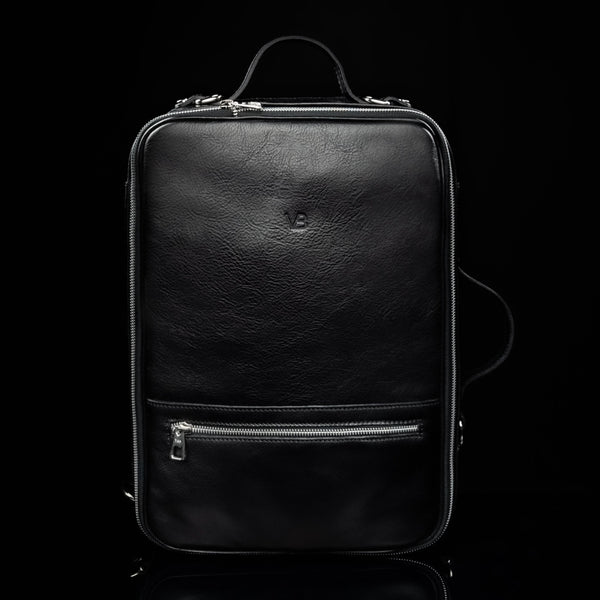 Elegant Black
City Large
Leather Laptop Bag
$1,395
Solid Brown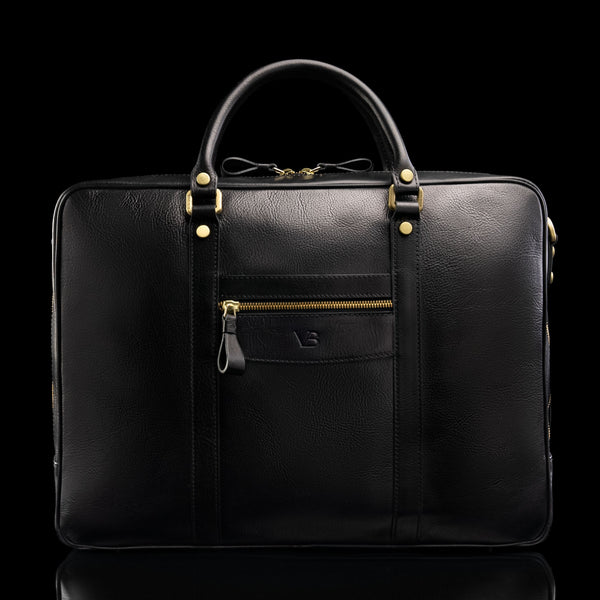 Elegant Black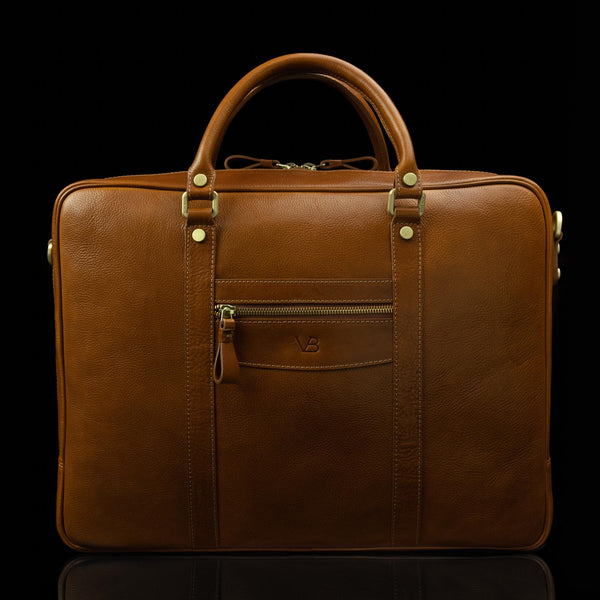 Classic Tan
Deep Red
Prime
Men's Leather Backpack
$795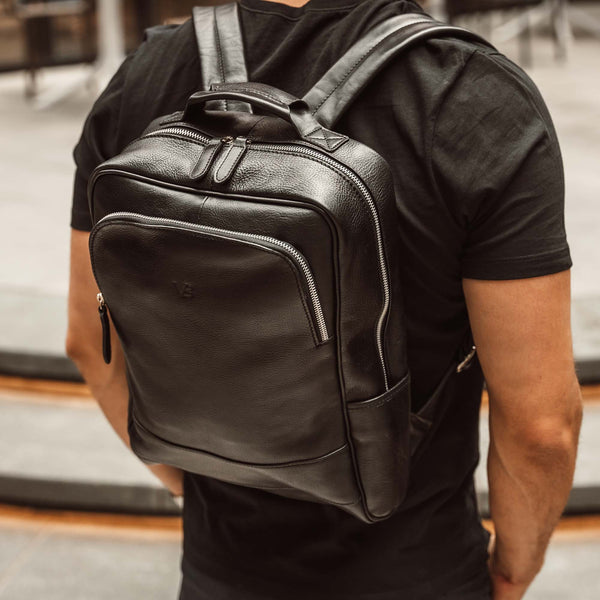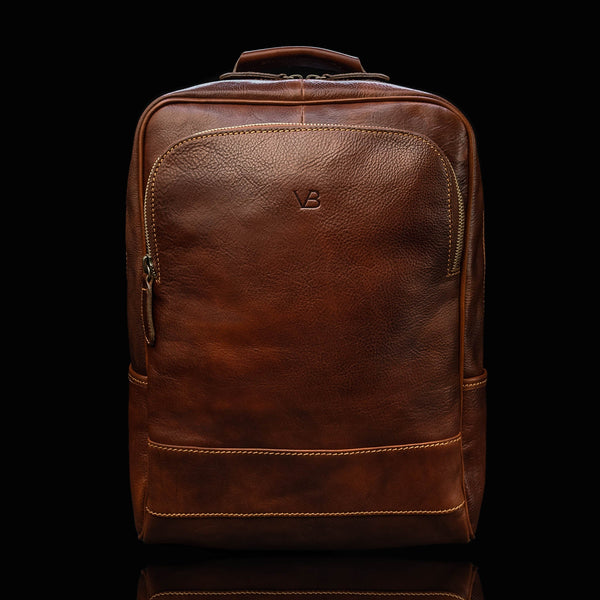 Solid Brown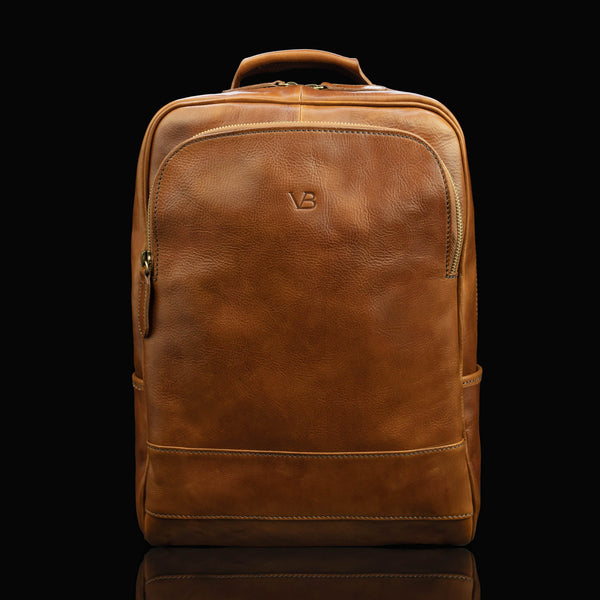 Classic Tan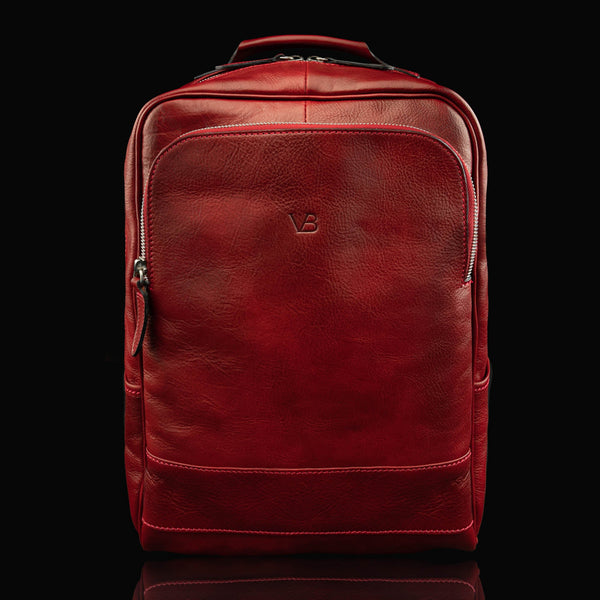 Deep Red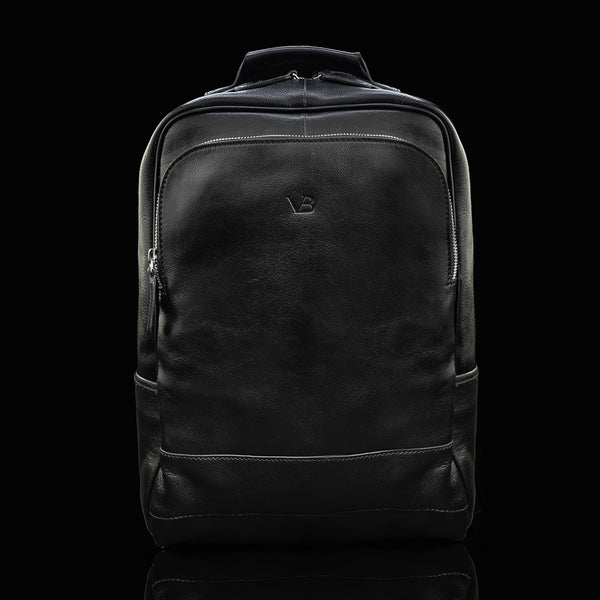 Elegant Black
Liberty
Men's Leather Backpack
$795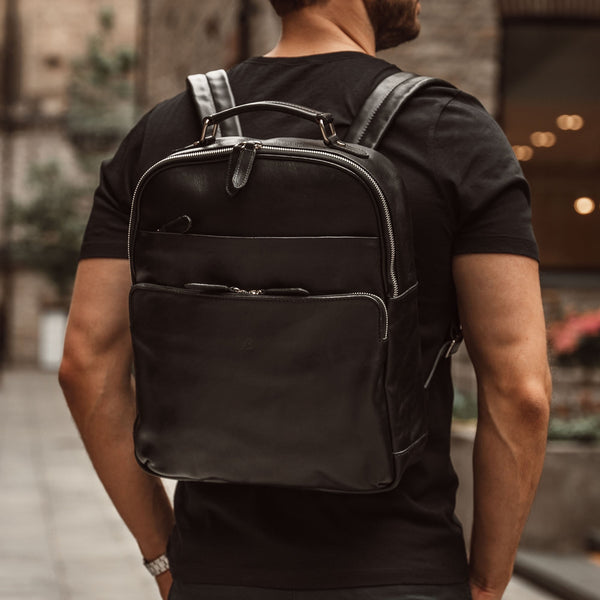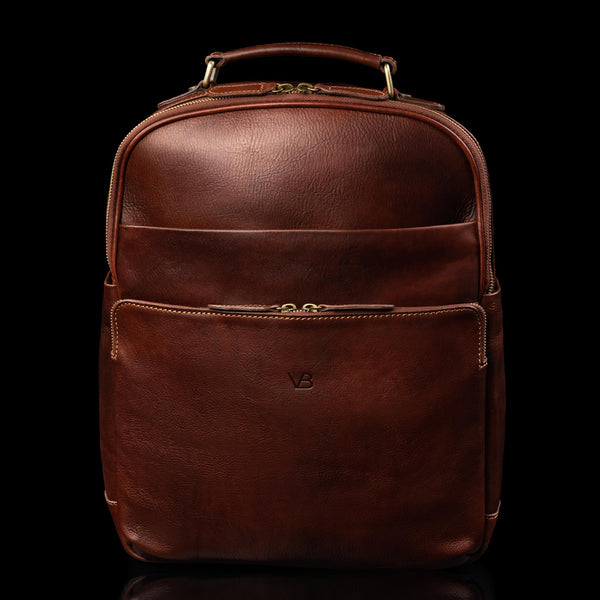 Solid Brown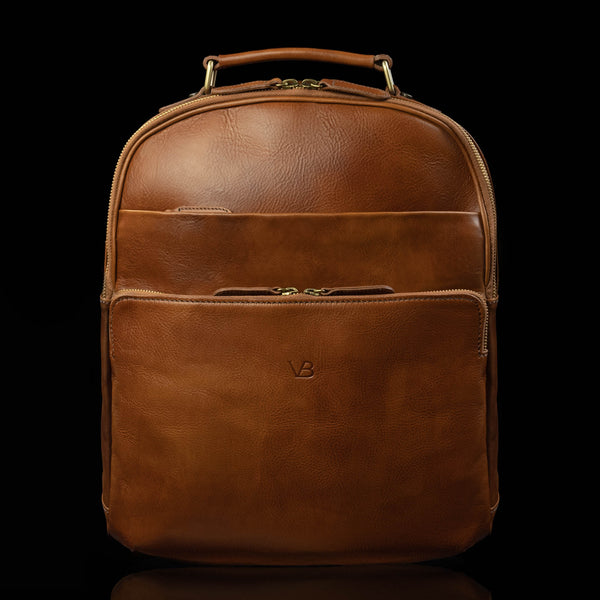 Classic Tan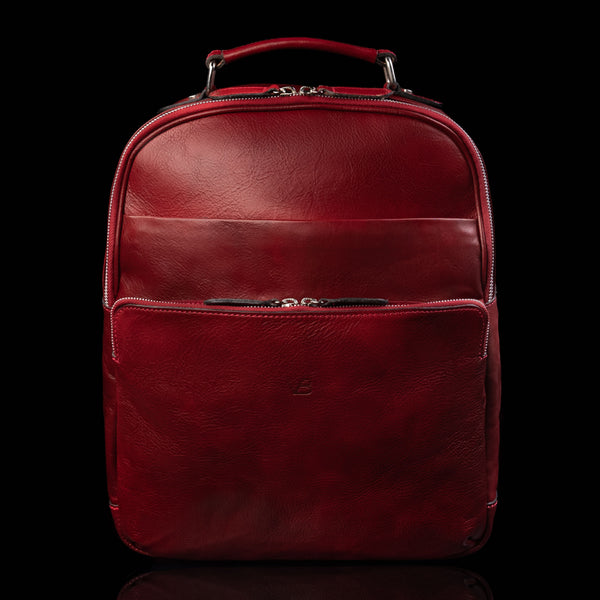 Deep Red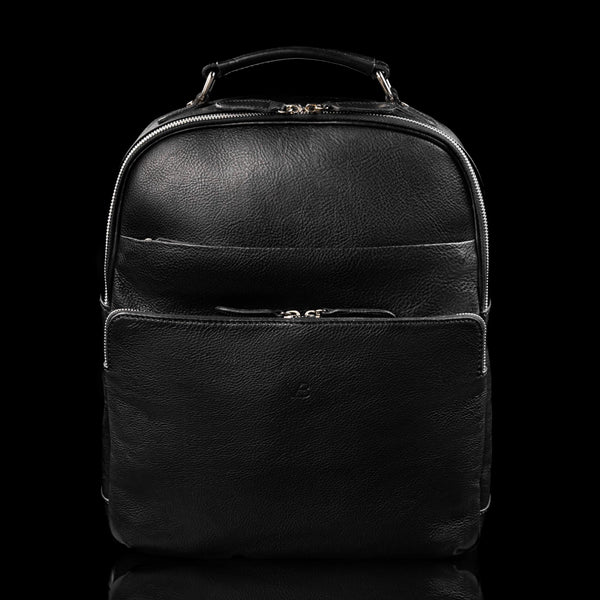 Elegant Black
Grand
Leather Garment Bag
$1,195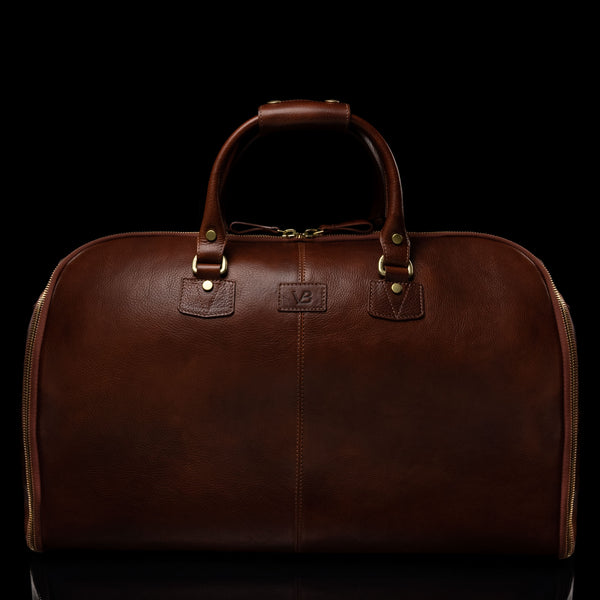 Solid Brown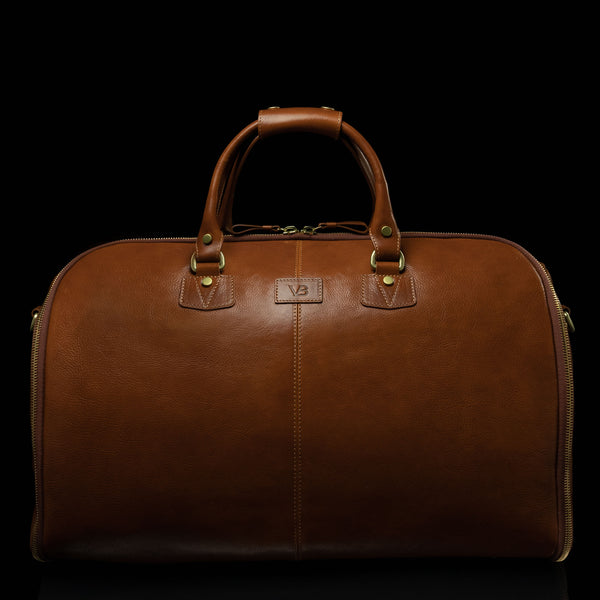 Classic Tan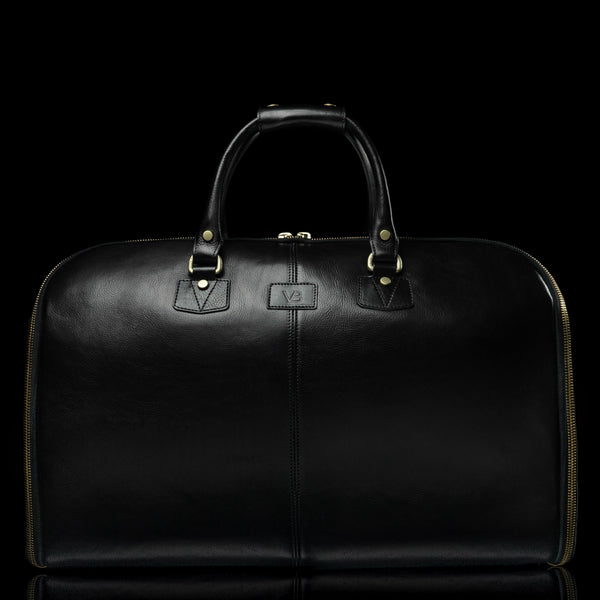 Elegant Black
What makes a Von Baer laptop travel bag so special?
Handmade leather laptop bags
Von Baer laptop travel bags are expertly handcrafted by vastly experienced craftsmen in family-owned studios in Florence, Italy. This ensures every laptop travel bag meets the demands of your contemporary life without compromising on quality.

Highest quality full grain leather
We only use the finest full grain leather for our Italian leather laptop travel bags, which is the best that money can buy. You can tell when it's high-quality genuine leather, by the look and feel of the product, as well as how long it lasts. The Von Baer leather is vegetable tanned, handmade in small batches by artisan craftsmen in Florence, Italy.
Durable construction
Zips and metal on laptop travel bags are common stress points, which is why the hardware Von Baer use is high-quality metals with YKK zippers, to ensure very durable moving parts. The bag lining is made from premium durable cotton, ensuring a soft yet strong inner to your bag, able to handle the day-to-day of a busy commute.
Colors without compromise
Von Baer laptop travel bags come in 4 stylish leather colors, including black, brown, dark brown, or tan. These are all made from natural full grain leather, which ages nicely with leather patina. We also use solid brass hardware on all of our laptop travel bags.
Dedicated laptop compartment
All Von Baer laptop travel bags come with a dedicated compartment for your laptop or tablet. Our range includes 13-inch, 15-inch, and 17-inch compartments, so choose one that fits the tech you own.
Shoulder straps included
All Von Baer leather laptop travel bags also come with a removable shoulder strap, helping you turn them into a shoulder/messenger style bag. They are ideal for the daily commute to and from the office while keeping your hands free. Our laptop travel bags also come with exterior handles, usually two top handles.
Personalized with a laser engraving
Instead of monogramming, we use a high-quality laser engraving to personalize your laptop travel bag, ideal for your own bag or when buying as a gift.
Benefits
If you're seeking a practical, durable bag that nonetheless exudes sophistication and professionalism, you need to look no further than the leather laptop travel bag.
Versatility in Everyday Life
You do more than work – you travel for pleasure too. A leather laptop travel bag transitions seamlessly from the office to the resort.
Whether it's spreadsheets or streaming, the tools for your daily tasks are conveniently at hand, in a bag that is as at home in the boardroom as it is hanging from a café chair on an Italian side street.
Convenience and Functionality
A laptop travel bag does more than carry your laptop. Designed with custom pockets for travel documents, phones, cables, notebooks, stationary, and even a few personal essentials, leather laptop bags keep everything you need ready whenever you need it.
The comfortable, durable shoulder straps and carry handles also ensure you have options for carrying the bag. Functional, convenient… and even comfortable – that's what these bags offer.
Protection for Valuable Items
Your electronic devices are valuable, both as hardware, and due to the information and hours of work they contain.
A quality laptop travel bag protects those devices from bumps, knocks, and other dangers inherent in modern travel.
Leather is a durable material, and stands like a wall between your valuable items, and the occasional rough treatment caused by inclement weather and the other uncontrollable realities of travel.
Compatibility
It doesn't matter what your preferred laptop brand is – Apple, Dell, Lenovo, HP, etc. – a bag is designed for those dimensions and characteristics.
A secure fit, snug enough to keep the item safe, but loose enough for easy access – that's the key to real compatibility.
Stylish and Timeless
Leather has that timeless elegance and durability behind its use from prehistoric times to today.
Style has evolved for thousands of years, and leather bags have developed according to changing needs and styles. These bags are about more than function; they complement and elevate your style.
They even get better with age and experience.
Longevity
High-quality leather holds up very well to regular use, lasting many years, or even decades when properly cared for. Its appearance improves over time, bringing out each bag's unique, natural patina.
How to Choose
To best protect your specific devices, suit your style, and fit your place of work, it is crucial to select the right bag for you.
Luckily, a stunning range of choices and features allow you to home in on that perfect product for your circumstances.
Material
By far, the most common high-quality bag material is leather. Full grain leather is beautiful, durable, and able to fit almost any business situation.
A bonus to full grain leather is that it develops a unique patina over time, creating a luxurious, beautiful item unique to each user.
Water Resistance
Unforeseen rain, spills, or accidental puddle encounters can often be avoided. However, if you face these hazards while carrying your bag, water resistance becomes a valuable feature.
Regularly treating leather bags with a water-resistant coating is a simple yet effective step in protecting them from potential damage.
Bag Size
Laptop bags typically adhere to inch measurements, with the size referring to the diagonal span of the laptop screen. For instance, a 15-inch laptop measures 15 inches from the screen's top left to the bottom right.
However, it's crucial to consider not only this measurement but also the thickness of your specific model and the addition of any protective liners or casings you might use. Leave a little wiggle room for easy storage and retrieval.
If your 15-inch laptop is thicker or has a case, it may be prudent to opt for a bag designed for a 16-inch laptop to ensure a proper fit.
If you're looking for a laptop travel bag with wheels, we recommend the Voyager leather carry on roller luggage, which can fit up to a 16-inch laptop in a safe, dedicated compartment.
Design
Regarding laptop travel bags, the options are plentiful: messenger bags, briefcases, backpacks, and totes, each with its unique design.
Deciding which style suits you best hinges on a few factors: your personal preferences, work requirements, and the level of formality in your office setting.
With such diverse choices, you can find the perfect match that seamlessly blends functionality and style.
Compartmentalization
Your laptop should have its compartment – that's a given – but there are other items you will likely want to carry along with it, and these should have a safe, easily-accessible place too.
Cables, chargers, business cards, stationery, and other items should each have their home pocket, to prevent having to rummage in your bag in front of clients or bosses.
Security
When we think of security, we instantly think of locks – and we're not wrong. A good lock is necessary if you carry sensitive, secret, or valuable items. Security is more than that, though.
You'll want to protect against casual, opportunistic theft, accidental spillage, and damage. A good zipper, reliable buckles or clasps, and a closure flap (depending on the design) are all things to consider.
Padding
Most people spend most of their time considering the outer look of the bag but be sure to take at least as much time considering the inside – including the level of padding on offer.
Proper padding will keep your laptop safe from breakage and keep it looking new and fresh. Even if your bag takes a significant hit and an item is damaged, that padding can mean the difference between a scratch or dent, and an all-out catastrophe.
Weight
This is always a compromise between ease of carry and maximum durability. Cheap leather bags will be very light (and flimsy) or heavy (and bulky). A high-quality leather bag will fall in the middle of those extremes.
It will use the best materials, which can increase weight, but it will also employ the best construction, keeping it from the upper extreme.
Weight Distribution
The weight of a good bag should be balanced, not pulling forward or backward when on your shoulder. A properly constructed bag will keep heavier loads in the most comfortable position possible.
Aesthetics
The bag you buy and carry will be part of your presentation – part of your style. You'll represent your company, your product or service, and yourself by how you look. Investing in a high-quality bag will elevate your impact and provide a key item that others will notice and appreciate.
Durability
Genuine, full grain leather offers the most durability for the main bag material. On top of this, you should make sure the hardware and stitching are consistent, of high quality, and ample enough to hold up to heavy loads and long years of use.
Price
Higher-priced bags generally provide the best quality and warranties, but many affordable options will still last many years with proper care.
Your bag will be an investment, so it's worth dishing out a little more than you would for a less durable item – but that doesn't mean you need to break the bank to get a good bag.
Brand Reputation
Lesser-known brands or generic items can be of high quality, but the benefit of a well-known and respected brand is that they want to keep it that way: well-known and respected.
This means careful manufacturing, excellent warranties, and customer service, and a lot of reviews available to see how the products performed for others who bought the same (or similar) item.
Comfort
These bags offer the utmost comfort and have various features designed to enhance your experience.
Adjustable straps, padded handles, and ergonomic designs ensure personalized comfort tailored to your needs. Moreover, their optimal sizing perfectly aligns with your work requirements, striking the ideal balance between form and function.
Maintenance
Preserving the stunning appearance of leather bags often involves a little TLC. Typically, a brief conditioning session a couple of times a year does the trick, although it's worth noting that each bag has unique needs.
Rest assured, maintenance guidance is readily available for every bag before and after your purchase.
Warranty
When purchasing a bag, it's essential to consider the warranty provided. A robust warranty indicates the manufacturer's or seller's confidence in the bag's craftsmanship and materials.
Not only does it offer peace of mind, but it also ensures prompt assistance in case of any defects or issues with your purchase.
Types
Within the category of Laptop Travel Bags, there are several types of designs that you should understand to make the best decision for your needs.
Messenger Leather Laptop Travel Bags
This design features a cross-body strap that allows for hands-free carrying. These bags are compartmentalized inside for organized stowage of your laptop, documents, and other items.
With a structured form and secure openings, these bags are great for bicycle commuting, mass transit, or anyone who needs to carry their bag and use both hands simultaneously.
Backpack Leather Laptop Travel Bags
For even more secure hands-free carrying, the backpack style has a strap for each shoulder, securing the bag evenly on the center of the back.
It is compartmentalized and organized inside and is great for carrying heavier loads for longer periods. It's not the best with suits, as it will cause more wrinkling at the shoulders, but other clothing is fine.
Rolling Leather Laptop Travel Bags
Another great choice for heavier loads, longer walking commutes, or travel distances, the rolling bag puts the weight on the wheels.
The telescoping handle allows you to pull the bag easily behind you. With a wide range of sizes and excellent internal organization options, the rolling bag is a great choice for the frequent traveler.
Briefcase Leather Laptop Travel Bags
For a more rigid structure in a hand-held design, the briefcase leather laptop travel back is a classic choice. Elegant and traditional in style, the interior of this design type has all of the organization and protection you could want for your laptop and other items.
Convertible Leather Laptop Travel Bags
A convertible bag is a great choice for the best adaptability between a hand-held, shoulder strap, or even a backpack style.
This type allows you to switch between a traditional briefcase, a messenger bag, and a backpack without needing three separate bags.
Tote Leather Laptop Travel Bags
Tote-style bags are very popular with professional women, combining the traditional tote-style bag with a dedicated laptop sleeve and the interior organization well suited for business situations.
Alternatives
Each professional situation has specific needs, and there might be an alternative to what you have in mind to suit your needs better. Let's take a look at a few of these.
Professional use
The safest bet for professional situations is a leather bag in a classic or formal design style. If this is your primary use for the bag, leather is a solid choice.
Travel use
A bag designed for that is essential if your job requires frequent travel. Whether that means a cross-body or backpack style of carry or a wheeled bag, it should be a design that can carry significant weight, as comfortably as possible, for longer distances.
Casual use
For informal office situations or personal casual use, the appropriate choice of bag is much broader. Whichever design best suits your style (and fits the items you need to carry) is fine.
You can opt for a canvas bag, which will be less expensive, while still having adequate durability to be a good value. This allows you to have more than one, giving a daily choice of color and style.
Outdoor/adventurous use
If your needs take you into the great outdoors or other rugged environments, then a waterproof leather bag is the minimum. It might be better to go with a hard-shell case made of metal or plastic.
This is the best way to go for the most protection from the elements and from impacts and falls.
Eco-conscious use
If your primary concern is eco-friendly manufacture or a vegan product, consider designs featuring cork, recycled plastics, or other synthetic materials.
These offer sustainable choices, vegan status, and assurance of cruelty-free manufacture.
Post Purchase Considerations
Post Purchase Considerations
Finding the Perfect Fit
Carefully measure the length, width, and thickness of your laptop. Compare this to the measurements provided in the product description of the item you are considering.
Remember that you will want a little extra room for ease of stowing and retrieval of the laptop, but not so much that it slides around and shifts the weight distribution of your bag while you are moving around.
Maintaining the Leather's Aesthetic
Full grain leather is durable and beautiful, but unlike most other materials, it is expected to change in appearance over time. It develops a patina through use and exposure to the elements, showing unique patterns in the leather grain.
This is not only to be expected; it is also highly valued. Using a leather conditioner, as recommended for your particular item, is key to keeping the patina's development looking great.
Weight Distribution
Organize heavier items for even weight distribution when carrying your bag. This will make it more comfortable to carry and prevent unexpected drops. It will also help the bag to last longer and keep its desired shape.
Keeping heavier items closer to the body and lower in the bag will also help.
Organizing Your Belongings
Organize your items into groups according to type or use. Place most-used items in the most accessible pockets, considering that breakable items should be behind more protective layers.
Test your organization system by taking out and stowing items as you would in a work situation. You can work out any bugs and hone them until you have an easy, intuitive setup.
Zippers and Hardware Maintenance
Keep an eye on the degree of resistance when moving zippers. Over time, debris can build up, causing a zipper to stick or catch.
If this happens, some wax added to the teeth can solve the problem. Just drag a bit down the teeth, then run the zipper back and forth over it to work it in.
Avoid over-straining other hardware components.
FAQs
What size laptops can fit in these travel bags?
Our range of laptop travel bags fits laptops up to 17-inches. This does vary by product, so please check the specific bag you're interested in.

Are these bags durable enough for everyday use?
Yes! Our bags use genuine, high-quality full grain leather that can withstand daily wear and tear while still looking great.
How are the bags designed for travel convenience?
With features like ergonomic and padded straps, internal organization pockets for travel documents and other essentials for businesspeople on the move, and sizing to fit in overhead or under-seat stowage areas easily, our bags are ready to go when you are.
Do the bags provide enough protection for the laptop?
Yes! Our bags have padded compartments and high-quality leather construction to protect your laptop and other valuables from damage.
Are the bags water-resistant?
Leather has some inherent water-resistance but is not fully waterproof. Treating your bag with a leather-specific water repellant may help, but it does change the characteristics of the leather.

How should I care for and clean the bag?
Regular conditioning (usually once or twice a year is enough, but see your specific item for details) and cleaning with a damp cloth will increase the longevity of your bag.
Always spot-test cleaning or conditioning products, in a seldom-seen spot on the bag, before applying to more visible parts.
Are these bags sustainably and ethically produced?
Our suppliers comply with strict ethical guidelines to ensure that environmental care, positive manufacturing conditions, and other ethical standards are monitored and upheld.
Do these bags come with a warranty?
Yes! Von Baer bags carry a standard 2 year warranty to ensure customer satisfaction. Please see the description of your particular choice of product for details.
What types of closures do the bags have?
The type of closure depends on the style of bag you choose. Zippers, buckles, magnetic clasps, etc. are all available, depending on the design you choose.