City
Leather Laptop Bag
$995
Solid Brown
Elegant Black
Deep Red
Elegant
Slim Leather Laptop Bag
$895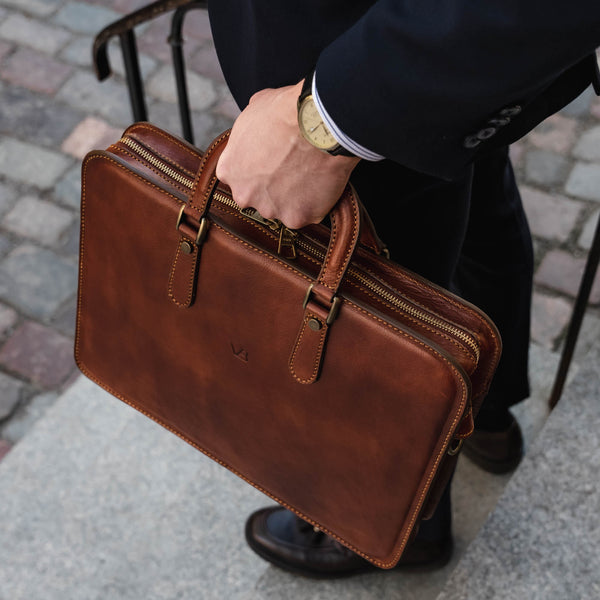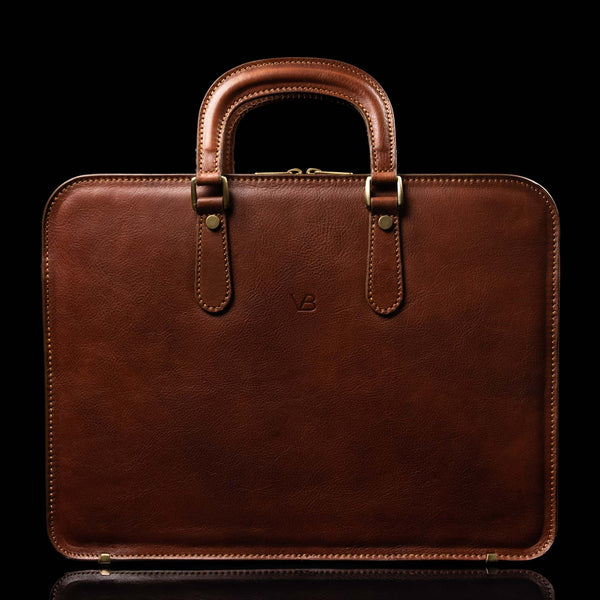 Solid Brown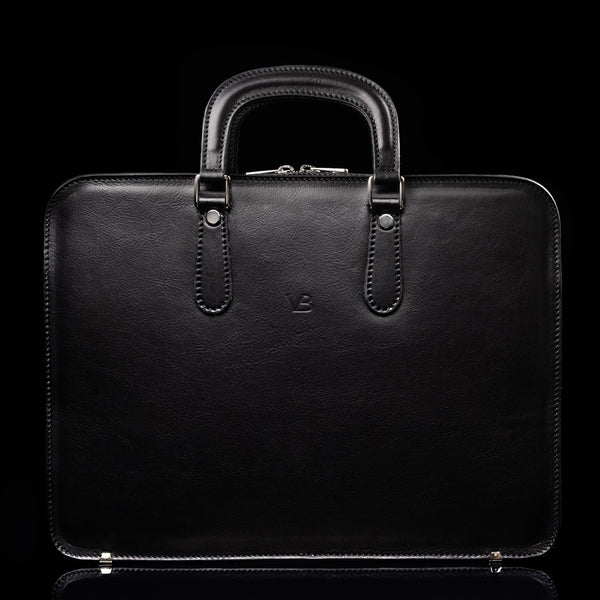 Elegant Black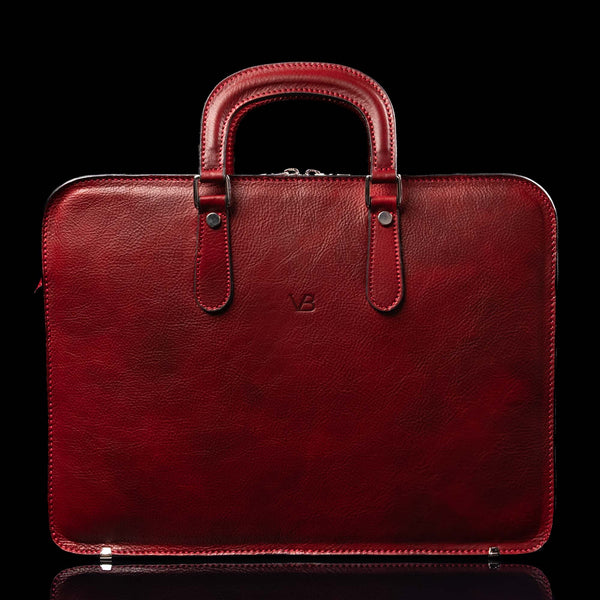 Deep Red
Essential
Modern Briefcase
$875
Solid Brown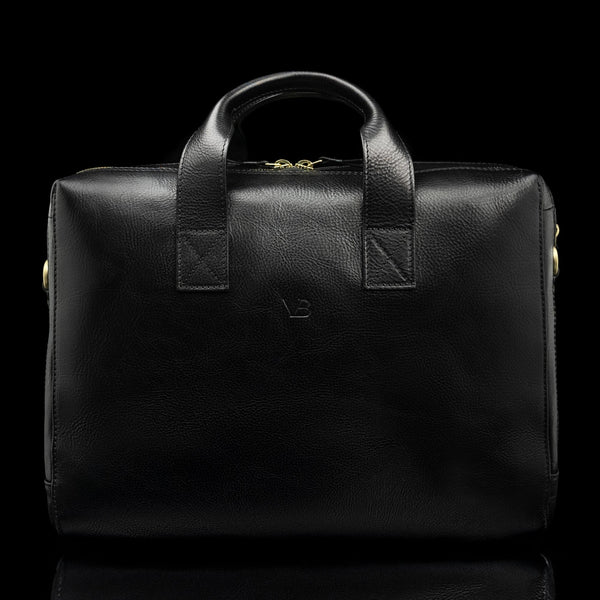 Elegant Black
Deep Red
City Large
Leather Laptop Bag
$1,395
Solid Brown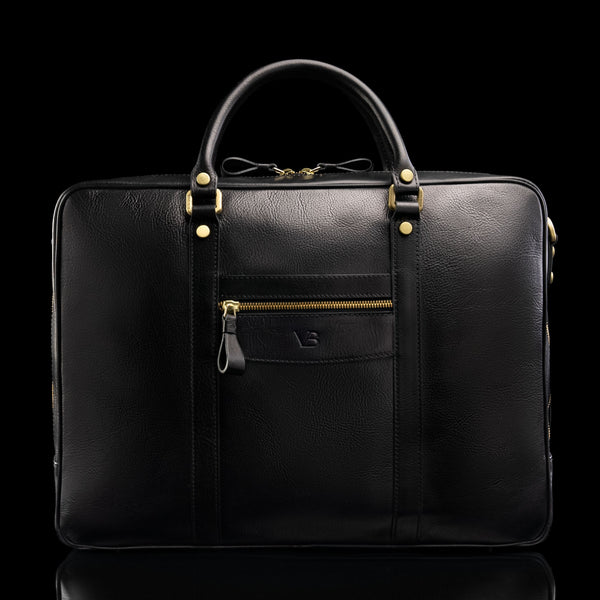 Elegant Black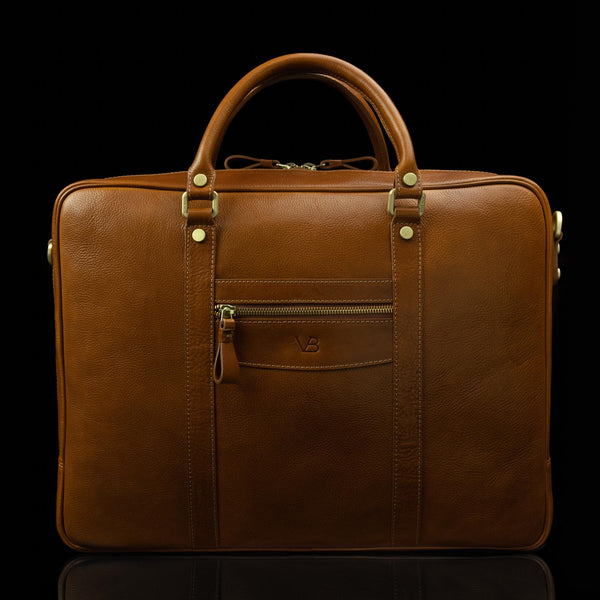 Classic Tan
Deep Red
Exquisite
Slim Leather Laptop Briefcase
$1,095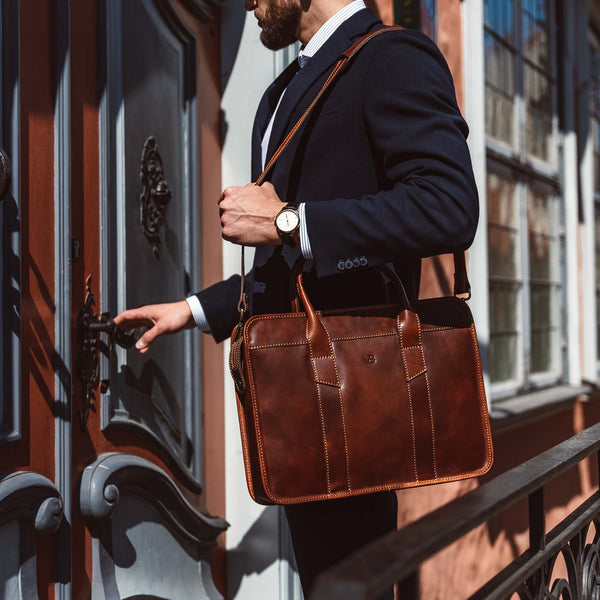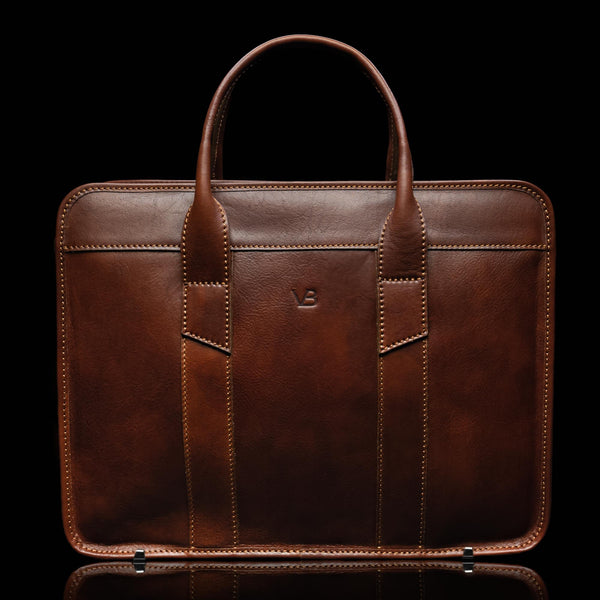 Solid Brown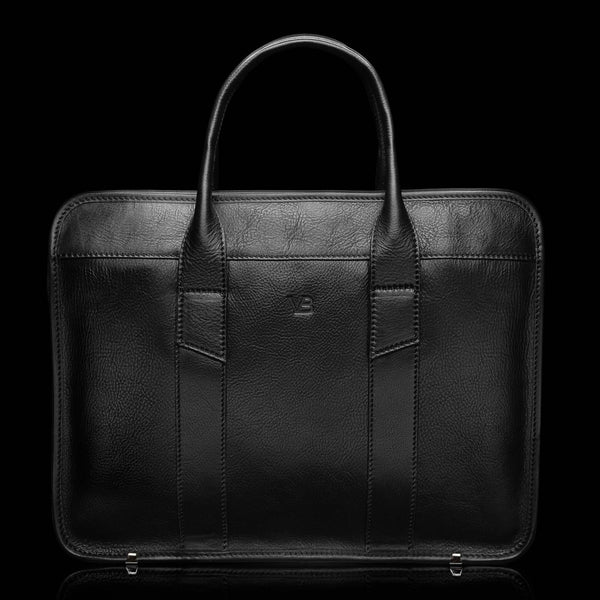 Elegant Black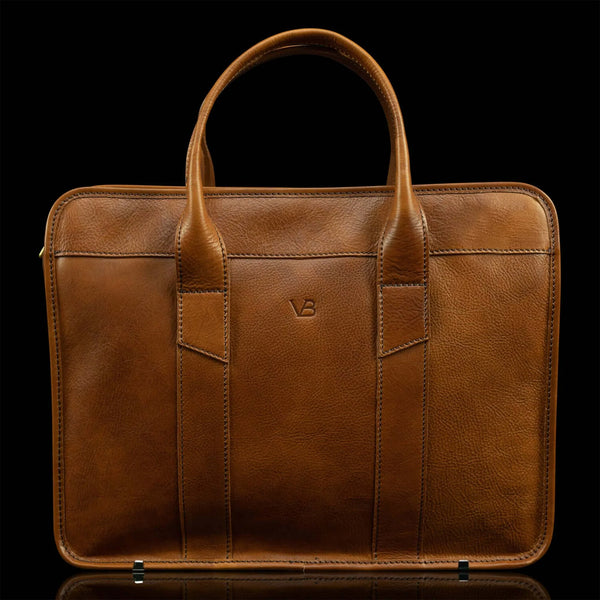 Classic Tan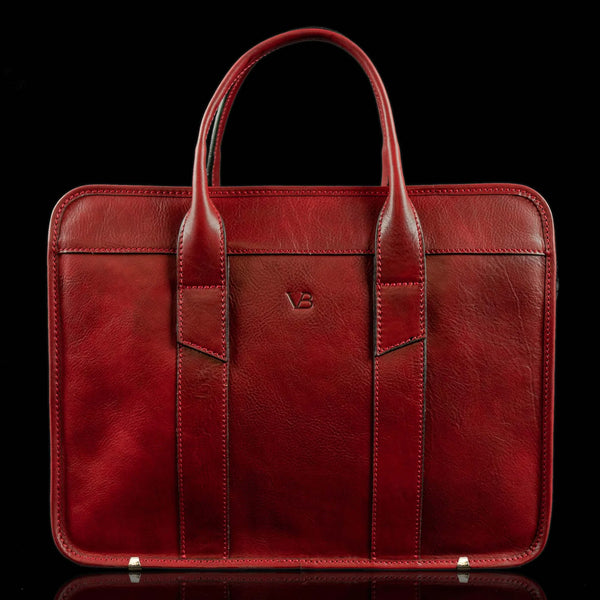 Deep Red
No.3
Leather Messenger Briefcase
$895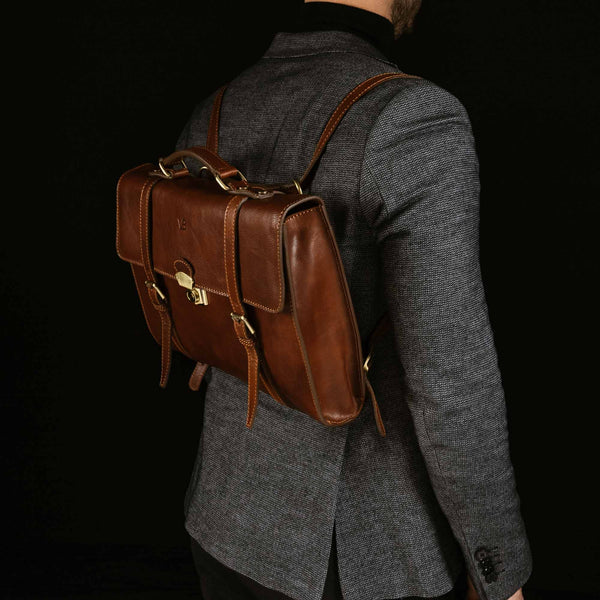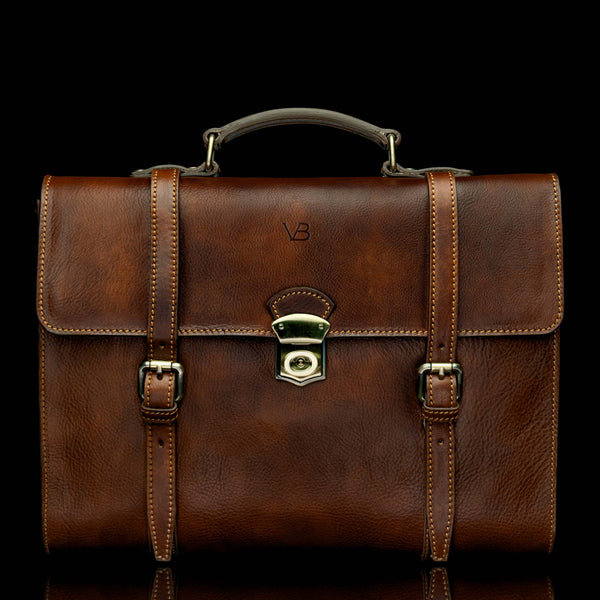 Solid Brown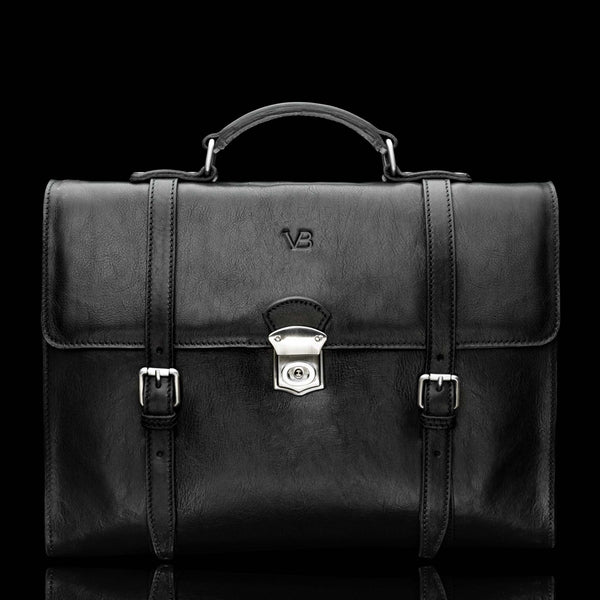 Elegant Black
Classic Tan
No.2
Leather Messenger Briefcase
$1,495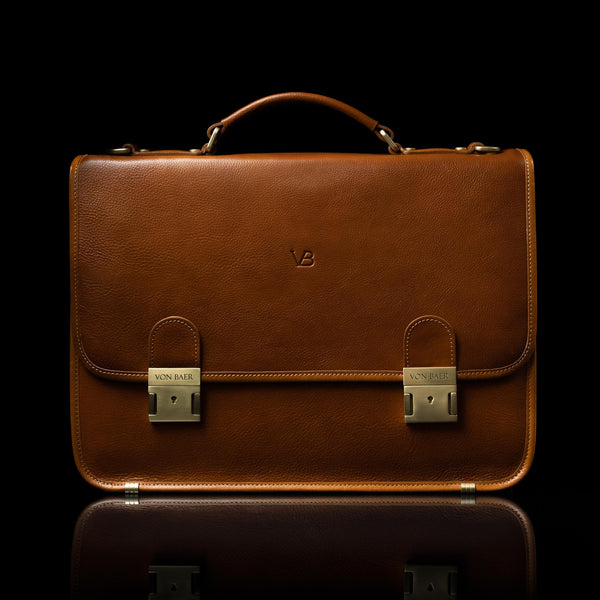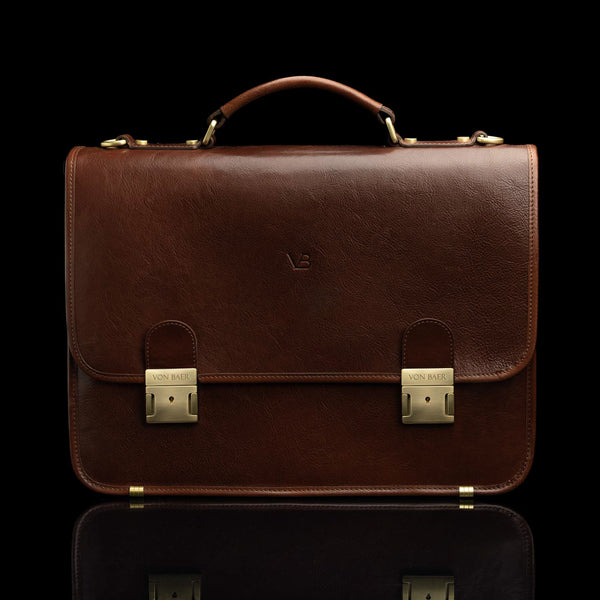 Solid Brown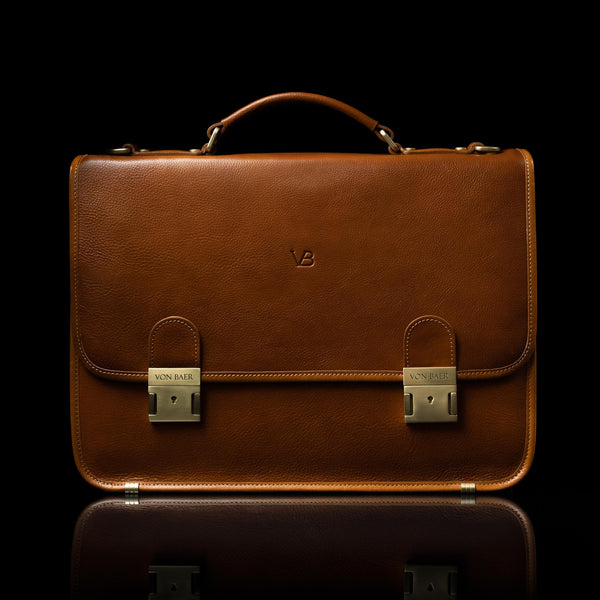 Classic Tan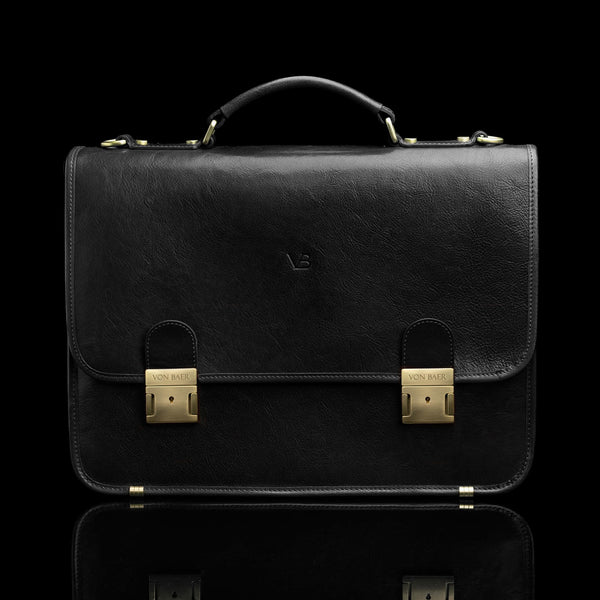 Elegant Black
Well-Organized
Leather Laptop / Macbook Case
$695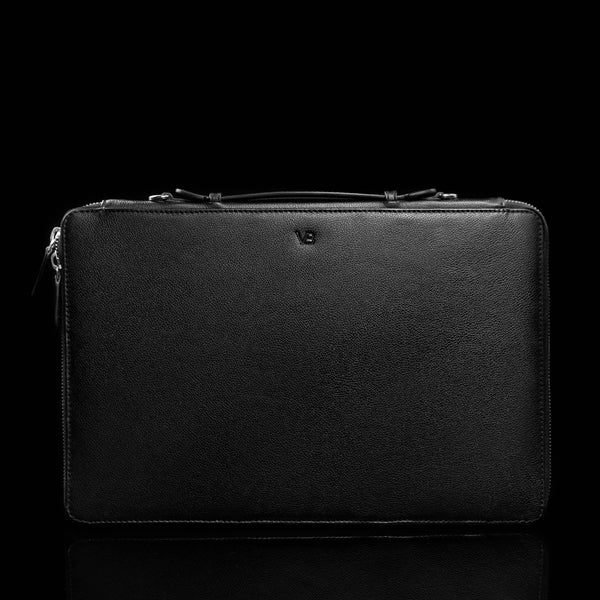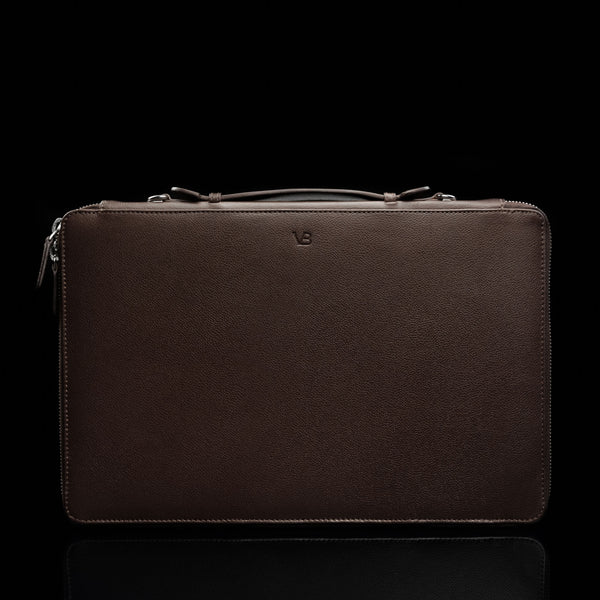 Dark Brown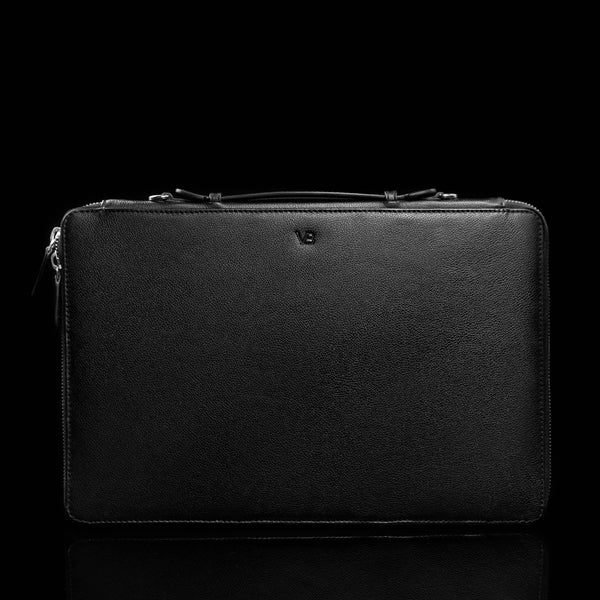 Elegant Black
Weekender
Men's Leather Weekend Bag
$1,095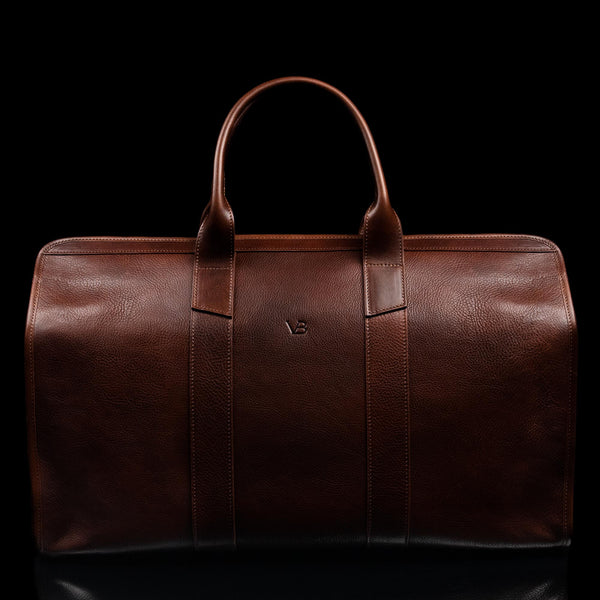 Solid Brown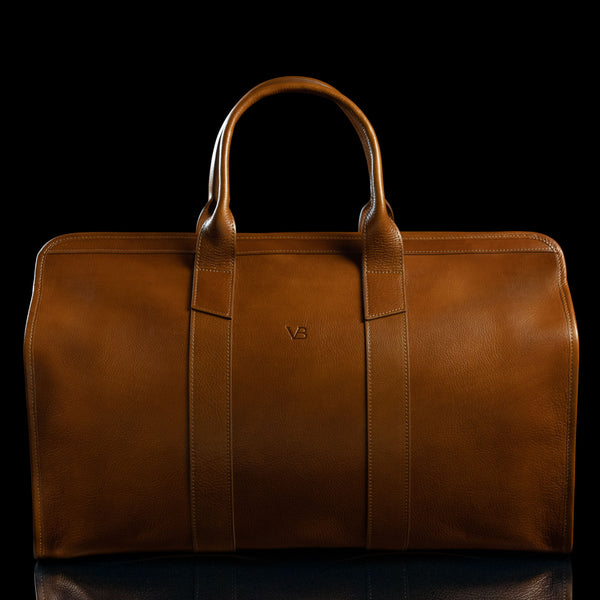 Classic Tan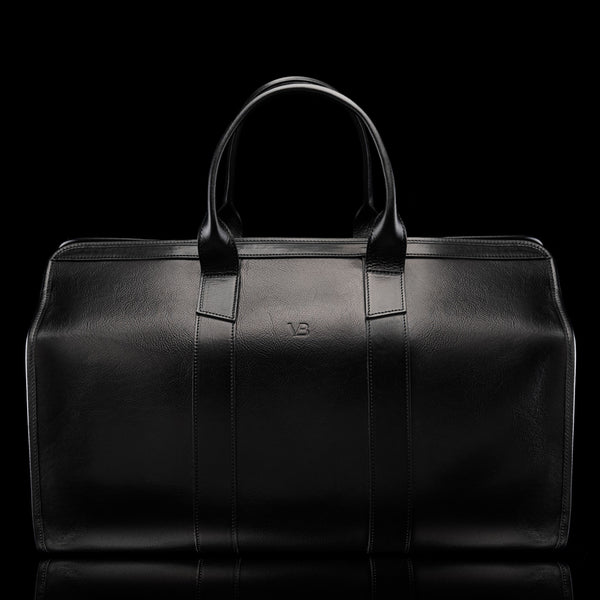 Elegant Black
10X
Leather Laptop Travel Bag
$1,295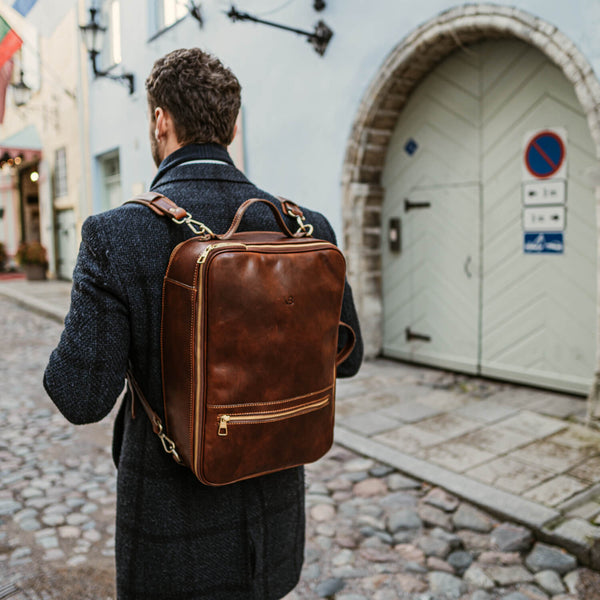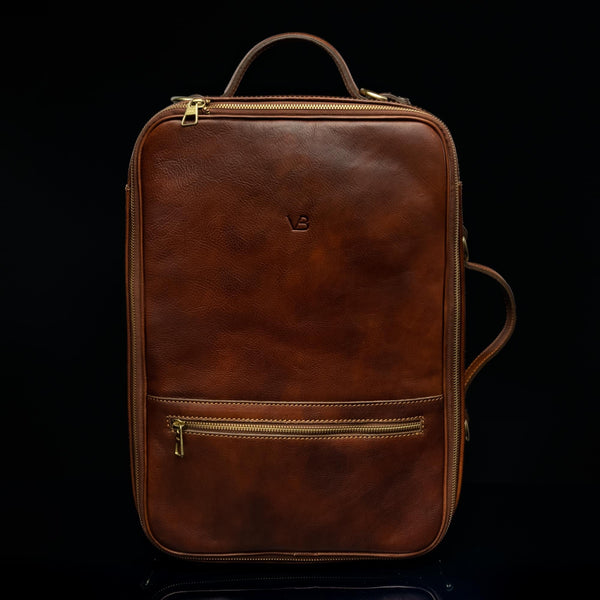 Solid Brown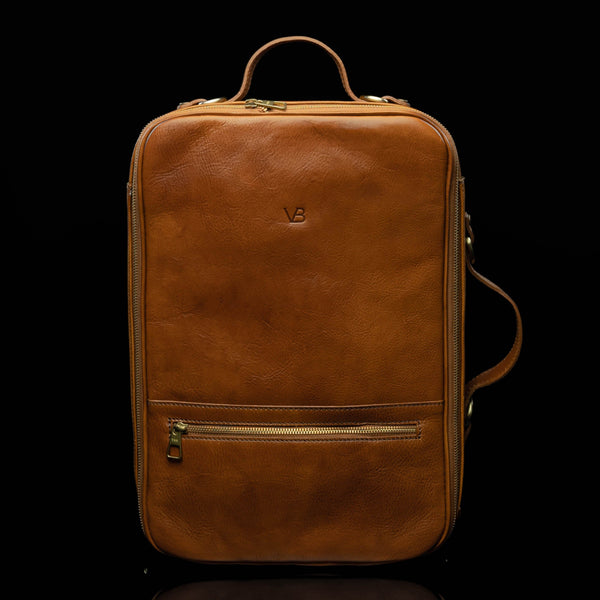 Classic Tan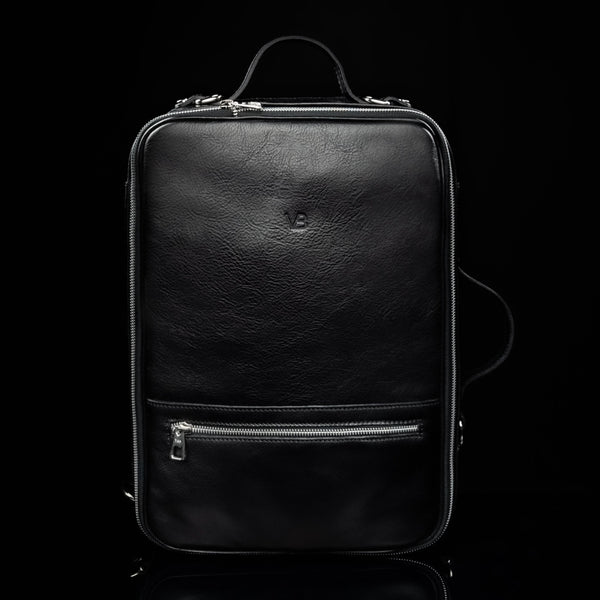 Elegant Black
Grand
Leather Garment Bag
$1,195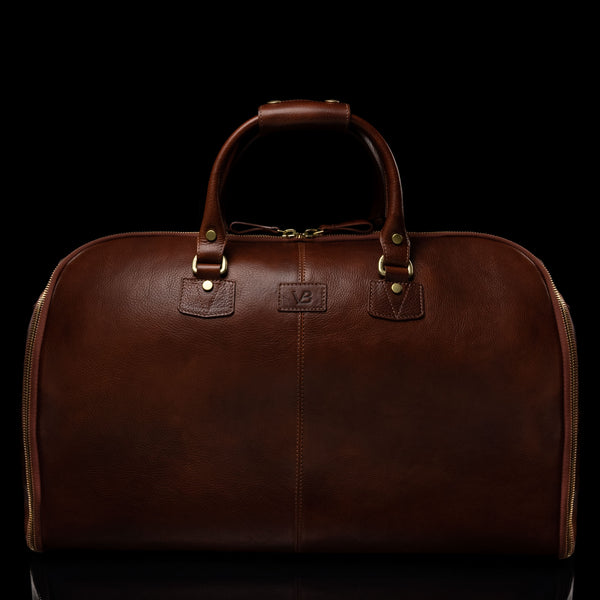 Solid Brown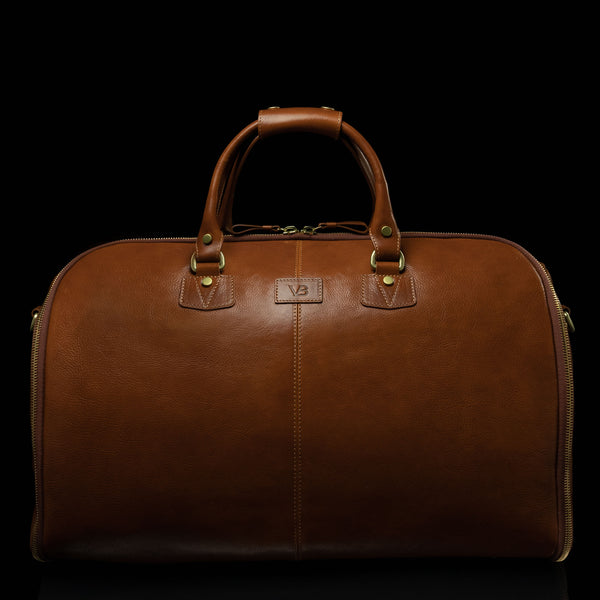 Classic Tan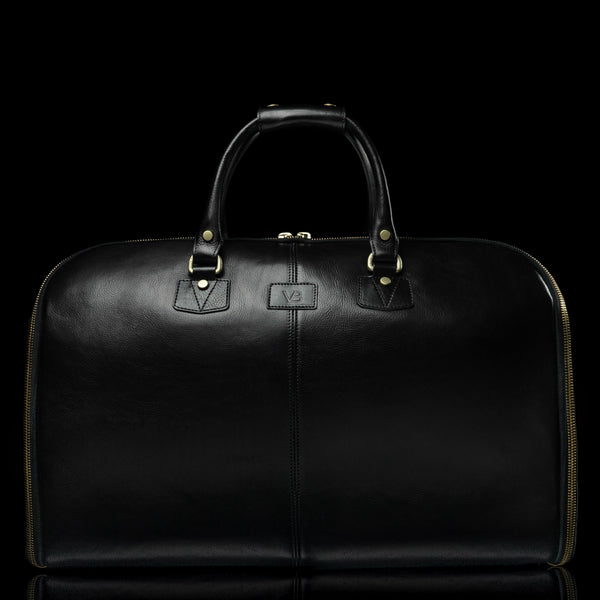 Elegant Black
What makes a Von Baer leather laptop bag so special?
Handmade leather laptop bags
Von Baer laptop bags are expertly handcrafted by vastly experienced craftsmen in family-owned studios in Florence, Italy. This ensures every laptop bag meets the demands of your contemporary life without compromising on quality.

Highest quality full grain leather
We only use the finest full grain leather for our Italian leather laptop bags, which is the best that money can buy. You can tell when it's high-quality genuine leather, by the look and feel of the product, as well as how long it lasts. The Von Baer leather is vegetable tanned, handmade in small batches by artisan craftsmen in Florence, Italy.
Durable construction
Zips and metal on laptop bags are common stress points, which is why the hardware Von Baer use is high-quality metals with YKK zippers, to ensure very durable moving parts. The bag lining is made from premium durable cotton, ensuring a soft yet strong inner to your bag, able to handle the day-to-day of a busy commute.
Colors without compromise
Von Baer laptop bags come in 4 stylish leather colors, including black, brown, dark brown, or tan. These are all made from natural full grain leather, which ages nicely with leather patina. We also use solid brass hardware on all of our laptop bags.
Dedicated laptop compartment
All Von Baer laptop bags come with a dedicated compartment for your laptop or tablet. Our range includes 13-inch, 15-inch, and 17-inch compartments, so choose one that fits the tech you own.
Shoulder straps included
All Von Baer leather laptop bags also come with a removable shoulder strap, helping you turn them into a shoulder/messenger style bag. They are ideal for the daily commute to and from the office while keeping your hands free. Our laptop bags also come with exterior handles, usually two top handles.
Personalized with a laser engraving
Instead of monogramming, we use a high-quality laser engraving to personalize your laptop bag, ideal for your own bag or when buying as a gift.
Benefits of a Laptop Bag

There are several benefits to choosing a leather laptop bag:
Leather laptop bags offer style, sophistication, and practicality.
Not only do they make carrying gadgets effortless, but they also make a powerful fashion statement.
With a luxurious look and feel, leather is perfect for various settings, from business meetings to coffee shop visits.
These bags are highly versatile, accommodating laptops, tablets, chargers, and documents while promoting organization with their compartments.
Durability is another advantage, as leather withstands wear and tear, serving you for years.
Additionally, adjustable straps allow for comfortable cross-body or shoulder carrying.
Whether a casual gathering or a formal conference, a leather laptop bag complements any occasion and attire.
Finding a bag that fits your laptop size, brand, or model is usually easy.
You can have peace of mind with added security features like robust zippers and secure compartments.
Versatile - you can use them as a work bag, hand luggage, or reliable daily computer bag around town.
Excellent gifts - due to the high perceived value of these products, they make excellent gifts for loved ones, such as retirement presents, Father's Day gifts, or birthday gifts.
Von Baer has the best collections of bags in the USA, quality-made backpacks and cases, and beautiful men's messenger bags with computer compartments. Ideal for a notebook, folders, wallet, or whatever you need for executive traveling.
Factors and Features To Consider
Factors and Features To Consider
Several key considerations come to mind when searching for the perfect leather laptop bag. Let's explore the crucial factors to ponder at this very moment.
Size and fit
Look for a bag that can accommodate your laptop's dimensions with ease. Take the step of measuring your laptop and comparing it with the size specifications of the bag to ensure it fits snugly.
If the bag is too small, it won't be able to accommodate your device. However, if it's too large, your laptop could move around too much inside it and become damaged.
Here at Von Baer, we have a range of laptop bag sizes, from small bags to handle tablets up to large capacity, oversized, and expandable bags.
Most of our laptop bags can handle 13-inch, 14-inch, and 15 inch laptops. We also have the CITY large bag, which can hold a 17-inch laptop, and we have plans to make a bag for a 21-inch laptop too.
We have a large garment bag that can carry a suit and a laptop (ideal for going to the gym before work) and a large duffle weekender bag with a laptop compartment (ideal for a weekend away or a work trip).
There is plenty of room to safely store books, phones, jewelry, credit cards, laptop and keyboard, MacBook Pro, and other stuff, whether for school, college, or work.
Leather quality
It's best to seek out a bag that's manufactured from genuine leather of high quality. Top-grade leather looks great and is also renowned for its durability.
This means a bag made from this kind of leather could last for years before you need to replace it. The best option is full-grain leather, which has a world-class feel and is highly resistant to wear and tear, although it will cost you more.
Visual appeal
Your taste will define what kind of style is best for you. Look for a bag that meets your specific visual tastes and complements your clothing, whether you need it to match your professional attire or more casual outfits.
Storage
It can be useful to opt for a bag that has multiple compartments if you need space for items like notebooks, documents, your smartphone, and other essentials.
Compartments make it easier to find the items you're looking for.
Bag type
Many laptop bags are available, including briefcases, messenger bags, and backpacks.
A key benefit of a backpack is that it will distribute weight evenly and is great for those that commute regularly.
A messenger bag will deliver simple access to both your laptop and accessories. These are shoulder bags, helping to keep your hands free.
A briefcase will ooze professionalism if you want to make a great impression in a business setting.
Hardware
Seek out a bag that has tough zippers, buckles, and shoulder straps. Tough hardware normally means the rest of the bag is of high quality. Make sure the hardware works with the overall aesthetic of the bag.
Weight
Is the bag heavy when it's empty? If so, you might find carrying it uncomfortable once you have filled it with your goods. Lightweight bags can be more comfortable and convenient if you spend a lot of time on the move.
Care and maintenance
Leather bags sometimes need to be treated occasionally to protect their appearance. Some leathers need more maintenance than others.
Consider whether you have the time or funds to maintain your bag if you think it will need regular care.
Cost
Your budget may play a significant role in helping you decide unless money is no object. High-quality leather bags can be costly but tend to be very durable. They also offer a great deal of longevity.
Nonetheless, many great options are available if you are on a tighter budget. Just try not to make too many compromises on quality or you may find yourself replacing your bag a few months down the line.
Sustainability
Look for bags from ethically minded manufacturers. If a bag's lining is made from recycled materials, fair trade production processes are used, or the leather is ethically sourced, this means the bag is a sustainable option.
Tanning process
Bags which are manufactured from vegetable-tanned leather are eco-friendlier. They also develop an impressive patina over time, which many people say makes them look better.
Bags manufactured from chrome-tanned leather tend to be more heat and water-resistant.
Stitching quality
Attention to stitch detail shows the bag is the result of quality craftsmanship. Double-stitched seams mean areas that bear maximum weight are stronger and can keep your laptop and other accessories secure.
Interior padding
Look for a bag that has good interior padding to protect your laptop and other items from impacts like drops and shocks.
Bags with thickly padded compartments can help you keep your investments safe.
What types of laptop bags are available?
Briefcase leather bag
The briefcase laptop bag blends the traditional elegance of a briefcase with the practicality of a laptop bag.
Purchase this kind of bag; you'll normally have access to a sturdy handle and an optional shoulder bag.
Briefcase leather bags can be ideal for business environments and formal occasions. They tend to be made from high-grade leather and deliver outstanding protection for items like laptops.
People working in the law profession tend to find these bags particularly useful as they have a formal appearance and make it easy for them to carry their laptops, documents, and personal goods.
Messenger laptop bags
Messenger laptop bags are also known as courier bags. These bags have a single shoulder strap and can be worn across your body or swung across your shoulder.
Messenger bags also tend to be spacious and have additional compartments for other items. If you want a casual but sophisticated bag, this could be the option for you.
These bags have become especially popular with people who work in settings such as coffee shops and need to transport not only their laptops but items like notebooks and even clothing.
Backpack laptop bag
Backpack laptop bags have two straps which distribute weight evenly across your shoulders. They allow you to carry your bag without using your hands and are often manufactured from high-quality leather.
If you're prioritizing mobility and need to carry other items alongside your laptop, this bag could be a great choice for your needs. Up-and-coming entrepreneurs who don't spend a great deal of time in one place may find this bag particularly appealing.
Sleeve laptop bag
These bags can fit your laptop snugly and are noted for being both slim and light in weight. Many sleeve laptop bags come without straps and handles but can protect your laptop from minor impacts.
If you're always on the move and minimalist style appeals to you, this could be a great option for your needs.
These bags have become very popular with creative freelancers, including graphic designers seeking quality protection for their laptops.
Convertible laptop bags
These bags are highly versatile. It's common for convertible laptop bags to come with detachable bags that can help you use the bag as a briefcase, messenger bag, or backpack, depending on your requirements.
If you need the ideal balance between style and convenience, a leather convertible bag may be for you. Someone who spends much time on the move and has regular meetings with clients may find a convertible leather bag highly appealing.
Tote laptop bags
These bags are large handbags that are specifically designed to fit your laptop. Tote laptop bags normally have two tough handles and plenty of space inside.
These bags offer a great balance between style, practicality, and sophistication. This has made them very popular with females working in the corporate space.
If you're wondering where these bags get their name from, "tote" means "to carry".
Fashionable, Designer Laptop Bags
Our stylish leather laptop bags are custom made by the designers here at Von Baer, focusing on the highest quality of materials and manufacturing, to give you a premium product that you will love for years to come.
Shop all designer laptop bags here.
____
You can use these as work bags, travel bags, carry-on/personal item, or just a day-to-day bag.
We have various types of leather laptop cases available, including:
We also have related articles on laptop bags here:
Alternatives
Here we discuss when you might want a different bag instead of a leather laptop bag:
Alternatives for Work
If you want a practical and sophisticated bag to help you get your laptop and other essentials to the office, a leather laptop bag could be perfect for your needs.
However, you could also consider buying a messenger bag, a laptop sleeve, or a briefcase.
Briefcases are formal and traditional. They are often seen in conservative business environments. Shop for a leather briefcase for men.

Messenger bags are more casual and youthful and are often worn in creative settings.
A laptop sleeve could be ideal for a minimalistic solution that delivers lightweight protection. However, it won't give you much space for anything other than your laptop.
Professionals often use briefcases to create a formal and traditional look, while messenger bags can be ideal for informal, relaxed settings.
A laptop sleeve could be right if you prioritize lightness and portability.
Alternatives for Travel
When we travel, we often need access to tough bags that can house laptops and various travel essentials. There are alternatives available if you're not purchasing a leather laptop bag:
A backpack will give you extra storage space and make it easier to carry heavy loads. This makes it great for people who travel for long periods of time or regularly.
A laptop bag with wheels will make transportation easy in places like train stations and airports.
A wheeled bag could be for you if you prioritize maneuverability and don't want to carry much weight. However, a backpack could be best if you're seeking the balance you'll get from a pair of shoulder straps.
Alternatives for Casual Everyday Use
Alternatives to leather laptop bags include crossbody bags, backpacks, and tote bags.
Crossbody bags make it easy for you to access items, including your laptop, and make things harder for potential thieves due to how they are worn.
A backpack will give you hands-free comfort and balanced weight distribution, while a tote bag will help you to carry various items alongside your laptop, such as groceries and clothing.
FAQs
How durable are laptop bags?
Many laptop bags are created with durability in mind and are made from high-quality leather. This means they can serve you well for many years as long as you maintain them well. They are designed to cope with everyday wear and tear.
Which size laptops can fit inside these bags?
It's possible to find bags to suit all sizes of laptops. Most leather laptop bags are designed to carry laptops from 13 to 17 inches. If shopping for bags, look at the specific dimensions to ensure your laptop fits inside.
Do bags have extra compartments for accessories?
Many of the leather laptop bags on the market come with compartments for accessories, including your phone, notepad, mouse, charger, and other small items.
How can I care for a leather laptop bag?
If you want to maintain the appearance of a laptop bag and prolong its life, you'll need to clean it gently using a soft, damp cloth. You're also advised to use a leather conditioner to prolong the life of your bag and keep it away from direct sunlight and out-of-extreme temperatures.
Are leather laptop bags waterproof?
Leather is naturally water-resistant but not completely waterproof. This is why it's important to protect it from extreme weather conditions like heavy rainfall.
Can leather laptop bags be personalized?
Some manufacturers allow you to personalize leather laptop bags. You can add options such as monograms to some of these bags.
What kinds of closures do leather laptop bags have?
Leather laptop bags can come with a wide range of closures. You shouldn't find it too difficult to find bags with features like magnetic snaps, buckles, and zippers.
Are leather laptop bags easy to carry even if they are full?
If you need a leather laptop bag that will be comfortable to carry around even when it's full, seek features like ergonomic designs and padded straps.