Professional locking briefcases and laptop bags, for when you need to keep your valuables and documents extra secure.
Made from the highest quality full grain leather, and handmade in Florence, Italy.
Ideal for business and travel. Personalizable for a unique touch.

No.1
Men's Leather Briefcase
$1,295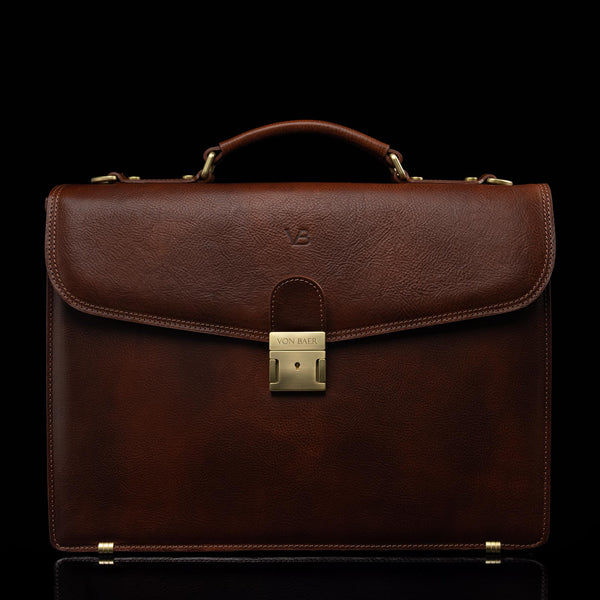 Solid Brown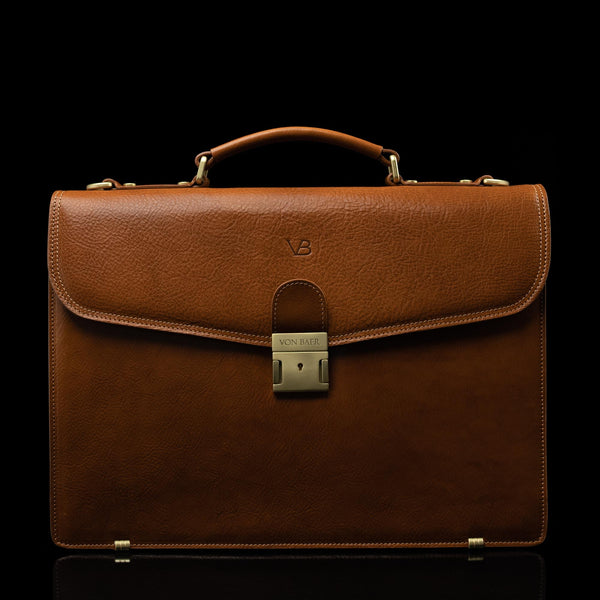 Classic Tan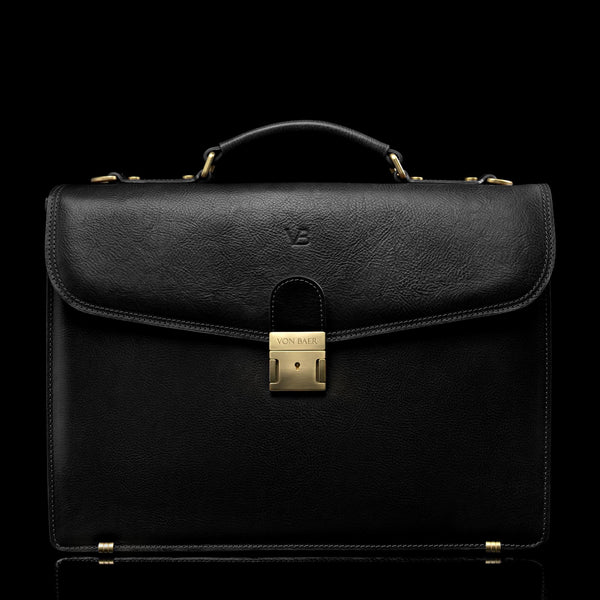 Elegant Black
No.2
Leather Messenger Briefcase
$1,495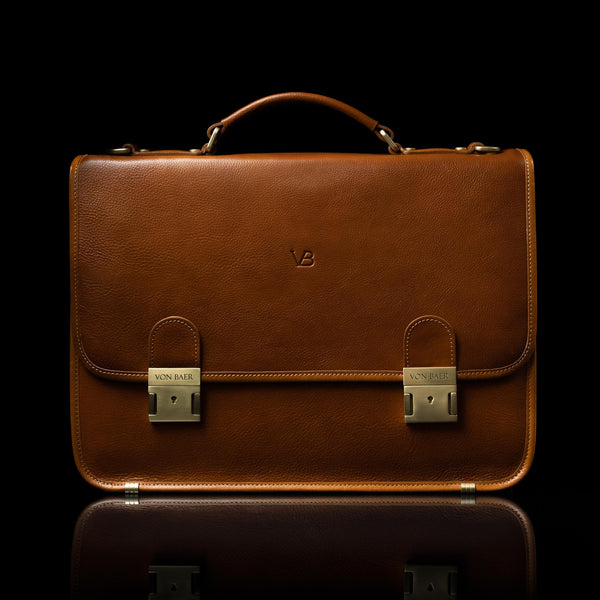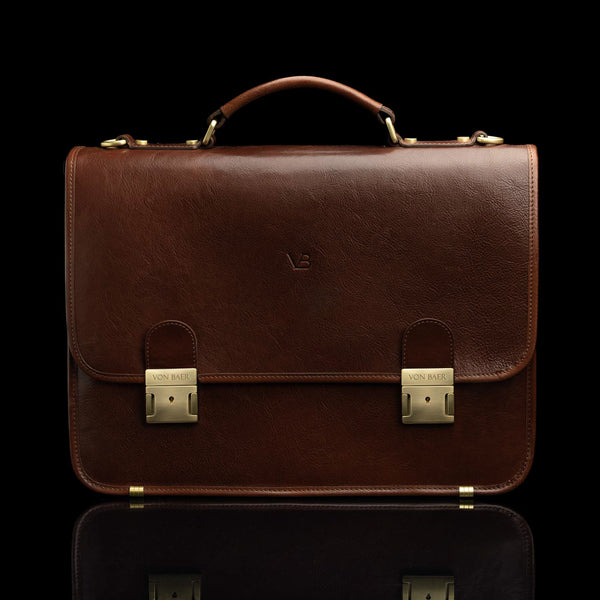 Solid Brown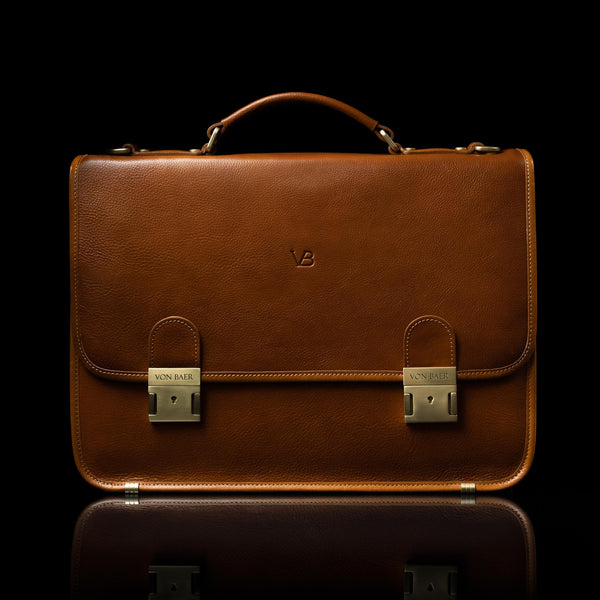 Classic Tan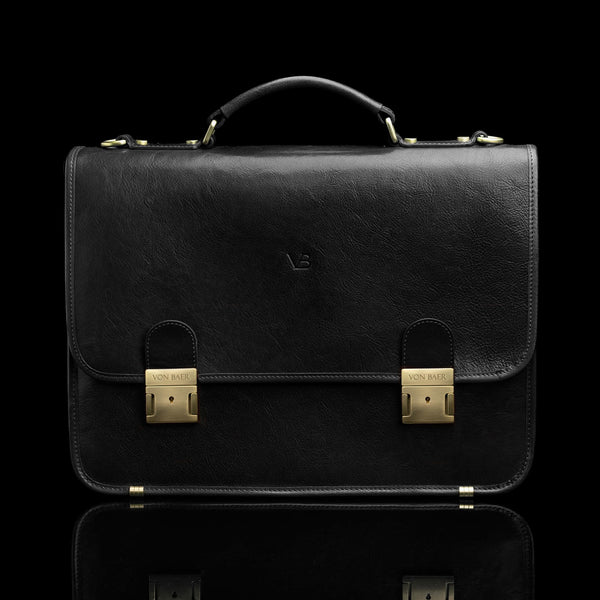 Elegant Black
No.3
Leather Messenger Briefcase
$895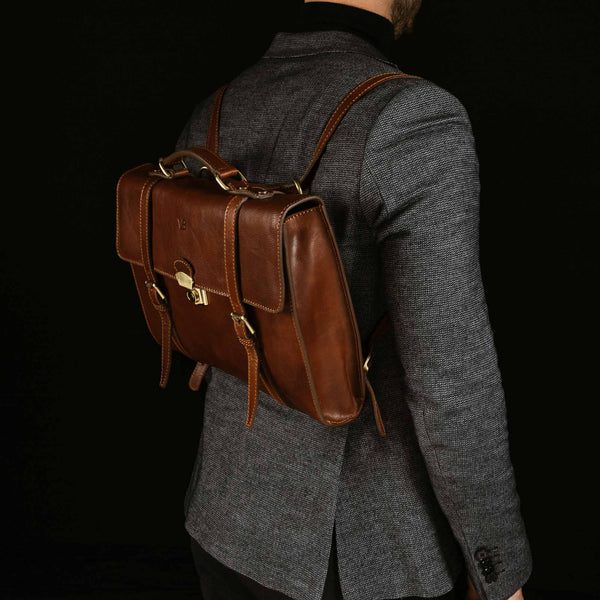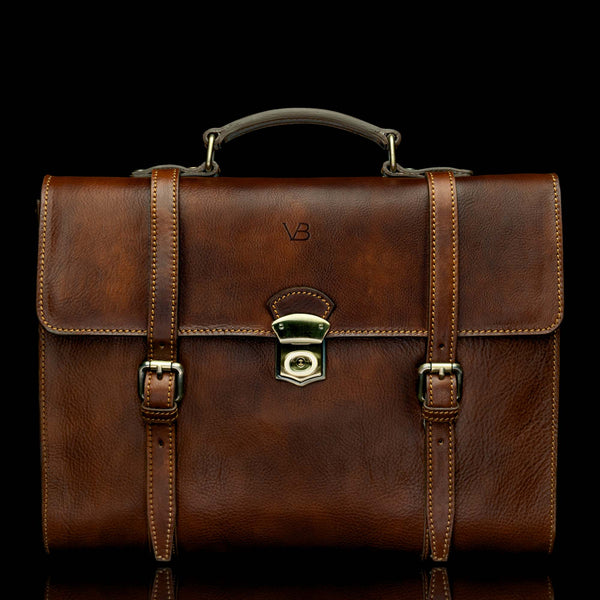 Solid Brown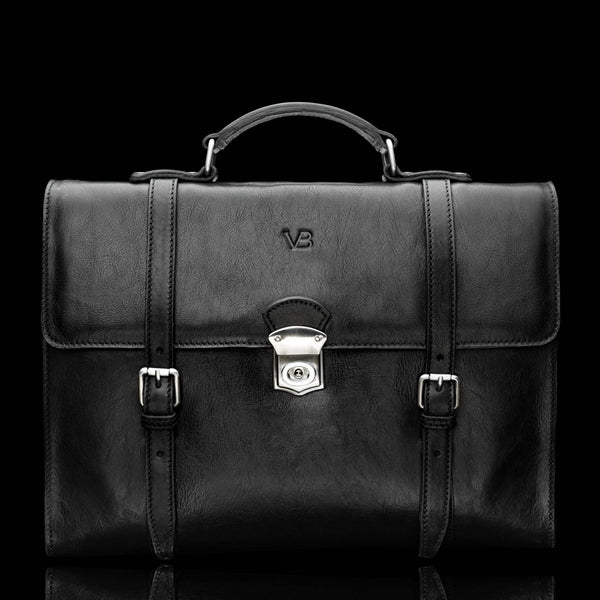 Elegant Black
Classic Tan
What makes a Von Baer locking briefcase so special?
Handmade locking briefcases
Von Baer locking briefcases are expertly handcrafted by vastly experienced craftsmen in family-owned studios in Florence, Italy. This ensures every briefcase meets the demands of your contemporary life without compromising on quality.

Highest quality full grain leather
We only use the finest full grain leather for our Italian leather locking briefcases, which is the best that money can buy. You can tell when it's high-quality genuine leather, by the look and feel of the product, as well as how long it lasts. The Von Baer leather is vegetable tanned, handmade in small batches by artisan craftsmen in Florence, Italy.
Durable construction
Zips and metal on locking briefcases are common stress points, which is why the hardware Von Baer use is high-quality metals with YKK zippers, to ensure very durable moving parts. The briefcase lining is made from premium durable cotton, ensuring a soft yet strong inner to your briefcase, able to handle the day-to-day of a busy commute.
Colors without compromise
Von Baer locking briefcases come in 4 stylish leather colors, including black, brown, dark brown, or tan. These are all made from natural full grain leather, which ages nicely with leather patina. We also use solid brass hardware on all of our briefcases.
Dedicated laptop compartment
All Von Baer locking briefcases come with a dedicated compartment for your laptop or tablet. Our range includes 13-inch, 15-inch, and 17-inch compartments, so choose one that fits the tech you own.
Shoulder straps included
All Von Baer locking briefcases also come with a removable shoulder strap, helping you turn them into a shoulder/messenger style bag. They are ideal for the daily commute to and from the office while keeping your hands free. Our briefcases also come with exterior handles, usually two top handles.
Personalized with a laser engraving
Instead of monogramming, we use a high-quality laser engraving to personalize your locking briefcase, ideal for your own briefcase or when buying as a gift.
Lockable Leather Briefcase
Show more
All of our locking briefcases are made from the finest quality full-grain leather, vegetable-tanned for extra quality and durability. These combined with high-quality fixings and zippers make these briefcases perfect for busy commuters and business travelers. Brown leather is very popular in the business world, matching most business suits perfectly.
Locking Laptop Briefcase
When you're carrying your tech with you, keeping it secure is even more important. That's why we have a range of larger locking laptop briefcases, ideal for a tablet or laptop, allowing you to secure it in the bag while on the move.
Show less
Benefits
Every modern professional should have a briefcase that exudes style and facilitates organization – but for an increasing number of professions, security is also a high priority.
Safeguarding documents, valuable items, confidential information, and proprietary designs can be extremely important. Gain peace of mind, and professional security, without sacrificing style or other functions, with a locking briefcase.
Security and Privacy
As the name suggests, the primary advantage of these cases is their ability to lock, securing whatever you have inside it from those who might want to look at it or steal it. A locking briefcase also signals to clients and customers that you take their data protection seriously.
Organizational Efficiency
The interiors of these cases are equipped with various compartments for document storage, electronic devices, stationary, and other essentials. Your items will be secure within the case, yet easily accessible when needed.
Professional Appearance
Any briefcase can have the look of professionalism, but a locking briefcase goes that additional step further.
It shows you take your job seriously, which includes protecting company, customer, client, and other information from outside eyes or loss due to theft.
Versatile Use
These cases can be useful outside of regular business as well. They can keep your travel documents and valuables safe during vacations, and can keep personal items away from prying eyes at home or when traveling.
Durability
Since these cases are typically constructed of tough materials, from synthetic fabric, to leather, or even metal, they last a long time, even when subjected to the bumps and knocks of travel or commuting. A high-quality locking case is a good investment.
Device Compatibility
Today's technological devices can be pricey, and a locking case is a great way to keep laptops, tablets, phones, and other devices safe and secure from theft or accidental damage.
Cases are often compatible with popular brands like Apple, Dell, HP, and Lenovo, complete with padded compartments and straps to keep items from shifting when you are on the move.
How to Choose
There are a few key factors to consider when choosing the best case for your needs. Here is a list of the most important ones.
Material
There are several materials available, each with their own pros and cons. Metal construction makes for a sleek, modern, or techy look, is strong and secure, and stands up well to knocks and scrapes.
They are, however, among the more expensive cases. Leather is also a popular choice, as it is elegant, steeped in tradition, long-lasting. Hard plastic balances light weight with durability, with a high-quality version providing an easy to carry, but rugged case.
Weather Resistance
We can all get caught by unexpected rain showers or spills. A weather-resistant case brings protection and ease of mind to the carrier, especially in some climates.
Size and Capacity
To determine the size and capacity of your case, work backwards: consider what items you will want to carry in the case, and let that determine the size. Small cases are great for smaller documents, personal items, or a laptop.
For a larger size or number of documents, or the need to carry multiple items, a medium case might be better. Choose a larger case if you need to carry a significant number of documents or items, or items requiring a significant amount of padding or packaging.
Comfortable Carry Options
When possible, arm yourself with multiple options for carrying your case. A handle is usually a given, but a detachable shoulder strap, cross-body strap, or even backpack-style straps can make your walk through a large airport a lot less burdensome.
Interior Layout
Keeping items protected, organized and accessible, even after travel, is very important, and that's where interior layout and design comes in.
Pockets and compartments should be suited to specific items, where possible – like a laptop section, or a passport pocket – and the tops of these compartments should either be up against a wall of the case or have a strap to hold the item in place.
Padding for electronic or fragile items is important too. Even if you are careful with your case, someone else might bump into it or knock it from your hands by accident.
Integrated USB Ports
With the number of small electronics many carry today, it is useful to have an integrated USB port too (or whatever your devices need).
Combined with a charger, this can keep you from having to wander the airport, seeking an unoccupied plug to charge your device for important communication – or entertainment.
GPS Tracking
Want an additional layer of protection? GPS tracking can ensure that law enforcement can get to your case quickly in the case of theft, or that it can be found quickly in case of accidental loss.
RFID Blocking
To prevent data from being stolen through the walls of your case, RFID blocking technology is useful to keep the high-tech thieves out too.
Price
The higher the budget, the more features you will be able to get, but even at a more modest level, high-quality locking cases are available.
Brand Reputation
Brands with a good reputation to protect will often back their products with better guarantees and warranties.
Check independent ratings too. Read reviews to make sure that any negative experiences aren't in areas that pertain to you. This will ensure you are happy with your purchase.
Types
Combination Lock Briefcases
Combination locks don't need a key, so they are preferred by many people who don't want to risk losing one.
The downside is that they can be opened by anyone with enough time and patience to run through the possible combinations until they hit upon the one you chose.
Some cases include an auto-lock feature that secures the case each time it is closed.
Key Lock Briefcases
Key lock briefcases are secured using a standard key and lock. They are straightforward but have the potential disadvantage that you will have to keep track of the key. Some cases require a dual key system, for added security.
Biometric Lock Briefcases
Biometric locks use advanced technology to grant access only when a recognized fingerprint is placed on the scanning panel.
They are among the most secure, but they come with a higher price tag too. Some such cases can be opened remotely via a paired cellphone.
TSA Approved Lock Briefcases
You may also want to consider a TSA-Approved lock if you plan to check your case into airline freight. TSA staff can unlock your case for searches, but it remains locked for transfer to and from planes. This is available for both combination and key lock cases.
Convertible Briefcases
Convertible briefcases can switch between the standard hand-held configuration and backpack or shoulder-bag modes.
These are great for those who commute via bike or public transport and those who frequently travel.
Expandable Briefcases
For the convenience of a sleeker bag with the ability to expand when more interior space is needed, try an expandable briefcase.
These usually employ a zip mechanism for easy conversion. Some even have different expansion compartments as needed in various situations.
Rolling Briefcases
Rolling briefcases are equipped with wheels and a tow handle, allowing you to drag it behind you if you have a long walk to cover, or if the contents are uncomfortably heavy.
Some allow you to detach wheels and handle for conversion back to a standard, hand-held briefcase configuration.
Alternatives
Document Security
For transporting sensitive or valuable documents, a digital document management system might be the best choice.
Files are encrypted electronically to keep them safe, and since they are in digital form, they could be carried on a small, concealed drive. For suitable documents, this might be an ideal choice.
Cash Handling
For moving large amounts of cash around, some digital cash transfer options remove the need for physical transport altogether.
These often have large fees, so that is something to consider, but when compared with the security costs and risks of physically carrying large amounts of cash, it may be worth a serious look.
Confidential Items
When it comes to storing confidential items, many people use a locking briefcase at home, but there are other good choices that might be more secure.
Consider a personal safe, many of which can be fireproofed and fastened to the infrastructure of the home or office. For even greater protection, consider a security deposit box at a bank.
Transporting Electronics
Expensive electronics often need more protection than a generic case can provide. In those cases, a hard-shell, custom protective case might be called for.
These can be molded to fit specific items, then padded and fitted with straps or Velcro-fastened flaps to keep things in place. Many of these are not equipped with locks, so the extra shock protection is offset by the lack of security from theft.
Transporting Firearms
If carrying a firearm is necessary, a locking briefcase might suffice in some situations, but more may be required. Flying with a firearm, for example, may require you to have a specialized firearm transport case.
At home, a gun case or locker might be a better choice too.
Sensitive Equipment
Sensitive film, photographs, antiquities, works of art, and even food items might need specialized cases to ensure safe transport. The right temperature, padding, contact materials, and space often require custom cases.
Post Purchase Considerations
Post Purchase Considerations
Understanding the Lock Mechanism
Even if a salesperson shows you how to use the lock mechanism, by the time you get your briefcase home, you may be a little apprehensive about using it correctly – no one wants to get locked out of their own briefcase!
At Von Baer, we understand, and so each briefcase comes with a comprehensive user guide, including step by step guidance for setting the lock, locking, and unlocking your new case.
Caring for Your Briefcase
Depending on the materials your briefcase is made of, there are some maintenance steps you can take to preserve appearance and improve the longevity of your case. You may also need to know the best products and methods for cleaning your new case.
This is all found in the comprehensive Care and Maintenance Guide that comes with your case.
Storage Capacity Concerns
Before you start using your case in real-world situations, it can be difficult to know how much space you will need. A few good methods of determining this is to use an old case or bag to test your capacity.
Fill it with everything you need to carry and see how it all fits. If you need a little more space or not as much, you can use your old case as a starting point and adjust up or down in capacity. If you're still not sure, have a chat with our Customer Service department and they can guide you.
Travel Considerations
If you plan to go through airport security, spend time exposed to the weather, or foresee your briefcase getting knocked around in a cargo hold, then there are features you might want to have.
Not just the TSA-Approved locks, but also the right construction material and design for the specific conditions.
After-sales Service and Warranty Queries
Make sure you read and understand the warranty for your case and keep it in a safe place – just in case you need it later.
All Von Baer products carry a robust 2 year warranty, highlighting our confidence in the quality and suitability of our products. If you can't find yours, or if you need any warranty-related assistance, check our Warranty and Service page or contact customer support directly.
FAQs
What is the purpose of a locking mechanism on a briefcase?
The locking mechanism gives you a layer of protection from theft of documents, items, or data. It can also signal to clients and customers that you take their data protection seriously.
How secure are these briefcases?
Specific security ratings depend on the quality, type, and complexity of the locking mechanism and briefcase construction. The diligence and care of the carrier are also a significant factor.
A high-quality case, coupled with a careful carrier, will significantly increase security over a standard, non-locking case.
Are these briefcases suitable for air travel?
Yes, most locking briefcases can be taken with you on flights. You may need to open the case for security inspection or, if you check it, the case may require TSA-approved locks to enable them to inspect contents in your absence.
How difficult is it to set up and change the combination on these briefcases?
This varies according to the model you choose, but it is a typically straightforward process that takes a few minutes at most. Each case comes with clear instructions.
How much can these briefcases typically hold?
Capacity varies with size and construction type, but most are designed to fit a laptop, some documents, stationary, and a few other small items, like cables or chargers. Check the capacity in the product description and note the various pockets and compartments.
Are these briefcases waterproof or water-resistant?
Leather is considered water-resistant, but is not waterproof.