Premium quality laptop bags designed to fit up to 15.6 inch laptops/Macbooks.
Made from full grain leather and handmade in Florence, Italy. Personalizable with a custom laser engraving.
Professional and stylish laptop bags with compartments for 15.6 inch computers.
Essential
Modern Briefcase
$875
Solid Brown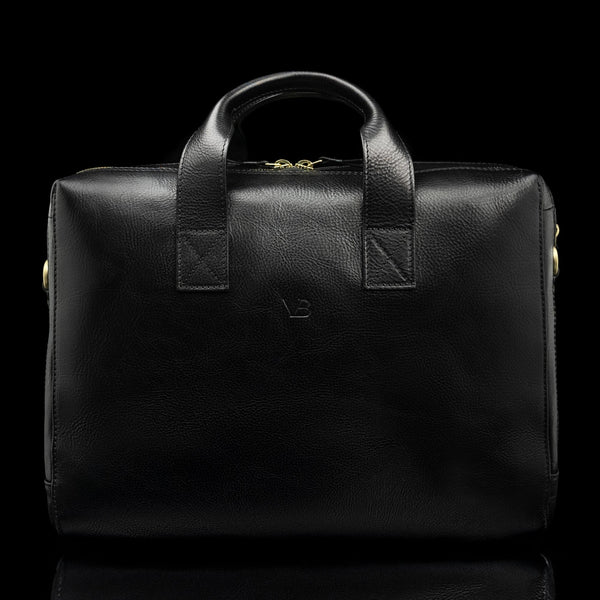 Elegant Black
Deep Red
City
Leather Laptop Bag
$995
Solid Brown
Elegant Black
Deep Red
Elegant
Slim Leather Laptop Bag
$895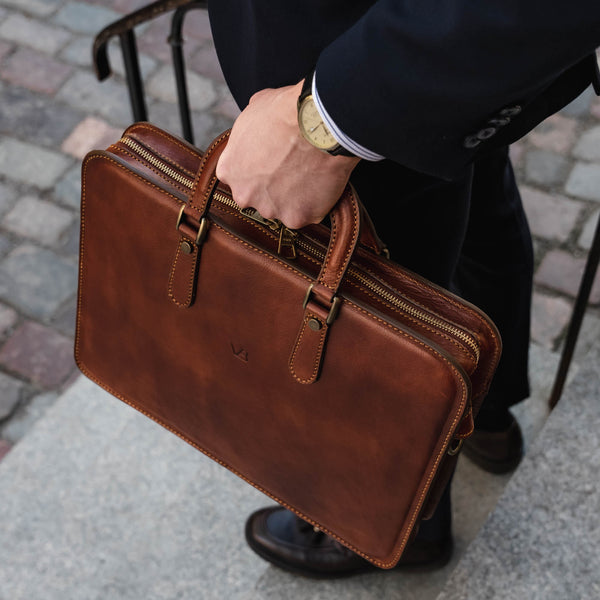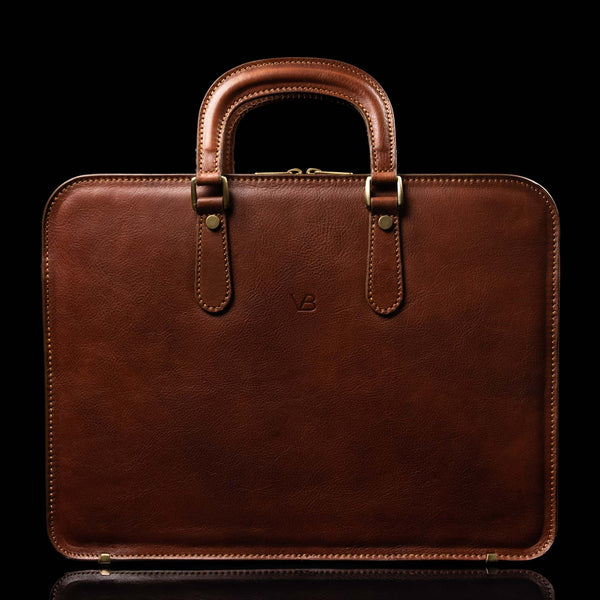 Solid Brown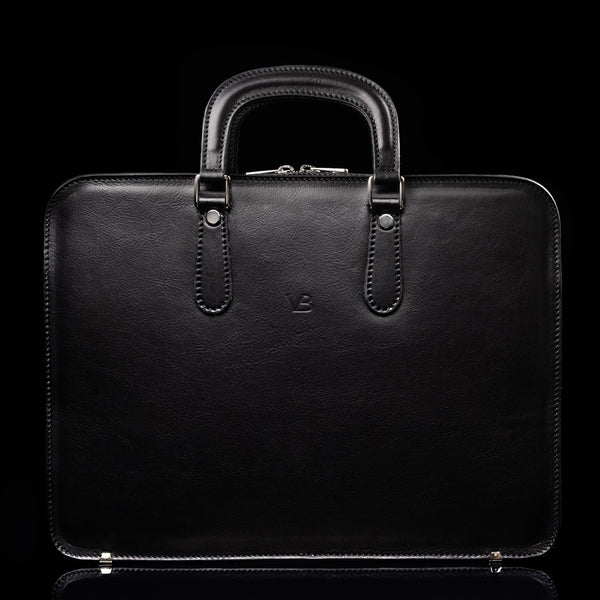 Elegant Black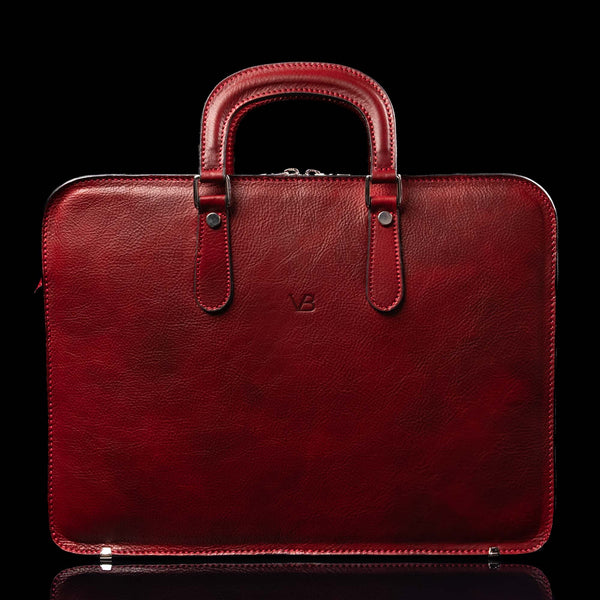 Deep Red
City Large
Leather Laptop Bag
$1,395
Solid Brown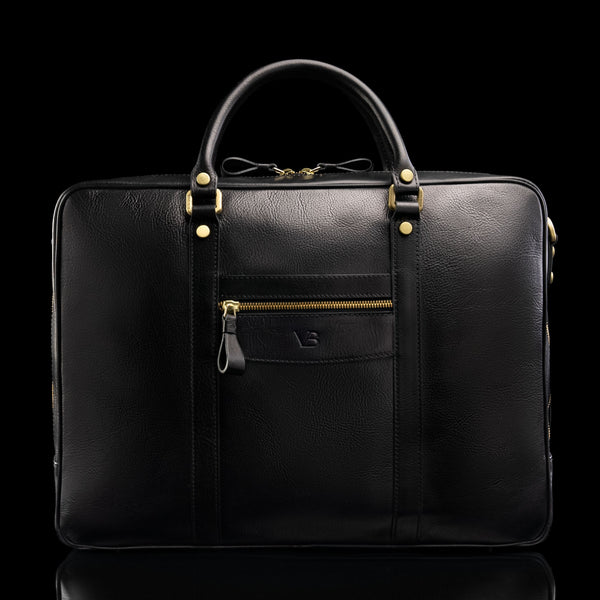 Elegant Black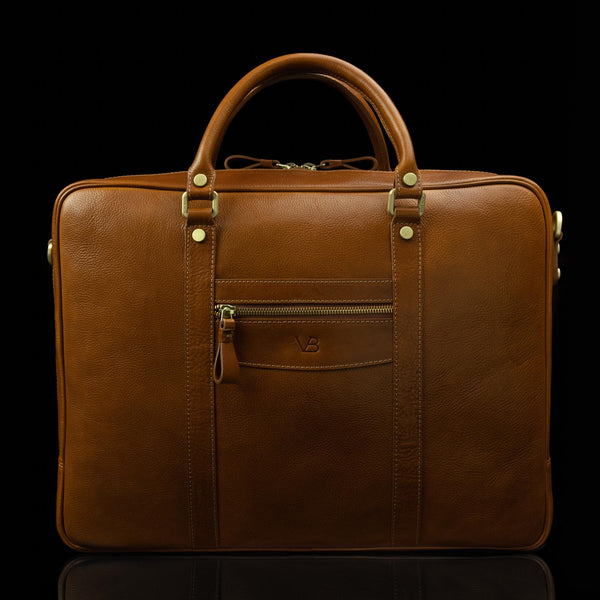 Classic Tan
Deep Red
10X
Leather Laptop Travel Bag
$1,295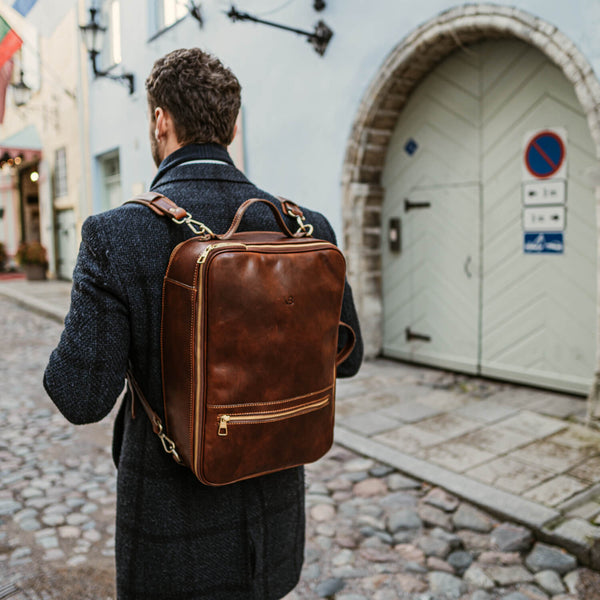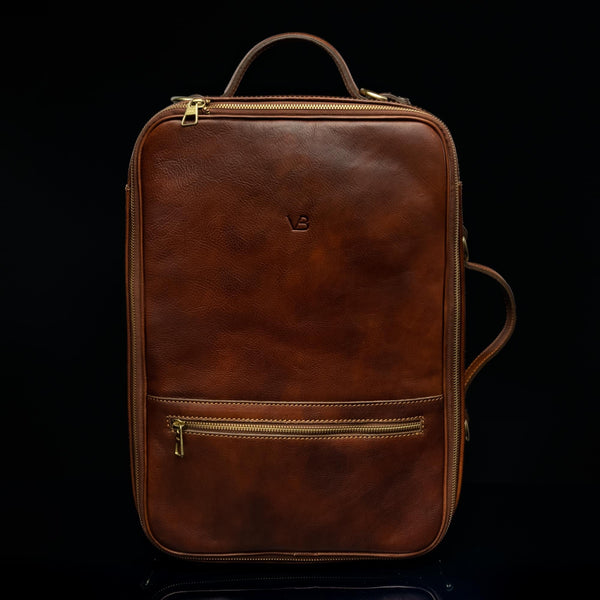 Solid Brown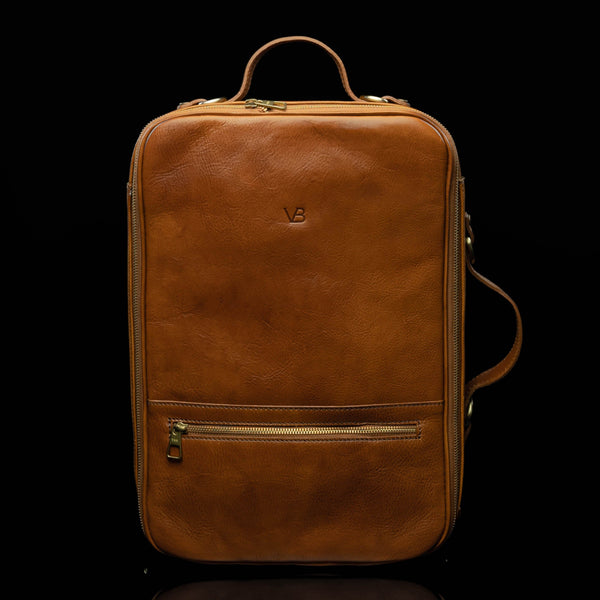 Classic Tan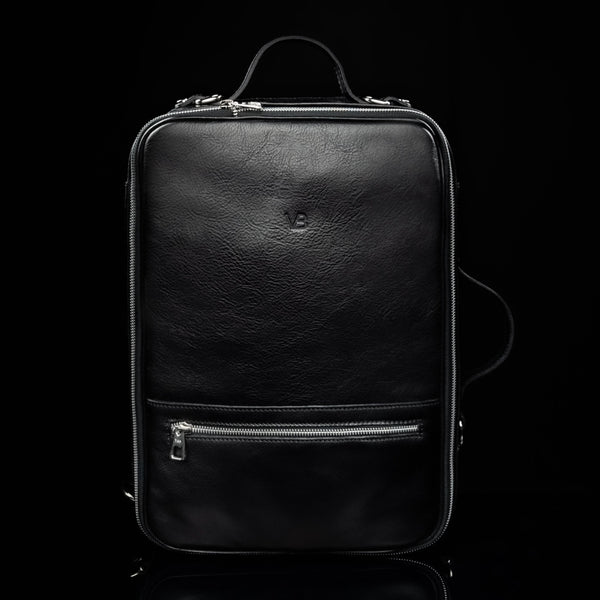 Elegant Black
No.2
Leather Messenger Briefcase
$1,495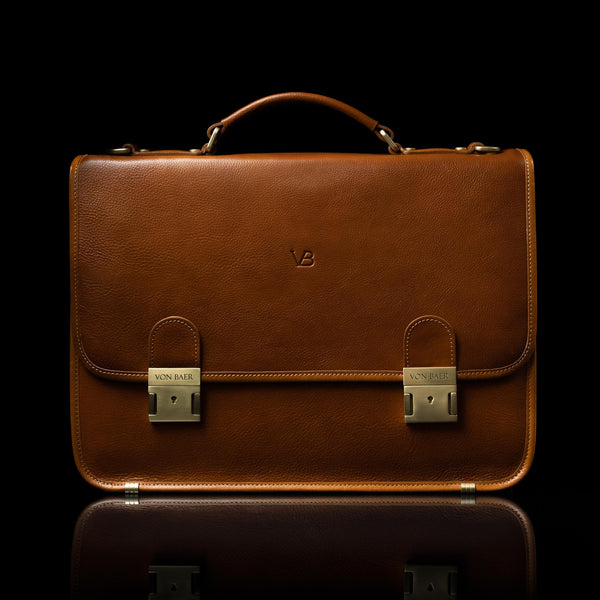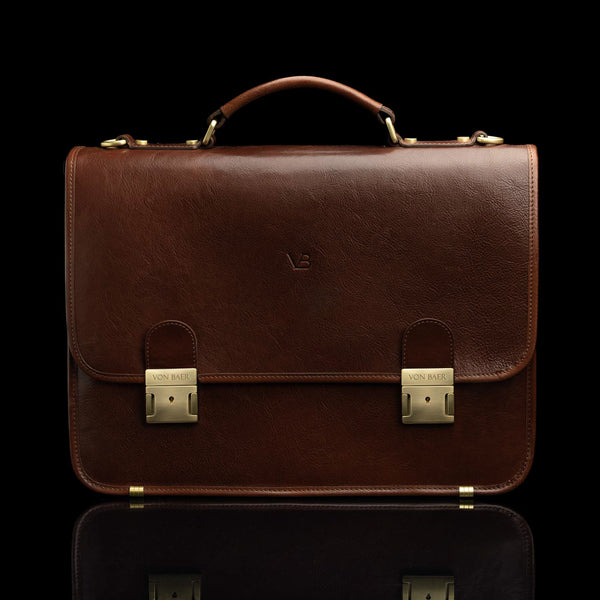 Solid Brown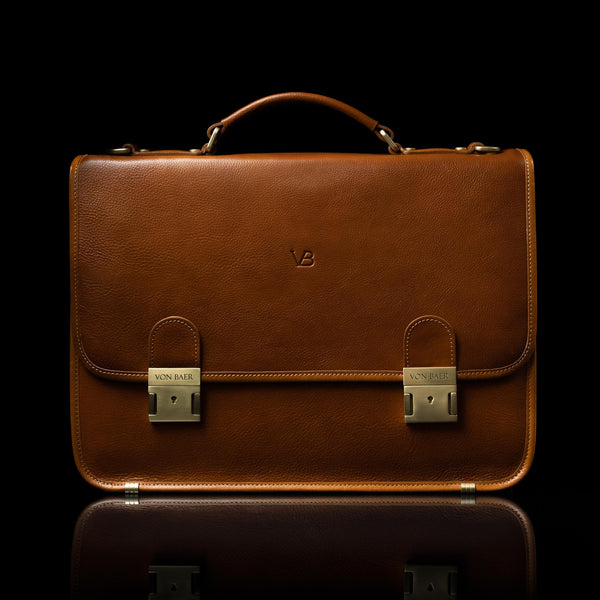 Classic Tan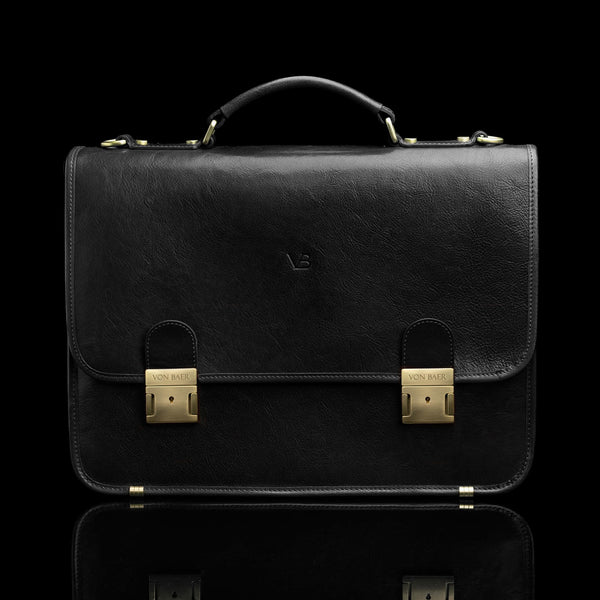 Elegant Black
No.3
Leather Messenger Briefcase
$895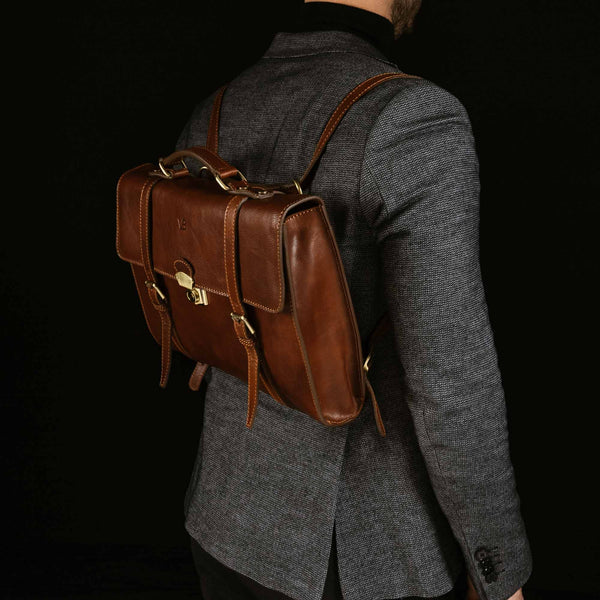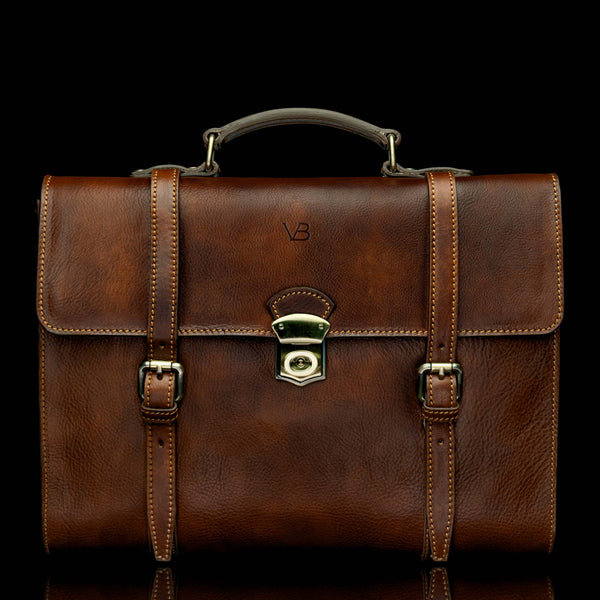 Solid Brown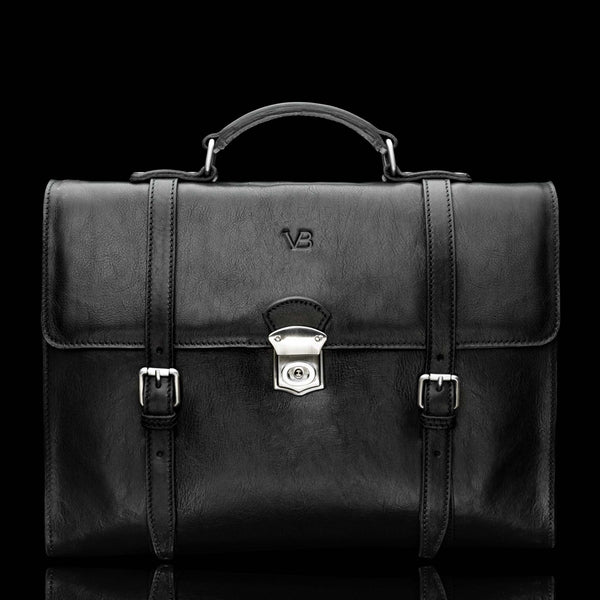 Elegant Black
Classic Tan
Exquisite
Slim Leather Laptop Briefcase
$1,095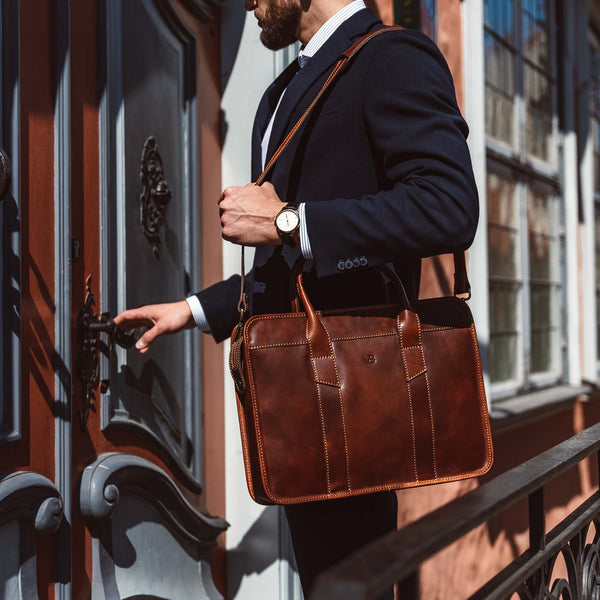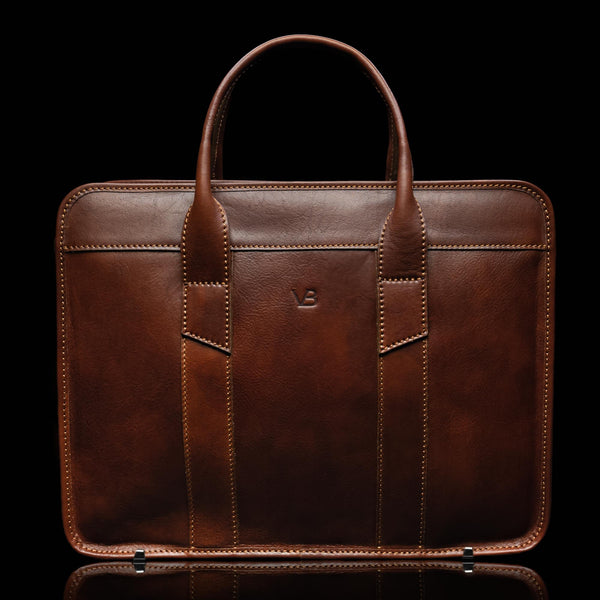 Solid Brown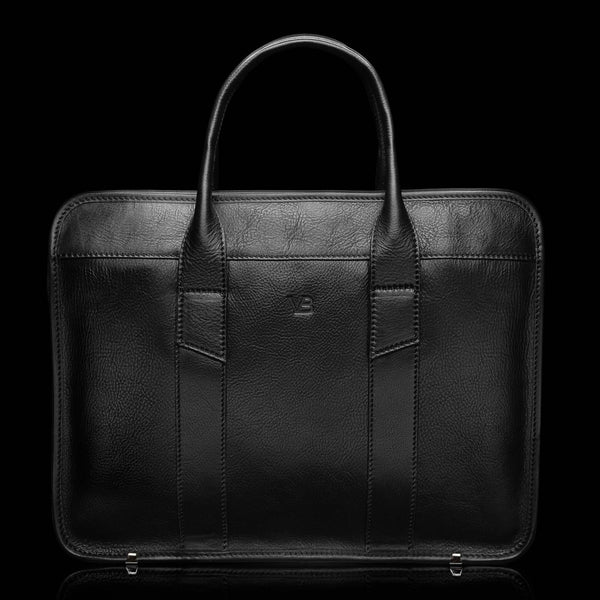 Elegant Black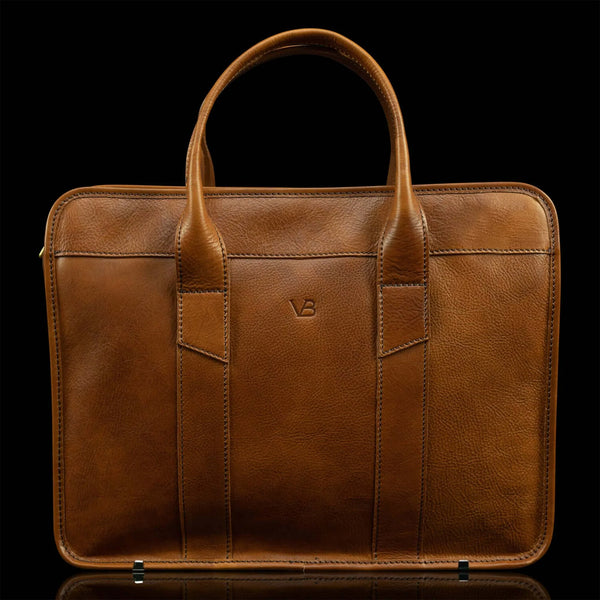 Classic Tan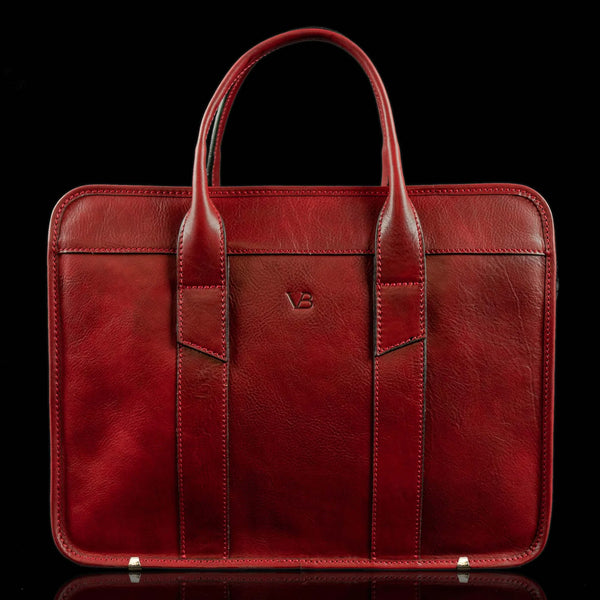 Deep Red
City
Women's Laptop Bag
$995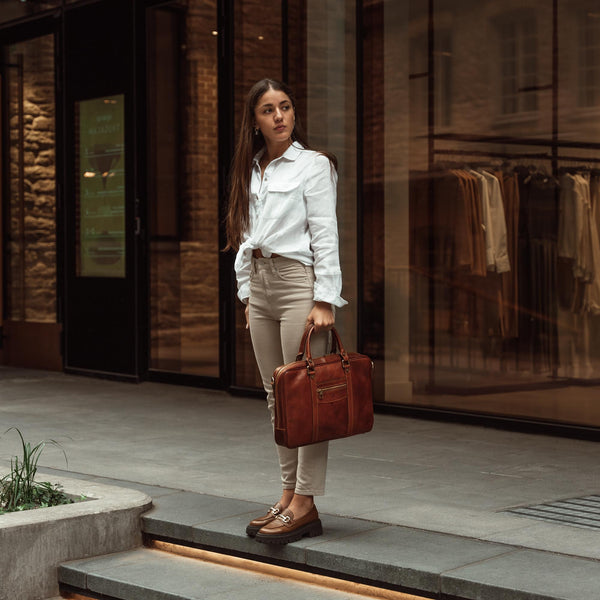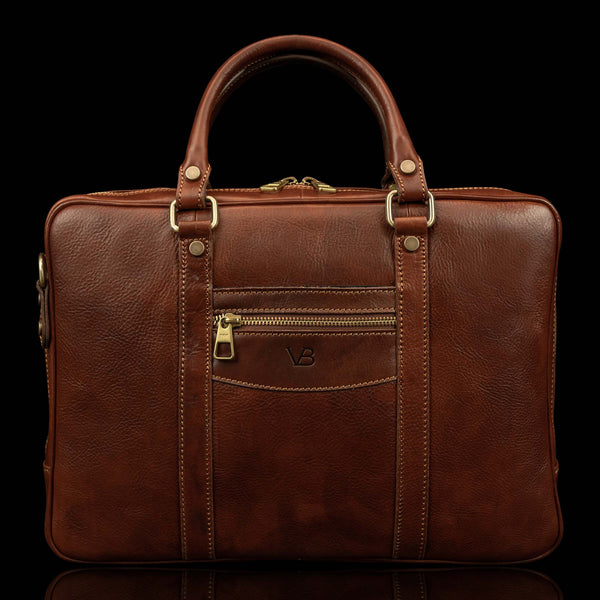 Solid Brown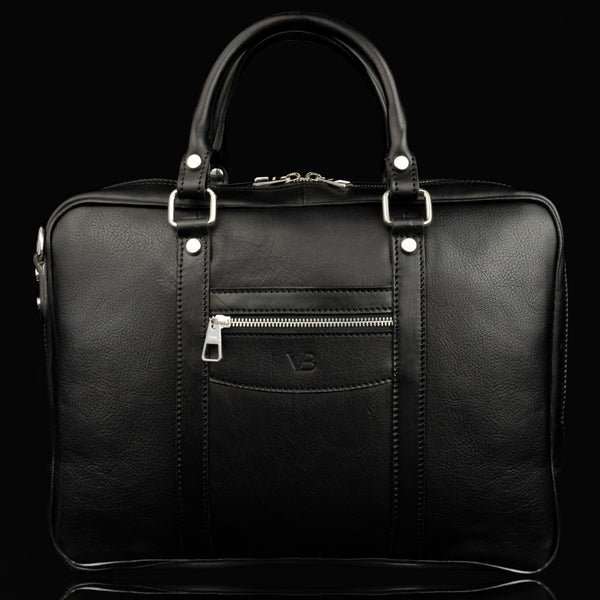 Elegant Black
Deep Red
10X
Women's Leather Laptop Travel Bag
$1,295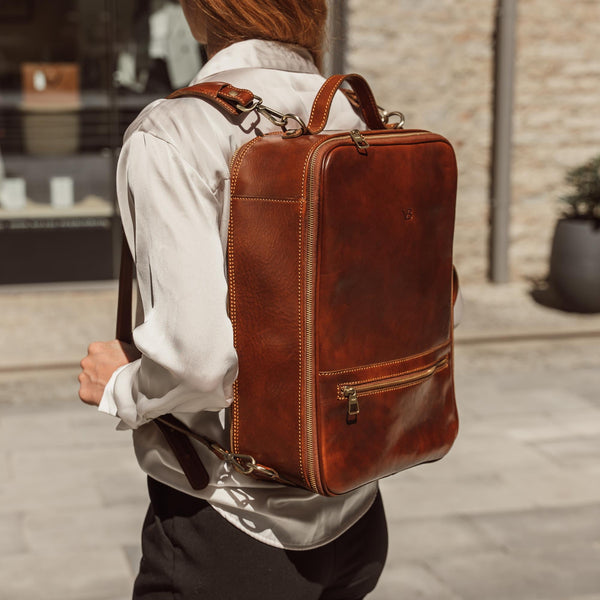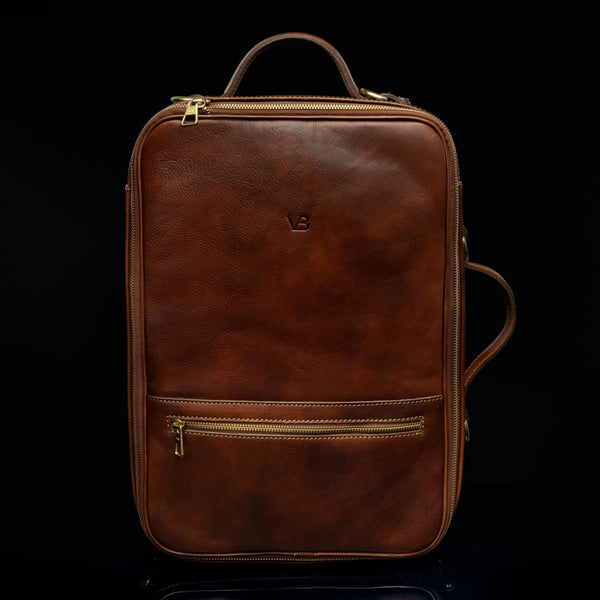 Solid Brown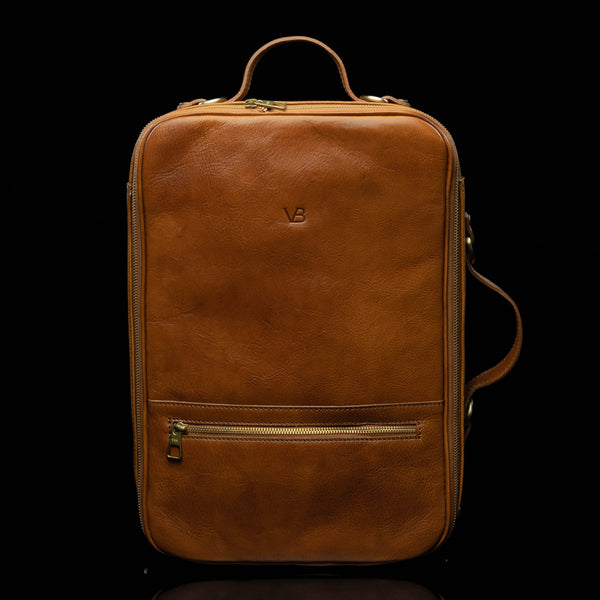 Classic Tan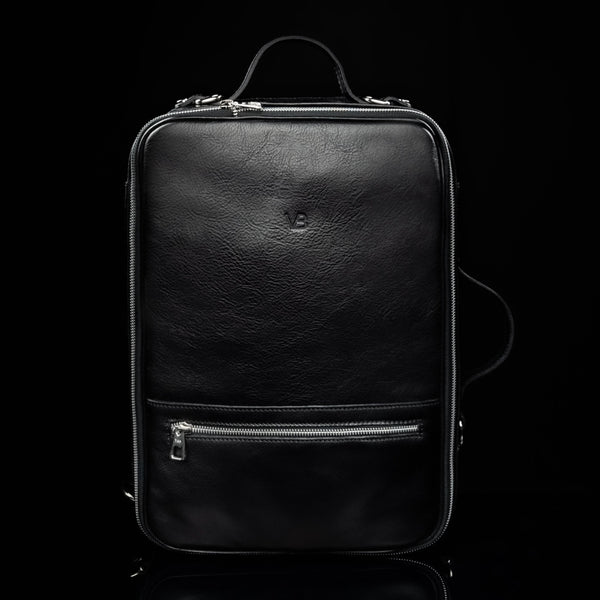 Elegant Black
Exquisite
Women's Laptop Bag
$1,095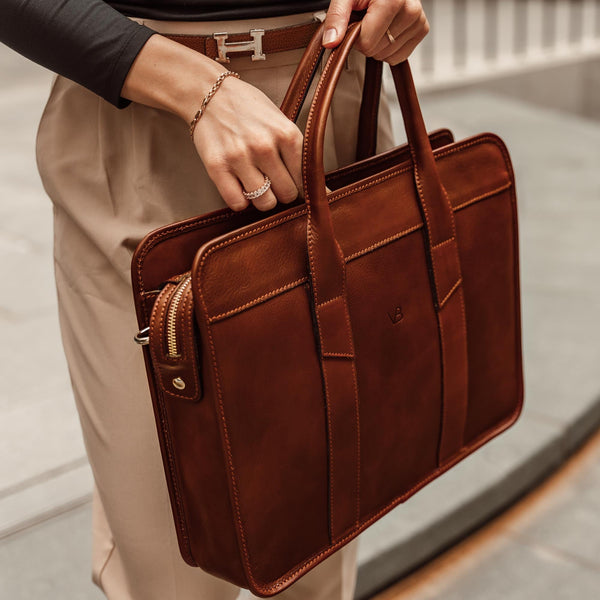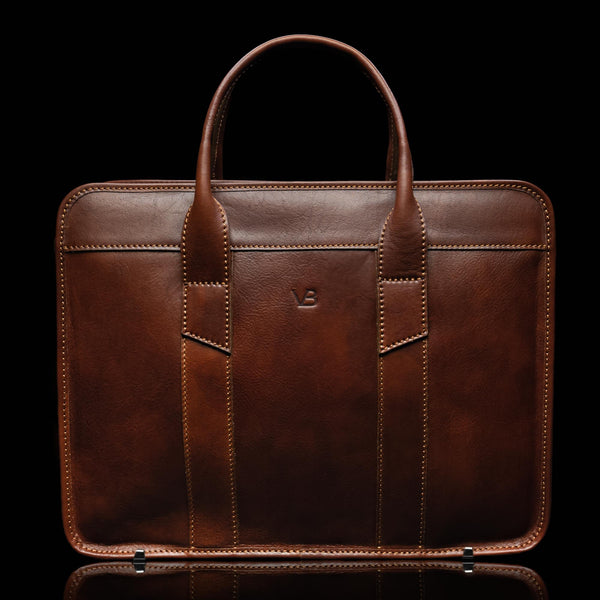 Solid Brown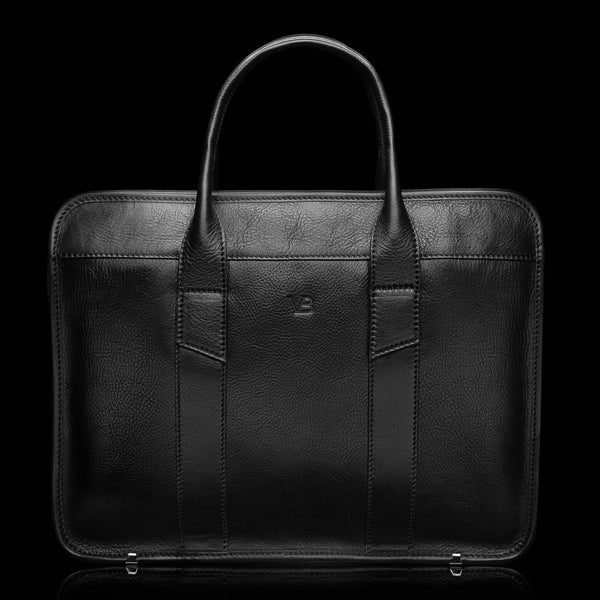 Elegant Black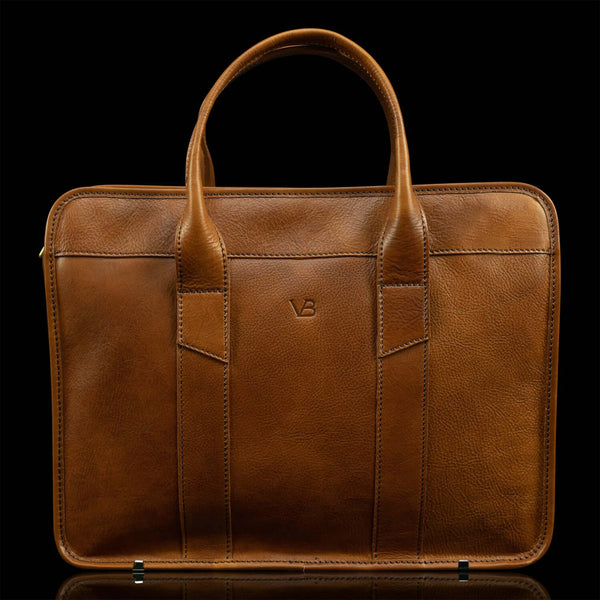 Classic Tan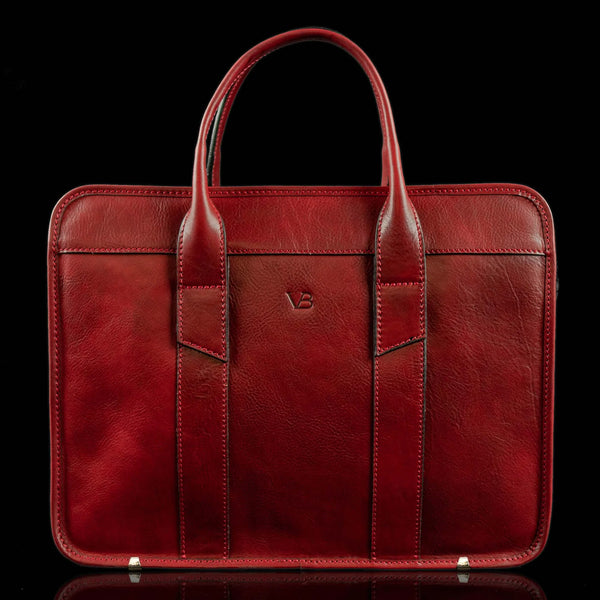 Deep Red
Elegant
Women's Laptop Briefcase
$895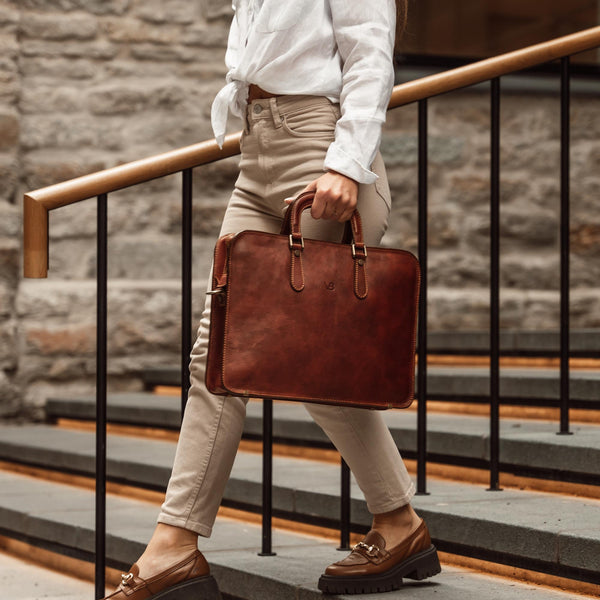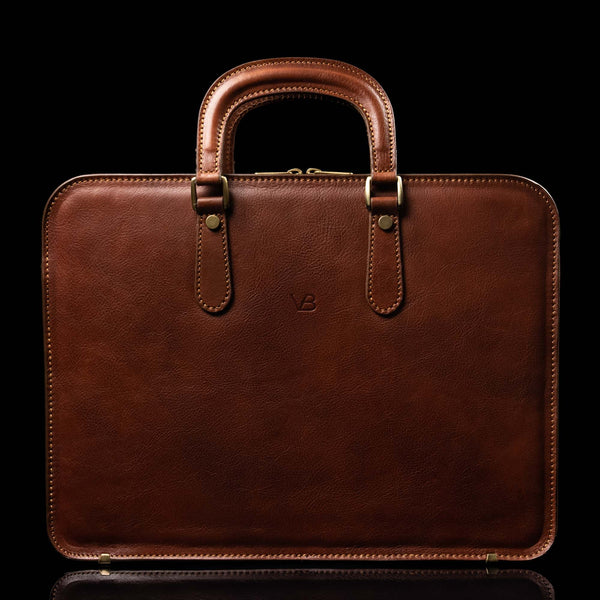 Solid Brown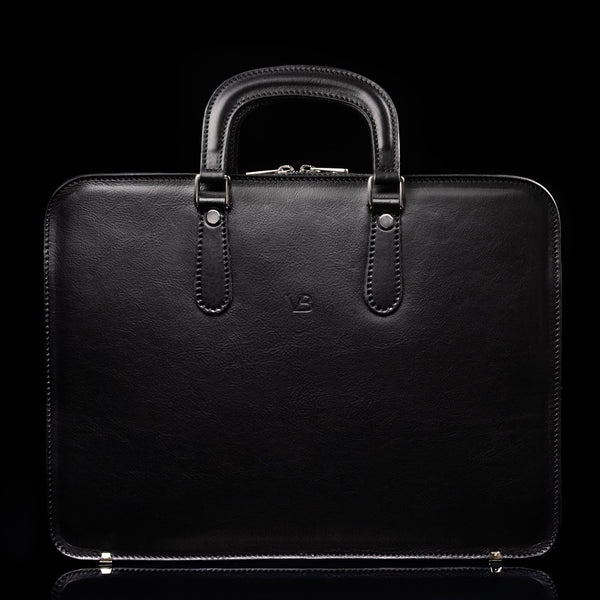 Elegant Black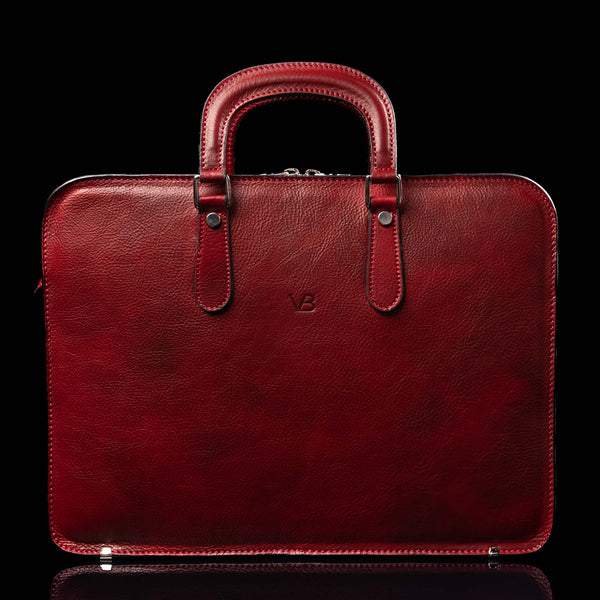 Deep Red
What makes our 15-inch Laptop Bags so special?
Handmade leather laptop bags
Our 15-inch laptop bags are expertly handcrafted by vastly experienced craftsmen in family-owned studios in Florence, Italy. This ensures every laptop bag meets the demands of your contemporary life without compromising on quality.

Highest quality full grain leather
We only use the finest full grain leather for our leather laptop bags, which is the best that money can buy. You can tell when it's high-quality genuine leather, by the look and feel of the product, as well as how long it lasts. The leather used is vegetable tanned, handmade in small batches by artisan craftsmen in Florence, Italy.
Durable construction
Zips and metal on bags are common stress points, which is why the hardware we use is of high-quality metals with YKK zippers, to ensure very durable moving parts. The bag lining is made from premium durable cotton, ensuring a soft yet strong inner to your bag, able to handle the day-to-day of a busy commute.
Colors without compromise
Our laptop bags come in 4 stylish leather colors, including black, brown, dark brown, or tan. These are all made from natural full grain leather, which ages nicely with leather patina. We also use solid brass hardware on all of our laptop bags.
Dedicated laptop compartment
All our laptop bags come with a dedicated compartment for your laptop or tablet. Our range includes 13-inch, 15-inch, and 17-inch compartments, so choose one that fits the tech you own.
Shoulder straps included
All our laptop bags also come with a removable shoulder strap, helping you turn them into a shoulder/messenger style bag. They are ideal for the daily commute to and from the office while keeping your hands free. Our laptop bags also come with exterior handles, usually two top handles.
Personalized with a laser engraving
Instead of monogramming, we use a high-quality laser engraving to personalize your laptop bag, ideal for your own bag or when buying as a gift.
Benefits
15-inch laptop bags are highly versatile accessories that deliver extra convenience and protection to your carrying life. Let's take a look at some of the major benefits:
Ease of Mobility
15-inch laptop bags allow you to transport your laptop from one location to another with ease. They ensure you always have quick access to your laptop whether you're at work, in the café or traveling around on business.
Protection
These bags are carefully crafted to protect your laptop and defend it from scratches, accidental drops, and dust. They deliver a snug fit to ensure your laptop remains in place while you commute.
Organization
The bags aren't just for laptops. They tend to come complete with compartments for essentials including chargers, pens, notebooks, and tablets.
They are designed to keep you organized on the move and make sure everything has a place and is easy to access.
Versatility
15-inch laptop bags are also famed for their versatility. They're ideal for working in the coffee shop, university lectures, and business meetings.
Compatibility
The bags are designed with 15-inch laptops in mind and are compatible with machines from all kinds of brands. Just make sure you compare the dimensions of the bag and your laptop to ensure the ideal fit.
Style Statement
Various designs and materials are available. This kind of bag can meet your needs whether you love the professional look of leather or prefer a more casual canvas style.
How To Choose
Let's look at some of the factors you need to consider when you're seeking the ideal 15-inch laptop bag.
Size
Make sure the bag fits your laptop comfortably. It should provide a snug fit without too much extra room as this prevents unnecessary movement that can cause damage.
It's also important to remember that the declared screen size of a laptop doesn't always correspond to its actual dimensions.
For instance, two 15-inch laptops from different ranges can have different widths, lengths, and heights. This can occur due to differences in keyboard layout and bezel size amongst other factors.
Check the specific dimensions of your laptop before comparing them to the bag's interior measurements. This should guarantee a snug, secure fit.
Materials
Some of the most popular materials used to create laptop bags include leather, nylon, and canvas.
Leather can provide a professional and sophisticated look. It's noted for its elegance and durability as well as the way it improves over time. However, it can be more expensive.
Nylon is a cheaper option and offers weather resistance and toughness while remaining lightweight.
Canvas is an eco-friendly option with a wide range of stylish designs to choose from.
Design
Briefcase Style: This is a more formal style that's ideal for office environments and business trips.
Backpack Style: This option delivers comfort and practicality, particularly suitable for students and commuters carrying their laptops for long periods of time.
Messenger Bag Style: This option delivers a fantastic fusion of casual style and formality, comfortable to carry and works well in both casual and professional environments.
Durability
Seek out a bag that comes with features like high-quality zippers and reinforced stitching. A sturdily constructed bag can last for years before it needs to be replaced.
Padding and Shock Absorption
Interior padding is crucial for protecting your laptop. Shock absorption and quality padding can go a long way towards preventing damage.
Compartments and Pockets
Multiple compartments are ideal for those carrying books, documents, and gadgets alongside their laptops.
Some bags have specialized pockets for keys, phones, and pens. If you're prioritizing organization, seek out a bag with these features.
Extra features including luggage straps for attaching bags to suitcases, RFID-blocking pockets to prevent credit card fraud, and dedicated tablet pockets have become increasingly popular over the years.
Brand
Some people prefer to buy bags manufactured by established brands who are synonymous with quality, dependability, and great design.
Cost
Unless money is no object, you may need to strike a good balance between quality and cost-efficiency.
Weight
If you're carrying your laptop for a long period of time, it may be best to opt for a light bag to ensure your commute is a comfortable one.
Reviews
Online reviews can give you a good insight into what to expect from a bag you're considering buying.
Warranty
Warranty terms can tell you a great deal about how much confidence a manufacturer has in their bags. The longer the warranty is, the more durability and quality you can expect.
Types
Backpack-Style Laptop Bag
These popular bags come with a pair of shoulder straps which enable you to carry them on your back.
They are noted for their fantastic weight distribution, which reduces the amount of strain on your body when you have a heavy load to carry. These bags also tend to have extra compartments for things like mice, chargers, and notebooks.
They are ideal for students, commuters, and anybody who likes the convenience of hands-free carrying. If you're a regular traveler, you could seek out a backpack-style bag with inbuilt security features like lockable zippers.
Messenger-Style Laptop Bag
These bags have a single long strap which is worn over one shoulder. They deliver a casual, stylish look which is great for the office and commuting around the city.
Features can include dedicated padded compartments to protect your laptop and other devices as well as additional pockets for organization.
Maybe you're a professional attending business meetings? If so, you can expect a pleasing blend of sophistication and practicality from this kind of bag.
Briefcase-Style Laptop Bag
These bags have a professional appearance that's great for business settings. They often have a handle at the top to enable hand carrying and can come with detachable shoulder straps.
They have proved to be particularly popular with corporate executives and legal professionals who need something sleek and minimal.
Tote-Style Laptop Bag
Tote-style laptop bags have two handles and vast open space. Unlike traditional totes, they also have special compartments for laptop storage.
Offering a brilliant mix of functionality and style, they are available in a host of materials and colors. If you need a bag that's suitable for both work and personal usage, this could be the option for you.
Sleeve-Style Laptop Bag
These slim, lightweight bags can fit snugly around laptops to protect them from minor bumps and scratches.
They are very popular amongst students who tend to carry their laptops in larger backpacks and bags.
Although these sleeves are rather thin, they normally use tough materials to absorb shock and protect your laptop from dust and water.
Alternatives
Basic Laptop Sleeves
These straightforward options are ideal for those seeking protection for their laptop without extra bulk.
You can expect this kind of sleeve to fit snugly around your laptop to protect it from minor bumps and scratches.
Backpacks with Laptop Compartments
These backpacks are very popular with commuting office workers and students. They protect laptops whilst also offering sufficient space for documents, books, travel gear, and more.
As they distribute weight evenly across your shoulders, they can be regarded as ergonomic options.
Laptop Briefcases
These briefcases enable you to create a professional look and give you dedicated compartments for laptops as well as documents and other essentials. Some even have wheels and telescopic handles.
Such features ensure they're easy to transport through airports and other busy spaces.
Laptop Messenger Bags
These casual bags come with cross-body straps, which has made them very popular with students and creative professionals. They offer secure storage for devices and also come with extra pockets for things like pens, water bottles, and notebooks.
Laptop Tote Bags
Laptop tote bags offer a great blend of style and functionality, giving you lots of space for your laptop, wallets, cosmetics, and footwear.
Convertible Laptop Bags
Convertible laptop bags are noted for the flexibility that they offer. They can quickly be transformed from backpacks to handbags, shoulder bags, and even briefcases.
If you need a versatile bag that works well in various settings, including weekend breaks and office meetings, a convertible laptop bag could be right for you.
Rolling Laptop Bags
If you travel frequently or carry heavy loads on a regular basis, a rolling laptop bag could be ideal.
They tend to come with smooth-rolling wheels to take the fuss out of transportation and can prevent shoulder strain thanks to the way they allow you to roll your load instead of carrying it.
Post Purchase Considerations
Post Purchase Considerations
Size Concerns
Ideally, you should measure the width, depth, and height of your laptop and compare it to the bag dimensions before you make your purchase.
However, if you do find you're unhappy with the fit once you've made your purchase, you may be able to return and exchange the bag.
Material Considerations
You may have concerns about how durable the material used to make your bag is. There are many bags on the market that are made from tough, amazing-looking materials like high-quality full-grain leather.
A key benefit of this is that it looks even better over time. You can maintain the quality of this material by cleaning your bag gently using a soft, dry cloth.
A damp cloth with a mild soap solution can be used to treat accidental spills and stains.
Storage Space
It's always best to ensure the bag you're buying offers enough storage for what you want to carry. If you feel the bag that you have purchased doesn't provide this, you may be able to return it.
It's important not to overfill these bags as this can strain the structure of the product. Try to distribute weight evenly when loading your bag.
Heavier items like power adapters should be placed at the bottom of your bag underneath lighter ones.
Maintenance
To keep your leather bag looking fantastic, you can apply a quality leather conditioner every so often to keep the leather supple and boost its lifespan. Dust it off regularly too.
Aesthetic Concerns
Many 15-inch laptop bags are designed to work well with any attire. However, online style guides can help you create a highly impressive look and help you choose the perfect garments to complement your bag.
FAQs
What Size Laptop Can These Bags Accommodate?
These bags are specifically designed for 15-inch laptops. They can house models up to 15.6 inches.
Do These Bags Come with Separate Compartments for Accessories?
Yes these bags offer multiple compartments and pockets for items such as notebooks, chargers, laptops, tablets, and other accessories.
Are the Bags Waterproof or Water-Resistant?
Many of these 15-inch laptop bags are manufactured with water-resistant and waterproof materials.
What Kind of Protection Do These Bags Offer for Laptops?
These 15-inch laptop bags have padded compartments or soft linings to protect your machine from drops and bumps.
How Can I Clean or Care for This Kind of Laptop Bag?
Care instructions can vary from one product to another, although most bags can be cleaned with damp cloths. Check the product description or any instructions that may have come with the bag.