Luxurious slim leather briefcases, handmade from full grain leather in Florence, Italy.
Professional briefcases, ideal for work. Personalize them with a laser engraving.

Choose from slim briefcases, laptop bags, and messenger bags.
Exquisite
Slim Leather Laptop Briefcase
$1,095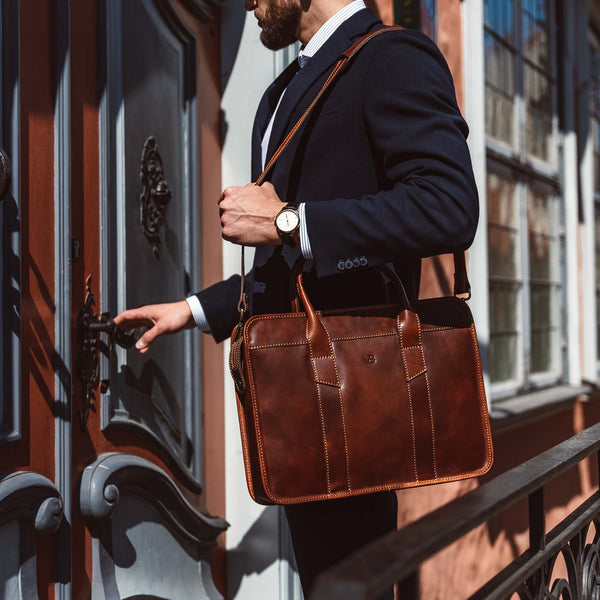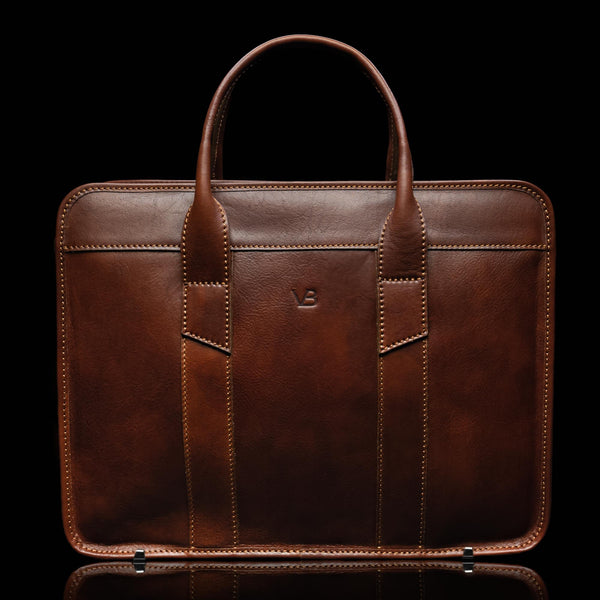 Solid Brown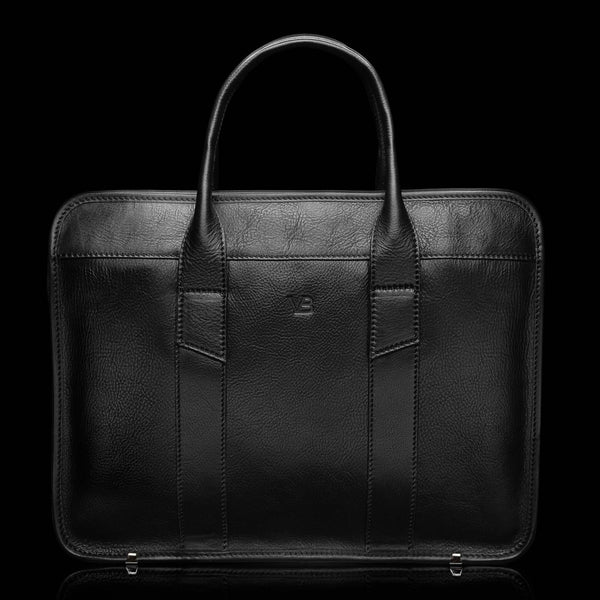 Elegant Black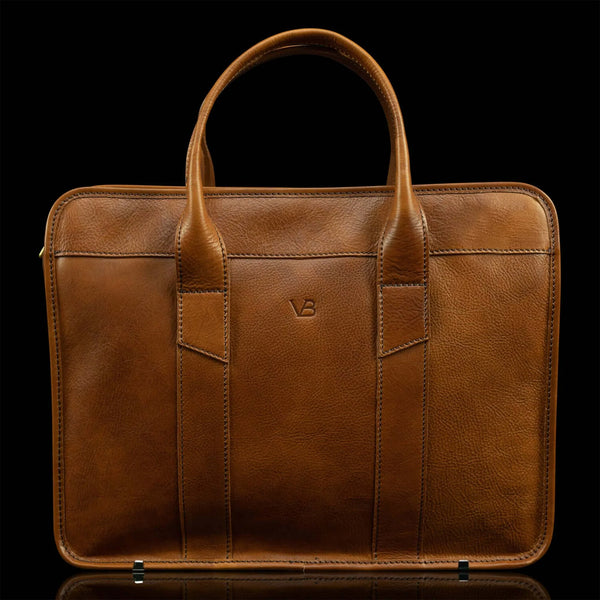 Classic Tan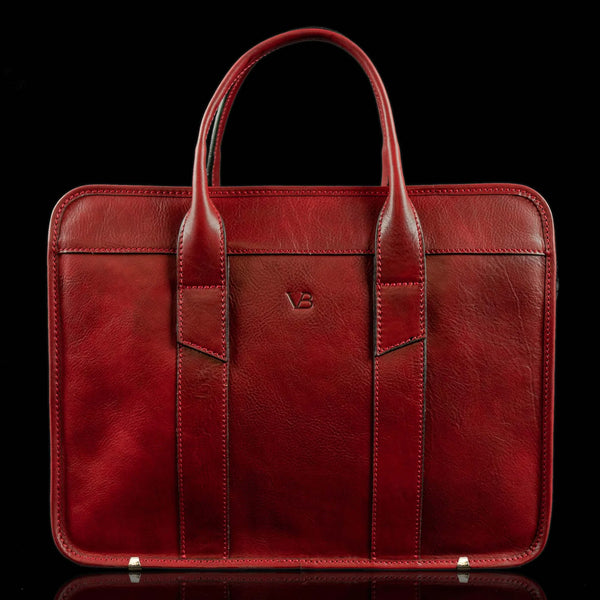 Deep Red
Elegant
Slim Leather Laptop Bag
$895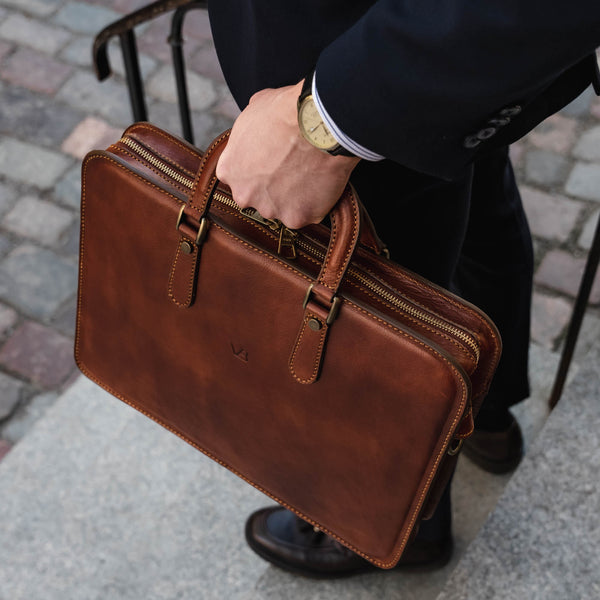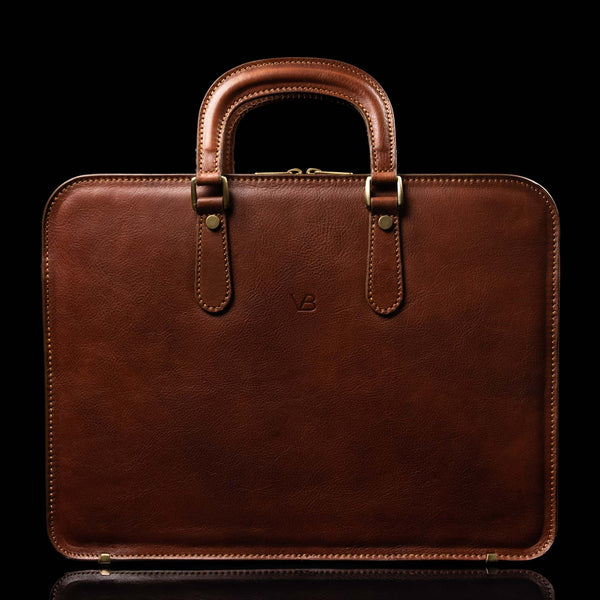 Solid Brown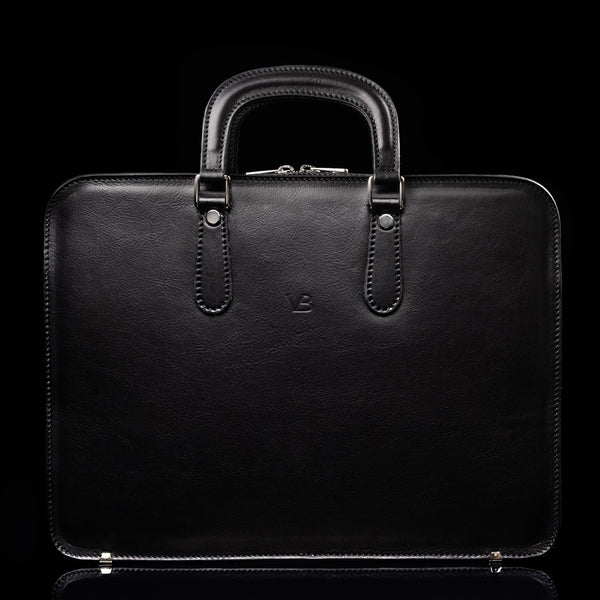 Elegant Black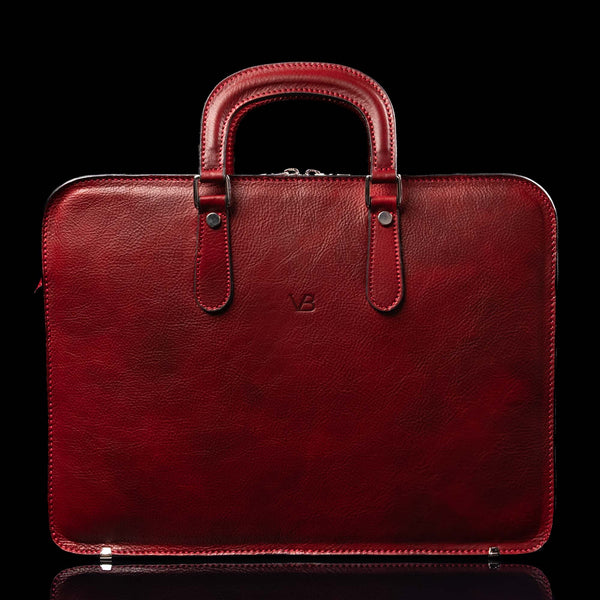 Deep Red
No.2
Leather Messenger Briefcase
$1,495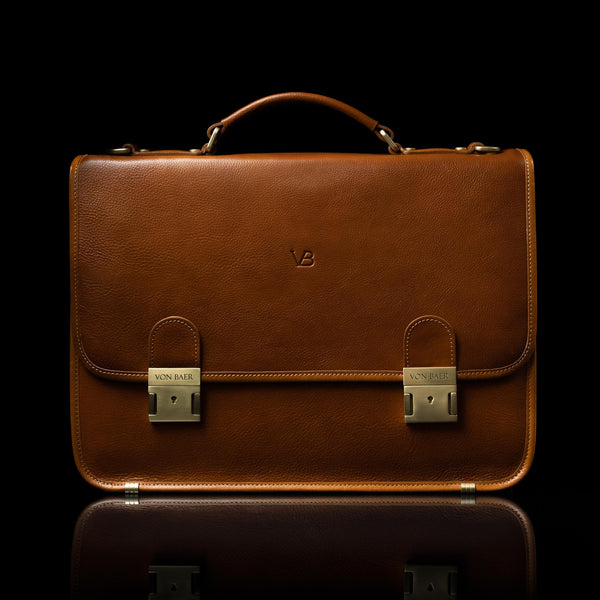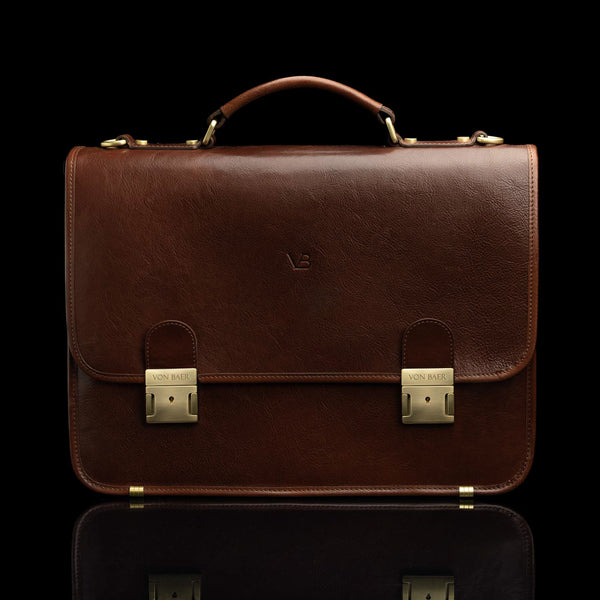 Solid Brown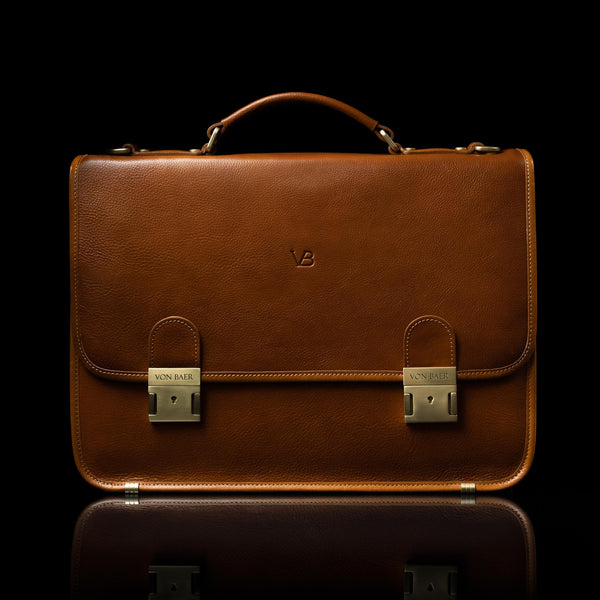 Classic Tan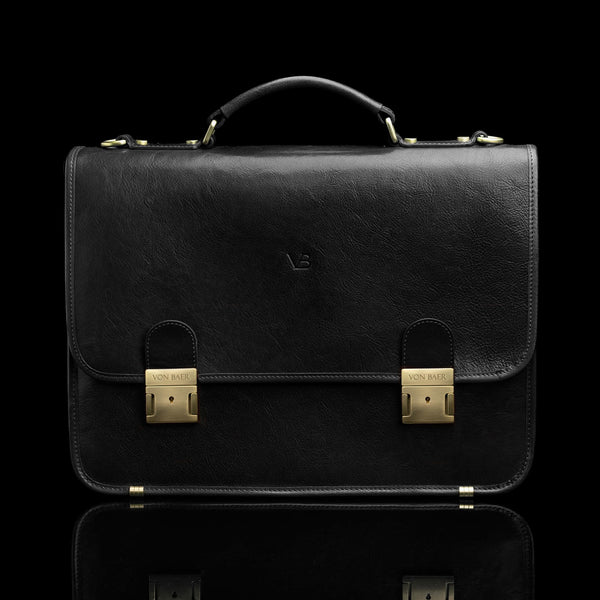 Elegant Black
Essential
Modern Briefcase
$875
Solid Brown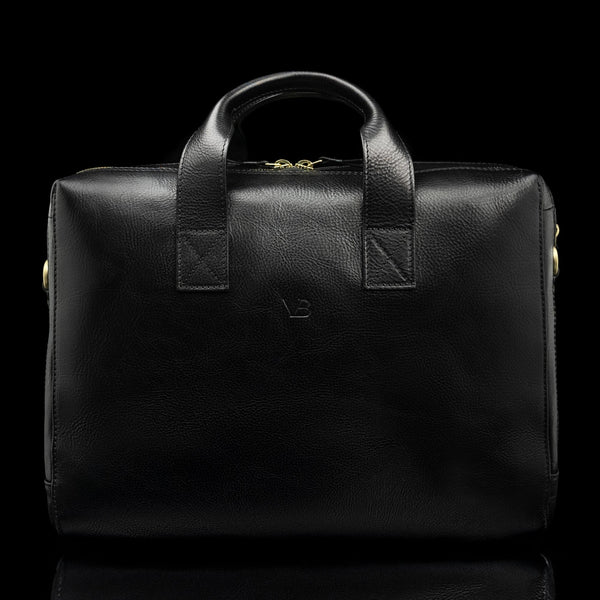 Elegant Black
Deep Red
City
Leather Laptop Bag
$995
Solid Brown
Elegant Black
Deep Red
City Large
Leather Laptop Bag
$1,395
Solid Brown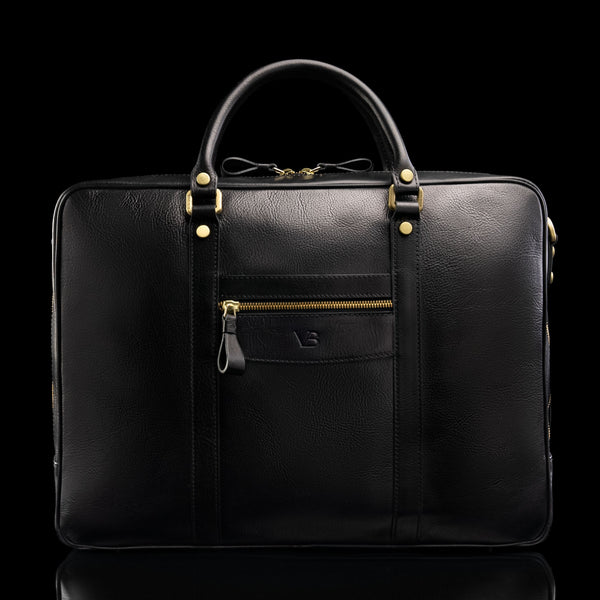 Elegant Black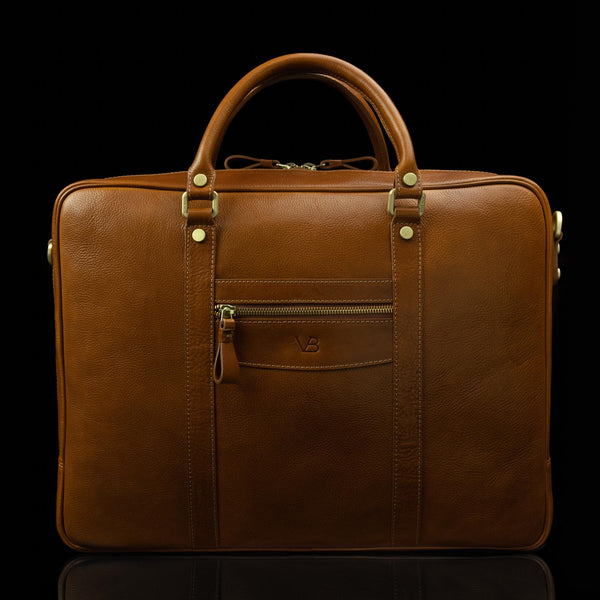 Classic Tan
Deep Red
What makes a Von Baer slim briefcase so special?
Handmade leather briefcases
Von Baer slim briefcases are expertly handcrafted by vastly experienced craftsmen in family-owned studios in Florence, Italy. This ensures every briefcase meets the demands of your contemporary life without compromising on quality.

Highest quality full grain leather
We only use the finest full grain leather for our Italian leather slim briefcases, which is the best that money can buy. You can tell when it's high-quality genuine leather, by the look and feel of the product, as well as how long it lasts. The Von Baer leather is vegetable tanned, handmade in small batches by artisan craftsmen in Florence, Italy.
Durable construction
Zips and metal on briefcases are common stress points, which is why the hardware Von Baer use is high-quality metals with YKK zippers, to ensure very durable moving parts. The bag lining is made from premium durable cotton, ensuring a soft yet strong inner to your briefcase, able to handle the day-to-day of a busy commute.
Colors without compromise
Von Baer briefcases come in 4 stylish leather colors, including black, brown, dark brown, or tan. These are all made from natural full grain leather, which ages nicely with leather patina. We also use solid brass hardware on all of our slim briefcases.
Dedicated compartments
All Von Baer briefcases come with dedicated compartments for your essentials. Our range includes various compartments, so choose one that fits the tech and tools you own.
Shoulder straps included
All Von Baer briefcases also come with a removable shoulder strap, helping you turn them into a shoulder/messenger style bag. They are ideal for the daily commute to and from the office while keeping your hands free. Our slim briefcases also come with exterior handles, usually two top handles.
Personalized with a laser engraving
Instead of monogramming, we use a high-quality laser engraving to personalize your slim briefcase, ideal for your own briefcase or when buying as a gift.
Benefits
The slim briefcase offers many benefits. Its modern and sophisticated design offers every practicality to the modern professional. Few items can elevate professional style to the same degree.
Top Reasons to Choose a Slim Briefcase:
These cases are about more than good looks, they are about practicality and versatility too. A slim briefcase can hold your laptop, documents, stationery, and more.
Dedicated compartments keep things safe and quickly accessible. The case itself is lightweight and durable.
Appropriate Situations
The slim profile adds elegance to the case, making it at home in various situations. It can fit seamlessly in formal situations such as seminars and business meetings.
It works well as a carry-on bag when flying too, easily fitting under the seat or in the overhead bins. It also adds sophistication to more casual settings, adding a flash of refinement to casual looks from jeans to summer dresses.
Compatibility
There is a perfect slim briefcase fit for most brands and sizes of laptop, tablet, and notebook.
It works very well with brands like Apple, Dell, HP, and Lenovo, and its style fits everything from Hugo Boss business attire to Paul Smith, Brooks Brothers, and even more casual styles.
Whether your professional environment is more formal, or very laid back, a slim briefcase will do everything you need it to do, and it will do so in great style.
How to Choose
Material Resilience
Perhaps the most important factor to consider is the materials' quality.
Whether you choose a case that is made of leather, nylon, of even waxed canvas, you want to ensure that the case you use will stand up to the conditions in which you use it.
Some very weather-resistant materials won't be as suitable for more formal settings, but don't despair – properly treated leather, for example, can still stand up to some inclement weather and still look great in the office or boardroom.
We recommend choosing full grain leather for your slim briefcase, as it's professional and stylish, and lasts for years, along with developing elegant leather patina.
Size
The size of the case should be adequate to carry your daily needed items, and ideally a little extra space for those times when an additional item or two are needed. Consider the screen size of your computer, but also the thickness.
A thicker 13" computer, for example, may need the same compartment size as a thinner 15". If you are in doubt, feel free to contact our customer service team, and they can help to advise you.
Compartments & Organization
Consider the items that you will need to get at more often, and perhaps more quickly, and ensure that there is a handy compartment for each of these items.
The right configuration of the right pockets will still be sleek and streamlined – you may be surprised to find how much you can put into a well-designed and well-organized case!
If you are a minimalist, then fewer pockets will do. If you need to, or like to, carry a lot of items, then opt for a bag with a lot of pockets – you want to avoid that pile of cables and lost bits at the bottom of the case.
Design & Aesthetic
Personal style is important, as is a professional impression. A classic case style will work almost anywhere, flowing seamlessly from the boardroom to the coffee shop, whereas a more creative, casual work environment may mean a more contemporary look is the best fit.
Hardware
An often-overlooked part of buying a bag or case is the hardware.
Zippers, buckles, clasps, rings, and that kind of thing – anything made of metal or plastic – warrants a close look.
Nickel or brass are excellent materials for these components, as these metals are strong, relatively light, and can be finished in a wide range of colors and textures. Stainless steel is also a strong, beautiful choice.
Plastic is commonly used as well but will not stand up to as much wear, sometimes failing in the face of heavier loads or long use.
If you are paying for high-quality leather, then it's worth making sure the hardware is a good match.
Finally, make sure the stitching and other workmanship around the hardware is well done. Hardware should be very securely fastened, especially if it bears a load, like a strap attachment.
Handle & Strap Options
Speaking of straps, you should choose a case that has the right carrying method for the intended uses.
A handle (or pair of them) is very nice for first impressions in offices and boardrooms, and leaves the other hand free to shake hands, open doors, etc. If you commute via public transport, or spend part of your daily journey on foot, then a shoulder strap, preferably adjustable and padded, is a great feature too.
These allow hands-free carrying and a more comfortable load. Some cases, such as convertible styles, offer both, and some even add a backpack-style configuration for cycle or scooter commuters.
Ease of Transition
It should be easy and quick to transition between professional and casual settings. You don't want to be fiddling with finicky buckles or having to stuff straps into inconvenient pockets that feel too small for the task.
Test the transition and practice it a little to make sure your transformation from commuter to boardroom is smooth and simple.
Ethical Manufacturing
Ethical considerations are important for many buyers, and also for many manufacturers. Since it can be a little more expensive to ensure fair practices in sourcing and manufacturing, manufacturers of these cases tend to display their efforts using a tag or statement in the documentation that assures the buyer of ethical practices and/or sustainability.
Manufacturers often provide information about their sourcing and production processes to ensure ethical standards are met.
Types
Portfolio Briefcase
For professionals who desire a minimalist look, but also need to carry documents and presentation materials, the portfolio briefcase offers the best in no-nonsense, slim pockets and compartments.
Convertible Briefcase
For those desiring the most versatility, the convertible briefcase transitions from a hand-held case to a shoulder case, and even – in some cases – to a backpack style.
Expandable Briefcase
If you have regular case needs most of the time, but sometimes need added space for samples, additional documents, or even a change of clothes for brief travel or a workout day before or after work, an expandable briefcase is a great choice.
Attaché Case
For a punch of elegance in a slim case, the attaché case is the way to go. Usually hard-sided and sleek, these cases have developed from the need for diplomatic couriers and officers (attachés) to carry documents in a safe and secure manner.
Envelope Briefcase
Picture a bigger, stronger, and great-looking case inspired by the humble paper envelope. If you need to carry a few items, maybe a laptop and a few papers, this is all you need. It is a no muss, no fuss option for the true minimalist.
Alternatives
Backpacks
Backpacks are for casual settings in which the user needs to carry heavier loads, or needs to carry regular loads over longer commuting distances via bicycle or scooter. They allow for hands-free interaction.
Messenger Bags
Typically worn over one shoulder and across the body, messenger-style bags are the halfway point between the backpack and the hand-held case.
Rolling Briefcases
For those who carry quite heavy loads, travel, walk long distances during the day, or require a large-size case for models, samples, and that type of thing, a rolling briefcase is a great choice.
Tote Bags
For those who need or desire to make a fashion statement with their bag, a tote can offer more vibrant styles and colors than most briefcases embrace. Items are easy to access, and there is typically a lot of room to hold items inside.
Portfolio Cases
A portfolio case is streamlined, simple, and made to suit a minimalist style of work. These cases will hold some documents, a slim laptop or a tablet, along with a few essentials.
Laptop Sleeves
The most minimal of designs, the laptop sleeve is not much more than the name covers. The sleeve will offer some protection for your device, and will carry a few other smaller items, depending on the design. No fuss, and nothing extra.
Post Purchase
Fitting the Laptop
In order to ensure that your device will fit inside your new slim case, choose the one that is rated for your laptop size – with one proviso.
If your laptop is a 13", slim laptop, then the 13" compartment will be fine. If your laptop is a thicker one though, you might want to consider a slightly larger compartment to accommodate the added size, perhaps a 15" design.
When you receive your case, slide the laptop in first, to ensure a proper fit. There shouldn't be too much slack, but it should slide in easily without having to be forced.
Quality Check
We do extensive quality checks during our manufacture process, but if you are concerned about it, simply carry out a quality check of your own when you receive the case. Start by ensuring that all seams are tight and regular.
Check that any zippers or buckles are properly attached and that there are no flaws in the finish or assembly. If you find anything that is not up to a high standard, then please get in touch with our customer service department, so we can help to sort out the issue to your satisfaction.
Maintenance
Maintenance of your new slim case is really quite easy. Because it is made of premium materials, you'll want to ensure they last as long as possible, while looking great the whole time.
This is best achieved by proper conditioning of the leather, three to four times a year, depending on how heavy it is used. Cleaning consists of wiping gently with a damp cloth and allowing to dry naturally, away from high heat sources or direct sunlight.
Avoid exposing the bag to excessive moisture or prolonged direct sunlight, especially when not in use. Each product comes with detailed instructions on care and cleaning your new case.
Adapting to Slim Design
The slim case is designed for minimalists who don't carry items they aren't likely to need. Start adapting to this ethos by selecting only the items you know you will need for the day.
If you have any extra room after this, you might add a "just in case" item or two, as space permits.
You might find that the minimalist style is both freeing to the mind, and easier on the arm and shoulder, as your case will be light and easy to carry.
FAQs
What is a Slim Briefcase?
The slim briefcase is a way to carry your essentials with you, without being weighed down by a larger case, and while still projecting an air of success and style. Quality, full-grain leather, top-notch design, and the added status of being a handmade item, makes the slim briefcase the perfect choice.
Styles vary from rustic and rugged chic, to elegant black, messenger bag, to zipper-top, and modern to classic. Choose from black, solid brown, dark brown, or cognac. The varied choices, each with the same high standard of detail and quality, means that there is a slim briefcase out there that is the perfect match for you.
What is the difference between a slim briefcase and a regular briefcase?
Where regular briefcases are made to carry a lot of items, slim cases opt for a more streamlined form, and fewer contents. They are designed to carry a laptop, a few documents, and maybe a few essential items as well.
Are slim briefcases durable?
Yes! With proper care, a high-quality case can last many years, or even decades. Solid, high-quality construction means that your case will carry its intended payload easily, without any damage or deformity occurring to the case.
When should you choose a slim briefcase?
Choose a slim briefcase when you have some essentials to move around – like a laptop and a few documents – but not a huge amount of gear, like art supplies or drafting tools or multiple electronic components. There should be one or two main compartments, and one or more smaller pockets for miscellaneous items (like an iPad or other tablet, e-reader, cell phone, or even something as simple as a pen).
Protect your hardware with any number of cases or bags - but when you want to do it with classic elegance, a slim leather briefcase is a clear front runner.
Can these briefcases hold my laptop and other essentials?
Capacities can vary from the roomy slim case, to the truly minimalist one. Most will fit a laptop, a notebook, a few pens, and your phone without any trouble. Check each item's description for more detail and specifications.
Are these briefcases suitable for both men and women?
Yes. We design our collection with versatility of style and use in mind, not any particular gender. Various colors, designs, and sizes make it likely that you, whatever your tastes or gender, can find a case that fits both your style, and your work needs.
Can slim briefcases be carried comfortably for long periods?
Yes, in most cases they can. Unless you are carrying an extremely heavy small item, the slim case will be light and easy to carry when compared with other briefcases and bags. The slim style means less construction material, and that helps.
Add to that padded handles and detachable, adjustable straps for alternate styles of carry, and these cases will be no trouble at all to use, and very comfortable.
Are these briefcases suitable for air travel?
Yes. Most of our slim cases fit easily within airline regulations, fitting without trouble below the seat or in the overhead compartments. Of course, if you are concerned, it is always a good idea to make sure with your airline.
How do I care for and maintain my briefcase?
Each case comes with specific care and maintenance guidelines. In general, though, keep the case away from excessive moisture and heat, and do not leave it in direct sunlight for prolonged periods.
Proper maintenance includes conditioning the leather periodically and gently wiping with a damp cloth for cleaning. Detailed care instructions are provided with each product.