High-quality, full grain leather briefcases, handmade in Florence, Italy. The best that money can buy.
A briefcase to match your professional style and keep your belongings secure.
Von Baer premium leather briefcases can also be personalized for that extra special touch. Why Von Baer?
Laptop Briefcases | Messenger Briefcases | Briefcase Backpacks
No.1
Men's Leather Briefcase
$1,295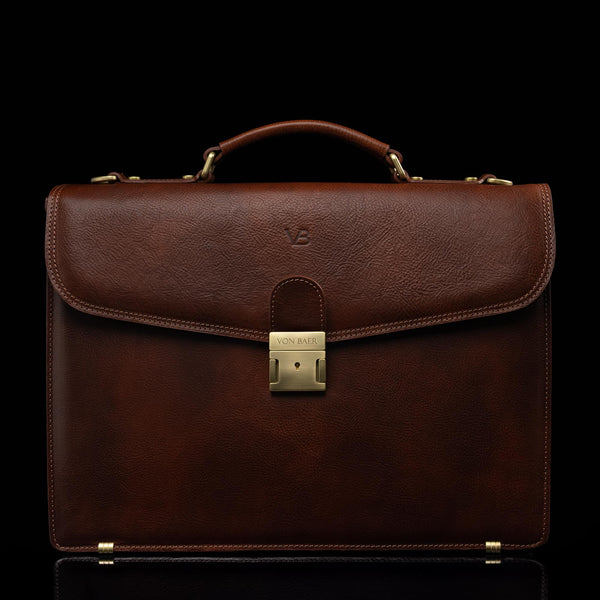 Solid Brown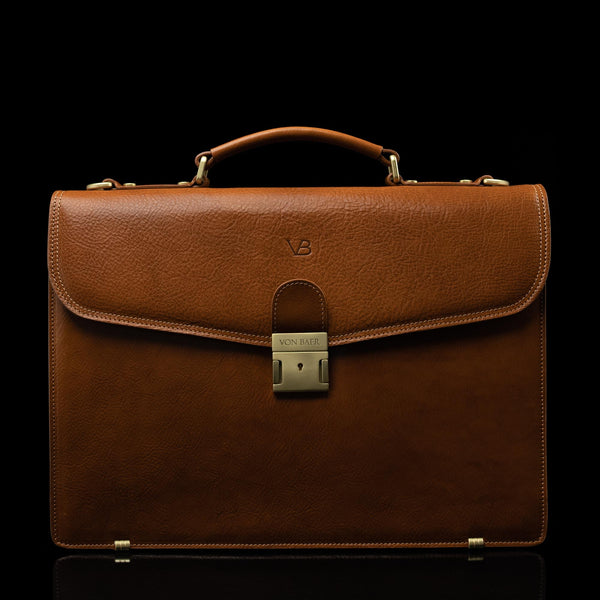 Classic Tan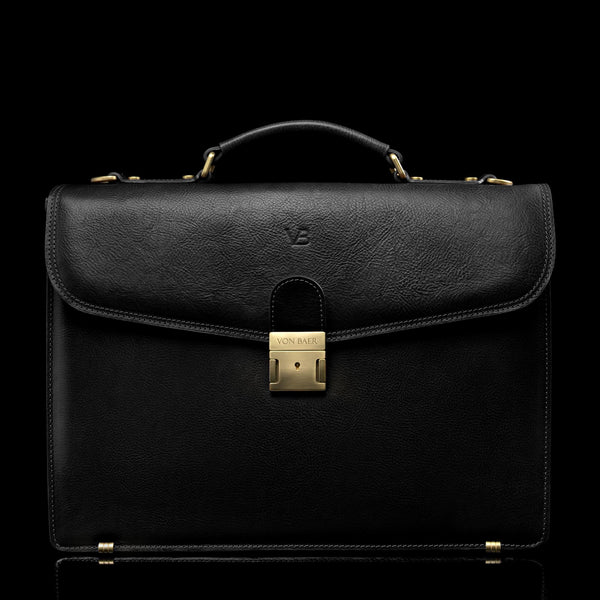 Elegant Black
Exquisite
Slim Leather Laptop Briefcase
$1,095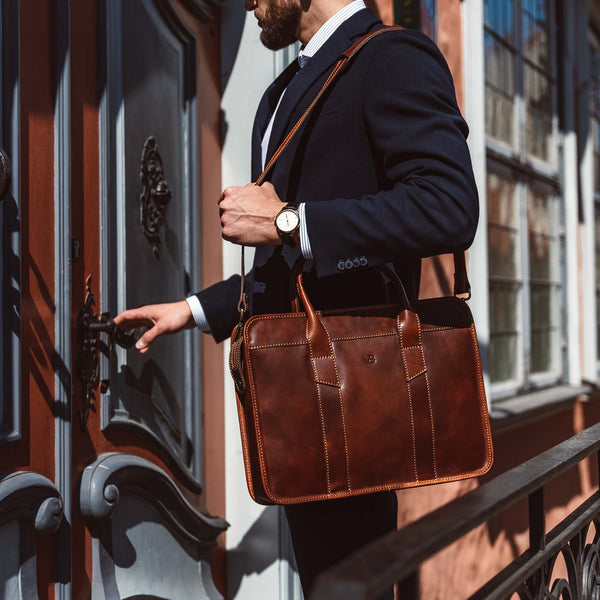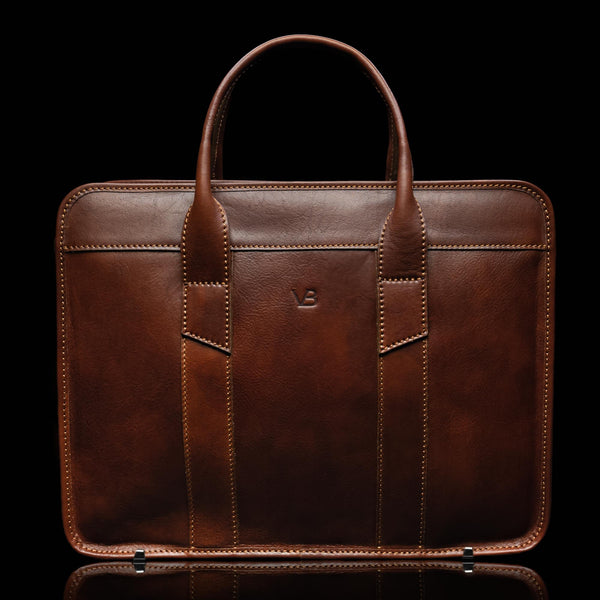 Solid Brown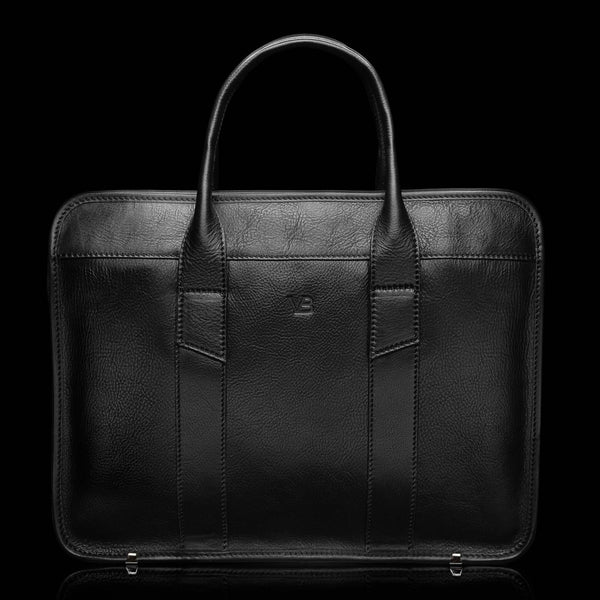 Elegant Black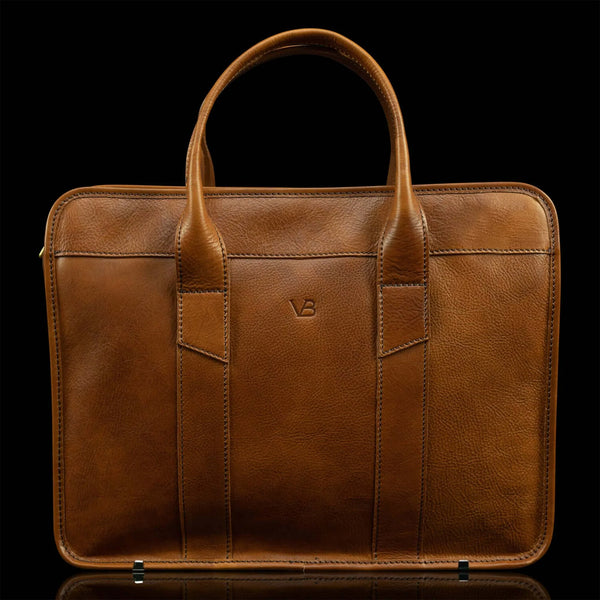 Classic Tan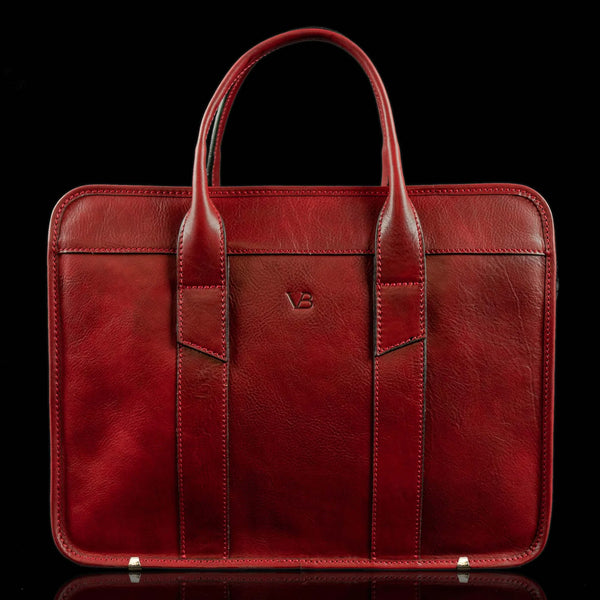 Deep Red
No.3
Leather Messenger Briefcase
$895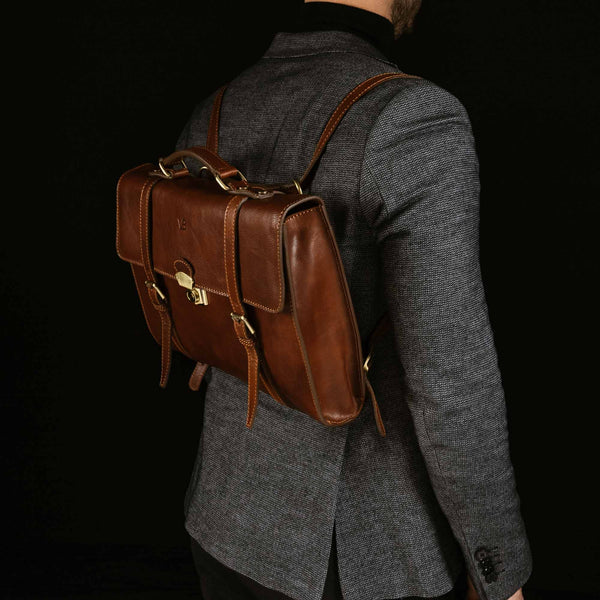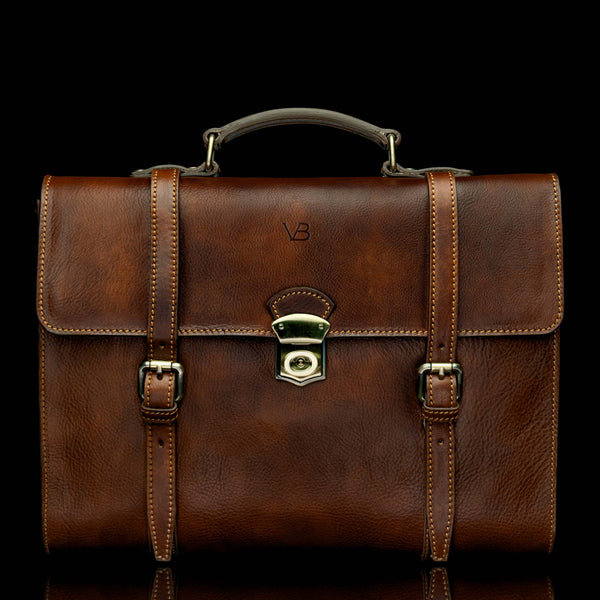 Solid Brown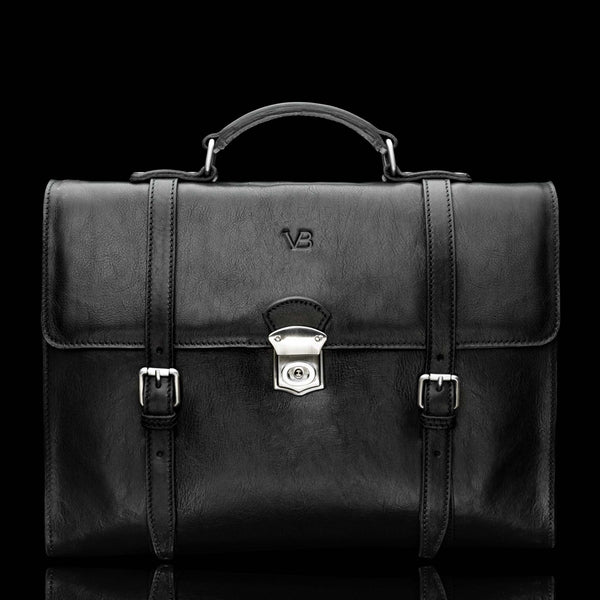 Elegant Black
Classic Tan
Elegant
Slim Leather Laptop Bag
$895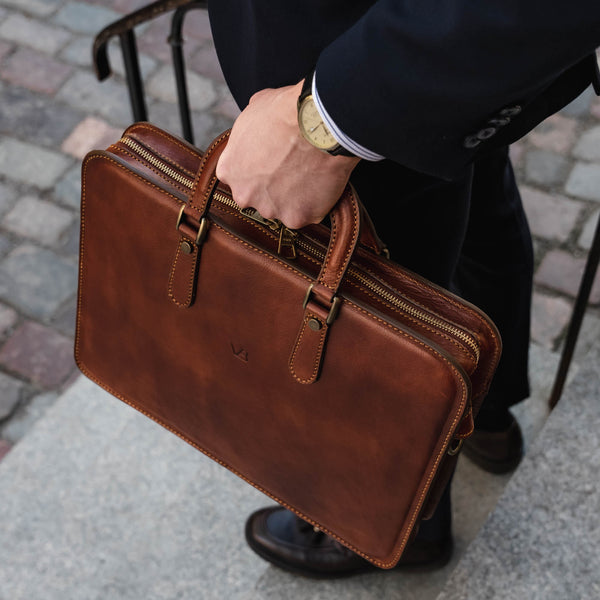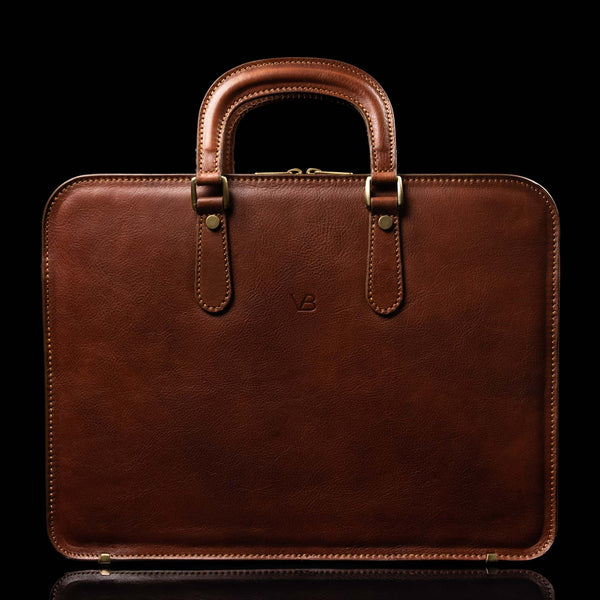 Solid Brown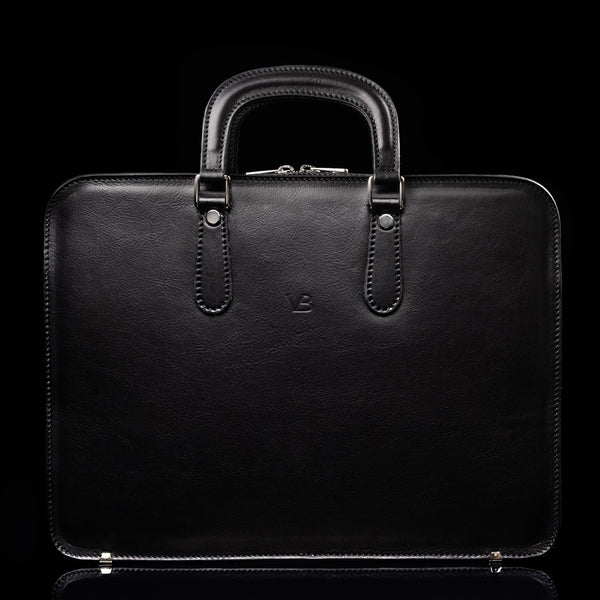 Elegant Black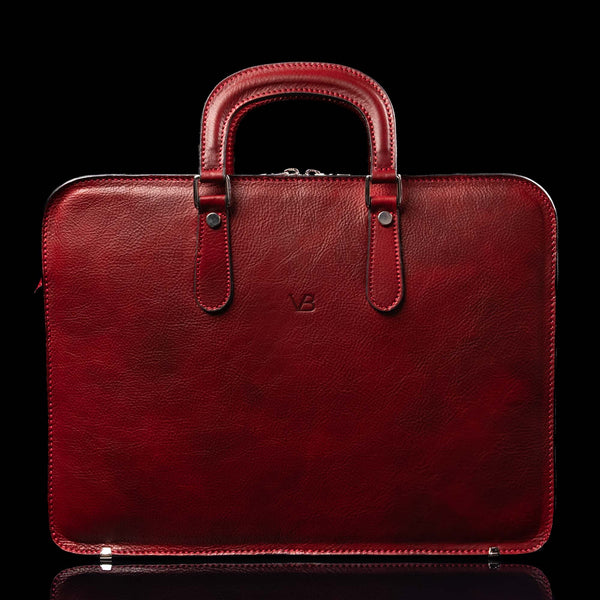 Deep Red
Essential
Modern Briefcase
$875
Solid Brown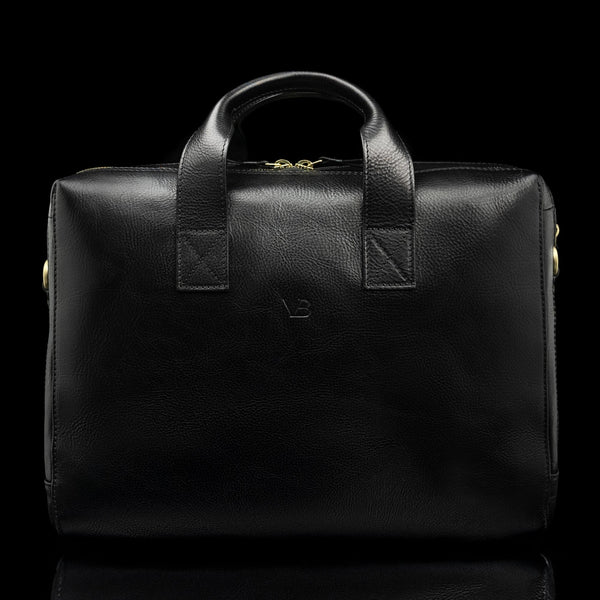 Elegant Black
Deep Red
City Large
Leather Laptop Bag
$1,395
Solid Brown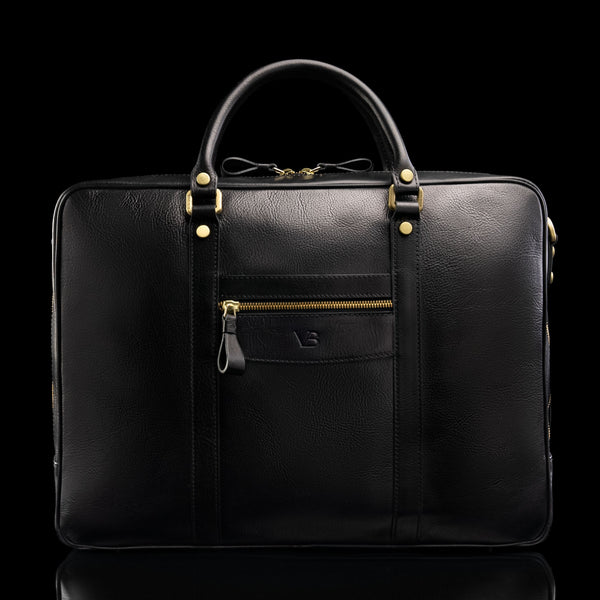 Elegant Black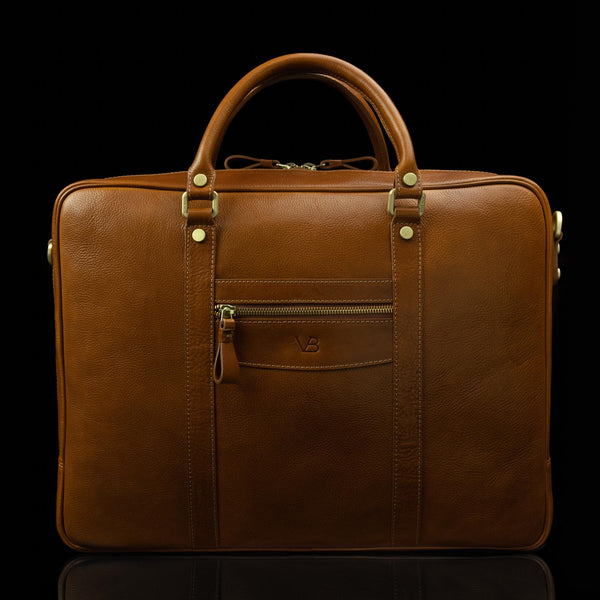 Classic Tan
Deep Red
City
Leather Laptop Bag
$995
Solid Brown
Elegant Black
Deep Red
No.2
Leather Messenger Briefcase
$1,495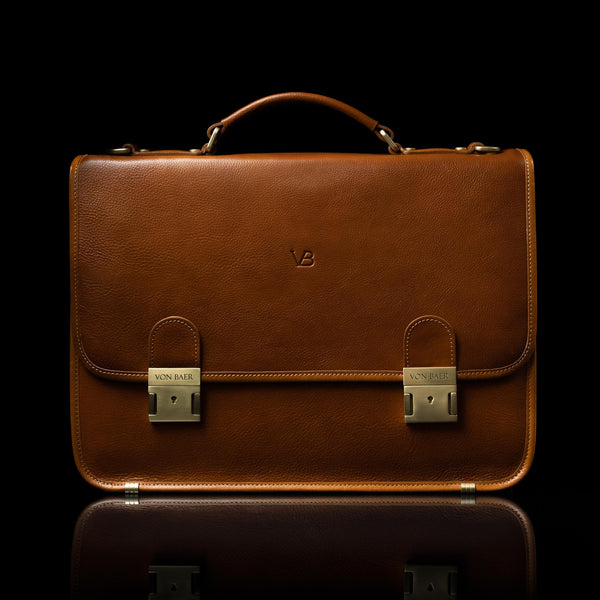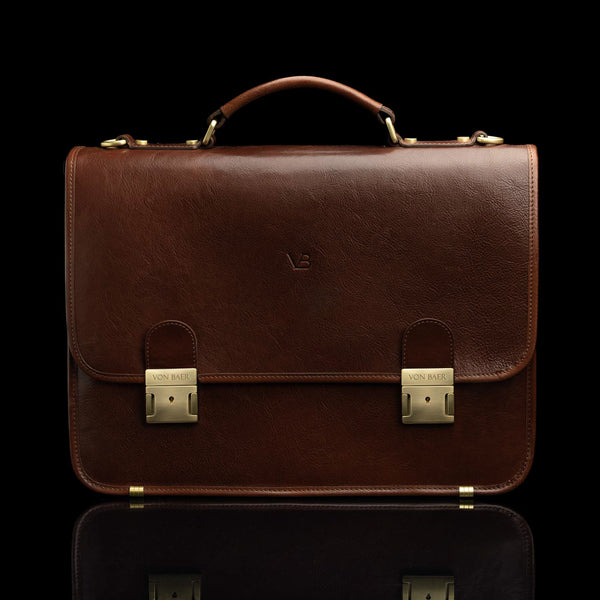 Solid Brown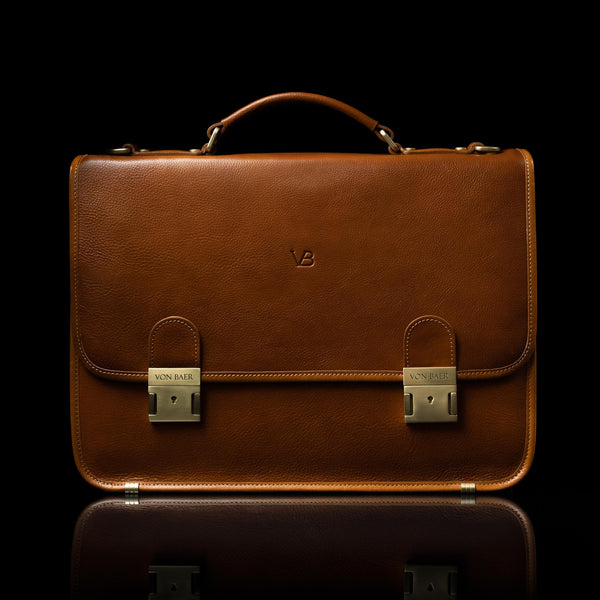 Classic Tan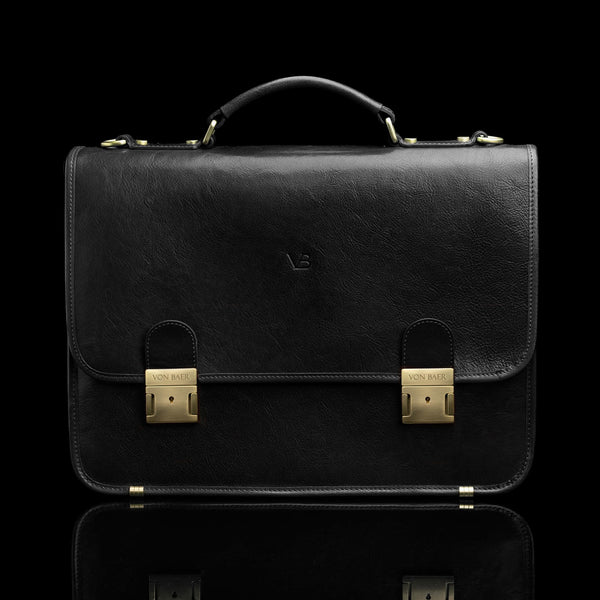 Elegant Black
What makes a Von Baer Men's briefcase so special?
Handmade leather briefcases
Von Baer briefcases are expertly handcrafted by vastly experienced craftsmen in family-owned studios in Florence, Italy. This ensures every briefcase meets the demands of your contemporary life without compromising on quality.

Highest quality full grain leather
We only use the finest full grain leather for our Italian leather briefcases, which is the best that money can buy. You can tell when it's high-quality genuine leather, by the look and feel of the product, as well as how long it lasts. The Von Baer leather is vegetable tanned, handmade in small batches by artisan craftsmen in Florence, Italy.
Durable construction
Zips and metal on briefcases are common stress points, which is why the hardware Von Baer use is high-quality metals with YKK zippers, to ensure very durable moving parts. The briefcase lining is made from premium durable cotton, ensuring a soft yet strong inner to your bag, able to handle the day-to-day of a busy commute.
Colors without compromise
Von Baer briefcases come in 4 stylish leather colors, including black, brown, dark brown, or tan. These are all made from natural full grain leather, which ages nicely with leather patina. We also use solid brass hardware on all of our briefcases.
Shoulder straps included
All Von Baer leather briefcases also come with a removable shoulder strap, helping you turn them into a shoulder/messenger style bag. They are ideal for the daily commute to and from the office while keeping your hands free. Our briefcases also come with exterior handles, usually two top handles.
Personalized with a laser engraving
Instead of monogramming, we use a high-quality laser engraving to personalize your briefcase, ideal for your own bag or when buying as a gift.
Want a laptop bag messenger satchel? Check out the No.3 briefcase, which has a traditional satchel design with over-the-top straps and a shoulder strap.
Scroll up to shop our range, or learn more about buying a new leather briefcase using our buyer's guide below.
We also have articles on "Best Briefcases for Men", and "Best Leather Briefcases" for you to review.

Benefits of a Leather Briefcase
What are the benefits of a leather briefcase?
Leather briefcases offer a host of benefits of uses. Let's take a look at some of the biggest ones right now.
Professional appeal
Leather briefcases are renowned for their professional appeal. They can give off a sense of seriousness and professionalism that you won't get from all other bags.
They can also help you make an amazing first impression when attending a job interview or a meeting.
Durability
Leather is also an ideal match for those seeking a robust solution that can withstand daily use for several years.
Although some leather briefcases can seem expensive at first, you shouldn't need to replace a high-quality one for a very long time.
Style
Leather briefcases are noted for their timeless style. Many options are available to you when you want to buy a stylish briefcase, including products with a vintage look and ones with a more modern sense of style.
Organization
Leather briefcases can come with pockets and compartments to make storage simple. This makes it easy to keep your pens, laptop, documents, and other essentials sorted.
Versatile Uses
You can use them for work and transporting essential documents and supplies around you alongside your laptop.
They are also great for travel, including business trips. Some people use leather briefcases to make a fashion statement. Leather briefcases are capable of complementing many examples of professional outfits.
What can I do with a briefcase?
Leather briefcases are renowned for their versatility. You can carry them to work every day and use them to keep essential documents and your laptop safe (providing it's a laptop briefcase).
You can also use them as hand luggage during flights and store your travel essentials in them. Briefcases can also be used during job interviews, allowing you to present a highly professional image.
A briefcase also makes an excellent gift, such as for an anniversary, retirement, or for Dad on Father's Day.
When to use a briefcase?
Briefcases are great for use in various situations. These include business meetings where you might need to carry essential files and documents and job interviews where you'll want to give a great first impression.
You can also use them for your daily commute and carry personal belongings, your laptop, and paperwork.
They are also great for business travel when carrying a robust, stylish carry-on bag. You can also use them at conferences and other personal events when you transport business cards, documents, and marketing materials.
Briefcase Compatibility
You can use a briefcase to carry laptops from HP, Lenovo, Dell and Apple. Whether a briefcase is compatible with your laptop will depend on how big or small your laptop compartment is.
Briefcases can also work well with tablets, including iPads, Samsung Galaxy Tabs, and more. You can also use your briefcase to carry stationery items like small gadgets, notebooks, and pens. Accessories are often carried in briefcases. Examples of these accessories can include cardholders, leather wallets, and pouches for chargers and cords.
Leather briefcases can complement professional attire brilliantly. These briefcases are often seen alongside clothing from designer brands, including Armani and Hugo Boss.
Here are some popular sub-types of briefcases from Von Baer:
How To Choose Your Briefcase
How To Choose
There are many things you need to consider when you're shopping for a leather briefcase. What the right briefcase for you is will depend on factors like your specific tastes and preferences.
Let's look at some of the most important factors to consider when purchasing a leather briefcase.
Quality of leather
Full-grain leather is the best quality of leather available. It's famous for the impressive way it ages and develops a rich patina as the years go by.
It also costs the most. Top-grain leather is the second-best type of leather. Although it's not quite as robust as full-grain leather, it won't cost as much. Genuine leather is cheaper than the two above options but doesn't age as well.
Full grain leather is ideal for the office, as a work bag requires a more professional appearance to match the environment.
Learn more about leather quality in our useful guides:
Size of the briefcase
A larger briefcase may be ideal if you usually carry business essentials, including laptops and documents. If you only carry laptops and documents every so often, you may be well-served by a medium briefcase.
A small briefcase or portfolio could be right for your requirements if you only have a few documents or a tablet to carry around.
Compartments and organization
Some people like using briefcases with many compartments to have specific spaces for items like business cards and pens. This can make it easier for them to find the needed items.
However, minimalist designs with a small number of compartments are also popular with people who need to carry larger objects or fewer items.
Men usually want to carry their wallets, watches, books, and laptop computers in a briefcase, but larger versions can even carry shoes, spare jackets, and clothes.
Style and design
If you use your leather briefcase in a formal environment, you may opt for a traditional briefcase. Popular colors include brown and black. Maybe you're working in a less formal environment.
If so, a less traditional color or a design that's a little more casual may be best. If you want to create a classic look, you could consider buying a vintage briefcase.
Security and locks
A briefcase that comes with a lock could be best if you commonly carry documents or devices with sensitive information.
However, if you're not carrying items with sensitive information and want easy access, you may wish to choose a non-lockable briefcase.
Hardware
Metal hardware tends to be more robust and make a briefcase appear luxurious. Plastic hardware will cost you less and can make your briefcase lighter.
Handle and strap options
If you only carry the briefcase for shorter periods, you may be best served by a standard handle. If you're carrying it for longer or need to keep your hands free, consider buying a briefcase with a shoulder strap.
Also popular around the world are briefcases with convertible backpack straps. These allow you to transform your briefcase into a backpack when you're in a more relaxed situation away from work.
Price
You can expect to pay more for a full-grain leather briefcase that comes with premium features.
However, this can be a great investment if you need a briefcase that will serve you well for years to come.
If you're happy to miss out on a few features, you could opt for a medium-price briefcase. Budget options are also available. These tend to be manufactured from faux leather or leather that's lower in quality.
This kind of briefcase could serve you well if you only need a short-term solution or are on a limited budget.
Brand reputation
If you opt for a briefcase manufactured by a prestigious brand, you'll likely experience a higher standard of craftsmanship and longevity.
However, quality leather briefcases are also available from lesser-known brands.
Sustainability and ethical manufacturing
If sustainability is necessary, you can choose a briefcase from a company with good ethical and environmental practices.
Some companies try to source leather responsibly and opt for eco-friendly tanning processes.
Color
Some people prefer traditional colors like black and brown, which are versatile and go well with most outfits. These also work well in professional environments.
Bold colors like red and blue can help you make a powerful stylistic statement and can be ideal if you're based in a casual workplace.
Neutral colors, including grey and tan, can be ideal if you're looking for something less traditional but still seeking a versatile color.
Weight
If you're a frequent traveler and need to transport your briefcase with you for long periods, a lightweight design could be best for your needs.
However, if weight isn't a problem for you and you need something particularly sturdy and robust, you may be best served by a heavier briefcase.
Hardware and high-quality leather can make a briefcase heavier than others.
Closure type
Zip closures can offer superior security and protection from the elements. A flap closure can make a briefcase appear more traditional. It may offer less protection from the wind and rain, but it can give you quick access to your belongings.
Lining material
Leather lining is usually found in higher-end briefcases. This material is renowned for its luxurious look as well as its durability. However, a briefcase with leather lining can be costly.
Fabric lining
This kind of lining is more common. It can come in various colors and patterns and is normally lighter. You shouldn't expect to pay as much for a fabric-lining laptop.
What types of tanning processes are there?
Vegetable tanning is an eco-friendly method that uses natural materials and gives the leather a unique and natural look. This can make a briefcase somewhat expensive.
Chrome tanning uses chemicals and can produce various colors and finishes. Chrome-tanned products aren't normally as expensive as vegetable-tanned products.
Personalization options
Some brands enable you to add your initials, name, or company logo to your briefcase to personalize it. This can be ideal if you're treating yourself or buying the product as a gift for someone else.
Warranty and after-sales
Before buying a briefcase, find out if it comes complete with a guarantee or a warranty. Some brands also tempt shoppers with aftersales services, including repairs and cleaning.
Customer reviews
Take a look at reviews from other customers so you can find out what to expect in terms of quality and reliability. These can give you a more realistic idea of what to expect than what you'll get from the product description.
What types of leather briefcases are there?
Leather briefcases come in a host of styles and designs. Some of the most popular types of leather briefcases include the:
Traditional briefcase
This is the most common kind of briefcase and tends to be rectangular in shape. It normally has a handle on the top.
You can expect a traditional briefcase bag to be manufactured from high-quality full-grain leather, which delivers both durability and longevity.
The briefcase may have several compartments for your laptop, document, and other essentials. These briefcases are very popular with people like lawyers and entrepreneurs. Traditional briefcases were once called "banker's cases".
Attaché case
An attaché case can be regarded as a subtype of the traditional briefcase. However, it is smaller and has a more rigid kind of structure. These cases normally open into two compartments.
Popular with government officials, the attache cases are commonly used by diplomats.
Portfolio briefcase
This is a more compact, slimmer version of the traditional briefcase. It's often used to carry small items like tablets. If you want to embrace a sleek and minimalistic look or don't need to carry many items, this could be the option for you.
Messenger bags
Messenger bags aren't officially regarded as briefcases, but they have become big-selling alternatives to them over the years. You can wear a messenger bag over the shoulder.
These bags are popular with young professionals and people in more casual settings. The bags are softer and not as structured as traditional briefcases. This kind of briefcase could be ideal for you if you commute by bicycle, train, or bus because they leave your hands free.
They are also known as a crossbody bag or a shoulder bag.
Rolling briefcases
Rolling briefcases come with extendable handles and wheels. They are very popular with frequent business travelers.
As they are so generously sized, these briefcases are able to house clothing during overnight trips. They are great for those that carry around heavy equipment and documents regularly.
Doctor's bags
Doctor's bags were first designed with physicians in mind. They come with a metal frame and a wide opening to access the contents easily.
Due to their retro style, they are now popular with people working outside of the medical sector. This option could be perfect if you want something that blends practicality with timeless design.
Satchel bags
These bags tend to be bigger than traditional briefcases. They normally come with a flap that fastens in the front. You can carry these bags on the shoulder or across your body.
They have become very popular with students and people working in the arts thanks to their relaxed style.
Convertible backpack briefcase
You can use this kind of bag as a backpack or a traditional briefcase. These bags are great for those who travel on a regular basis or cycle to work, making switching between convenience and comfort a breeze.
Diplomat briefcase
Diplomat briefcases have a luxurious look and feel. They tend to have a solid box shape alongside a suede interior and a leather exterior.
Purchase a diplomat briefcase and it's likely that you'll find a number of compartments to help you organize your essentials. These briefcases can be expensive due to the fact they are often custom-made to ensure specific needs and tastes are met.
Are there any alternatives to a leather briefcase?
Canvas Briefcases for Casual Situations and Waterproofing
Business professionals can opt for a high-quality canvas or nylon briefcase if they want to purchase something that's a little more casual yet helps them retain a professional look.
The materials used to make these bags ensure they are more weather-resistant and lighter. If you frequently face challenging weather or commute on a bicycle, this could be the ideal option.
Larger Laptop Bag
If you need something that you can use to carry a laptop, a more suitable option for your needs could be a dedicated laptop bag or backpack.
Many of these products have been designed specifically to help you carry tablets, laptops, and other electronic or computer gadgets.
They often have special compartments for these items. If you transport a great deal of tech, it may be best to opt for something that's designed specifically to protect them.
Browse Von Baer Leather Laptop Bags
Air Travel
Perhaps you need an alternative to a leather briefcase for air travel? If so, you may wish to consider purchasing a travel backpack or a small carry-on suitcase.
These products are easy to carry through the airport and can have more compartments and capacity for organization.
We recommend considering a leather travel bag, duffel weekender bag, or a valise in these situations.
Document Carrying
Maybe you need something that will help you carry important documents?
Document portfolios and envelopes may serve you well if you only need to carry documents and maybe a handful of small items. This could make things more comfortable and convenient for you.

Some people consider buying a leather briefcase because they want to make a powerful statement.
However, it's also possible to make big statements and turn heads with other kinds of bags, including vintage satchels, messenger bags, and tote bags.
Understanding Bag Quality
How To Tell If The Bag is High Quality
You can often determine the quality of a leather bag by checking out the way that the leather smells and feels. For instance, genuine leather normally has a distinct smell and an uneven texture.
Straight, consistent stitching lines are normally indicative of quality. If you're browsing for leather briefcases in a physical store, you can test the zipper to ensure it runs smoothly and try packing a few items inside it to see how well it performs when you have filled it.