Our stylish leather laptop messenger bags are perfect for carrying your tech on your commute, with a detachable strap that can easily convert into a briefcase for more formal occasions.
Essential
Modern Briefcase
$875
Solid Brown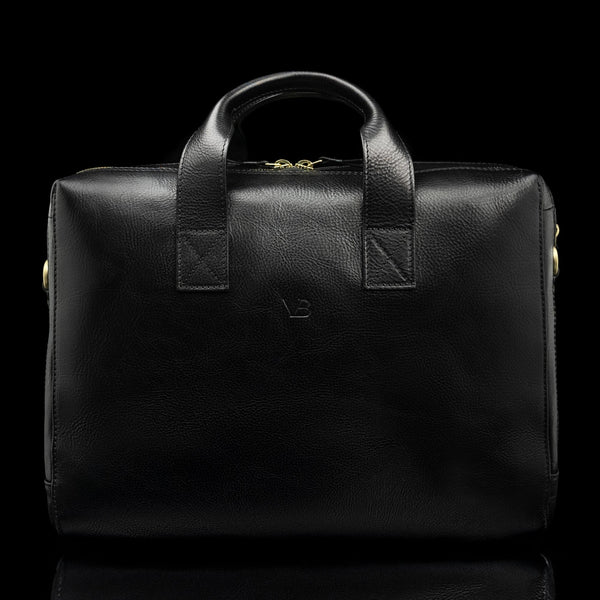 Elegant Black
Deep Red
City
Leather Laptop Bag
$995
Solid Brown
Elegant Black
Deep Red
Elegant
Slim Leather Laptop Bag
$895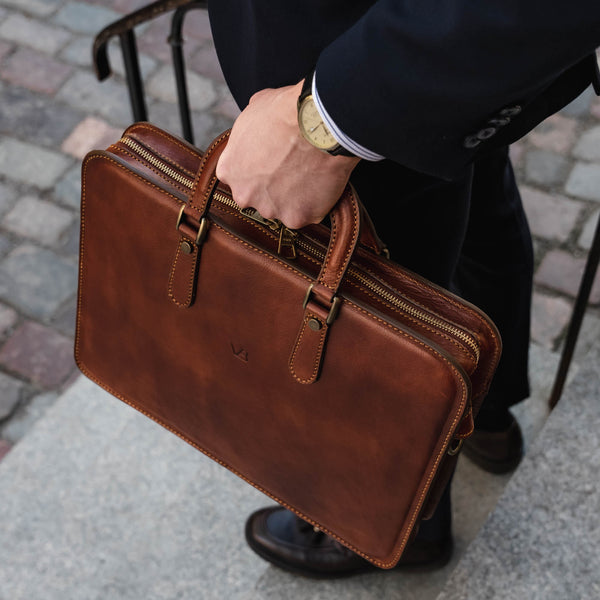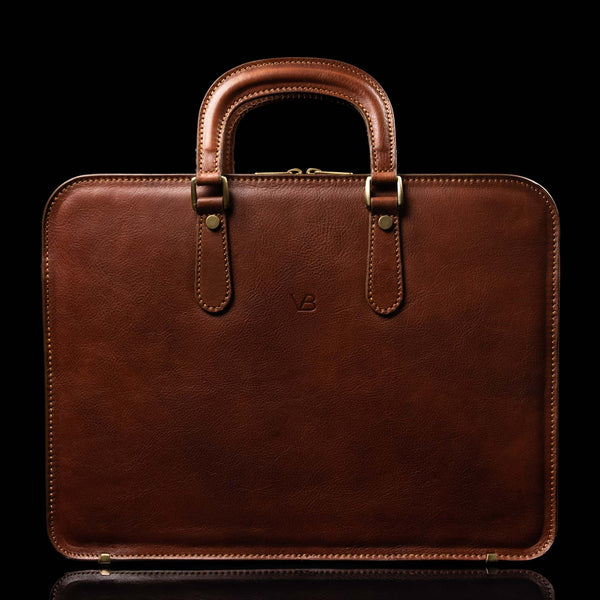 Solid Brown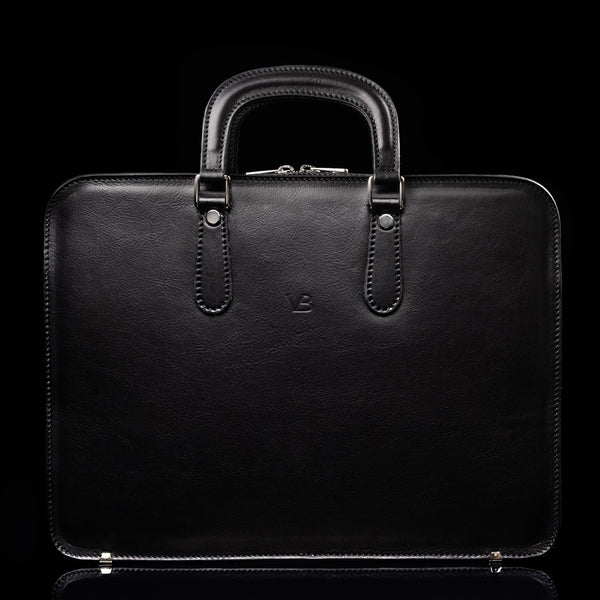 Elegant Black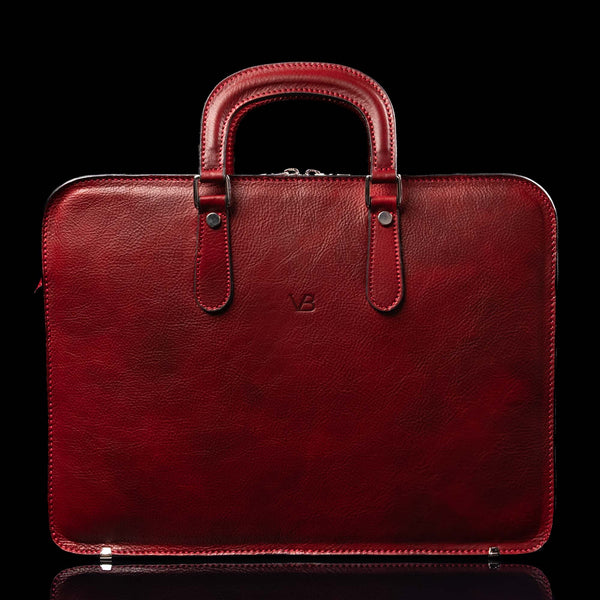 Deep Red
City Large
Leather Laptop Bag
$1,395
Solid Brown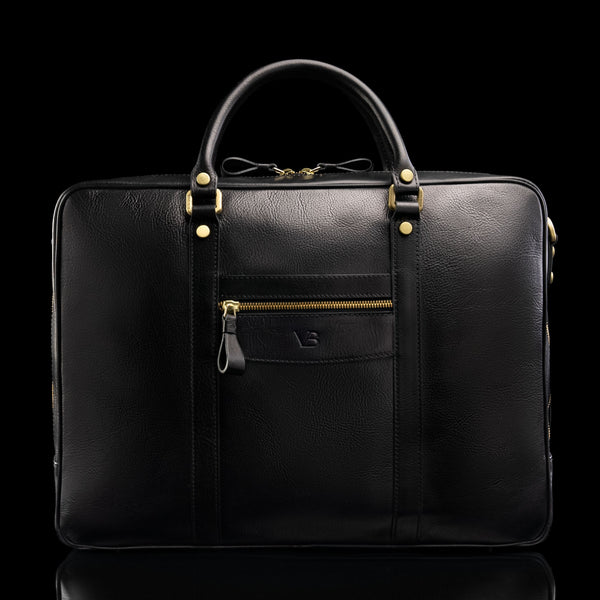 Elegant Black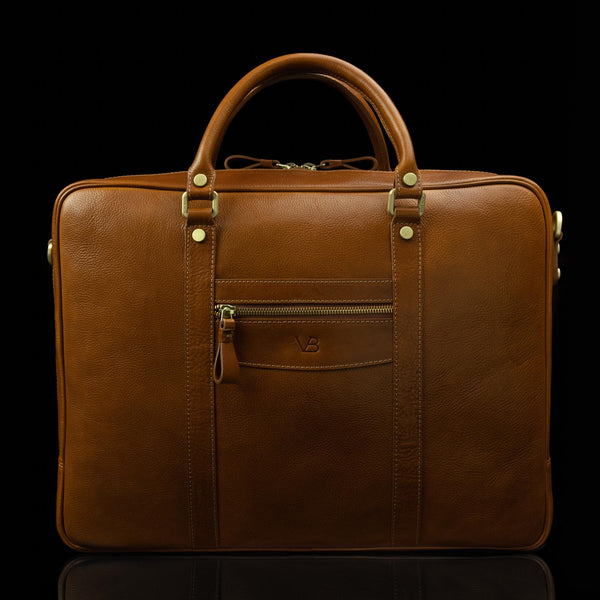 Classic Tan
Deep Red
10X
Leather Laptop Travel Bag
$1,295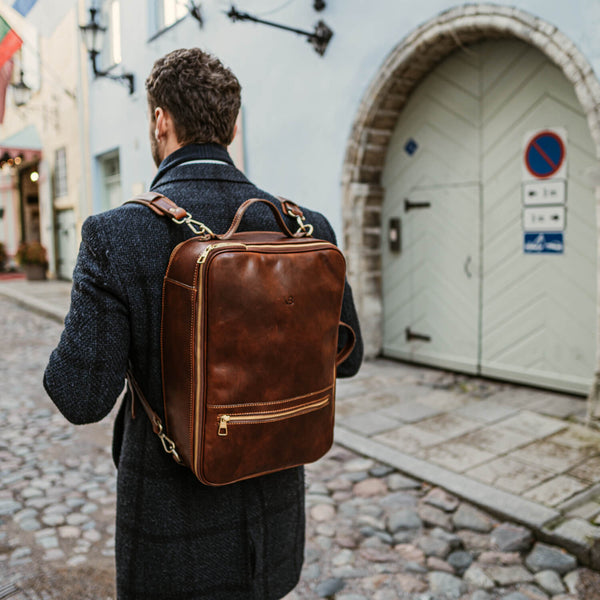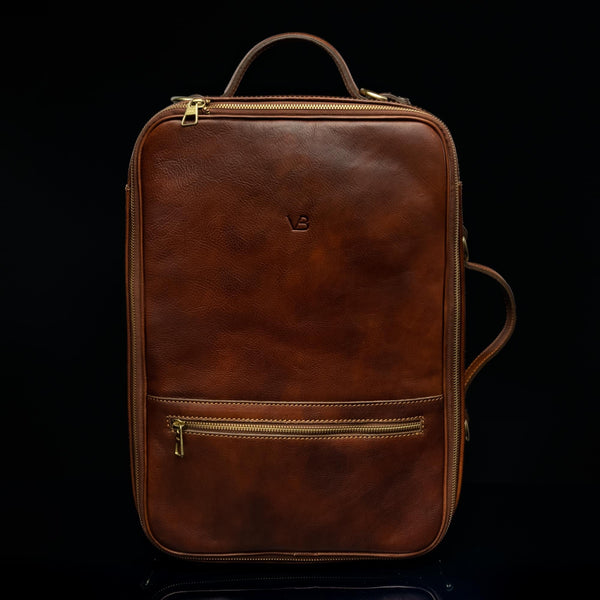 Solid Brown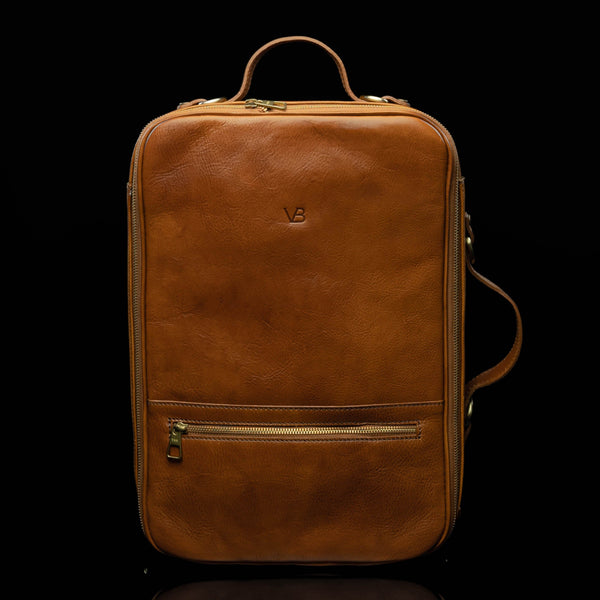 Classic Tan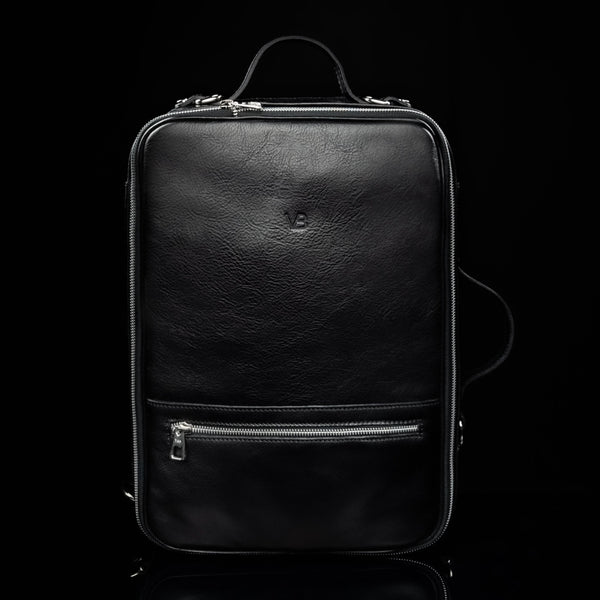 Elegant Black
No.2
Leather Messenger Briefcase
$1,495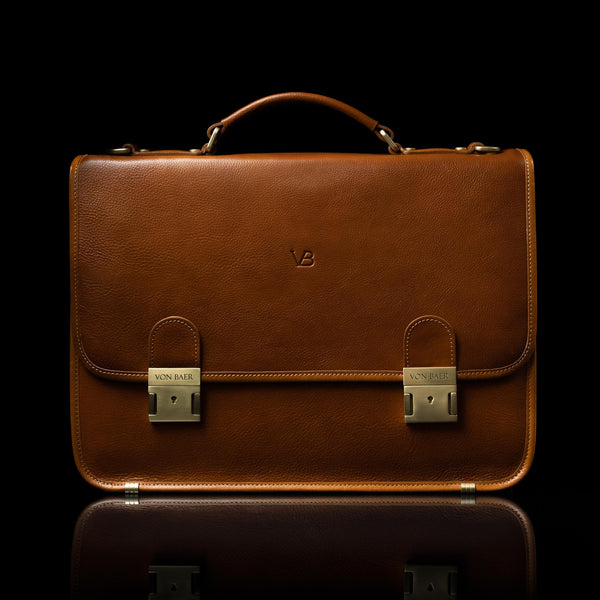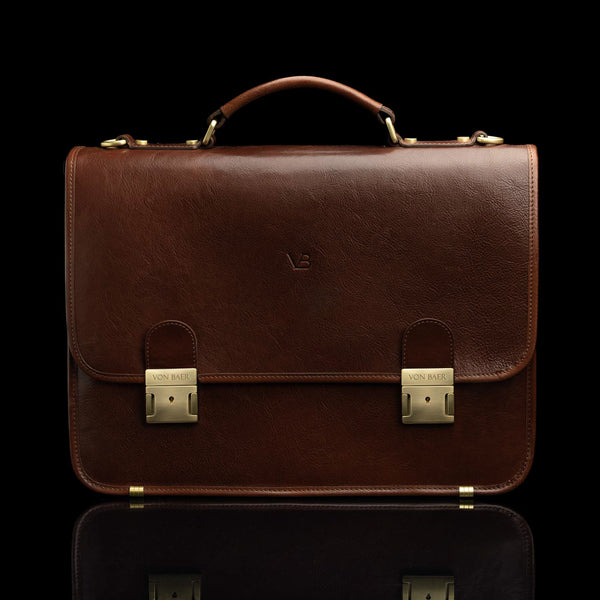 Solid Brown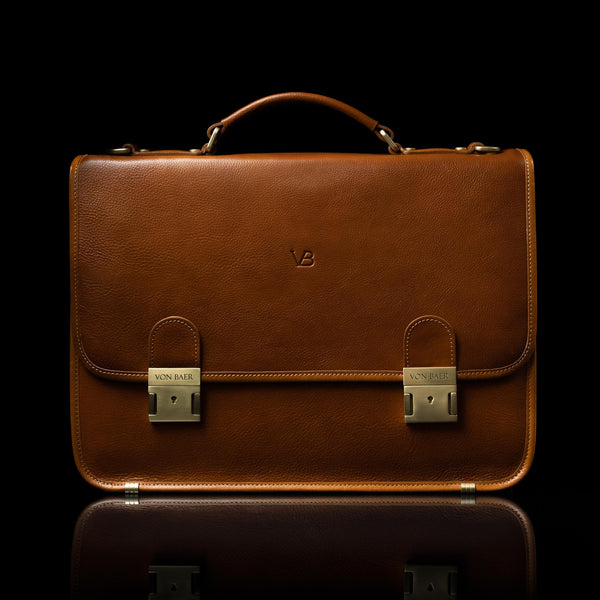 Classic Tan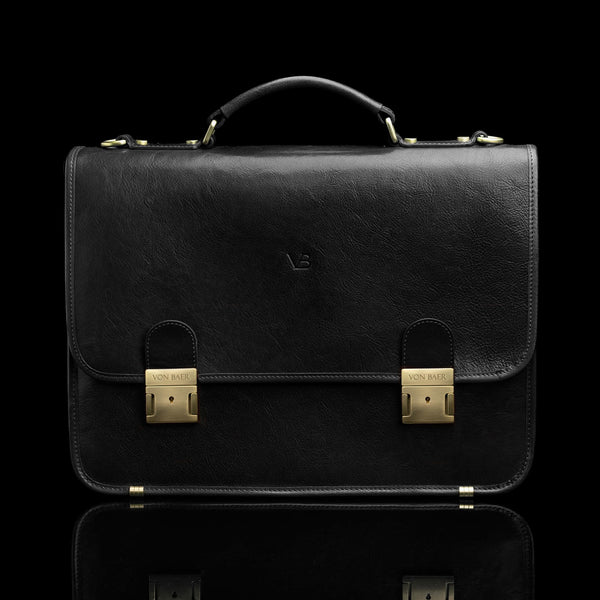 Elegant Black
No.3
Leather Messenger Briefcase
$895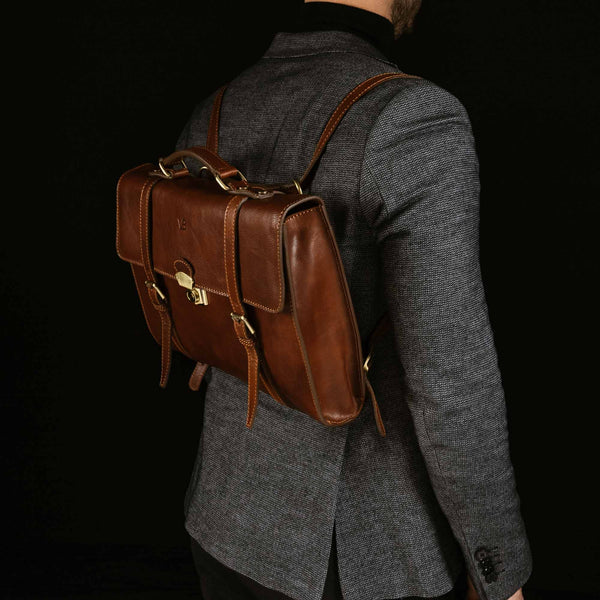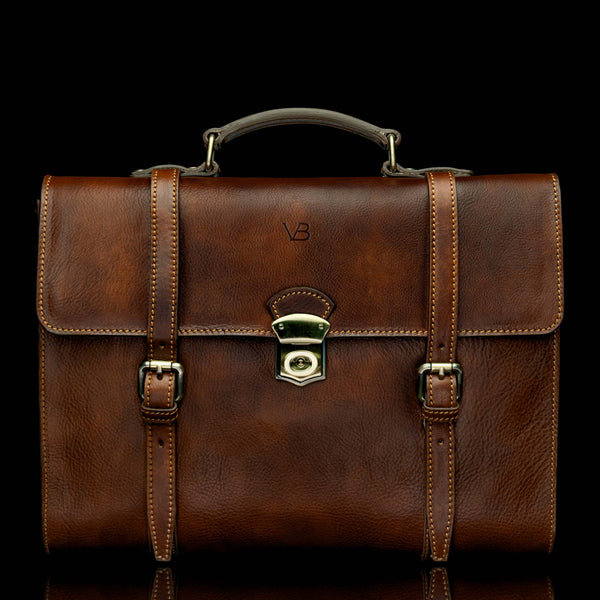 Solid Brown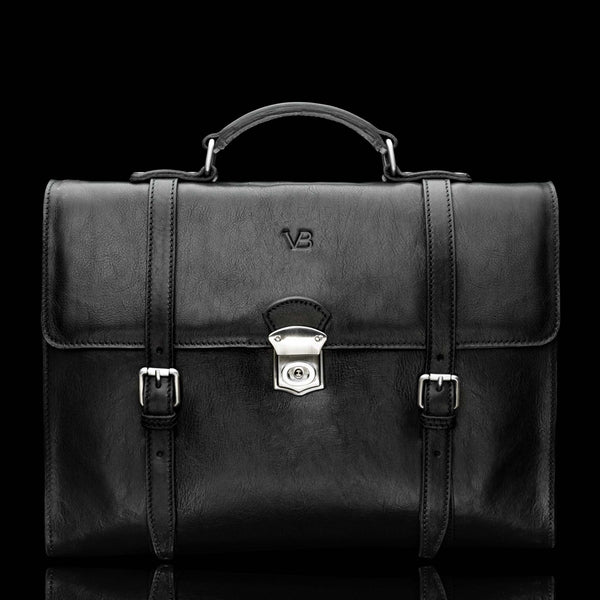 Elegant Black
Classic Tan
Exquisite
Slim Leather Laptop Briefcase
$1,095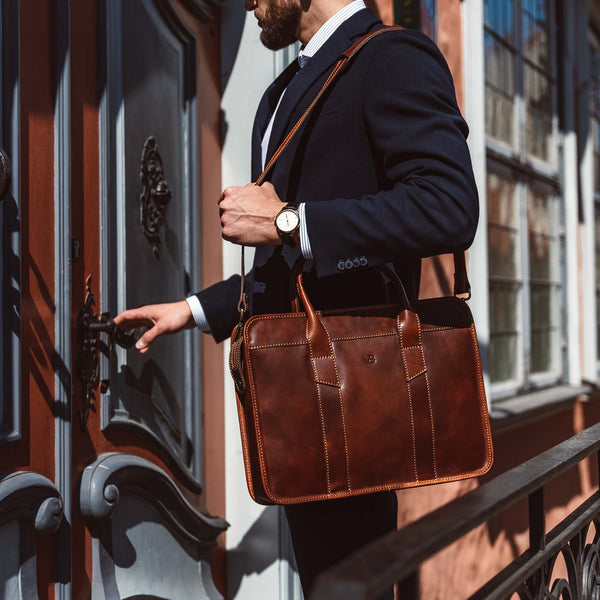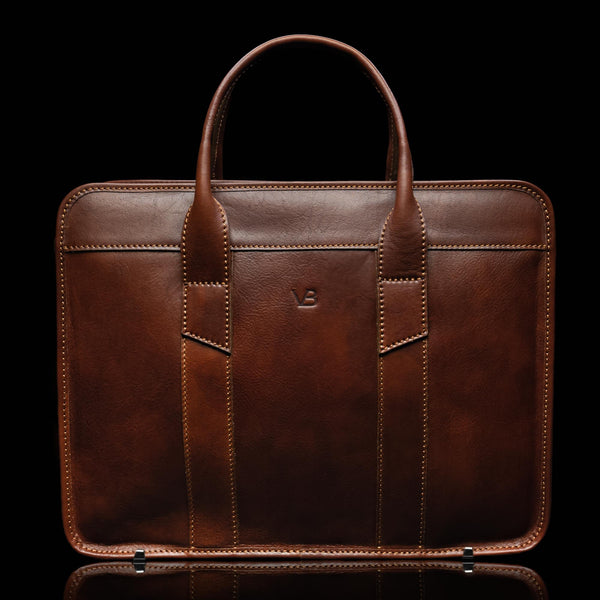 Solid Brown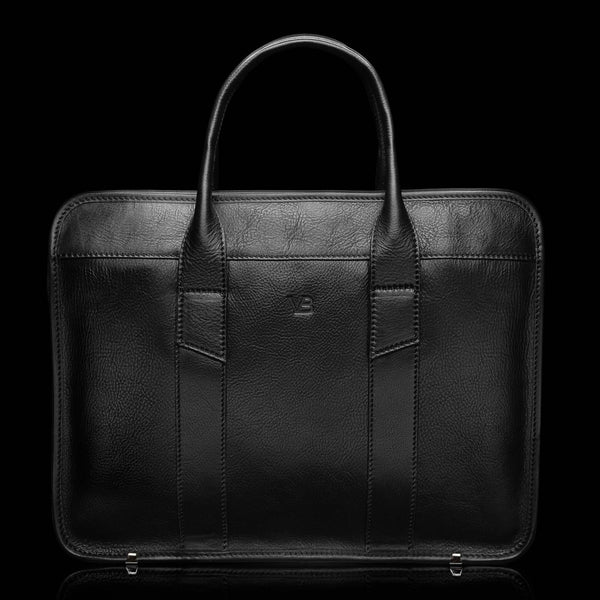 Elegant Black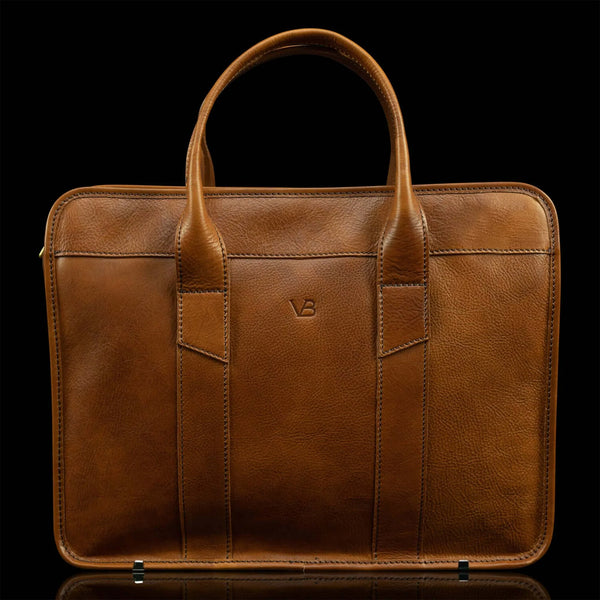 Classic Tan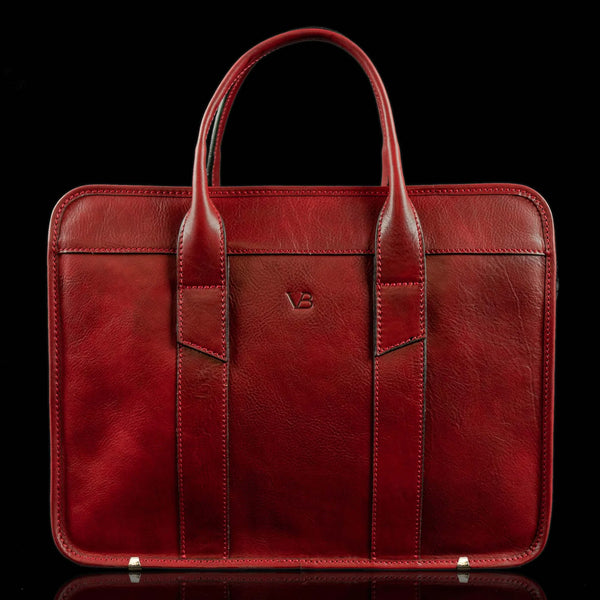 Deep Red
What makes a Von Baer laptop messenger bag so special?
Handmade leather laptop messenger bags
Von Baer laptop messenger bags are expertly handcrafted by vastly experienced craftsmen in family-owned studios in Florence, Italy. This ensures every laptop messenger bag meets the demands of your contemporary life without compromising on quality.

Highest quality full grain leather
We only use the finest full grain leather for our Italian leather laptop messenger bags, which is the best that money can buy. You can tell when it's high-quality genuine leather, by the look and feel of the product, as well as how long it lasts. The Von Baer leather is vegetable tanned, handmade in small batches by artisan craftsmen in Florence, Italy.
Durable construction
Zips and metal on laptop messenger bags are common stress points, which is why the hardware Von Baer uses is high-quality metals with YKK zippers, to ensure very durable moving parts. The bag lining is made from premium durable cotton, ensuring a soft yet strong inner to your bag, able to handle the day-to-day of a busy commute.
Colors without compromise
Von Baer laptop messenger bags come in 4 stylish leather colors, including black, brown, dark brown, or tan. These are all made from natural full grain leather, which ages nicely with leather patina. We also use solid brass hardware on all of our laptop messenger bags.
Dedicated laptop compartment
All Von Baer laptop messenger bags come with a dedicated compartment for your laptop or tablet. Our range includes 13-inch, 15-inch, and 17-inch compartments, so choose one that fits the tech you own.
Shoulder straps included
All Von Baer leather laptop messenger bags also come with a removable shoulder strap, helping you turn them into a shoulder/messenger style bag. They are ideal for the daily commute to and from the office while keeping your hands free. Our laptop messenger bags also come with exterior handles, usually two top handles.
Personalized with a laser engraving
Instead of monogramming, we use a high-quality laser engraving to personalize your laptop messenger bag, ideal for your own bag or when buying as a gift.
Benefits
Laptop messenger bags can make your day-to-day life more convenient in many ways. Let's look at these now.
Efficient organization
Leather laptop messenger bags come complete with multiple compartments that enable you to arrange your possessions neatly. Everything has its own spot, from your smartphone to your laptop charger.
Secure storage for your laptop
Messenger bags often come with padded laptop compartments that provide fantastic padding for your machine. It shouldn't be difficult to find the right bag for your needs whether you have a compact or large model.
Versatility
These bags are noted for their versatility. They can meet your needs whether you're going to a business meeting, travelling, or working at the coffee shop.
The best bags fuse functionality with style, which makes them ideal for casual and professional environments.
Carry with comfort
Messenger bags often have adjustable shoulder straps and carry handles to give you convenience and comfort.
They can distribute weight evenly across the body to keep strain to a minimum when you're wearing them for a long time.
Compatible
It shouldn't be tough to find a messenger bag which is compatible with your laptop brand and model, whether your machine was built by Asus, HP, Dell, Apple, Lenovo or anyone else.
There are bags available to provide a snug, secure fit for any laptop.
Durability
Look for a bag that's made with robust materials that can withstand everything daily use can throw at it. Signs of a quality bag include tough zippers and quality stitching.
These attributes often mean a bag can last for years before it needs to be replaced.
Make a great statement
There are bags available to suit all tastes. You have a wealth of options when it comes to styles, colors and materials. A leather bag is ideal for anyone who wants to create a sophisticated look.
Canvas options may be better if you want to generate a more relaxed and casual vibe.
How to choose the right bag
Leather quality
Consider leather quality when you're seeking out the right bag for your needs. The standard of the leather can determine how your bag looks, feels and how long it lasts.
Full-grain leather is an ideal option as it's so robust, with many people saying it looks better with the passage of time.
If you need to save money, you can opt for split grain or bonded leathers. Just remember that you won't get the same kind of aesthetic appeal or longevity from these options.
The source of the leather may also affect its quality.
Bag size
Make sure that the bag is big enough to accommodate your machine comfortably. Check that there is enough room for accessories such as notepads, mice, and chargers. You also need to ensure the bag is a good match for your body type.
If the bag is particularly large and you have a relatively small body, it may not be the best match for you.
Compartment design
Seek out a bag that comes with a well-padded laptop compartment as this will give you quality protection. Extra pockets for organization can be helpful, but things can get complicated if there are too many.
Some people seek out compartments that boast RFID-blocking technology as it can stop skimmers from accessing your passport and credit card details.
Strap comfort and adjustability
An adjustable shoulder strap will deliver optimal comfort. You may wish to opt for a bag that comes with a removable strap so you can carry it around like a briefcase.
Secondary straps can also be useful as they can stabilize your bag whilst you're taking a walk or riding a bike.
Closure mechanism
Zippered bags can give you great security, but they can slow down access. Buckle or magnetic closures are rather popular as they give you a welcome compromise between ease of access and security.
You may want to opt for a quiet closure mechanism if you're taking your bag to business meetings or the library.
Bag style
Messenger bags are available in formal and casual styles. Casual bags can come complete with brass hardware and rustic finishes, whilst formal ones regularly boast polished silver accents and sleek designs.
If you're worried about stains and scratches, you may wish to opt for a dark-colored bag.
Eco-friendliness
Perhaps you are prioritizing sustainability when shopping for a leather laptop messenger bag? If so, try to find one from a brand that uses vegetable tanning processes or ethically sourced leather.
Vegetable-tanned leather is a good option because it's environmentally friendlier than chrome-tanned leather. It also has a unique and natural patina.
Maintenance
You will need to clean and condition your leather bag occasionally to maintain its look and appeal.
Bags with lighter and more natural finishes can develop a more unique patina, but they also tend to need more maintenance than darker or more heavily finished types of leather.
Cost
The price that you pay for your leather laptop messenger bag can depend on various factors. These can include the reputation of the brand, the leather's quality, and other features. It can be more economical to buy a higher quality leather bag as you shouldn't need to replace it for many years.
Warranty
Some companies provide lifetime warranties for their bags because they are so confident about the quality that they're offering. A warranty can give you the valuable peace of mind you need if something goes wrong with your bag that isn't your fault.
Which types are available?
Classic leather messenger bag
This timeless option gives you a single spacious compartment for your machine alongside small pockets which enable you to store things like mice, pens, chargers, and notebooks.
This option could be for you if you like the minimalist aesthetic and are seeking simplicity. If you're a casual professional who doesn't carry plenty of gadgets but still needs access to their essentials. These bags were first used by postal workers.
Multi-compartment leather messenger bag
These bags have multiple compartments and can offer individual spaces for everything you want to carry around with you. If you have a lot of tech equipment or if you love compartmentalized storage, this could be the right option for you.
These designs were first inspired by military utility bags, which came with multiple compartments to deliver quick access and efficient storage.
Convertible leather messenger bag
If you need a particularly flexible bag, this could be suitable. You can convert this kind of bag into a backpack, shoulder bag and briefcase.
The bags are ideal for those who travel regularly and have demanding day-to-day routines. These bags were originally designed to meet the needs of travelers and cyclists who required versatile carrying solutions.
Leather messenger bag with buckle closure
This bag has a classic buckle closure which delivers vintage charm. A leather messenger bag with a buckle closure could be ideal if you want to make a big stylistic statement.
The buckle closure design was first used for safety reasons in military equipment and horse saddles. Today, it lends a touch of traditional aesthetic to modern bagging options.
Leather messenger bags with magnetic closures
This option gives you swift, easy access to your laptop and other items. It's great for people who are always on the go and need to retrieve and put back items throughout the day.
Magnetic closures were first added to bags to reduce wear and tear linked to conventional fastening and for convenience.
Customizable leather messenger bag
With this bag, you can customize numerous features including the layout of your compartments, size, and color. You can even have your initials added to these bags.
If you want to acquire a unique bag or have specific needs, you may wish to opt for this bag. Custom leatherwork is a time-honored craft which is heavily associated with personal expression and elegance.
Sustainable leather messenger bag
These bags are produced from ethically sourced, environmentally friendly leather. They are ideal for eco-conscious purchasers. They work like any other kind of leather bag but allow you to make a valuable contribution to the world around you.
Sustainable leather can be made from some very interesting materials like apple peels, recycled rubber, and pineapple leaves.
Are there any alternatives to the leather laptop messenger bag?
Casual day-to-day use
If you're looking for an alternative to a leather laptop messenger bag for casual daily use, a backpack could be perfect. A backpack can provide you with better weight distribution and offer multiple compartments.
Backpacks are also great for those seeking youthful, casual options. Canvas backpacks are ideal for students carrying items like a laptop, textbooks, and other essentials.
Professional environment
If you need a stylish and sophisticated alternative to a leather messenger bag, consider buying a briefcase. Briefcases have a structured appearance and a refined look, which makes them fantastic for corporate events, client meetings and office use.
If you work in formal attire or have important documents to carry with your laptop, this could be the option for you.
Commuting
If you're commuting through busy environments, a sling or cross-body bag could be useful. With this kind of bag, you'll get a lightweight, compact solution that makes movement a breeze.
This bag will deliver mobility and comfort whilst protecting your laptop and can provide the support you need if your commute features vast physical activity.
Travel
Why not consider a rolling laptop case if you need a reliable alternative? Rolling laptop cases give you the convenience of wheeled luggage alongside the compact size of a laptop bag.
If you're a frequent traveler and normally take your laptop with you, this option can provide both ease and convenience.
An on-trend choice
If fashion matters to you, think about acquiring a tote bag. These bags are available in various materials and designs.
They can lend an extra dash of style to any outfit whilst still accommodating your laptop. Consider buying this bag if you need a solution which will fit your fashion taste and offer excellent functionality.
Post-Purchase Considerations
What to consider after your purchase
Maintenance and care
Natural leather is very delicate. This can cause you to worry about ensuring it stays as good as new. However, you can treat the bag by applying a quality leather conditioner to it.
This will protect the health and appeal of the bag and ensure it stays soft, supple, and resilient. Try to avoid exposing the bag to extreme heat, sunlight, and humidity to prevent damage and fading.
Durability
You may have concerns about the longevity of the bag if it's supporting you through your daily commute and work life. To increase the lifespan of your bag, avoid overloading it as this can cause the seams to become strained and stretch the leather.
Try to get a bag that's made with first-class materials which can withstand regular usage.
Leather ageing
Perhaps you're worried that the leather won't look as attractive a few years down the line? As long as you buy high-quality leather, it will develop a unique and highly desirable patina over time. This will add character to your bag and make it distinct from synthetic alternatives.
Size and fit
Maybe you have concerns about whether your laptop will fit snugly inside your messenger bag? If so, measure your laptop before you buy it so you can compare it to the bag's dimensions. If your laptop size is within these, you should expect a snug, safe fit.
Style and versatility
If you are worried about whether your messenger bag will work with different occasions and outfits, look for something versatile that will work in casual and formal settings. There are many bags with traditional features that will suit casual and format scenarios.
Frequently asked questions
How can leather bags be maintained and cleaned?
Use a specialized leather cleaner or a damp cloth for the purpose of leather cleaning. This will help you defend the longevity or quality of the bag. Just ensure your leather is not directly exposed to sunlight for a prolonged time period.
Is leather waterproof?
Leather has natural water-resistant capabilities, but it isn't entirely waterproof. You should therefore keep your bag away from torrential rain. Another step to take is to use a waterproofing treatment that will give you further protection.
Why use these bags for laptops?
Leather laptop messenger bags give you a professional, stylish look. They can also help you protect your laptop from damage, with their dedicated compartments ensuring your laptop remains secure.
Do these bags suit all laptop sizes?
Most bags are able to accommodate the most common laptop sizes, but you do need to look at the product specifications for the specific dimensions and maximum laptop size each bag is able to hold.
You shouldn't find it difficult to acquire 13-inch, 15-inch, and 17-inch laptop compartments.