Whether you're off on a spur-of-the-moment weekend trip, a brief overnight stay, or your daily trip to the gym, these premium Italian full grain leather holdalls will guarantee you travel in style. You can even personalize them with a monogrammed logo, initials, or message.
Grand
Leather Garment Bag
$1,195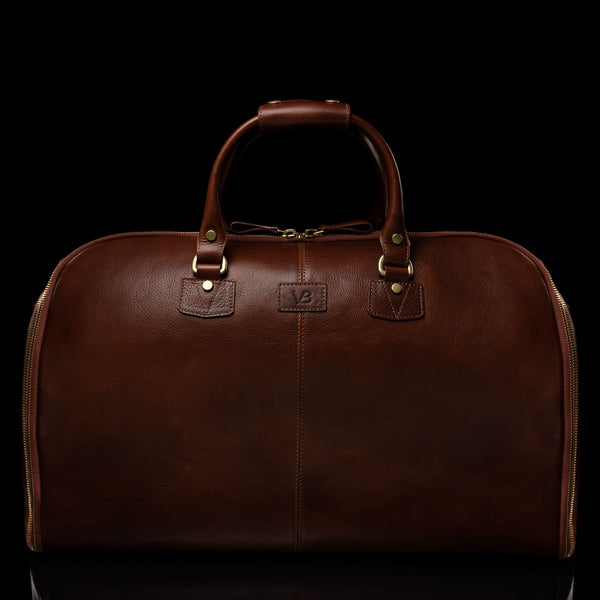 Solid Brown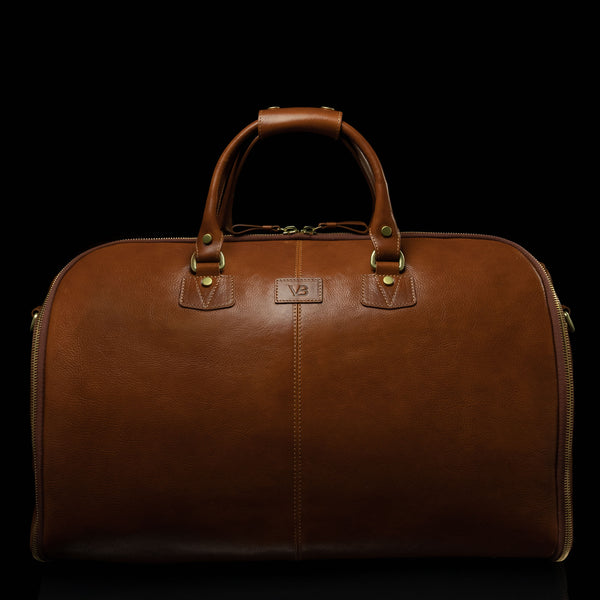 Classic Tan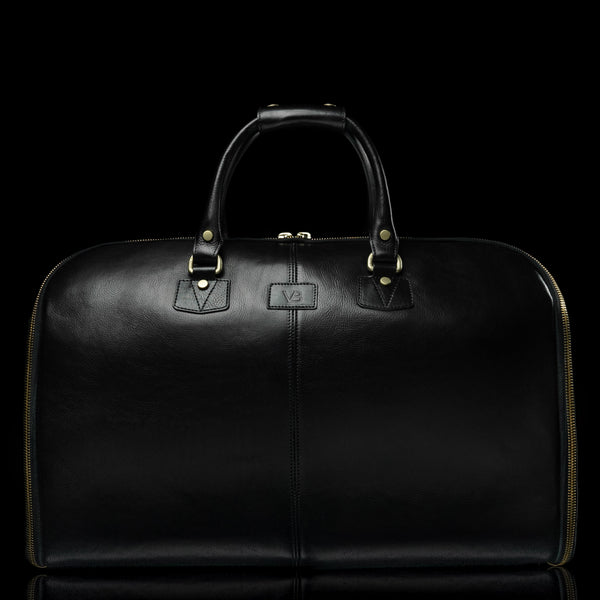 Elegant Black
Weekender
Men's Leather Weekend Bag
$1,095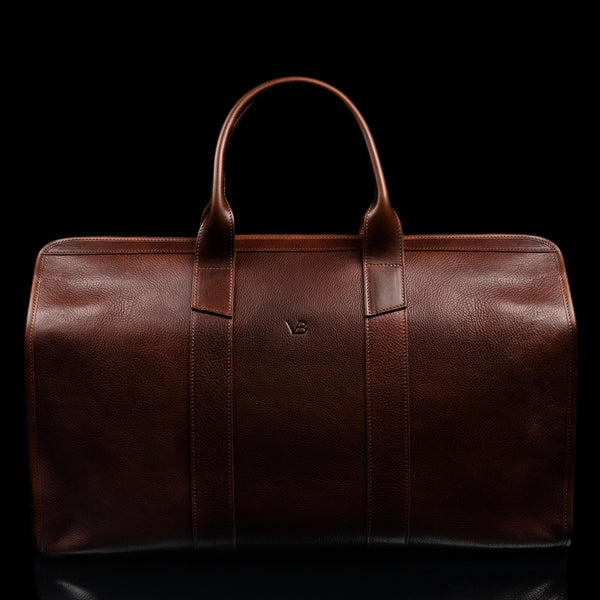 Solid Brown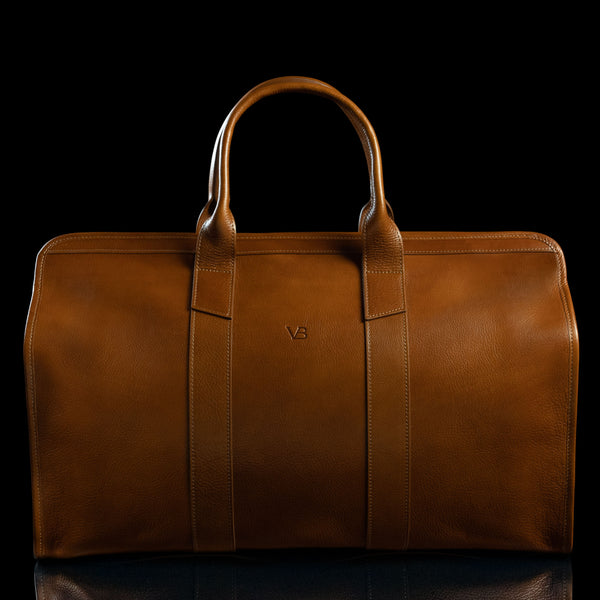 Classic Tan
Elegant Black
What makes a Von Baer leather holdall so special?
Handmade leather holdalls
Von Baer leather holdalls are expertly handcrafted by vastly experienced craftsmen in family-owned studios in Florence, Italy. This ensures every holdall meets the demands of your contemporary lifestyle without compromising on quality.

Highest quality full grain leather
We only use the finest full grain leather for our Italian leather holdalls, which is the best that money can buy. You can tell it's high-quality genuine leather by the look and feel of the product, as well as how long it lasts. The Von Baer leather is vegetable tanned, handmade in small batches by artisan craftsmen in Florence, Italy.
Durable construction
Stitching and hardware on holdalls are common stress points, which is why the hardware Von Baer uses is high-quality metals with YKK zippers, ensuring very durable moving parts. The interior lining is made from premium durable cotton, ensuring a soft yet strong inner for your holdall, capable of handling the day-to-day demands of a busy lifestyle.
Colors without compromise
Von Baer holdalls come in 4 stylish leather colors, including black, brown, dark brown, or tan. These are all made from natural full grain leather, which ages beautifully with leather patina. We also use solid brass hardware on all of our holdalls.
Spacious compartments
All Von Baer holdalls come with multiple compartments, including a spacious main compartment for your belongings. These holdalls are designed to accommodate your essentials, whether you're on a weekend getaway or a business trip.
Convenient shoulder straps
All Von Baer holdalls also come with a removable shoulder strap, allowing you to carry them with ease. They are ideal for travel, whether it's a weekend adventure or a business trip, and they also feature exterior handles for added convenience.
Personalized with a laser engraving
Instead of monogramming, we use a high-quality laser engraving to personalize your leather holdall, making it perfect for your own use or as a thoughtful gift.
Benefits
As the name suggests, a holdall is made for moving almost anything you need from place to place… but the benefits don't end there. Let's take a look at a few of the advantages of owning and using a leather holdall.
Versatility in Use
The simple design means this bag can be used as a gym bag, an overnight bag, or for weekends away. It even works well as a carry-on if you have a larger case to check into the baggage hold. It is a high-quality item, flexible in construction and use.
Easily pack up your wardrobe and must-have necessities to keep them in immaculate condition while traveling. Sturdy top handles ensure that you can carry your bag with ease or you can simply attach the adjustable shoulder strap. A real workhorse on the go, each holdall is genuinely designed to withstand heavy use for years to come. Reinforced with heavy-duty hardware, our holdalls are expertly made from the finest Italian full-grain leather and lined with luxurious cotton canvas.
Stylish Design
What would otherwise be a humdrum bag like any other is given a lift of elegance and luxury through its high-quality leather construction and superior styling.
Durable Build
Crafted from high-quality full-grain leather, with robust stitching and strategic design, the men's holdall is built with rugged use and durability in mind. Hardware is sturdy and well-fastened, and handles are comfortable and long-lasting too.
Ample Storage
The spacious interior makes for simple packing of clothes, toiletries, electronics, and whatever else you need to move. The multiple pockets allow for the safe organization of smaller items, keeping them at hand for ready use.
Professional Appeal
The sophisticated style and leather material mean this bag is at home in professional environments. It looks fine beside a high-end briefcase or satchel and complements a designer suit, pair of jeans, and a t-shirt.
Travel-Friendly
Easy to pack, carry, and stow, the holdall fits in the overhead compartment of most flights, and even under the seat in front of you, if you want to keep it handy.
Ideal for Tech Gadgets
The smaller pockets keep tech gadgets and other small items safe and secure. A larger tech item can fit is in the main compartment, though a protective sleeve may be a wise addition to keep it safe from accidental bumps or drops.
Easy Maintenance
Leather is robust and relatively easy to clean and maintain. Full-grain leather even looks better as it ages and develops a unique patina on each item.
Lifestyle Compatible
A holdall of this style and quality is great for any lifestyle, from the frequent flyer to the fitness guru, to the professional, or the stylish man of any other kind. It is adaptable to many purposes and uses, so it is adaptable to many lifestyles too.
Interchangeable Accessories
To further make your holdall look great and function as needed, consider matching leather accessories, available with many brands. Belts, wallets, shoes, or other leather goods are often available in the same colors and finishes from the same brand name or style line.
How to Choose
Choosing the best holdall is an exciting and enjoyable process – with the right information to decide. We're here to help, with a collection of features and factors to consider. Let's get to it.
Material Quality
Not all leathers are the same, and price often reflects this. Consider the quality before you think a bag is a great deal or too expensive.
Full Grain Leather, Handmade in Florence, Italy
We use only the finest quality full grain leather, which is the most expensive but also the most durable, ensuring your leather bag will last for many years, and age well with real leather patina.
All of our bags are handmade in Florence, Italy by expert craftsmen, with centuries of experience in creating high quality vegetable tanned leather products.
Top-Grain Leather
Top-grain leather is a bit thinner at a lower cost than full-grain, but still has good durability and looks. It is often used for designs with bright finishes that would cover the natural grain of full-grain leather anyway, and takes a bright color quite well.
Faux Leather
For a vegan option that's also very affordable, faux leather isn't leather at all, but it looks a lot like it. The drawbacks are that it is less durable and not as luxurious as its animal-sourced alternatives.
Tanning Process
Vegetable tanning is eco-friendlier, resulting in a leather that ages gracefully and looks great. Chrome tanning is quicker, and, therefore often cheaper, but is more damaging to the environment.
Hardware Quality
Brass or nickel is the top choice for high-quality hardware material. Relatively light, but strong and able to hold a finish well, either of these two choices will mean a great look that lasts, and reliable fasteners for a secure hold on your bag and its contents.
Stitching Material
Take a look at the stitching. It should use nylon or polyester thread, rather than cotton, as these last longer, and areas that are likely to experience greater strain – like connection points for handles – should have added stitching or other reinforcement.
Construction
Gusset Construction
A gusset runs around the front and back of the bag, adding structural stability for heavier loads. Look for a single, continuous gusset for the best durability.
Weatherproofing
Not all leather bags are weather-proofed, but some are, and there are products on the market to treat bags for water resistance. Always test these products on an inconspicuous spot to ensure no unwanted changes in the color of the bag.
Size and Capacity
Small (Up to 30L)
Small sizes are great for day trips or a visit to the gym. They are not only easy to carry, but they stow away well and fold down to a very small size.
Medium (30L to 50L)
If you want something suitable for a few nights away, a medium bag should hold everything you need and is still small enough to be easily maneuvered by hand.
Large (Above 50L)
To carry your own items as well as someone else's, or for long trips away, a large holdall is big enough for the job.
Compartments and Pockets
Single Compartment or Multiple Compartments
Packing and unpacking a single compartment is easy, but multiple compartments mean more organization and less jumbling around during movement.
Interior Pocket Layout
Choose a bag with pockets that suit the items you normally carry. Items you want quick access to should be stowed in an easily accessible pocket.
Straps and Handles
Most holdalls come with fixed handles for carrying. You may also want a shoulder strap for more comfortable and hands-free carrying. Some bags feature detachable straps, which are handy when stowing the bag in a cargo hold, as they prevent snags and damage to the bag.
Style and Aesthetic
Styles range from the classic to the contemporary to the sporty. A classic style is more versatile, though the fashion maven may want something with more flare. Some sports models feature additional waterproofing, which is great if your sport is near the water or ice.
Price
There are budget-friendly purchase prices for some holdall bags, but in the long run, you are better off investing in a mid- or high-range bag, as it will last much longer (with proper care, of course), resulting in a lower cost over time. It will also look better for longer, or even improve in beauty if it is a full-grain bag with a natural finish.
Types
The holdall comes in various types, each one better suited to a particular style of travel or other use. To find the type of holdall right for you, let's look through what's available.
Classic Holdalls
Timeless and always functional, the classic design suits a wide range of situations and styles.
Convertible Holdalls
Convertible holdalls can change to a messenger or backpack style, giving you options for carrying and using it.
Tech-Friendly Holdalls
Equipped with padded compartments for laptops, tablets, or other electronic devices, the tech-friendly holdall keeps gadgets safe and secure.
Holdalls with Suit/Garment Bags

The best leather holdall to carry a suit is the Grand suit travel bag, which comes in black, brown, or tan leather. You can unzip the structure of the bag to create a flat garment bag to load your suit and shirt, then zip it back up to create a structured bag to pack the rest of your essentials with.
Monogrammed Leather Holdalls
All of our leather holdalls can be monogrammed with a personalized message, image, or just your initials. A great choice for a larger bag is our monogrammed weekender bag, which includes a dedicated laptop compartment.
Sports-Luxe Holdalls
With design that celebrates and inspires athleticism, the sports-luxe bag has features like breathable mesh linings, gym shoe compartments, and other handy spaces to suit the athlete with all the style and elegance still in place.
Vintage-Inspired Holdalls
Take a step into the past world of design, without sacrificing the advancements in technology and manufacture we've made since then.
Distressed leather, antiqued hardware, and vintage styles will still hold up for many years – until it is a time-tested item itself, as well as paying homage to past ones.
Men's Designer Holdalls
Von Baer holdalls are luxury products designed for fashion-conscious men. They can be used as stylish luggage, as a smart weekend bag, or as a duffle bag for the gym. The generous number of personalization options make these custom holdalls bespoke to you, as well as being a very personal and sophisticated gift.
Our black holdalls are very chic and on-trend right now, whereas the vintage brown leather holdalls are a timeless option. Tan leather holdalls are popular for those looking for a more casual look, and can work well with light or dark colored suits. These holdalls are large enough to fit all of your accessories, making them functional and elegant. Shop the full range of Von Baer holdalls above.
Alternatives
The holdall might not be the best choice if you have very specific needs. To ensure it is, consider these alternatives before selecting the best option.
Business Travel
If your business trip is not overnight, a briefcase might be a suitable choice. More formal for some boardroom or presentation settings, it will still carry your laptop or other needed items.
If the trip is more than a day or two, or you have many items necessary to a presentation or meeting, you might want to go with a rolling business case.
Weekend Getaways
The more casual nature of a weekend getaway means you can sacrifice style for practicality if you choose to.
This depends on what you plan to do, of course. A duffel bag or backpack is a possible alternative to the holdall, though not much advantage is gained beyond the shoulder straps of the backpack for longer walks on rough terrain.
Gym Use
If you play a sport requiring specific gear – like a tennis racquet, helmet, or similar item – then a bag for that specific sport might be a better choice.
Daily Commute
Messenger bags and backpacks were made for daily movement with a load on, but if you drive to and from work, you don't gain much from either one.
When taking trains, buses, or long walks or cycles to and from work, the specialized mobility of messenger bags and backpacks comes into play.
Post Purchase Considerations
Post Purchase Considerations
At Von Baer, it is important that you enjoy your shopping process, and that your experience owning the bag is good for years to come.
For those reasons, we have put together some considerations to help you get the most out of your experience and purchase.
Leather Care
Each item has instructions on how best to care for it, found in the product description. We also include these guidelines with each item. In most cases, conditioning the leather by wiping on a thin layer of leather conditioner, once to three times a year, keeps the leather supple and increases longevity. Clean by gently wiping with a damp cloth.
Size and Storage Capacity
Before purchasing, consider a bag of similar dimensions and compare it to your needs.
FAQs
What Are the Key Features to Consider When Buying a Holdall?
Consider the quality of leather used, the size, and the features that best match how you plan to use the bag.
Are These Holdalls Suitable for Air Travel?
Airline restrictions vary by airline and flight, but most of our bags meet standard carry-on restrictions. Check with your airline before flying.
How Should I Care for My Leather Bag?
Clean regularly with a damp cloth, and condition the leather thrice a year, depending on use.
Is the Leather Ethically Sourced?
Yes, we put a priority on ethical and sustainable products and processes.

Do You Offer Personalization Options?
Yes, some models do. See individual product descriptions for options, and remember to factor in possible increases in delivery times.