The highest quality Italian leather briefcases money can buy.
Von Baer briefcases are made from 100% full grain leather, handmade in Florence, Italy.  Why Von Baer?
Professional and stylish work bags for conducting important business. They can be personalized with a laser engraving for a special gift.
Explore our briefcases, laptop bags, messenger bags, satchels, and more below.

No.1
Men's Leather Briefcase
$1,295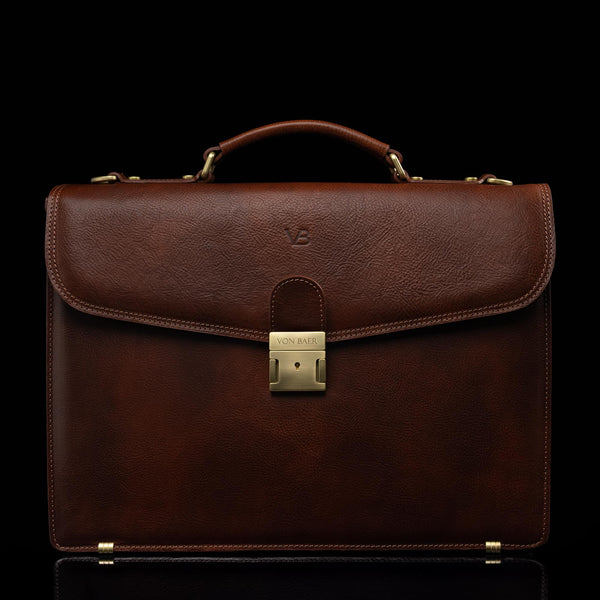 Solid Brown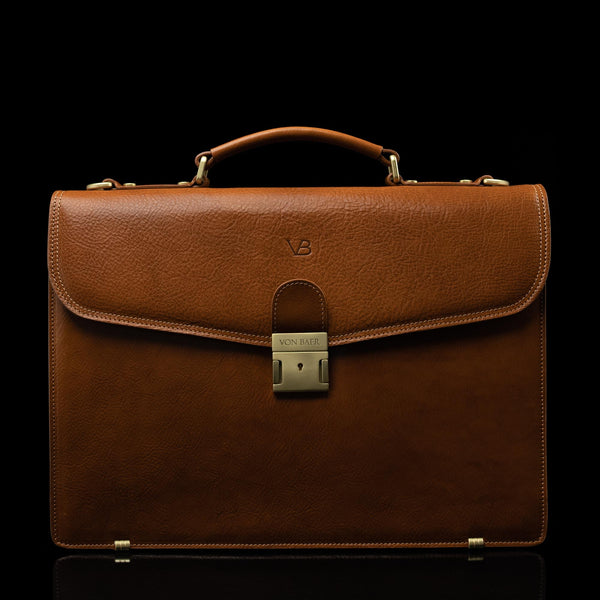 Classic Tan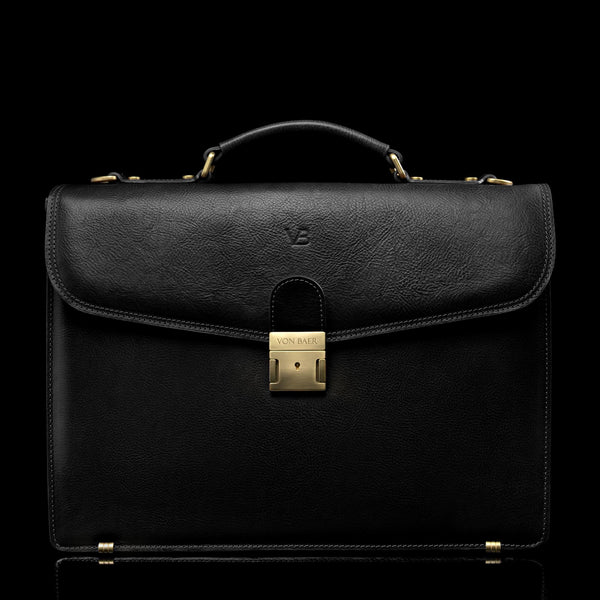 Elegant Black
Essential
Modern Briefcase
$875
Solid Brown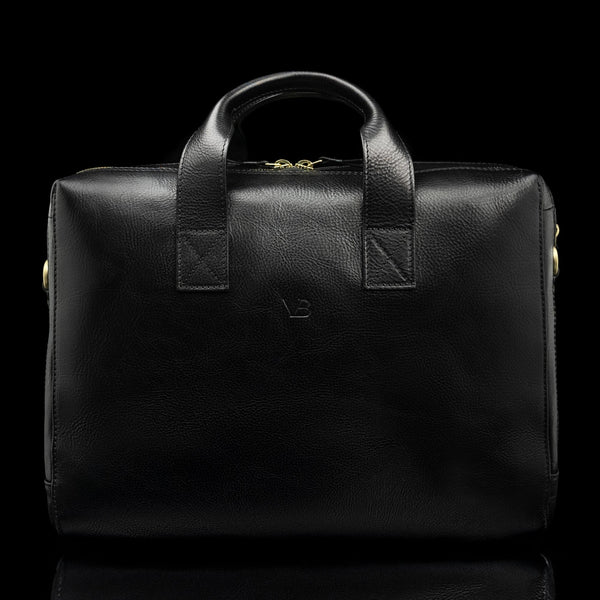 Elegant Black
Deep Red
City
Leather Laptop Bag
$995
Solid Brown
Elegant Black
Deep Red
Elegant
Slim Leather Laptop Bag
$895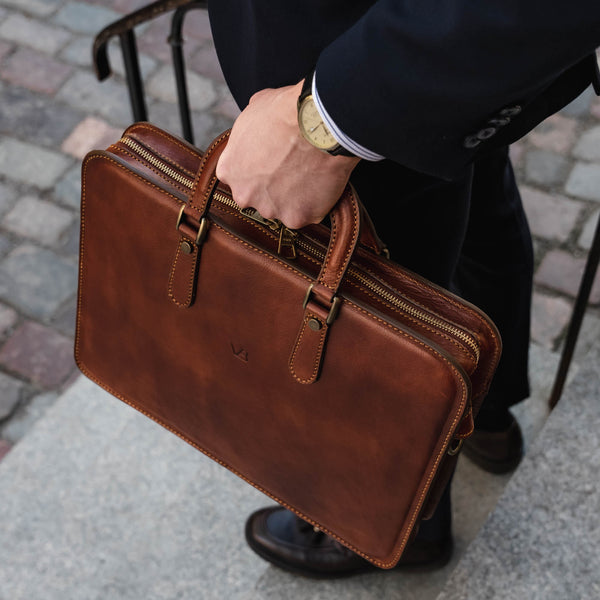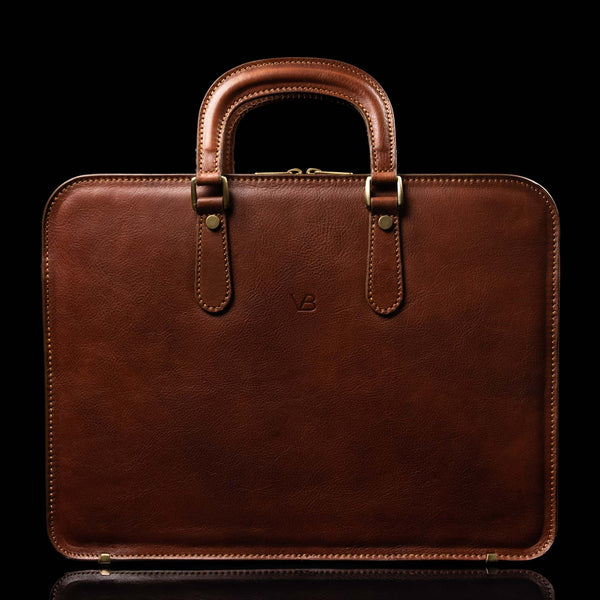 Solid Brown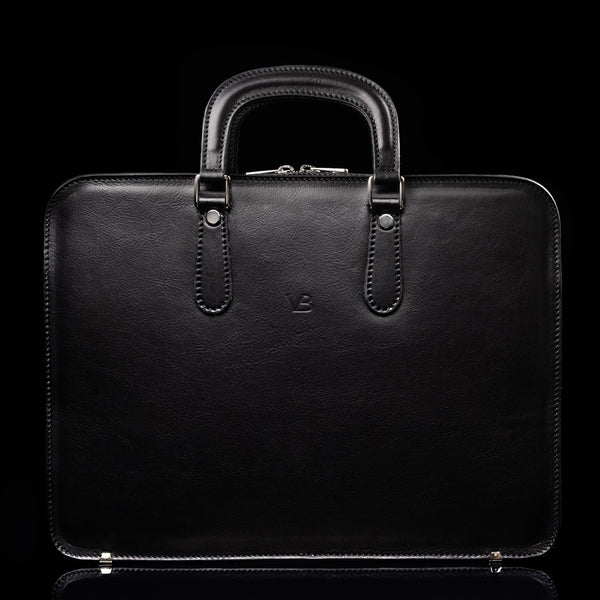 Elegant Black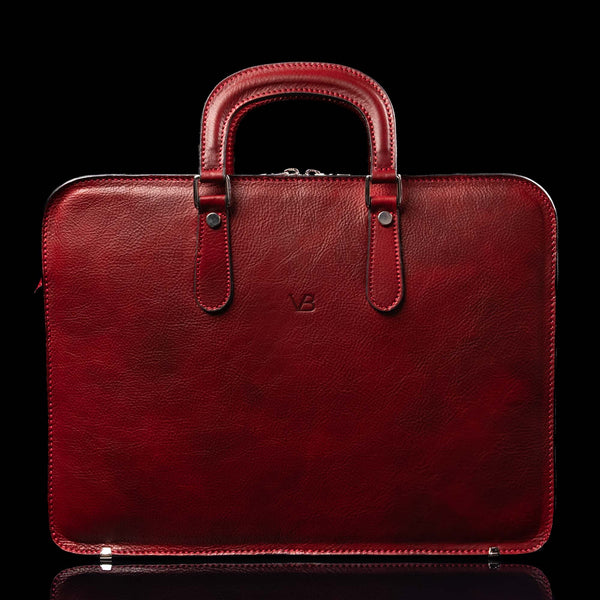 Deep Red
City Large
Leather Laptop Bag
$1,395
Solid Brown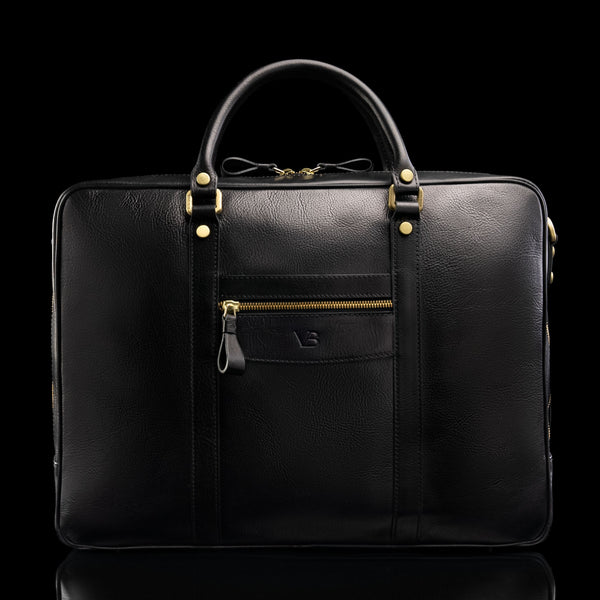 Elegant Black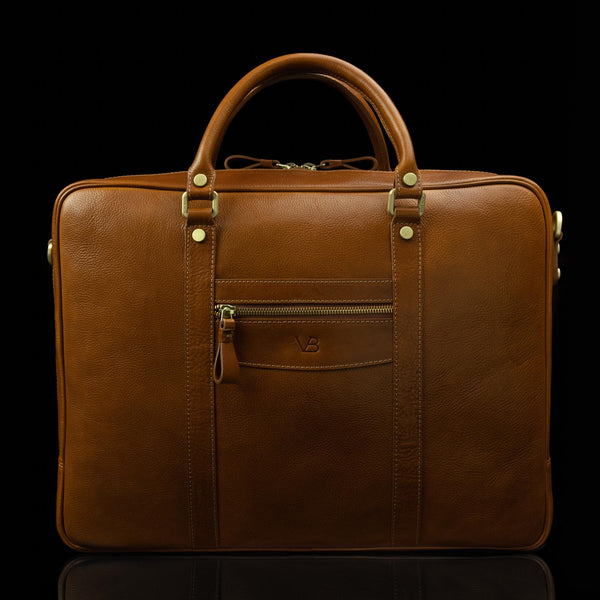 Classic Tan
Deep Red
10X
Leather Laptop Travel Bag
$1,295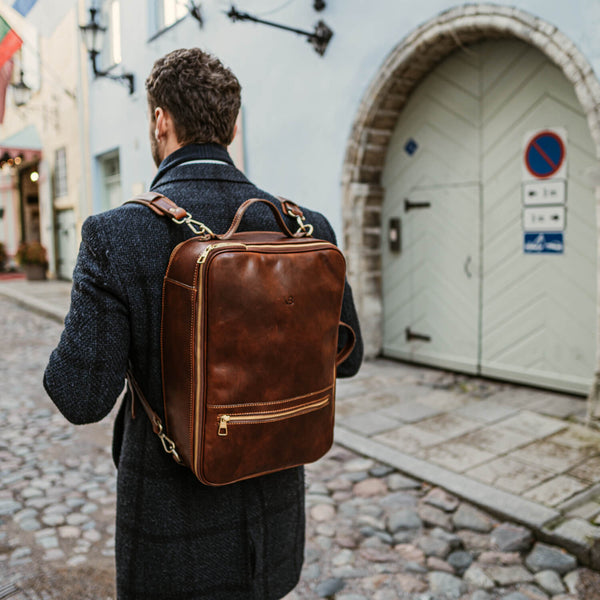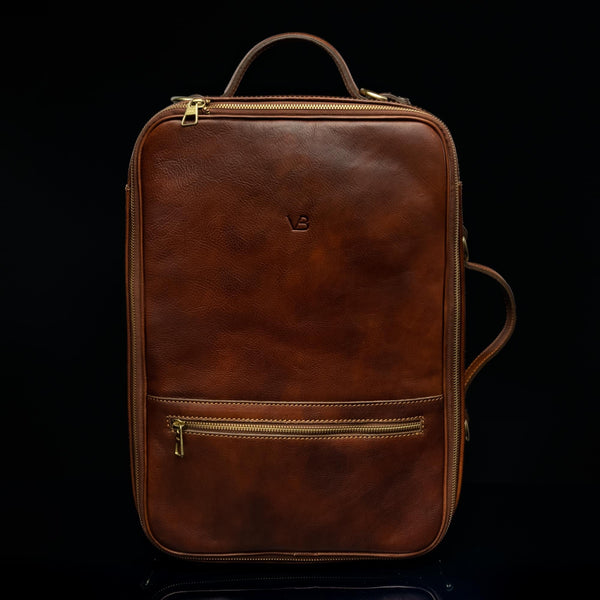 Solid Brown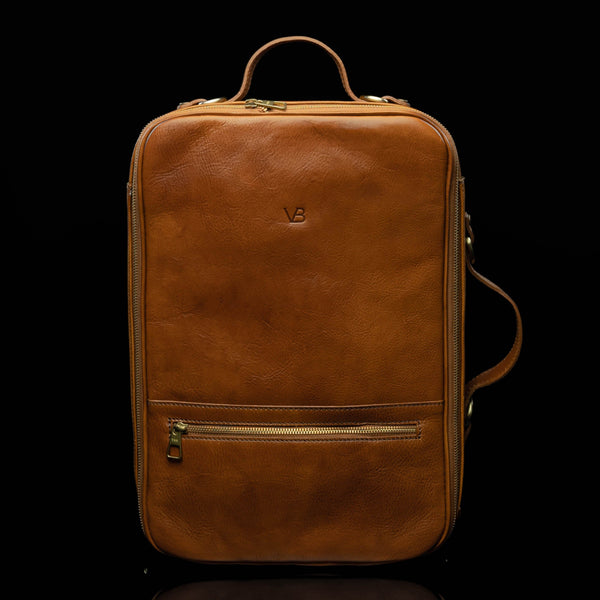 Classic Tan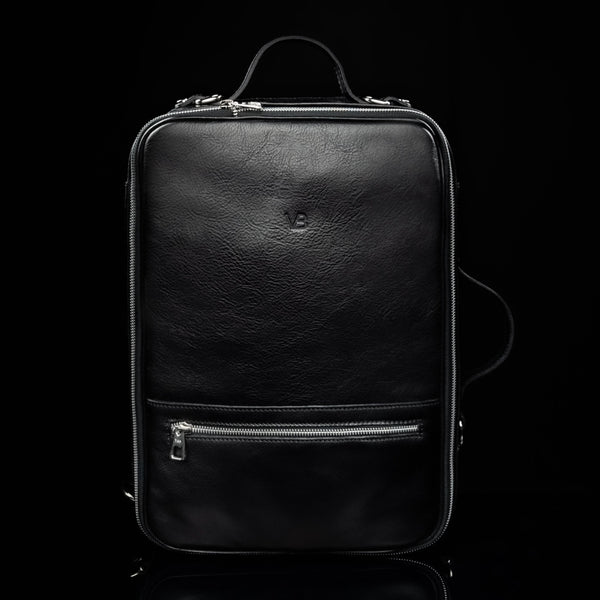 Elegant Black
No.2
Leather Messenger Briefcase
$1,495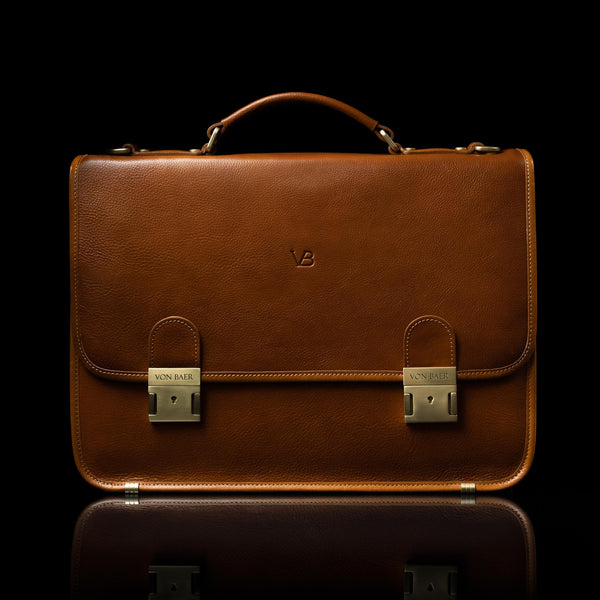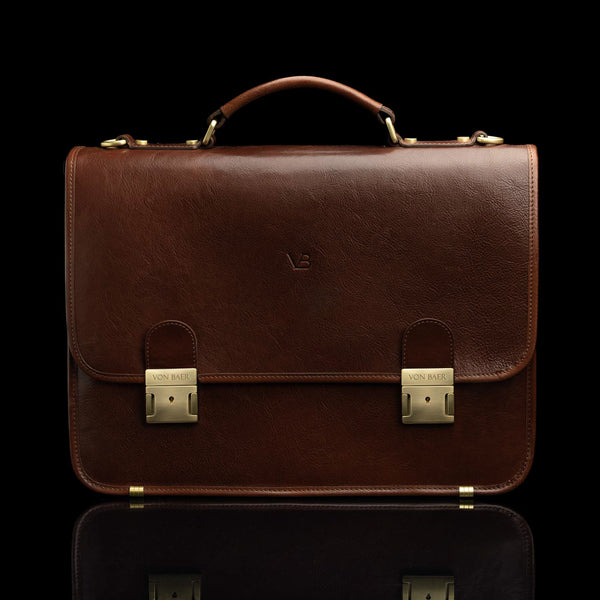 Solid Brown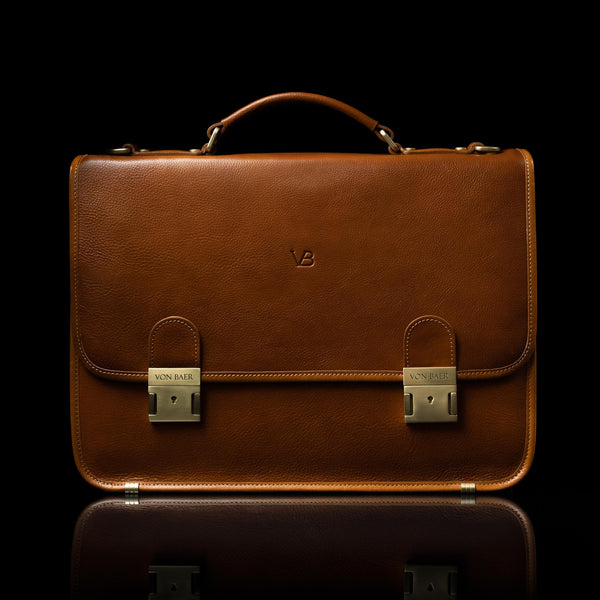 Classic Tan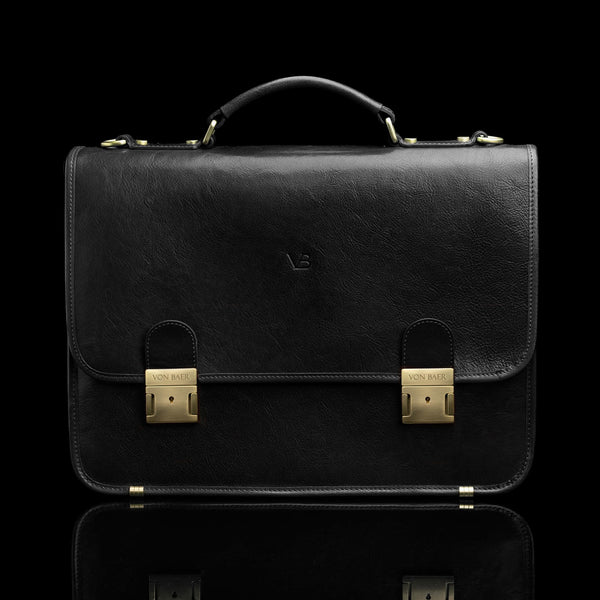 Elegant Black
No.3
Leather Messenger Briefcase
$895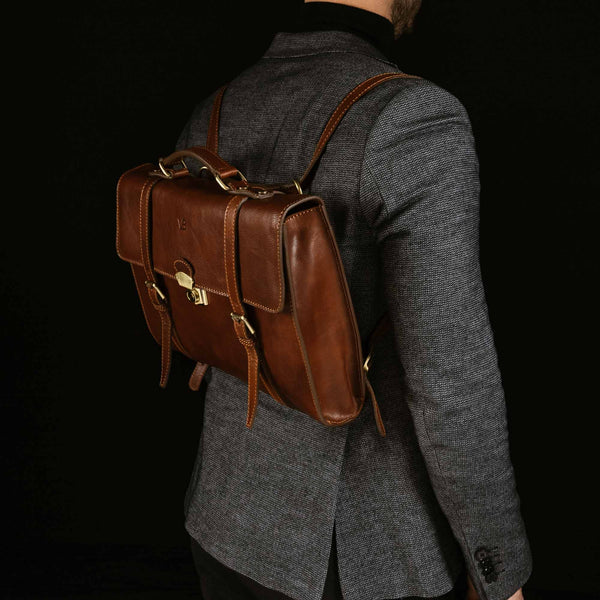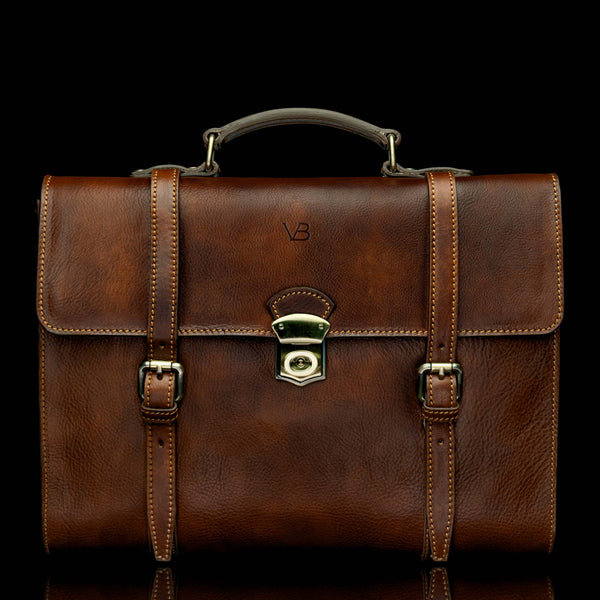 Solid Brown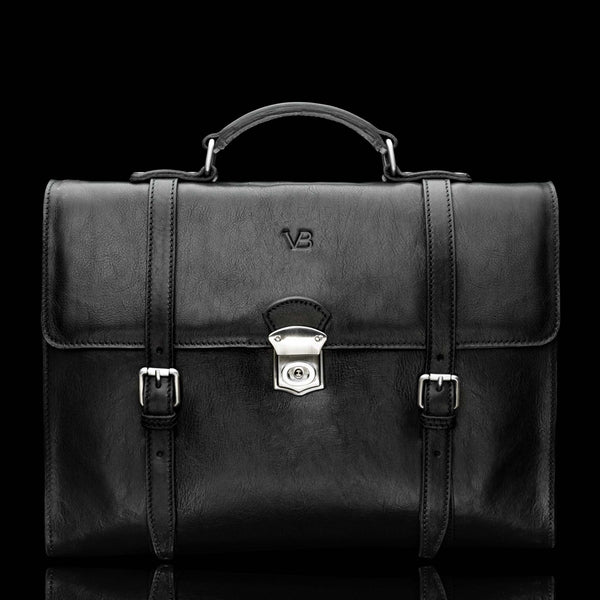 Elegant Black
Classic Tan
Exquisite
Slim Leather Laptop Briefcase
$1,095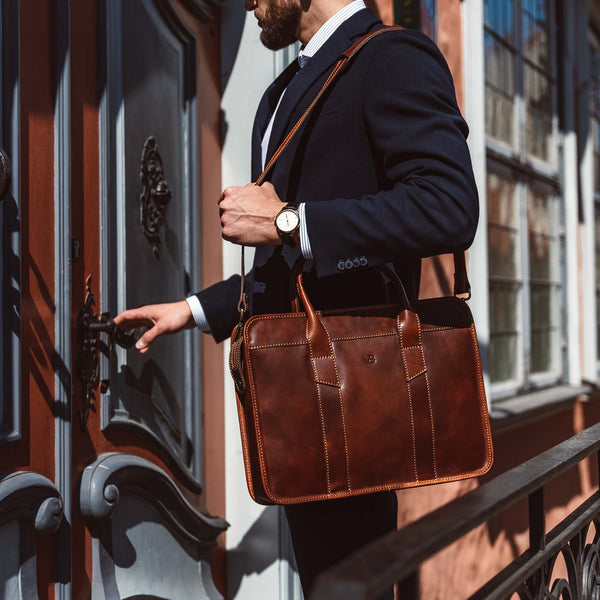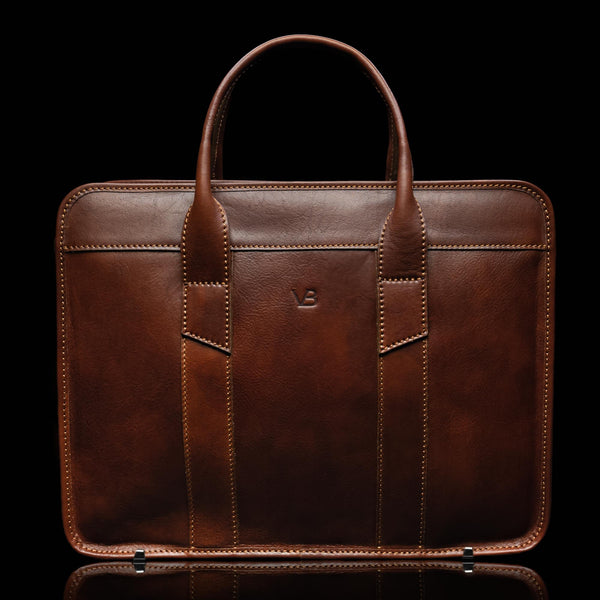 Solid Brown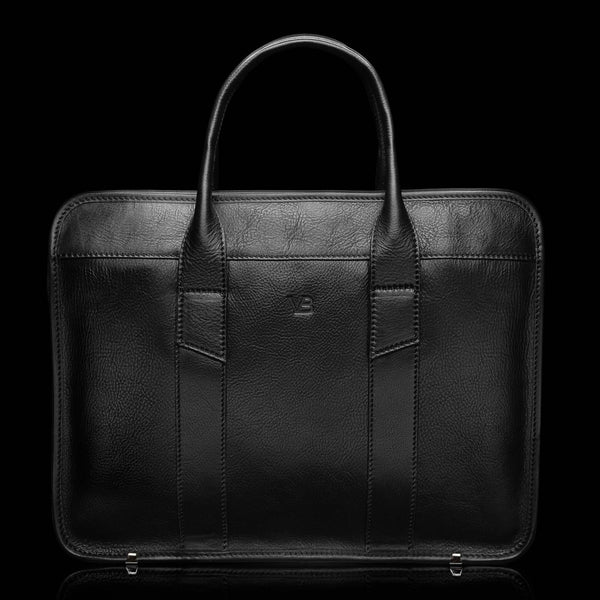 Elegant Black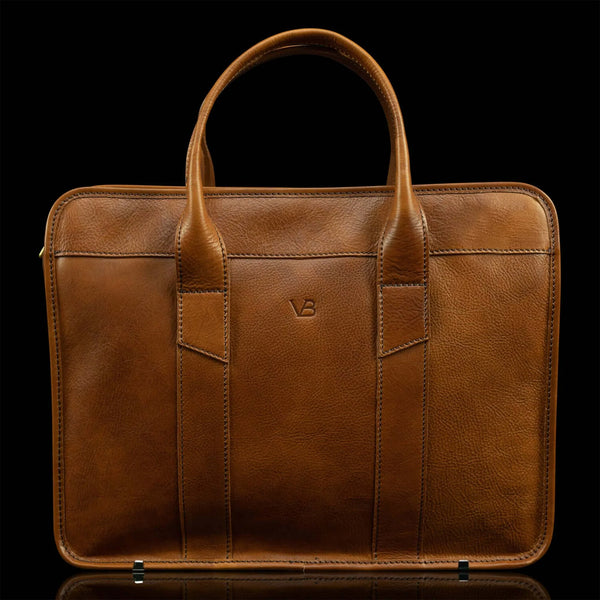 Classic Tan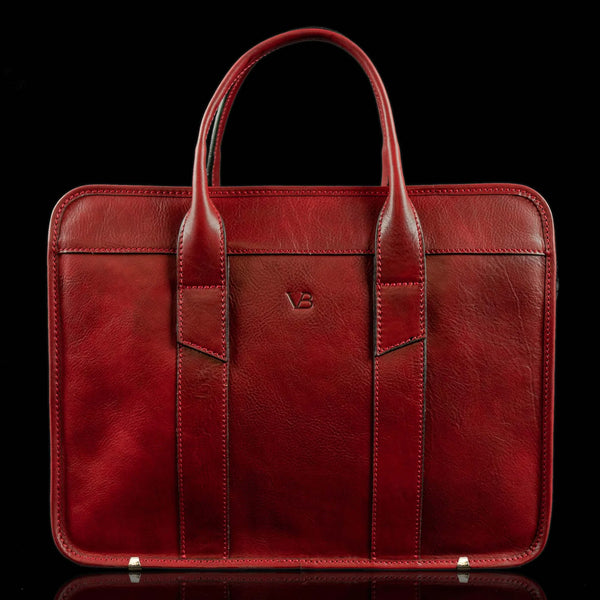 Deep Red
City
Women's Laptop Bag
$995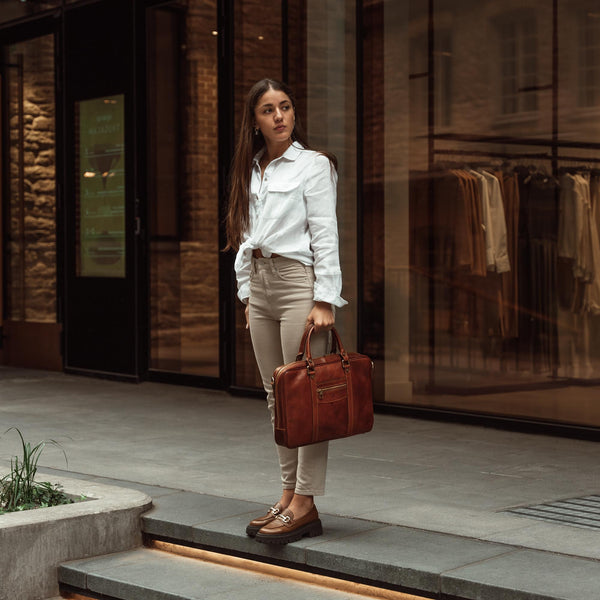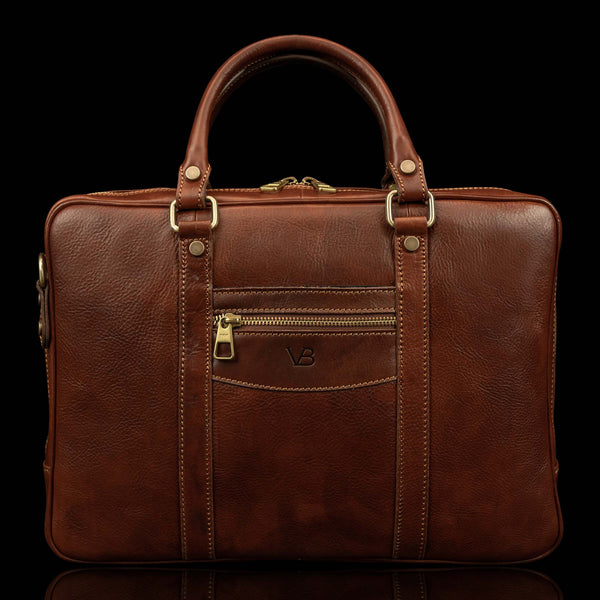 Solid Brown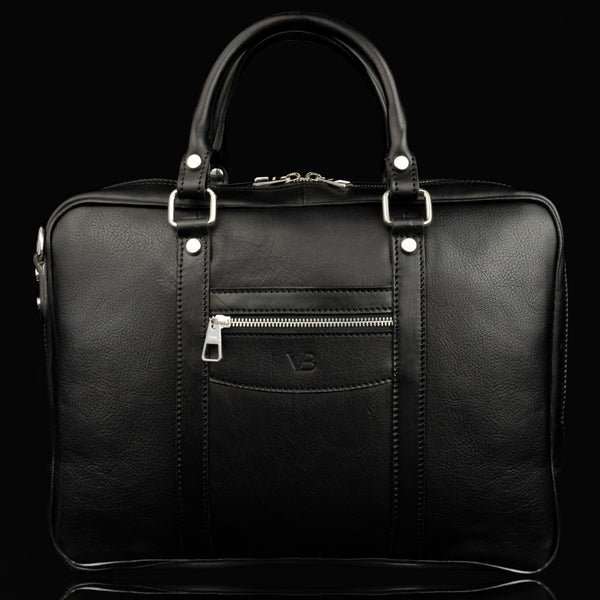 Elegant Black
Deep Red
10X
Women's Leather Laptop Travel Bag
$1,295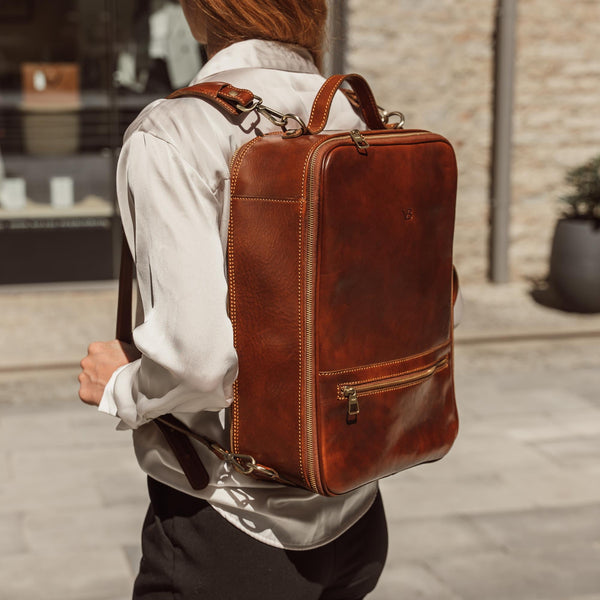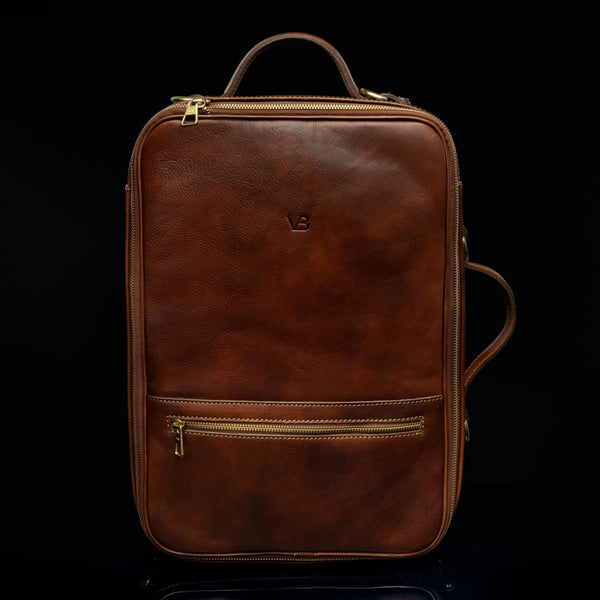 Solid Brown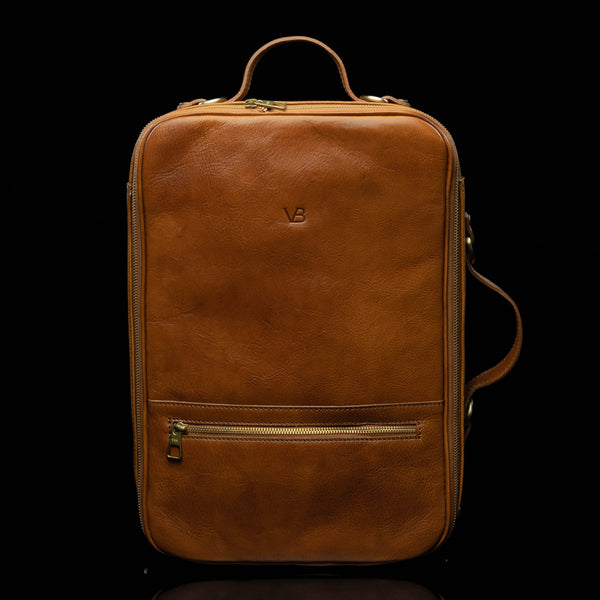 Classic Tan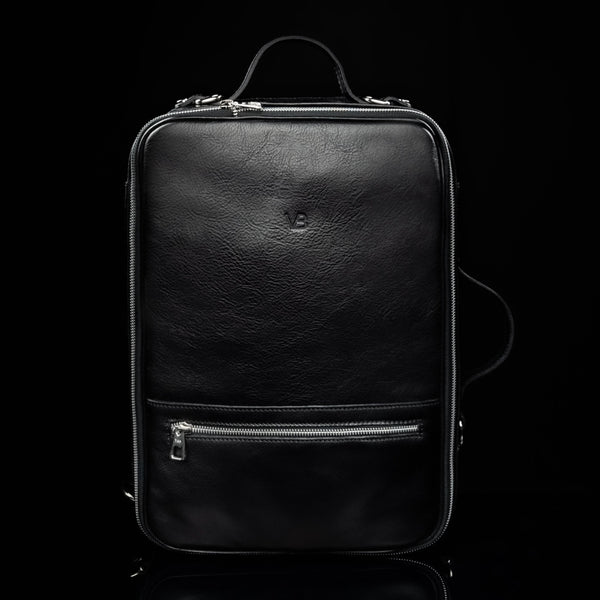 Elegant Black
Exquisite
Women's Laptop Bag
$1,095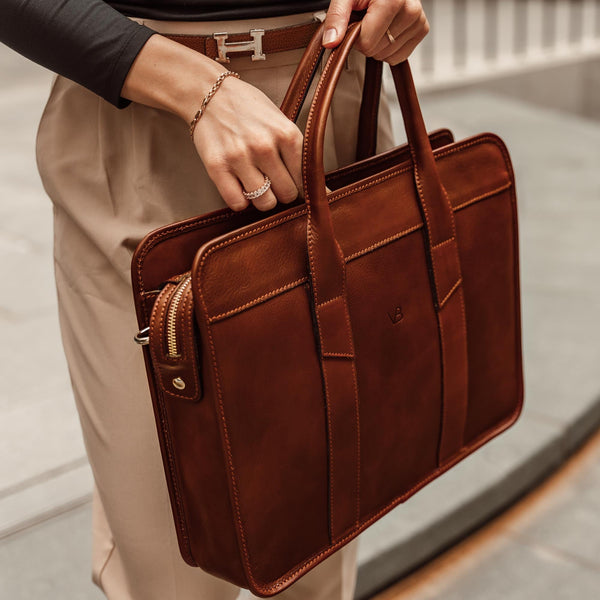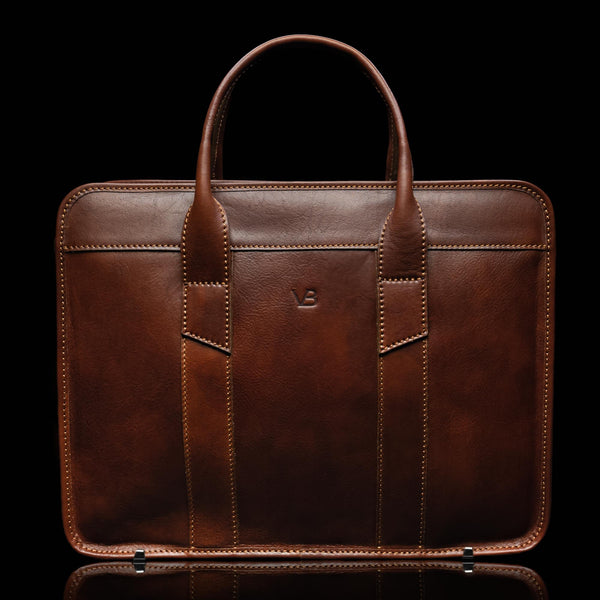 Solid Brown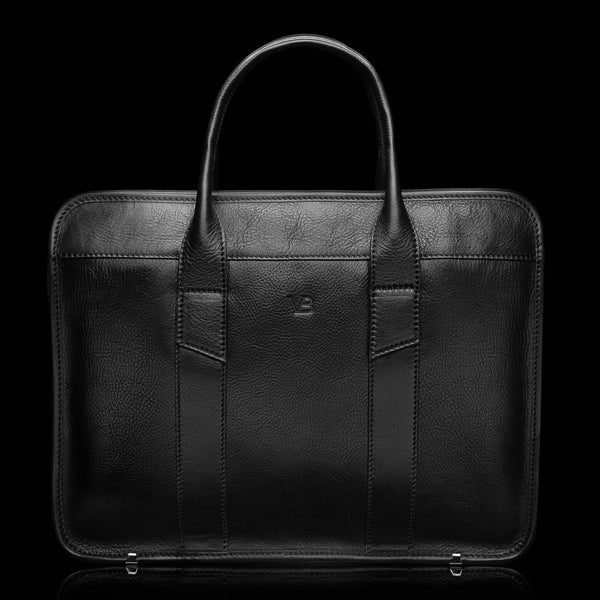 Elegant Black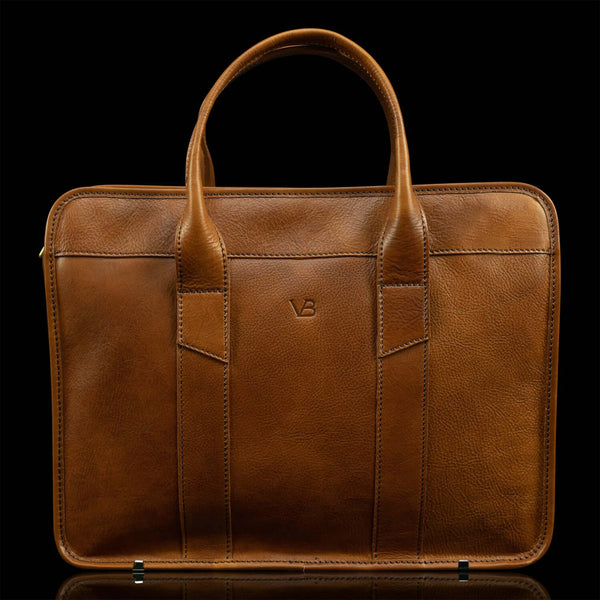 Classic Tan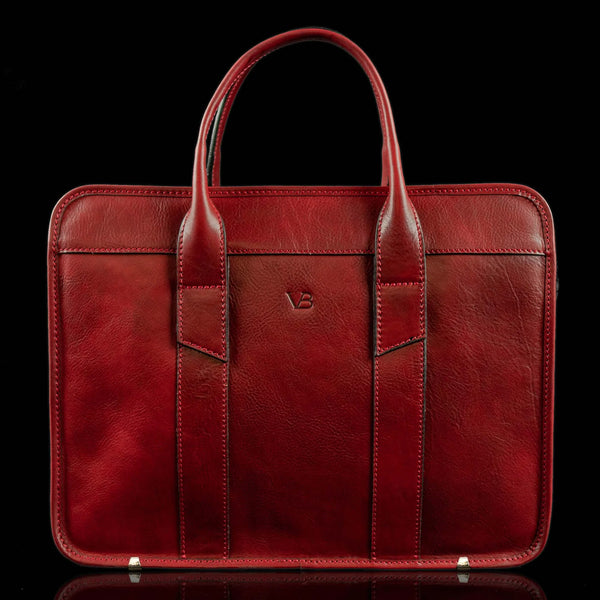 Deep Red
Well-Organized
Leather Laptop / Macbook Case
$695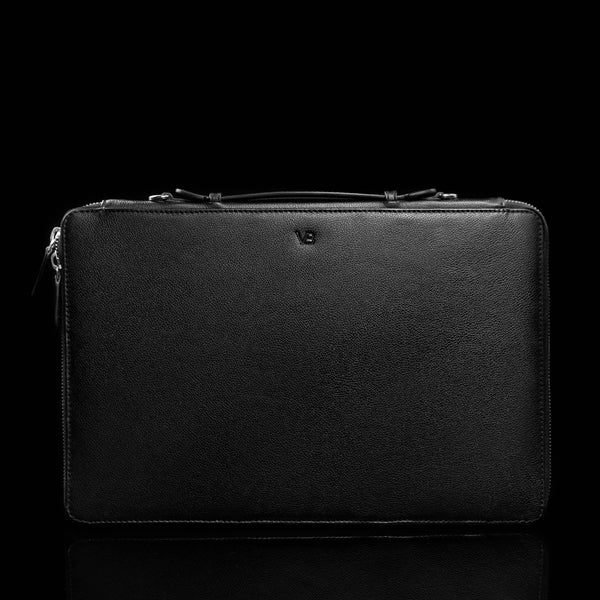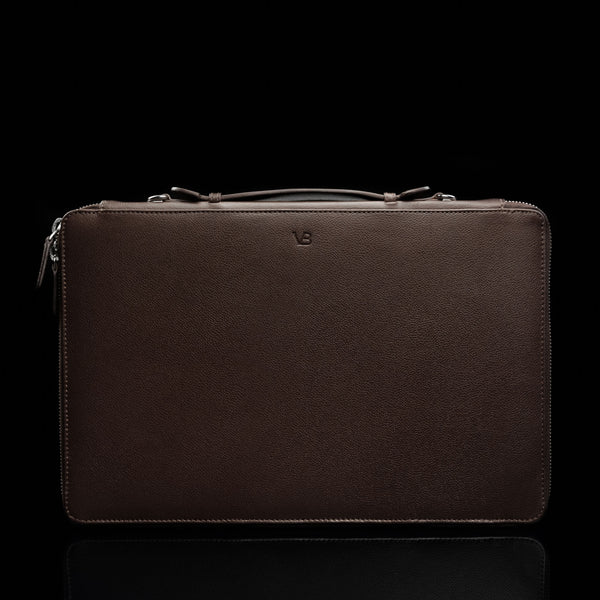 Dark Brown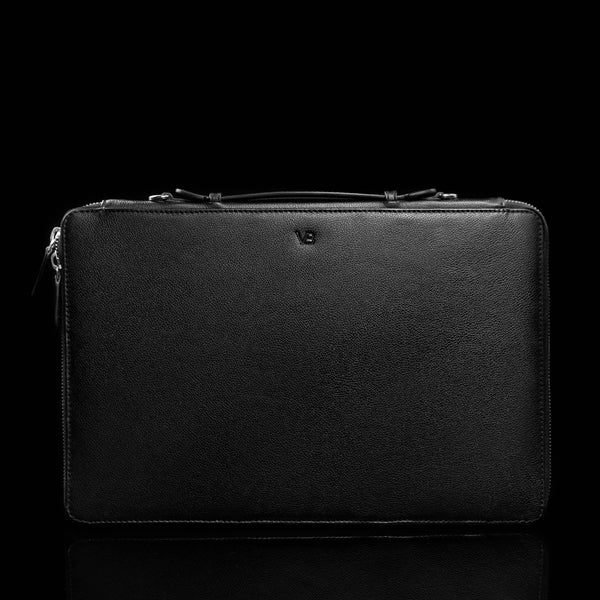 Elegant Black
Elegant
Women's Laptop Briefcase
$895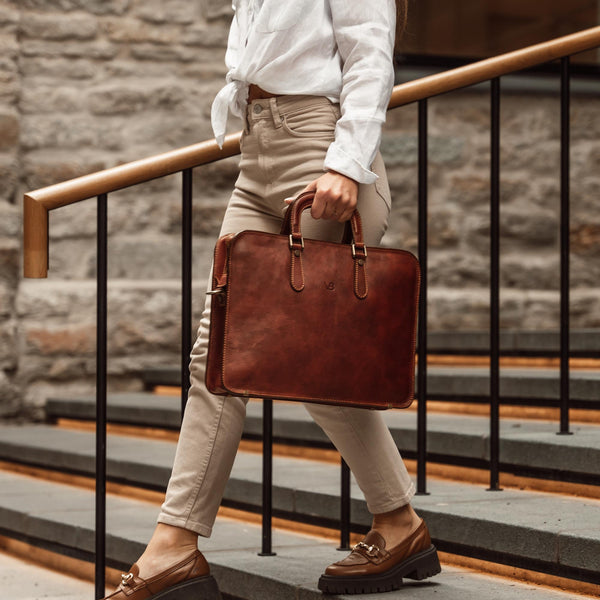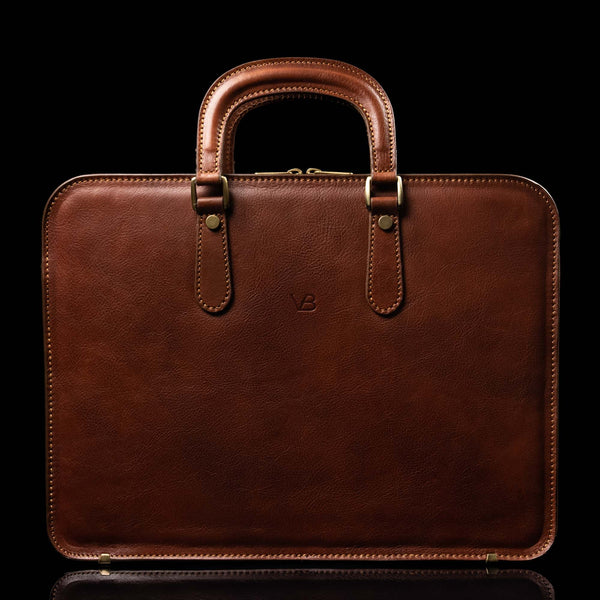 Solid Brown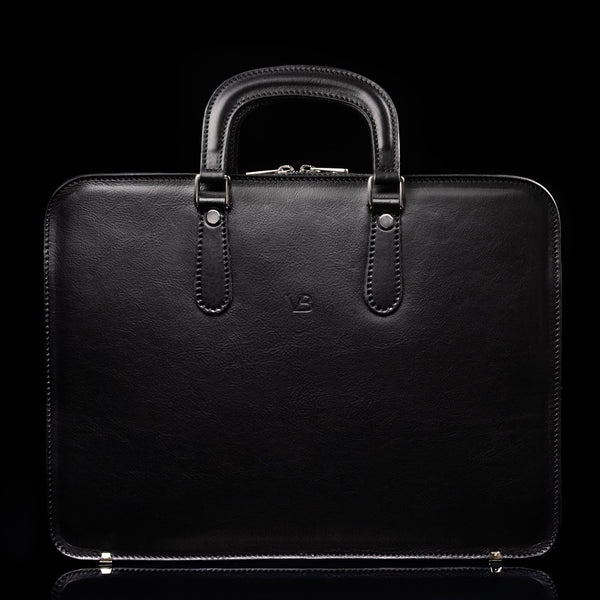 Elegant Black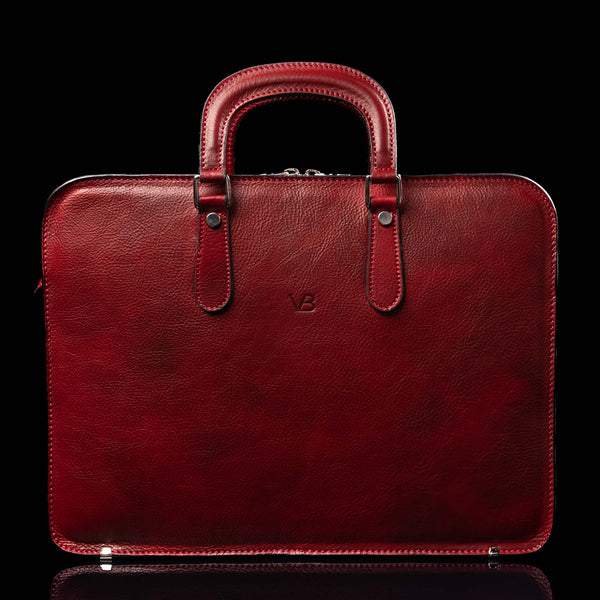 Deep Red
What makes a Von Baer Italian leather briefcase so special?
Handmade leather briefcases
Von Baer briefcases are expertly handcrafted by vastly experienced craftsmen in family-owned studios in Florence, Italy. This ensures every briefcase meets the demands of your professional life without compromising on quality.

Highest quality full grain leather
We only use the finest full grain leather for our Italian leather briefcases, which is the best that money can buy. You can tell it's high-quality genuine leather, by the look and feel of the product, as well as how long it lasts. The Von Baer leather is vegetable tanned, handmade in small batches by artisan craftsmen in Florence, Italy.
Durable construction
Zips and metal on briefcases are common stress points, which is why the hardware Von Baer use is high-quality metals with YKK zippers, to ensure very durable moving parts. The briefcase lining is made from premium durable cotton, ensuring a soft yet strong inner to your case, able to handle the day-to-day of a busy professional.
Colors without compromise
Von Baer briefcases come in 4 stylish leather colors, including black, brown, dark brown, or tan. These are all made from natural full grain leather, which ages nicely with leather patina. We also use solid brass hardware on all of our briefcases.
Shoulder straps included
All Von Baer briefcases also come with a removable shoulder strap, helping you carry them in a shoulder/messenger style. They are ideal for the daily commute to and from the office while keeping your hands free. Our briefcases also come with exterior handles, usually two top handles.
Personalized with a laser engraving
Instead of monogramming, we use a high-quality laser engraving to personalize your briefcase, ideal for your own case or when buying as a gift.
Benefits
It almost goes without saying that an Italian leather briefcase is a statement of style, quality, and professionalism. There are many benefits to investing in a fine piece of Italian craftsmanship:
Elevated Professional Appearance
A quality leather briefcase is second only to the right suit in presenting an image of professionalism and trustworthiness. The right case can transition seamlessly from the boardroom to formal presentations, and even business lunches.
Versatile Usage
A briefcase can function, of course, as a way to carry and keep documents, a laptop, and other daily business essentials, but it can also be used as a carry-on for business travel, or as a fashion accessory to add some professional elegance to your look.
Impeccable Craftsmanship
Italian leather workmanship has been known for centuries as the best in the world. Attention to detail, the best tanning methods, superior quality stitching, and high-end hardware ensures that these cases are not just the best looking, but the most durable and best value cases on the market.
A men's leather briefcase is essential business accessory, helping you look smart in style at the office.
Our collection of Italian briefcases are made from vegetable tanned leather that's soft to the touch, with high quality brass hardware and durable top handles that are robust enough for daily use.
Our cases collection has extra pockets to carry documents, laptops, and other essential items, all in stock now ready to buy online now with USA delivery. They are ideal for an attorney/lawyer or profession where you have to look smart.
Our beautiful briefcases come with an adjustable shoulder strap to use as a messenger briefcase. We even have some locking briefcases available. You can also browse our other leather bags, satchel briefcases, and similar products below.
Organization Made Simple
The briefcase is designed with ease of organization in mind. Quick access to frequently-needed items, and a place for everything to keep them safe, protected, and in excellent condition are the goals of the quality case. Store your laptop, tablet, documents and stationery, and even a few personal items in a great-looking, elegant, professional style.
Heritage Appeal
As time passes and you use your new case, the high-quality Italian leather develops a unique patina, showing the beauty of the individual grain of the leather used. Rather than wear out and start to look shabby, these cases, when properly cared for, get better looking and more desirable with age. The item becomes even more unique; a special, one-off item of the best quality.
Comfort and Ease of Carry
Ergonomic features such as adjustable and padded straps, and sturdy handles, help to make your use of this case a comfortable and convenient experience.
Compatibility
Your technology and personal devices might not be the same as someone else's, so each case design is a little different, some suiting laptops of different sizes and different configurations of pockets and organizational features. Brands such as Apple, Dell, and Lenovo are easily secured and accessed, with a great fit to protect your items during transport.
How to Choose
<3>Material Quality
Regardless of the quality of the assembly of your case, you can never have a superior product without starting out using superior materials. That's why Italian leather briefcases start with, of course, the finest full grain Italian leather. Known and desired for its durability and unique grain, the full-grain leather we use will stand up to the test of time and use while maintaining and even improving its great look. This full-grain grade also resists moisture and abrasion better than other grades, and can carry a bigger load without any distortion or tearing.
Craftsmanship
The leatherworking traditions in Italy are centuries old, having been honed and perfected over generations of dedicated and skilled artisans. Guilds and associations were developed over the centuries to ensure that only the highest quality materials and techniques were given the Italian leather products, making them some of the most sought-after items in the world among high-quality leather goods. Attention to detail of design and construction are held in very high regard. It is not enough for a case to function; it must look great. It is not enough for it to look great; it must also function. Consistent and tight stitching, strong zippers, clasps, and buckles, all come together to result in a process of construction that honors and matches the high quality of the raw materials used.
Design
With a range of design from slim, minimalist cases to more spacious ones, our collection has a design that will suit both your style and function needs. Classic styles with timeless appeal, and modern, sleek designs are there for you to choose from and enjoy.
Size
The key to choosing the right size of case is to ensure everything you need will fit in the case, but without a lot of unnecessary room left over. This minimizes the weight of the case, keeps things inside in their proper position, and prevents the case from getting ungainly when carried. We recommend laying out everything you need to carry for daily use, then consider a case that fits it all with perhaps one or two spaces for additional small items you might need once in a while. Also ensure that the laptop compartment fits the device you carry. Consider not only the dimensions of the screen (13", 15" etc.) but also the thickness of the device – bulkier laptops might need to size up in order to accommodate the thickness.
Compartments
Cases usually include a variety of compartments and pockets to keep items organized and protected. It is worthwhile to consider which items you access frequently, and whether or not they are most accessible in a particular case. This will help you to access items quickly and easily when dealing with clients, showing again a commitment to professionalism and preparation that may elevate your value and stature in their eyes.
Interior Lining
Superior briefcases have linings that are durable and luxurious. Look for cotton, suede, or other fine materials. These will offer additional protection to your items and prevent scratches. Additionally, a good lining looks great when clients get a peek into your case.
Hardware
Top-level bags include quality hardware too. This is an area that cheaper bags fail in, because hardware can look great when new, and then quickly fail or break down in appearance. Our cases use high-quality hardware made of metals like nickel, stainless steel, and brass. The finishes are beautiful at the time of purchase and will stay that way.
Handle and Strap
As well as the quality of materials and construction, consider the style and function of the handles and straps. Ensure that the handle is comfortable when you carry the case, and that the strap is adjustable, so it can be set to your size and preference for maximum comfort.
Color
Classic blacks and browns complement most professional looks, but there are other choices too. A cognac, burgundy, or deep blue finish can be distinctive and stylish while still maintaining that professional standard and style.
Brand Reputation
Each recognized brand has worked hard to build a positive image; part of that effort is providing and backing up quality products. Protecting a good reputation is valuable to a company, so if anything goes wrong with a brand name product, you are more likely to get quick and comprehensive support. In addition, you are more likely to get a superior product in the first place, and never need help with it. That might be worth the added cost of a brand name item.
Price
Premium quality comes at a higher price – but that doesn't mean a higher cost overall. When years of reliability and beauty are factored in, buying one item at a higher price can work out better than having to replace a cheaper one several times over the same time period. That said, we offer cases along a range of price points to help almost anyone acquire a piece that they can be proud of… and enjoy.
Types
Executive Briefcases
Executive briefcases offer a structured design, with traditional elegance and multiple compartments and pockets for those who want or need to carry a larger number of items at one time. These cases can fit laptops, tablets, documents and notebooks, pens, calculators, phones, and other items.
Messenger Briefcases
Messenger briefcases are less formal, but still look professional. Their more relaxed silhouette transitions well from the office to more casual settings too, like drinks after work or a casual coffee shop meeting. The long, adjustable strap makes carrying the case over longer distances more comfortable, and provides hands-free carrying for holding onto safety rails on trains or stairs, or just for shaking hands and greeting people.
Portfolio Briefcases
The portfolio briefcase is a great choice for a slim, minimalist style. These cases are intended to carry a small laptop, tablet, and perhaps a notebook or phone. They usually feature minimal hardware, opting for a zip closure or fold-over flap instead. Sleek and compact, these cases are best for those who don't need many items, and want the lightest, easiest way to carry those few things they do want on hand.
Expandable Briefcases
The expandable case is a good choice for a smaller case feel, with the freedom to transform into a larger case when needed. A little heavier than a small case of similar capacity makes up for this by allowing the user to expand the side, providing as much as twice the interior space to use when needed.
Rolling Briefcases
A roller briefcase works very well for heavier loads, especially if you need to carry them over longer distances. Though less formal-looking than traditional briefcases, its practicality has earned it a place in even the most formal boardrooms and similar settings.
Convertible Backpack Briefcases
To transition quickly between something handheld and suitable for formal situations, and a case that you can sling over your shoulder or strap to your back, try a convertible briefcase. Popular among commuters, this design category allows for maximum comfort when on the move, without sacrificing professional appearance when meeting others.
Alternatives
Professional Use Case
Professional settings, such as boardrooms, sales meetings, and business pitches, are the natural habitat of the Italian style briefcase. The cases exude timeless elegance and traditional sophistication while providing practical, easy access to your needed items. Sometimes these situations are a little less formal though, and a laptop bag or executive backpack is a better fit for the overall purpose and setting – especially if a commute is involved.
Educational Use Case
Leather briefcases are commonly found in educational settings, but with the weight of textbooks and other equipment sometimes needed, a robust messenger bag or a backpack could also suit. An even better option might be the roller briefcase, as these come in larger sizes and roll easily over the smooth floors of most educational settings.
Legal Use Case
Sometimes legal professionals carry a lot of documents and other items in their briefcases, but if you are a legal professional with minimalist leanings, then a legal-size portfolio will do the job – without adding unnecessary bulk or weight to deal with. Digital copies of documents mean everything is easily accessible from the laptop or tablet, and only paper forms requiring signatures need to be added to the payload.
Fashion Statement
Your professional look is the first thing people see when considering whether or not to do business with you, so it is important to make the kind of impression to intend to make. Instead of the traditional leather briefcase, why not consider a leather tote or satchel? These not only have larger capacities than most briefcases, but they also come in a wider range of colors and styles.
Travel Use Case
A leather briefcase that works well for the daily commute and office hours might not be the best if longer travel is necessary. In that case, a travel backpack or rolling briefcase will reduce the workload and make your journey a lot more enjoyable.
Post Purchase
Ensuring Authenticity
We only carry the genuine articles, from trusted manufacturers. Things to look for that ensure this include a high-quality finish, impeccable stitching and securing of components, and the unique smell of genuine leather. We also include a certificate of authenticity for added peace of mind.
Maintenance & Care
Each product comes with instructions for proper care to keep your item looking great for years or decades to come. In general, though, gently rubbing a conditioner into the leather two or three times a year is recommended, as is avoiding prolonged exposure to moisture or direct sunlight when not in use.
Suitability for Your Needs
Our products offer a unique blend of style and functionality to suit your individual needs. Careful consideration of what you need to carry and access, and a careful look at each bag's design should help you choose the one that best suits you.
Comfort and Weight
Over time, we tend to accumulate items that we are no longer using. In a briefcase, even smaller items can add up over time, forcing us to carry more weight than is necessary. From time to time, note what you don't use in your case, and consider removing such items in favor of a more comfortable carrying experience.
Color Match
Our range of cases includes many shades and colors to choose from, to ensure that, whatever your wardrobe and preferences, we will have a case that suits them.
Cost vs. Value
A higher initial cost may seem daunting, but when spread over many years, or even decades, it often results in a lower overall cost than cheaper items that require frequent replacement. Factor in the increasing beauty of genuine, full-grain leather goods over time, and the value becomes apparent.
FAQs
What is full grain leather?
Full grain leather is found from the top layer of the cowhide. It is the only type of leather that actually has a grain, hence the name. Full-grain leather is more expensive because it's harder to produce, but it looks better over time than other types. We use full grain vegetable tanned leather as it's even higher quality, and ages well with leather patina. Learn more about leather types here.

What distinguishes Italian leather?
Centuries of tradition and perfecting craftsmanship set Italian leather apart from other options. It is known for its quality, longevity, and beauty.
How do I maintain and clean my leather briefcase?
Most cases benefit from regular cleaning with a soft, dry cloth, and some high-quality leather conditioner to prevent drying or cracking. Keep your leather goods away from extreme heat and direct sunlight when possible.
Do your briefcases come with straps?
Yes all of our beautiful briefcases come with detachable adjustable shoulder straps, so you can use them as a messenger bag as well. This makes them very versatile. We use solid brass hardware and YKK zippers to ensure a strong connection with all moving parts of the bag.
How large is the briefcase compartment?
The size of the briefcase compartment differs depending on the bag. The City Large laptop bag has one of the largest compartments, whereas the Elegant is a slim briefcase with a much smaller compartment.
Where in Italy are your bags made?
All of the Von Baer leather bags are made in Florence, Italy.
Are these briefcases suitable for professional environments?
Yes! These cases are designed to augment your business attire. Sleek, professional style that will elevate your appearance with elegance without sacrificing function.
Can these briefcases accommodate a laptop? What size laptop can it fit?
Each of our briefcases are designed to carry a laptop. Sizes vary depending on the models, and details can be found in the descriptions for each item.
How does the delivery process work? Is international shipping available?
Yes, we do ship both domestically and internationally. Shipping times and costs vary according to your location and shipping method. Please see our shipping policy for details.
Are the briefcases made from ethically sourced materials?
Ethical and sustainable sourcing is important to us. All materials are sourced responsibly. Our sustainability and ethical sourcing policies contain more details.