Premium quality designer laptop bags for men, available in black, brown, or tan leather.
Handmade from full grain leather in Florence, Italy. Personalizable with a custom engraving.
City
Leather Laptop Bag
$995
Solid Brown
Elegant Black
Deep Red
No.1
Men's Leather Briefcase
$1,295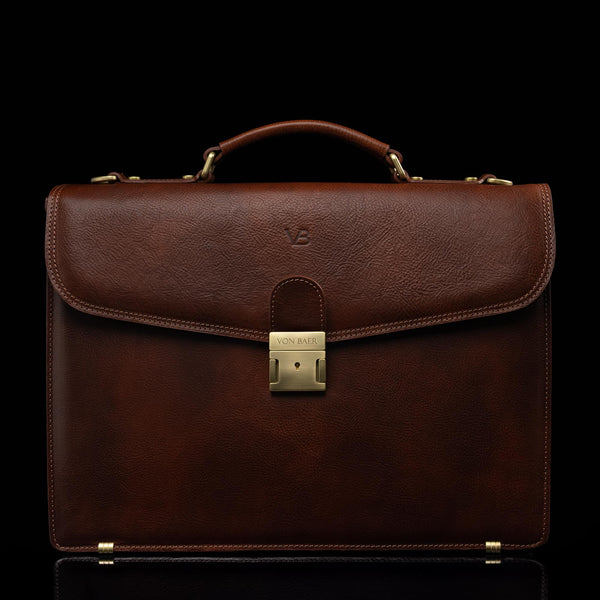 Solid Brown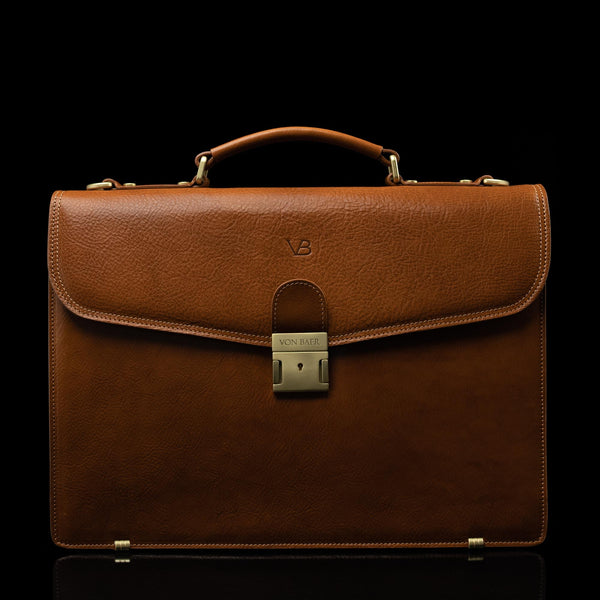 Classic Tan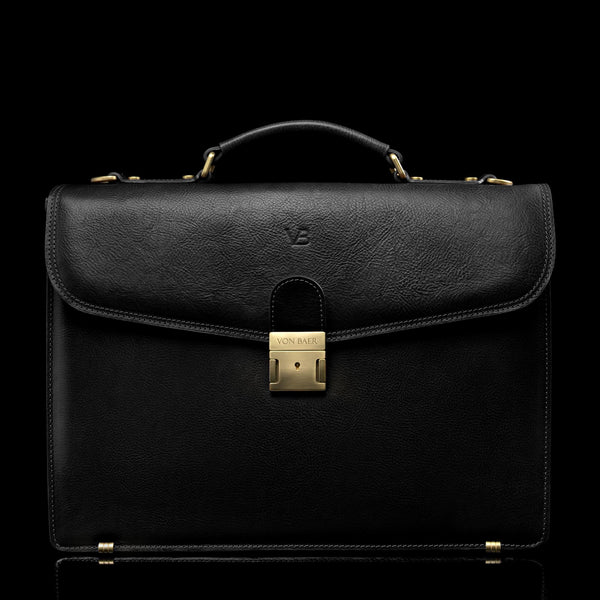 Elegant Black
Essential
Modern Briefcase
$875
Solid Brown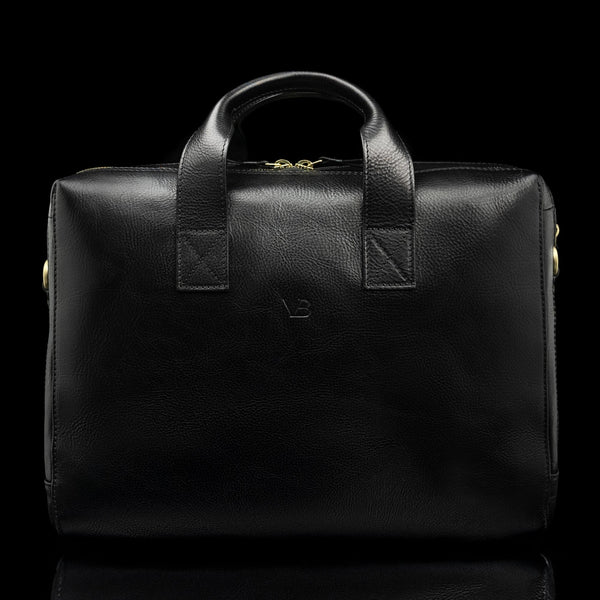 Elegant Black
Deep Red
No.2
Leather Messenger Briefcase
$1,495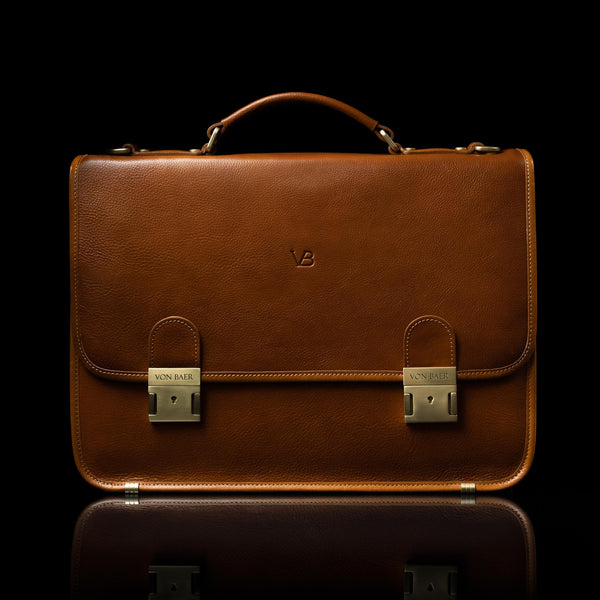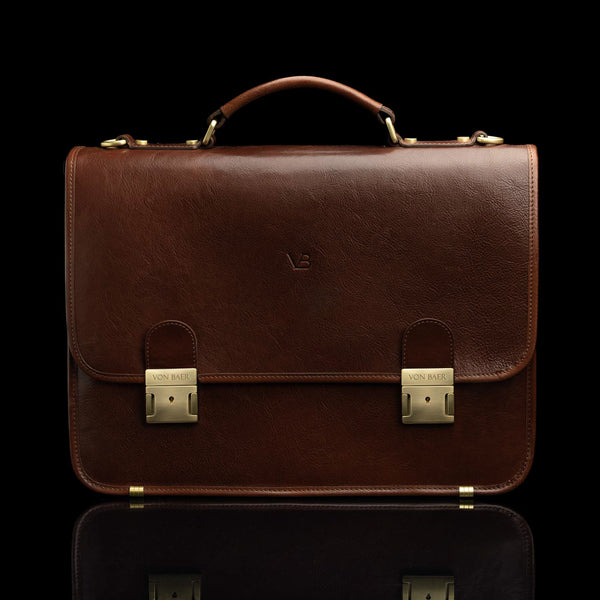 Solid Brown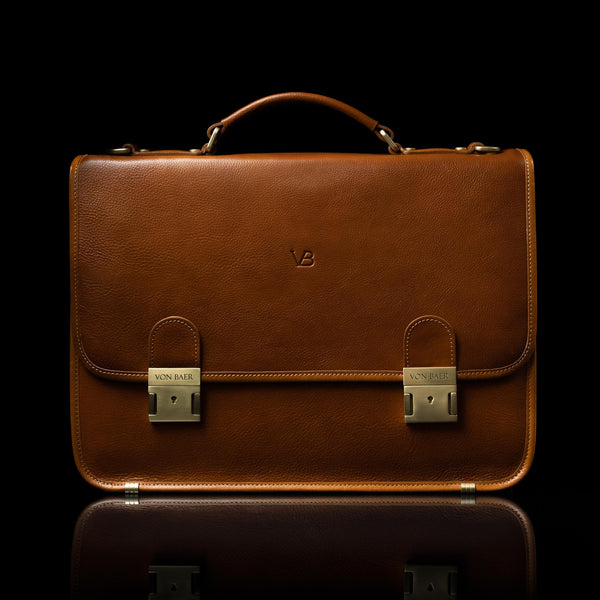 Classic Tan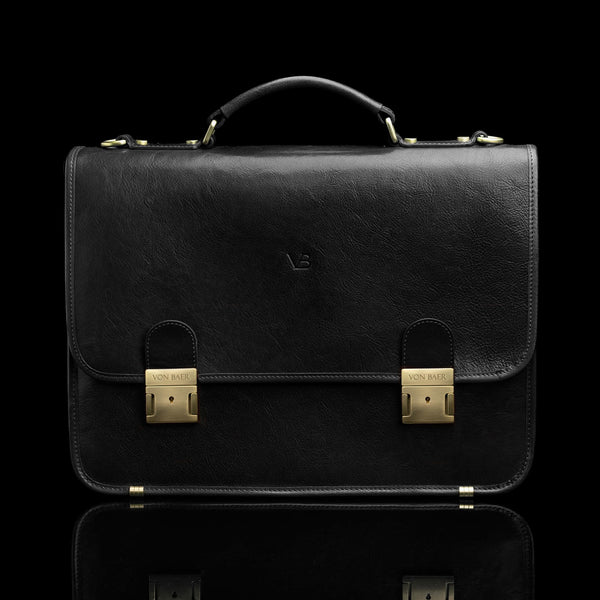 Elegant Black
City Large
Leather Laptop Bag
$1,395
Solid Brown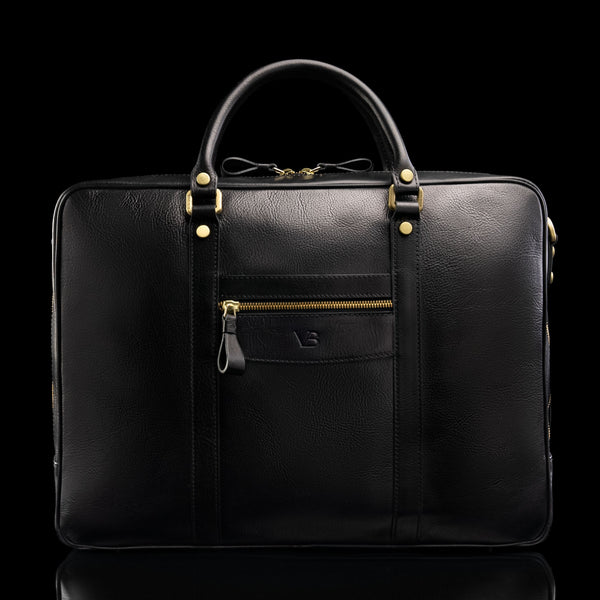 Elegant Black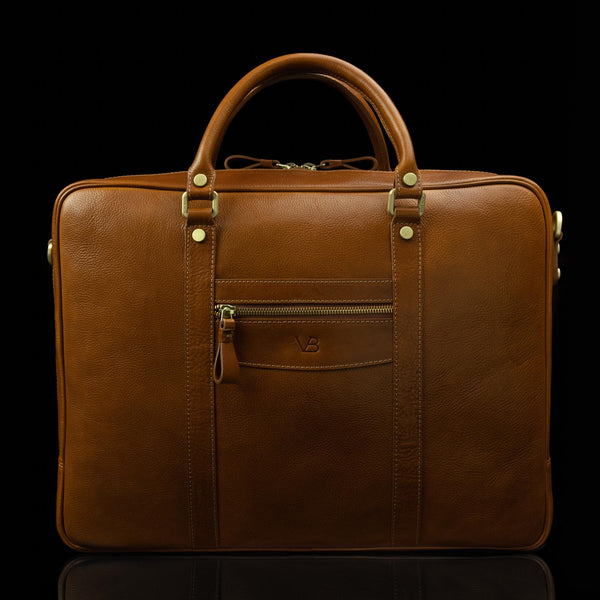 Classic Tan
Deep Red
Elegant
Slim Leather Laptop Bag
$895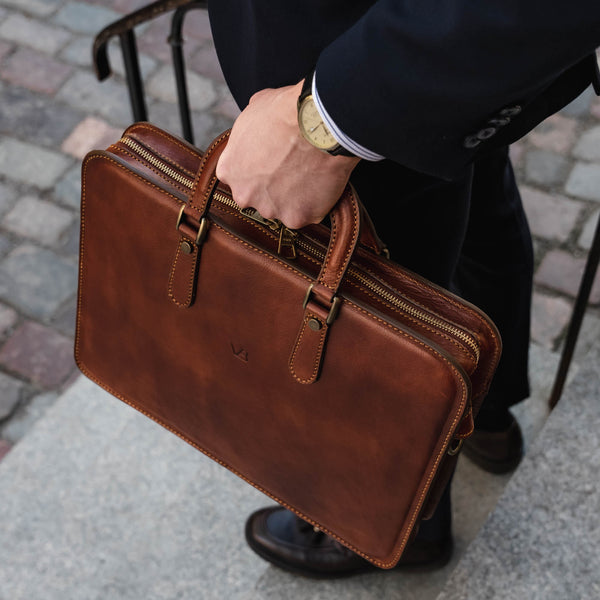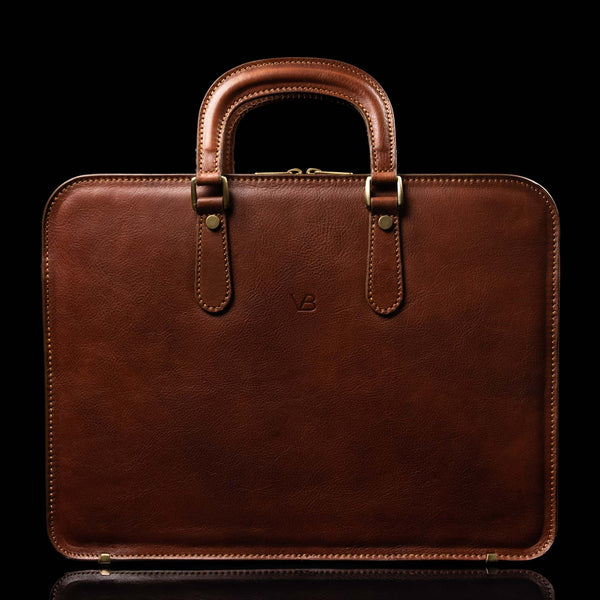 Solid Brown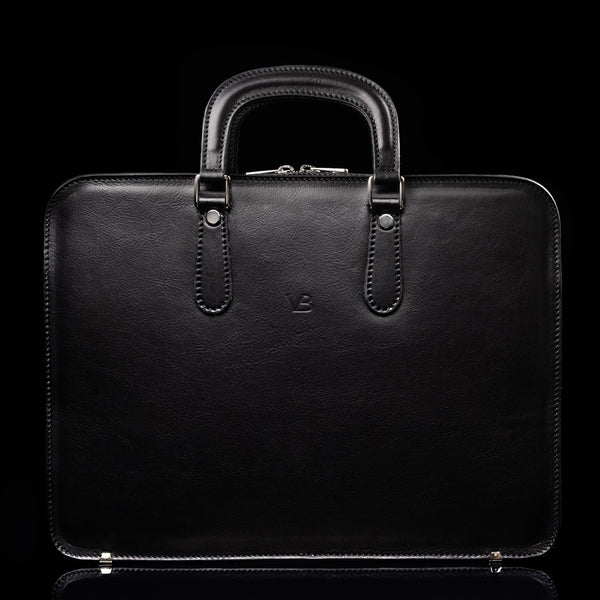 Elegant Black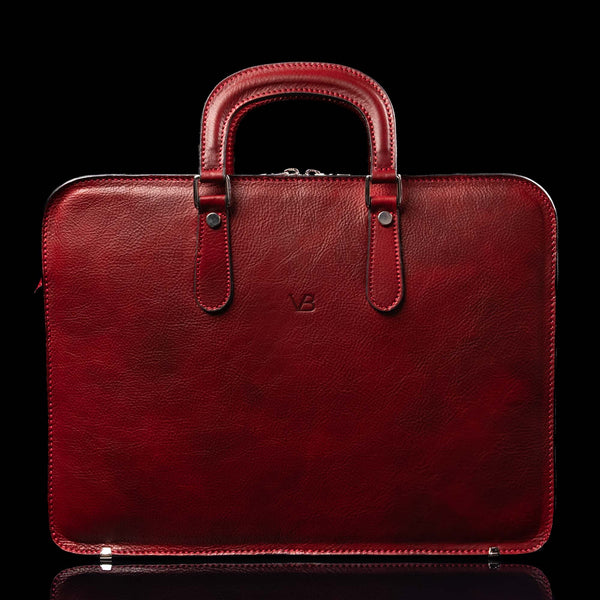 Deep Red
10X
Leather Laptop Travel Bag
$1,295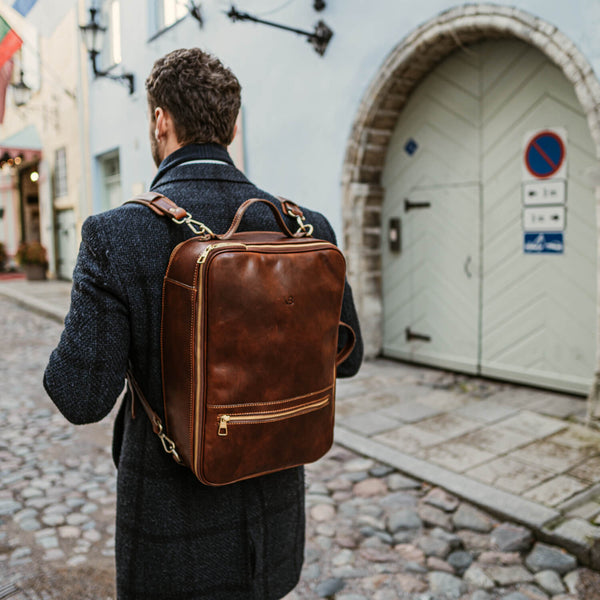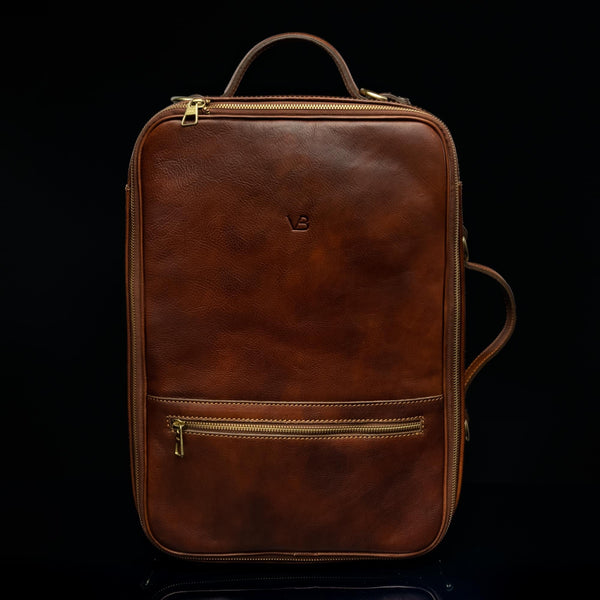 Solid Brown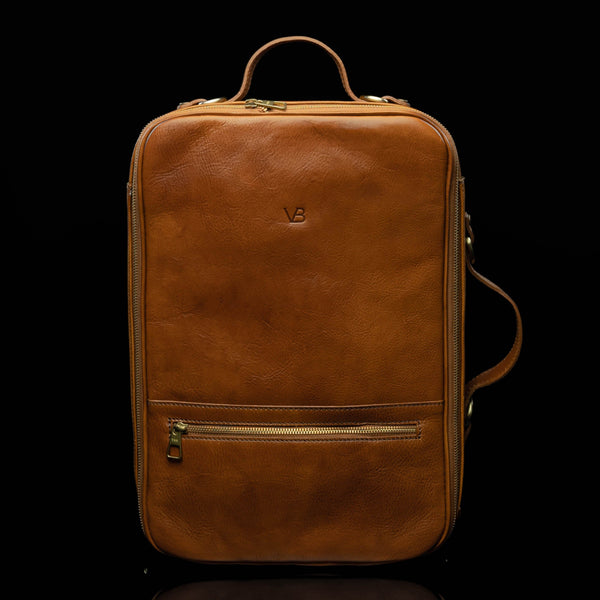 Classic Tan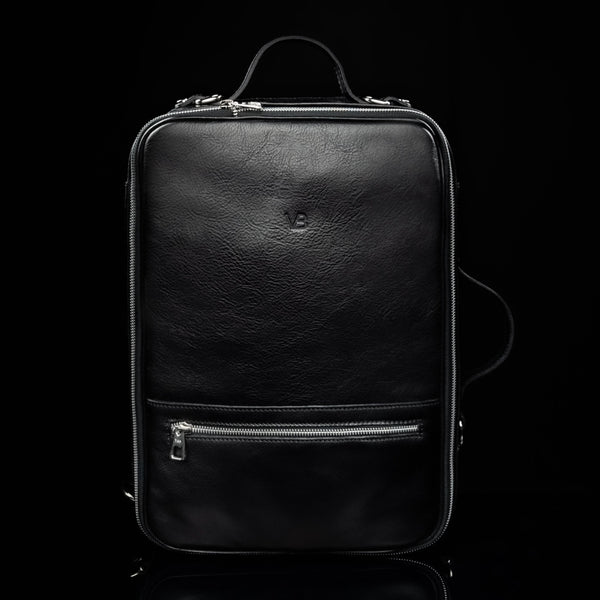 Elegant Black
No.3
Leather Messenger Briefcase
$895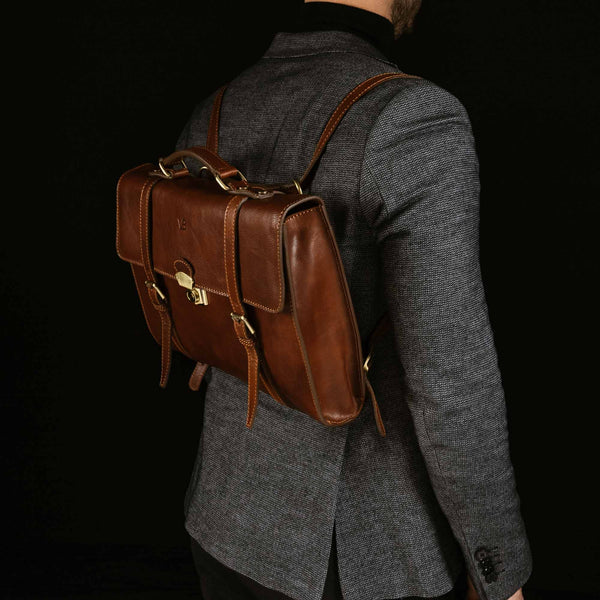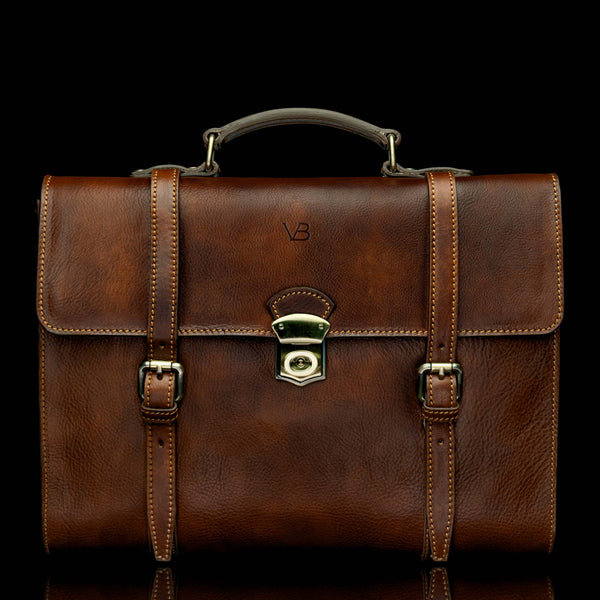 Solid Brown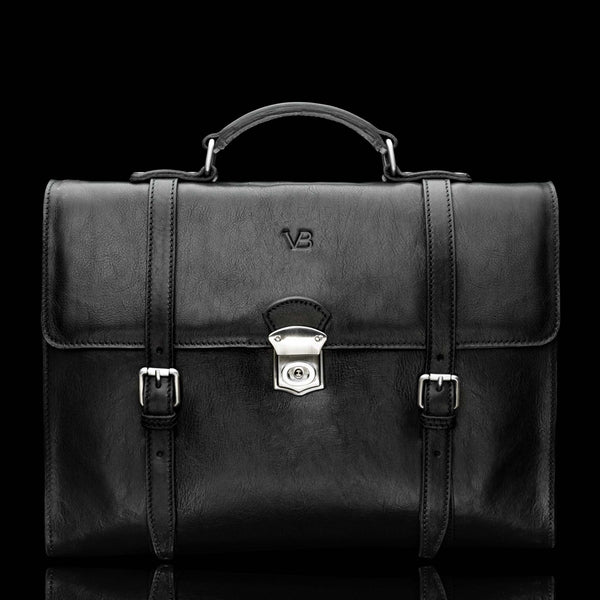 Elegant Black
Classic Tan
Exquisite
Slim Leather Laptop Briefcase
$1,095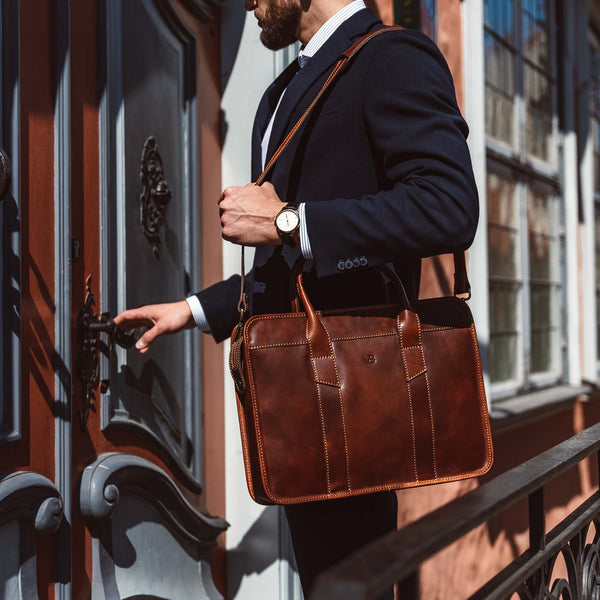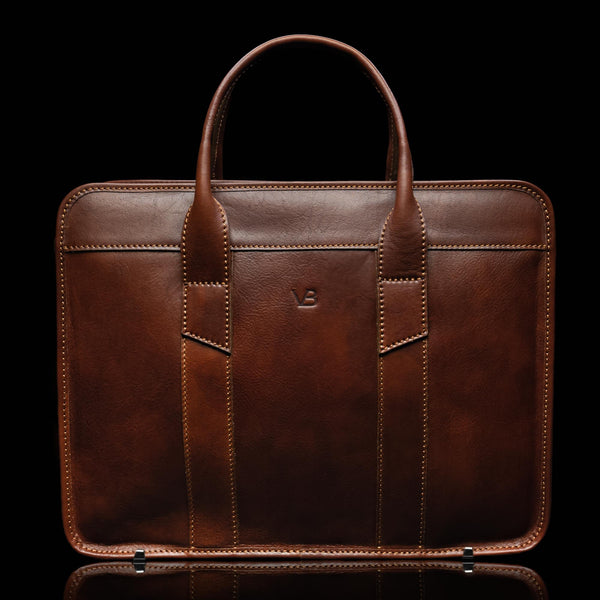 Solid Brown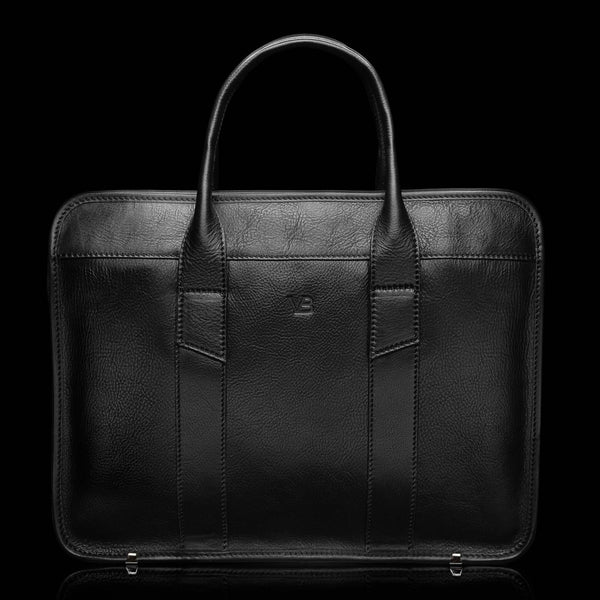 Elegant Black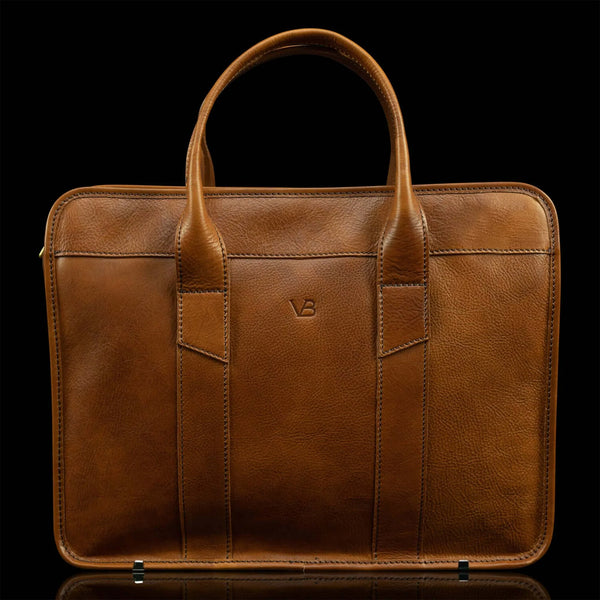 Classic Tan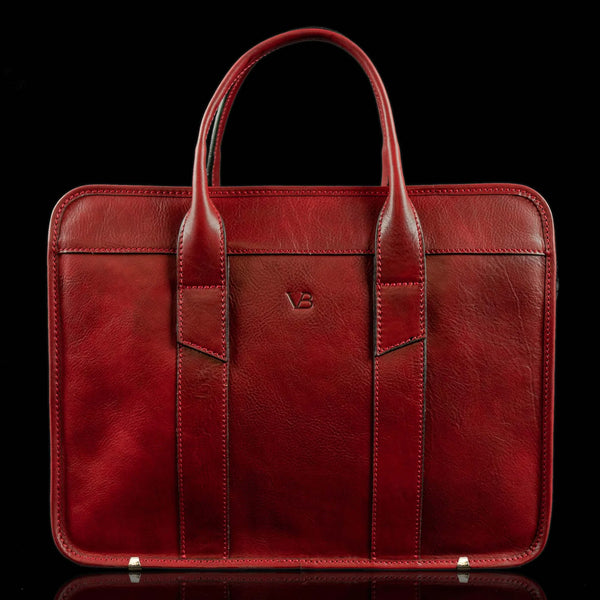 Deep Red
Well-Organized
Leather Laptop / Macbook Case
$695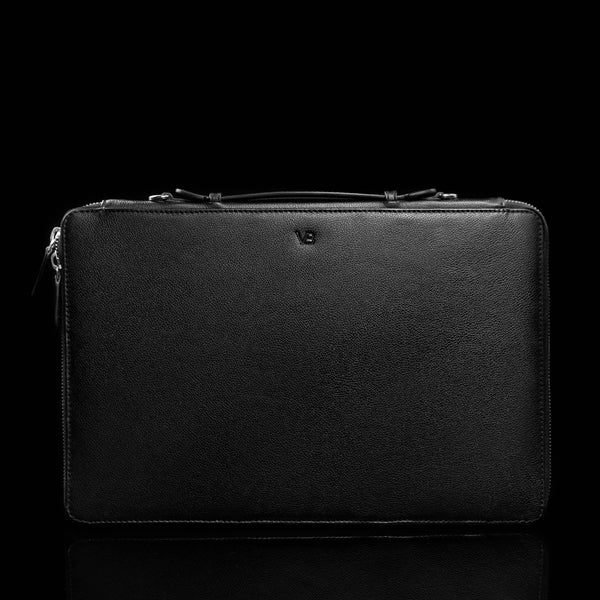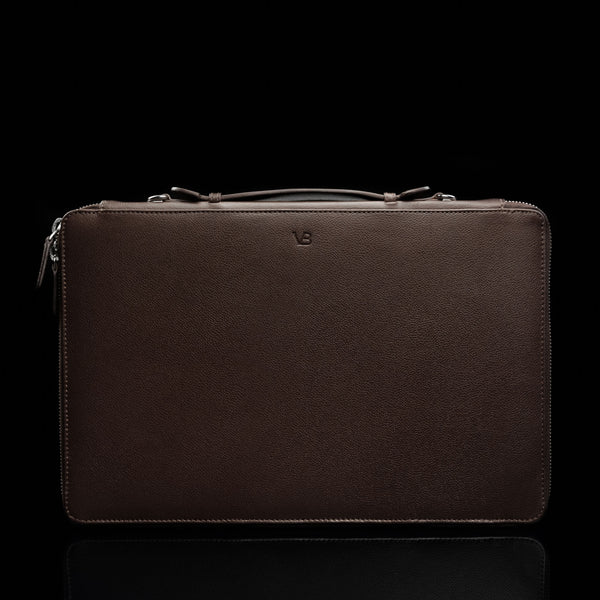 Dark Brown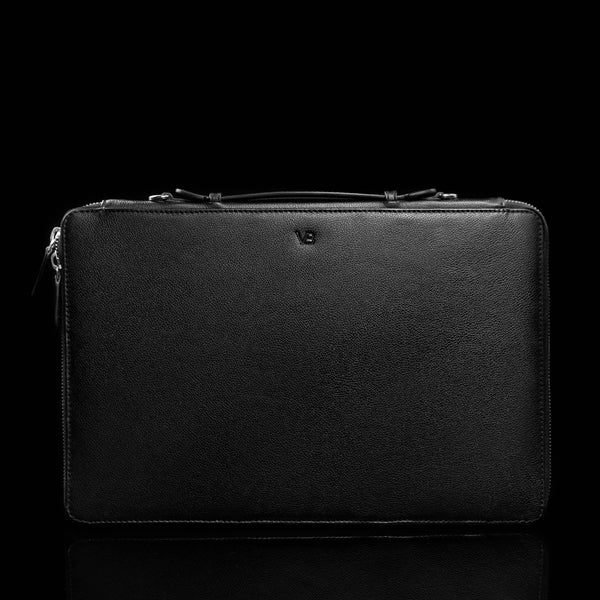 Elegant Black
What makes Von Baer Designer Laptop Bags so special?
Handmade leather laptop bags
Our laptop bags are expertly handcrafted by vastly experienced craftsmen in family-owned studios in Florence, Italy. This ensures every laptop bag meets the demands of your contemporary life without compromising on quality.

Highest quality full grain leather
We only use the finest full grain leather for our Italian leather laptop bags, which is the best that money can buy. You can tell when it's high-quality genuine leather, by the look and feel of the product, as well as how long it lasts. The leather used in our Designer Laptop Bags is vegetable tanned, handmade in small batches by artisan craftsmen in Florence, Italy.
Durable construction
Zips and metal on laptop bags are common stress points, which is why the hardware we use for our laptop bags is of high-quality metals with YKK zippers, to ensure very durable moving parts. The bag lining is made from premium durable cotton, ensuring a soft yet strong inner to your bag, able to handle the day-to-day of a busy commute.
Colors without compromise
Our designer laptop cases come in 4 stylish leather colors, including black, brown, dark brown, or tan. These are all made from natural full grain leather, which ages nicely with leather patina. We also use solid brass hardware on all of our laptop bags.
Dedicated laptop compartment
All our laptop bags come with a dedicated compartment for your laptop or tablet. Our range includes 13-inch, 15-inch, and 17-inch compartments, so choose one that fits the tech you own.
Shoulder straps included
All our bags also come with a removable shoulder strap, helping you turn them into a shoulder/messenger style bag. They are ideal for the daily commute to and from the office while keeping your hands free. Our laptop bags also come with exterior handles, usually two top handles.
Personalized with a laser engraving
Instead of monogramming, we use a high-quality laser engraving to personalize your designer bag, ideal for your own bag or when buying as a gift.
Benefits
A designer laptop bag allows you to elevate your style and remove the strain from your daily carry. Let's take a look at some of the biggest benefits of these bags:
Powerful style statement
Elegant designer laptop bags allow you to make a powerful statement and express your unique personality and style. They are suitable for casual and professional settings, allowing you to turn heads wherever you go.
Versatility
These bags are ideal for all aspects of your life. They work well at business meetings, during café work sessions, and during your commute.
Efficient organization
The bags tend to come with smart compartments and pockets for seamless organization. They make it easy for you to carry your laptop, charger, documents, headphones, smartphone, and your other key essentials, ensuring you're always able to access them with ease.
Compatibility
Designer laptop bags work well with various laptop sizes and models. They're compatible with machines from all the leading brands, giving you secure transport every time.
Premium materials and construction
The use of robust materials alongside world-class craftsmanship delivers amazing longevity and durability. These materials protect your valuables while giving you the utmost convenience and comfort.
Fantastic protection
These bags are robustly built and thoughtfully designed to provide amazing protection for your tech, defending it from impacts, scratches, and weather elements.
How To Choose
There are several things you need to consider before you go ahead and purchase a designer laptop bag. Let's take at some of the most important ones right now.
Material quality
Leather is a very popular choice for designer laptop bags due to its timeless style and longevity. Vegan leather and nylon are also famed for their resistance to the elements. In any case, it's always best to seek out a bag made from high-grade, long-lasting materials.
Hardware quality
Assess the quality of the zippers, clasps, and buckles. These tend to be the first things to tarnish or break, but high-quality hardware will last longer and contribute to the overall visual appeal of your bag.
Size
Make sure your bag has the capacity to accommodate your laptop. Think about the internal dimensions of the bag to ensure it will fit your device. Don't forget the other essentials you might also need to carry on a daily basis.
Bag weight
Consider the weight of the bag when it's empty. Leather is an example of a material that can add substantial weight to a bag. If you're straining your shoulders whilst carrying an empty bag, you'll have even bigger problems when it's filled with your laptop and other contents.
Style
Some people like a minimal design that gives a sleek, uncluttered appearance, whilst others prefer bags with a vintage look due to their unique character. You also need to think about color and texture as these can have a big impact on the overall look of your bag.
Brand reputation
You may wish to buy a bag from a long-established brand with a great reputation for craftsmanship and customer service. To find out more about what to expect from a brand, head online to look at reviews.
Functionality
Don't just think about appearance – you need to make sure the bag meets your practical needs. This is why it's so important to look for bags with padded compartments to protect your laptop, multiple compartments to keep everything organized, and adjustable straps for comfort.
Bag feet
You may also wish to seek out a bag that comes with small metal or leather studs at the bottom. These can defend the base of your bag from damage and dirt when it's on the ground and can extend its life.
Weatherproof or weather-resistant features
It's important to look for a bag that can easily withstand accidental spillages and sudden downpours. These features can play a big role in protecting your laptop from water damage.
Cost
Unless money is no object, try to strike the ideal balance between affordability, aesthetics, and functionality.
Sustainability
If you're passionate about the environment, buy from a brand that's noted for its sustainable values. You may wish to buy a bag manufactured from recycled or vegan materials.
Versatility
Versatility is a popular attribute as it means bags can be used in a wide range of scenarios. You may wish to look for a bag that works just as well during business meetings as it does during casual outings.
Care and maintenance
Some designer laptop bags need special care. For instance, if you have a leather bag, you may need to condition it every so often. Fabric bags often require handwashing. Make sure you're prepared to do what it takes to keep your bag looking great for years to come.
Warranty
As a designer bag is such a big investment, check it comes with a warranty. This can save you a great deal of money on repairs and replacements.
Types
Briefcase laptop bags
These bags are very popular with professionals due to their streamlined, elegant look. They can deliver the ideal blend of style and practicality. They tend to come with a main compartment for your laptop, plus separate pockets for pens, documents, and other essentials.
Messenger laptop bags
These bags are casual yet stylish. Thanks to their over-the-shoulder design, they give you swift access to your laptop and are ideal for commuters. Cyclists and students are also big fans. These bags were first used by bike messengers, hence their name.
Backpack laptop bags
Backpack laptop bags offer the traditional look of a backpack alongside special compartments to keep your laptop safe. They're perfect for people who work in different locations like photographers, freelancers, and students. Some modern backpack laptop bags even come with handy USB ports that enable you to charge your devices on the move.
Tote laptop bags
Tote laptop bags have a sleek design and come with dedicated laptop compartments as well as space for your other essentials. They have helped many people to merge work and style to seamless effect. The word 'tote' means 'to carry'. The tote bag trend first took off during the 1940s.
Rolling laptop bags
These bags give you the convenience of wheeled luggage alongside a protective compartment for a laptop. They're great for travelers, especially ones carrying heavier loads. They often feature removable laptop sleeves for extra flexibility.
Convertible laptop bags
These bags are popular partially due to the way they enable you to switch between styles seamlessly. For instance, you can use them as backpacks during one part of the day and as messenger bags during the remainder of it. They are ideal for those who often switch between different work environments.
Sleeve laptop bags
These minimal bags give your laptop a snug fit and are perfect for people who need a lightweight option. One example might be a graphic designer who has a number of meetings to attend but only a laptop to carry. Although the design may seem simple, these bags can deliver substantial protection when they're made from shock-absorbent materials.
Alternatives
Numerous alternatives to laptop bags are available if you need something reliable made from tough materials that will work well in a business setting. Let's take a look at some of the most popular right now.
Casual or everyday use
If you need a bag for daily use, you may prioritize functionality over formality. If you're not so focused on maintaining a stylish appearance but require versatility, you could opt for a standard backpack or a messenger bag.
Just remember that not all of these bags have compartments specifically designed for laptops. This could compromise the safety of your machine.
Travel use
If you're always on the move, you may need a bag specifically designed for travel that comes with lockable zippers that will protect sensitive data.
Carry-on suitcases with dedicated laptop compartments can be ideal when you have more luggage to carry or require more organized compartments for your travel essentials.
Creative sector use
If you work in the creative industry, you may desire a bag with functional elements as well as a distinctive, expressive design.
If self-expression is particularly important to you, you could opt for an artistic tote bag, although this may not have the protective elements your laptop depends on.
Educational use
Options with padded straps and back panels can be helpful for students carrying textbooks, notebooks, and other supplies alongside their laptops.
You could opt for a rugged school backpack that offers a great deal of durability and storage space. However, not all of these have special laptop compartments or the unique style of so many designer bags.
Post Purchase Considerations
Post Purchase Considerations
Size concerns
If you have worries about size, the best thing to do is find out your laptop's dimensions and compare them to those of the bag you want to buy. If you have already bought the bag and find the perfect fit is not achievable, you may be able to return the bag or get it replaced.
Quality assurance
If you have bought your bag from a reputable manufacturer, you can expect it to have been crafted from first-class materials and undergone tough quality checks. If you do notice any problems, you can get in touch with the manufacturer or supplier.
Cleaning and maintenance
Always follow the instructions that came with your bag. You usually clean your bag with a soft, dry cloth to remove light dirt or other markings. Don't use harsh chemicals or detergents as they can affect the bag's surface. If you need to carry out a deep clean, you may need to use a professional cleaning service.
Warranties and repairs
Most bags are covered by warranties. Keep hold of your proof of purchase and register your product if this is possible to ensure your warranty is activated and you're covered for any manufacturing defects.
Styling and use
These designer bags are smart and professional, allowing you to pair them with lots of different outfits. They can be used to look smart for a business meeting, or when you're traveling through the airport. Using online style guides can help if you want to pair your bag with suitable outfits.
FAQs
What are the key features of a designer laptop bag?
Designer laptop bags are about function as well as style. They come with features such as padded compartments to protect your laptop, multiple pockets for better organization, durable materials for longevity, and stylish designs that help you make a powerful statement.
What laptop sizes do the bags accommodate?
There are bags available to suit all kinds of laptop sizes, from the most compact 11-inch options to large 17-inch systems.
What makes these bags different from regular laptop bags?
These bags often have unique, incredibly stylish designs and are made from top-quality materials for more durability. They also tend to feature special branding from the designer.
Which materials are these bags manufactured from?
Materials often used to manufacture these bags include leather, nylon, and canvas. Each of these is noted for their durability as well as their aesthetic appeal.
How can I clean and maintain these bags?
You can normally clean and maintain these bags with damp cloths to remove stains and dirt. You may need to take special care with bags made from leather. Bags normally come with care instructions.
Are these bags suitable for travel?
Many of these bags have been designed with travel in mind. They often come with features such as sturdy handles as well as extra pockets for travel essentials like tickets and passports.
Can I carry items other than laptops in these bags?
Yes, most designer laptop bags are also designed to accommodate items including your documents, chargers, smartphone, and tablets, to give just a few examples.