Luxurious large leather travel bags that look stylish. Don't settle for bulky or boring bags.
The Von Baer range is made from the finest full-grain, vegetable-tanned, certified Italian leather.
Personalize it with a laser engraving for an extra special travel bag for you or for a gift.
Weekender
Women's Leather Weekend Bag
$1,095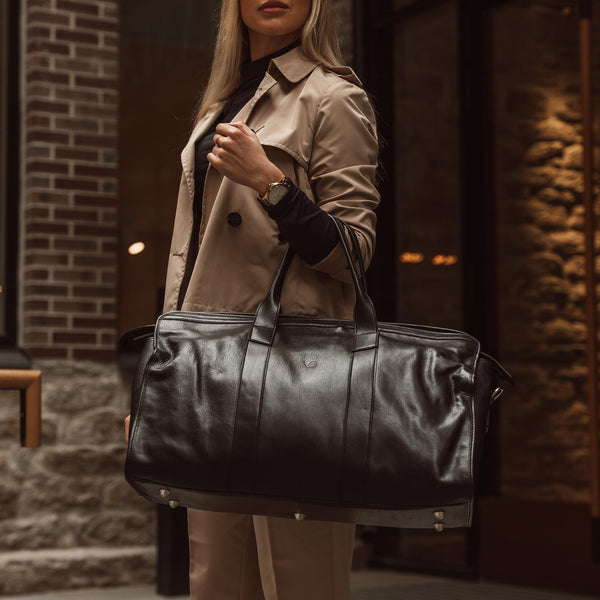 Solid Brown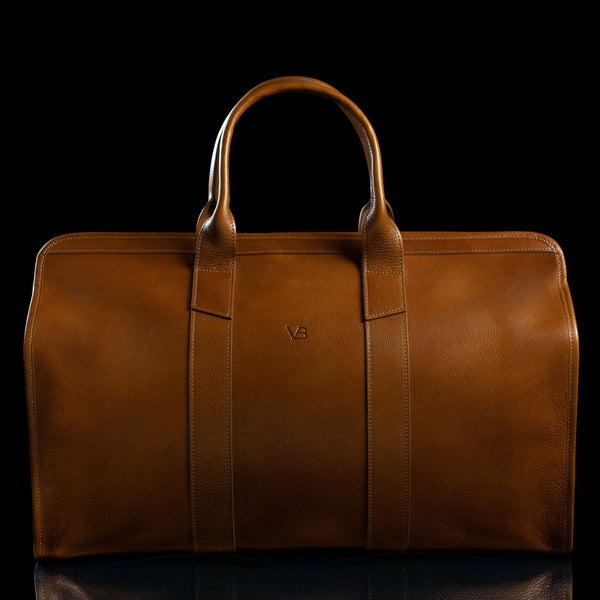 Classic Tan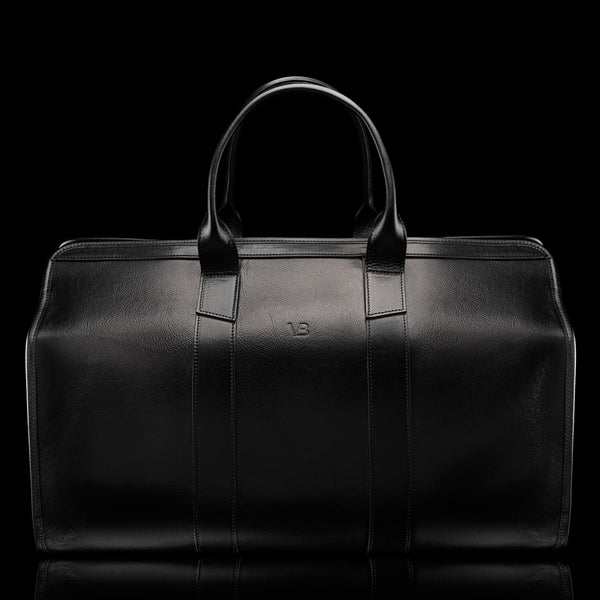 Elegant Black
Voyager
Leather Carry-on Bag with Wheels
$1,195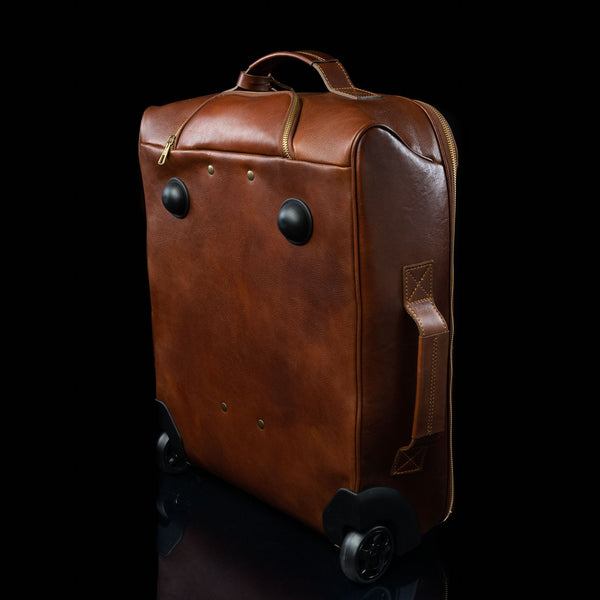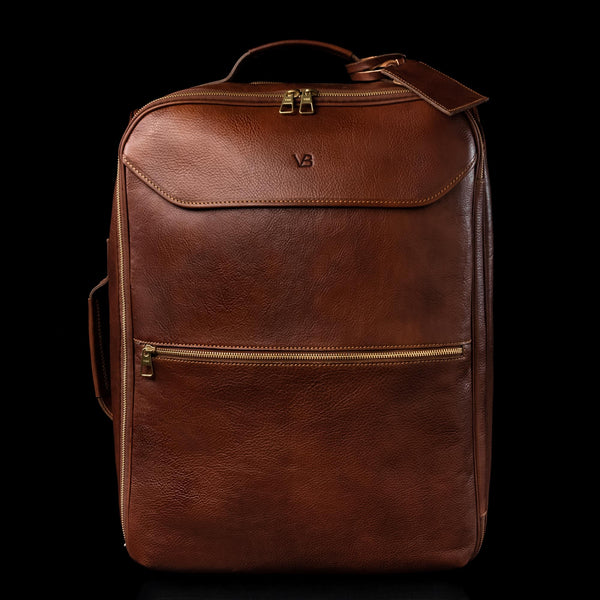 Solid Brown
Classic Tan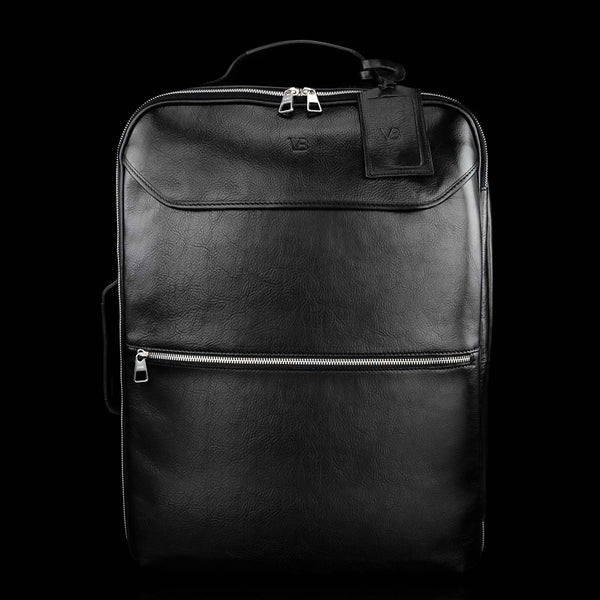 Elegant Black
Grand
Leather Garment Bag
$1,195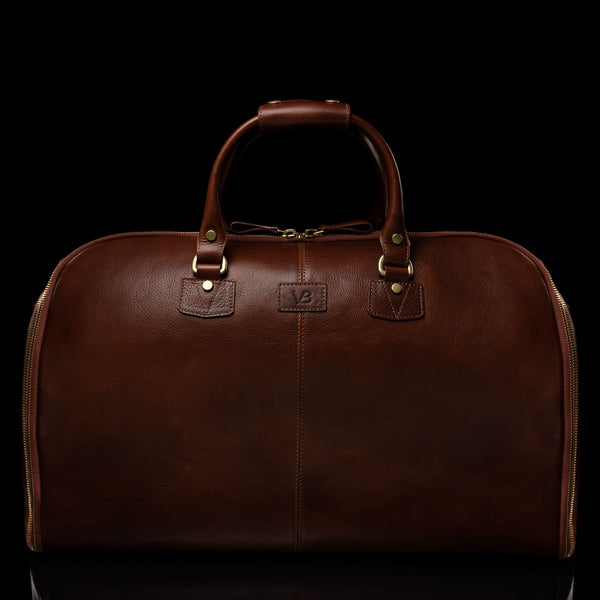 Solid Brown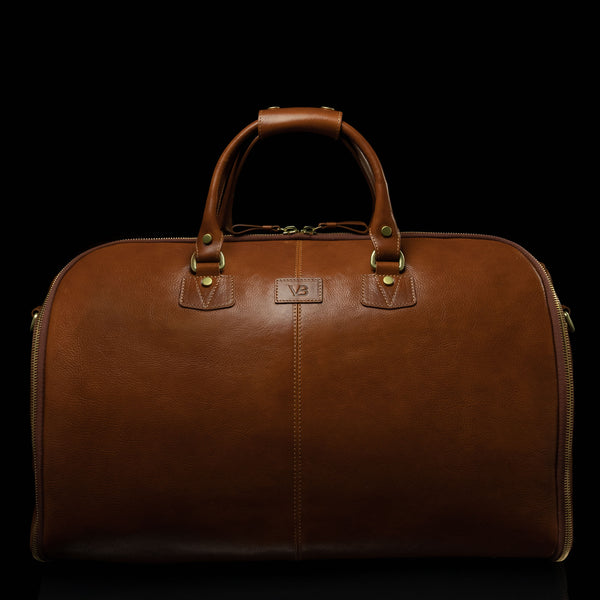 Classic Tan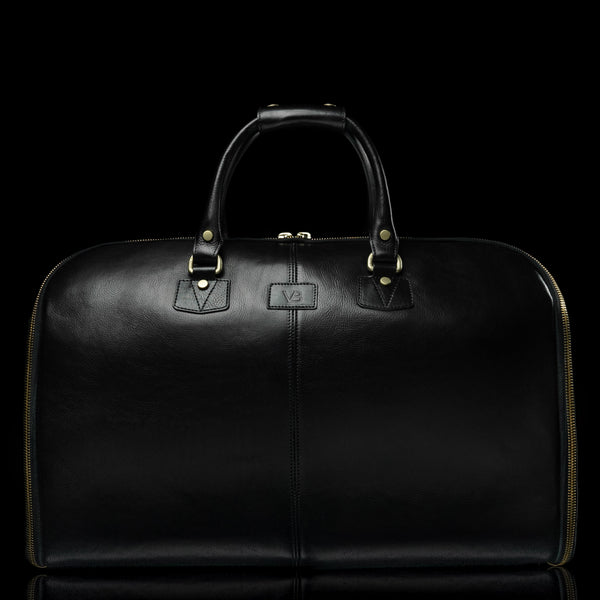 Elegant Black
Weekender
Men's Leather Weekend Bag
$1,095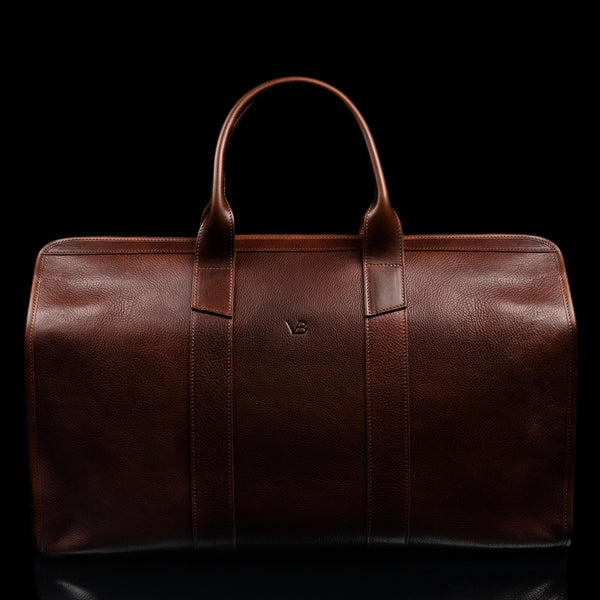 Solid Brown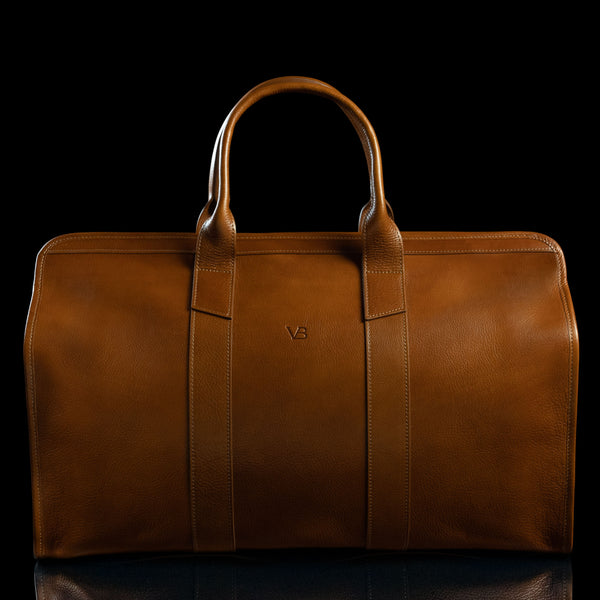 Classic Tan
Elegant Black
Elegance
Leather Tote Bag
$795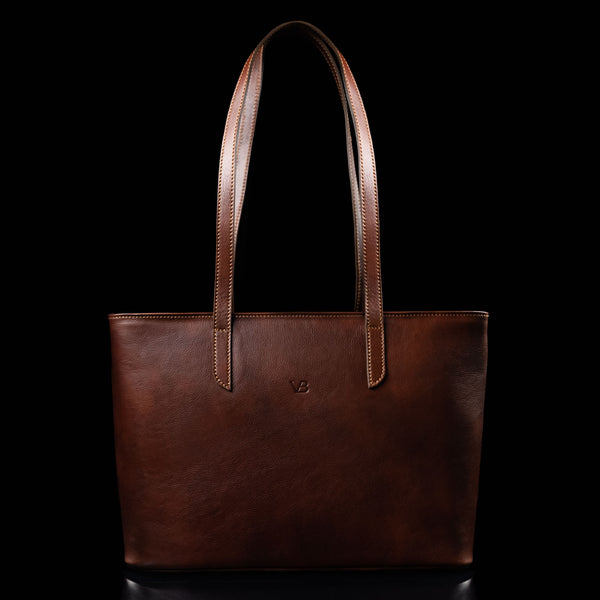 Solid Brown
Classic Tan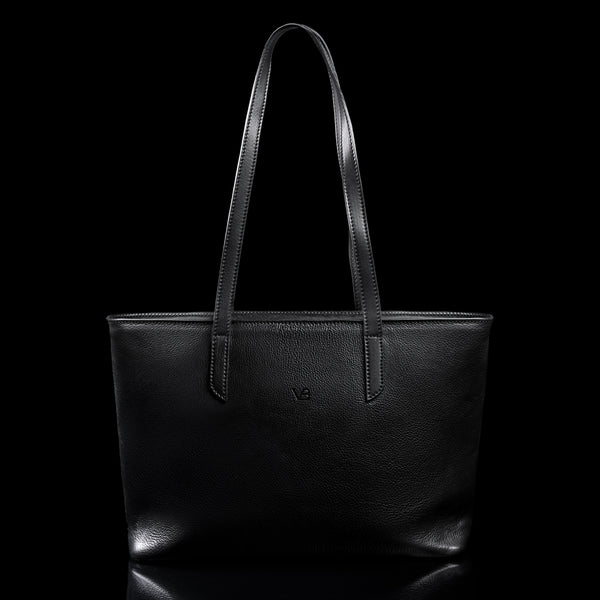 Elegant Black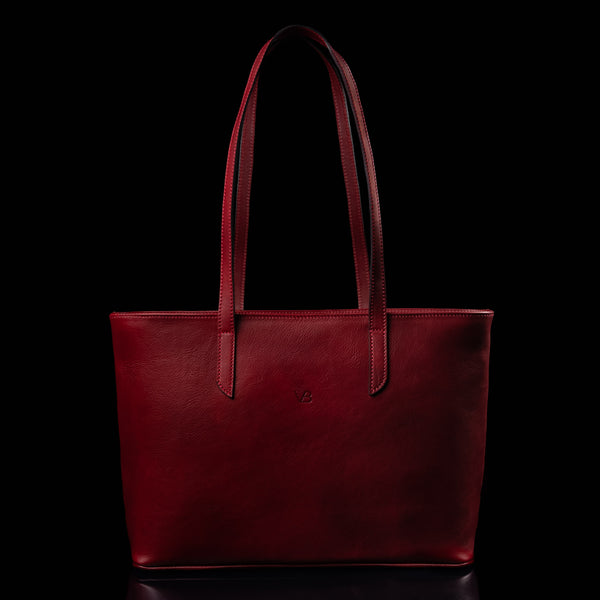 Deep Red
Voyager
Leather Carry-on Bag with Wheels
$1,195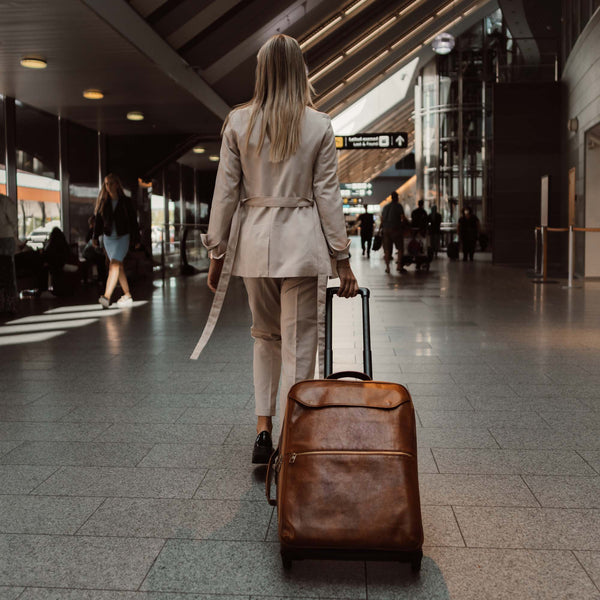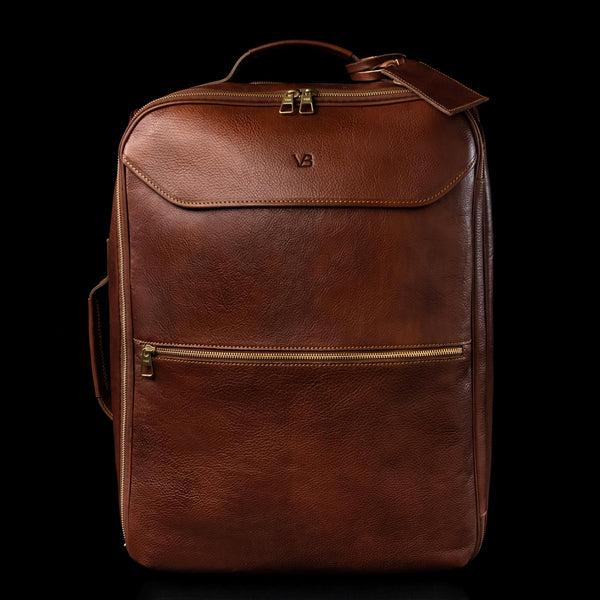 Solid Brown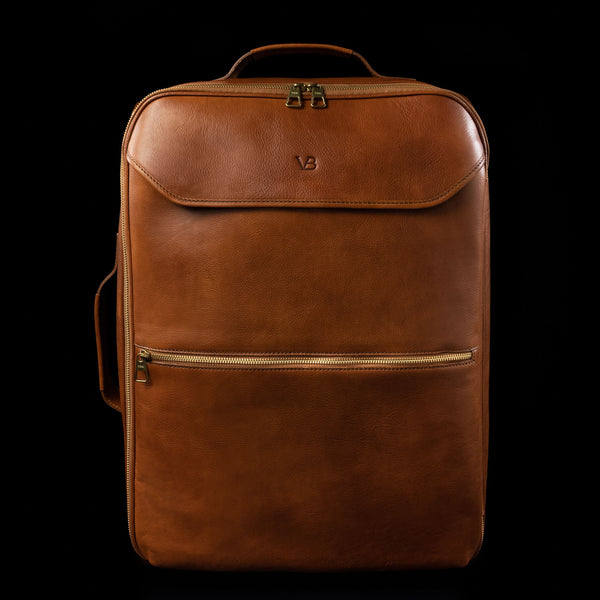 Classic Tan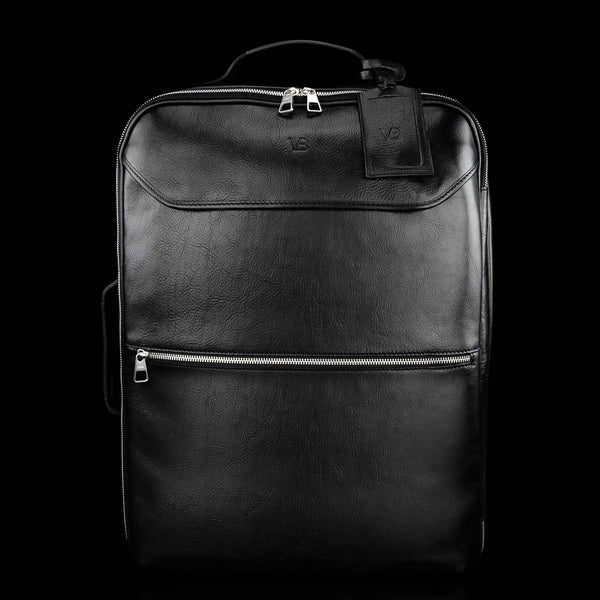 Elegant Black
Grand
Women's Leather Garment Bag
$1,195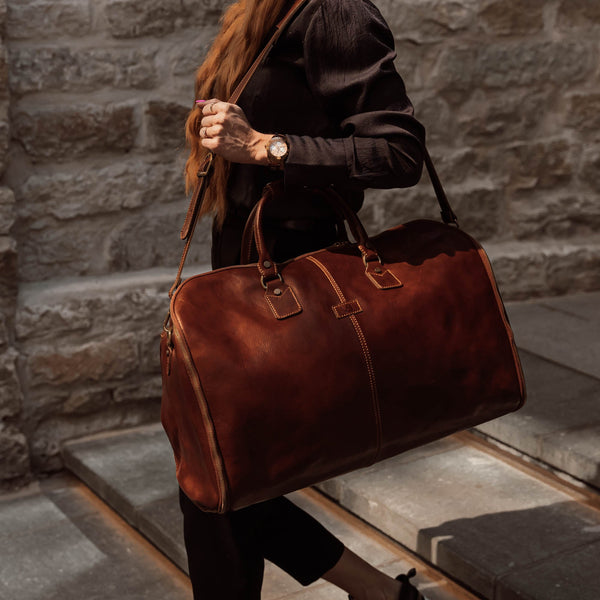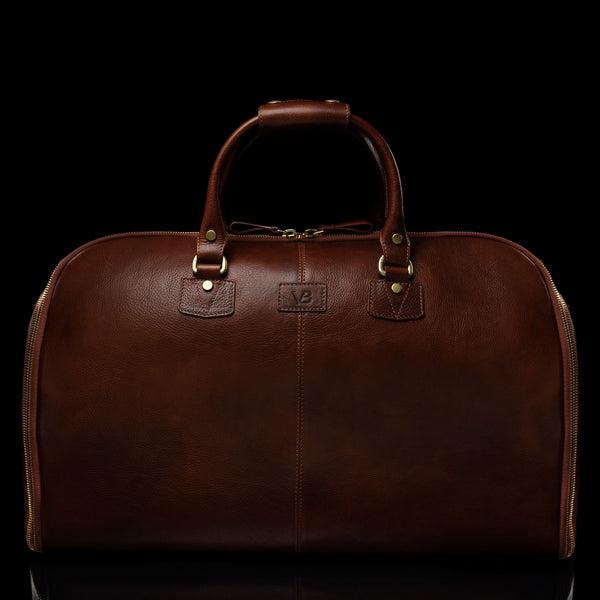 Solid Brown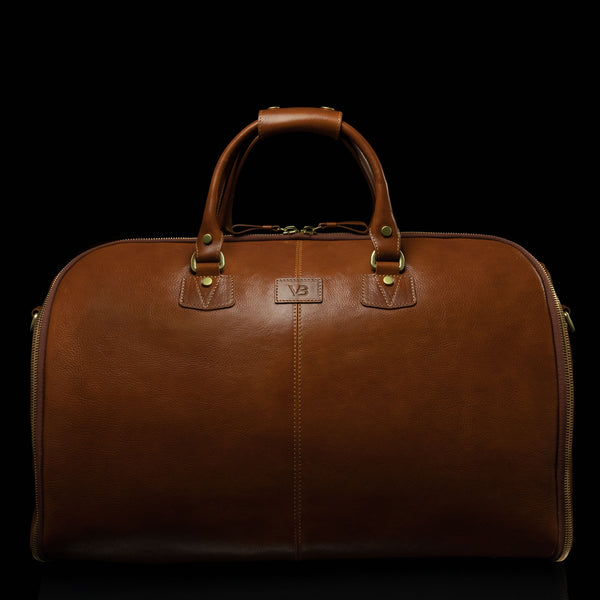 Classic Tan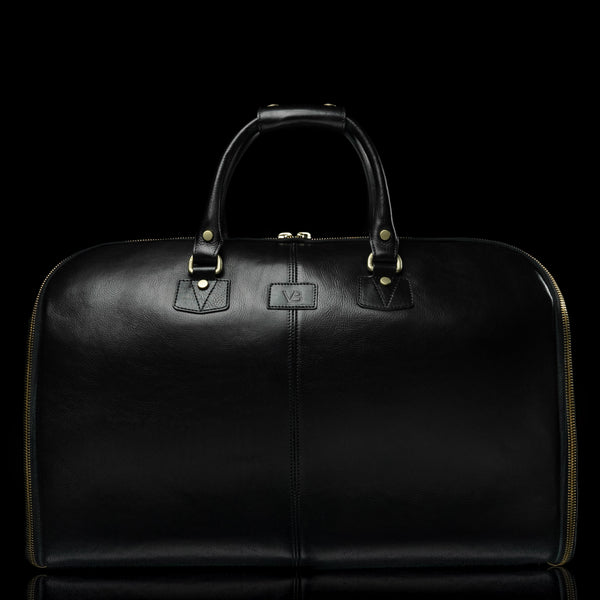 Elegant Black
10X
Leather Laptop Travel Bag
$1,295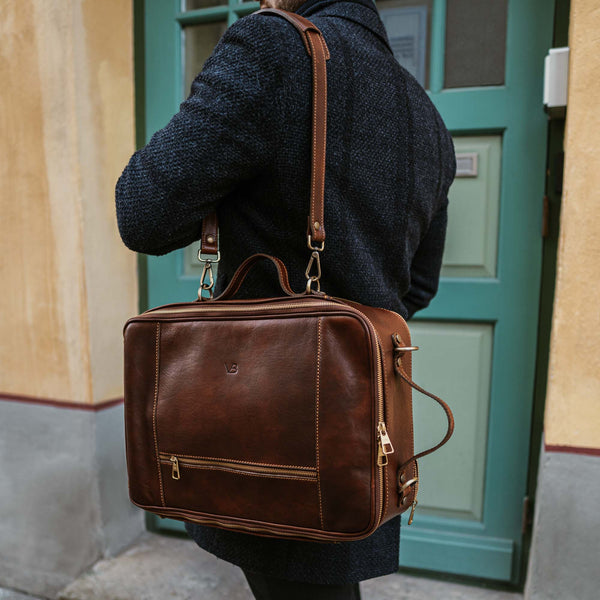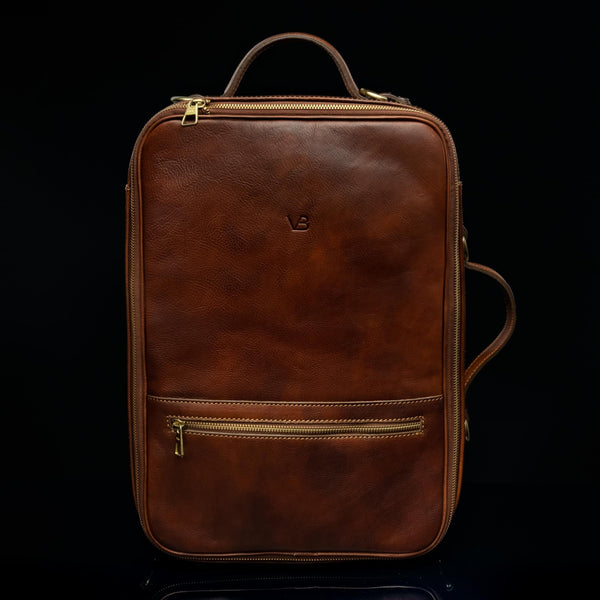 Solid Brown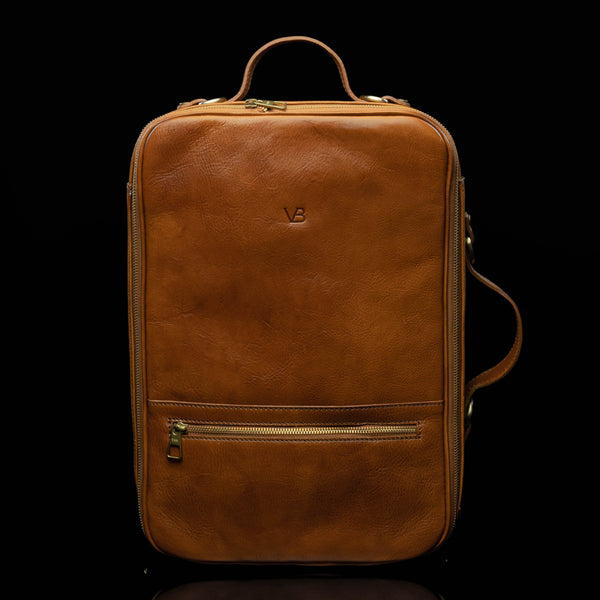 Classic Tan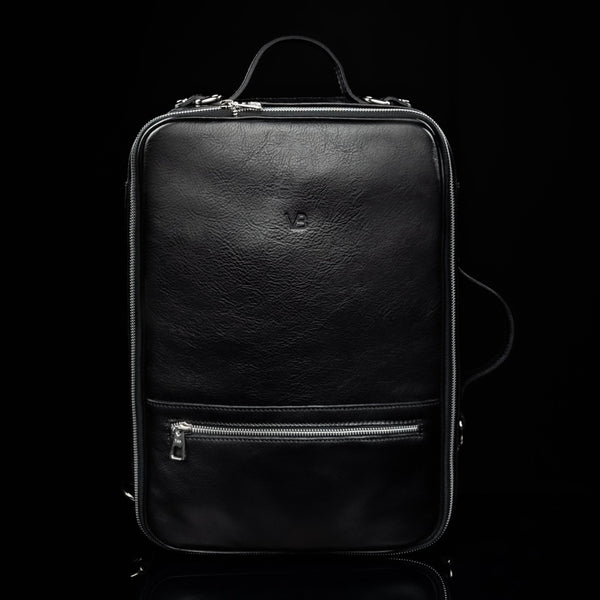 Elegant Black
10X
Women's Leather Laptop Travel Bag
$1,295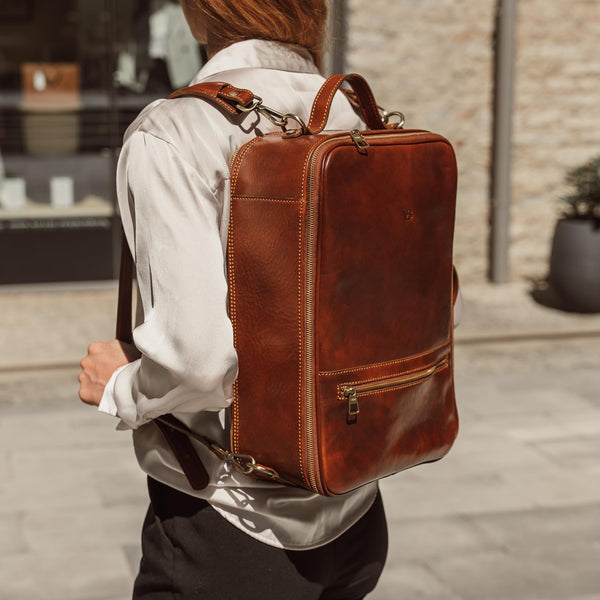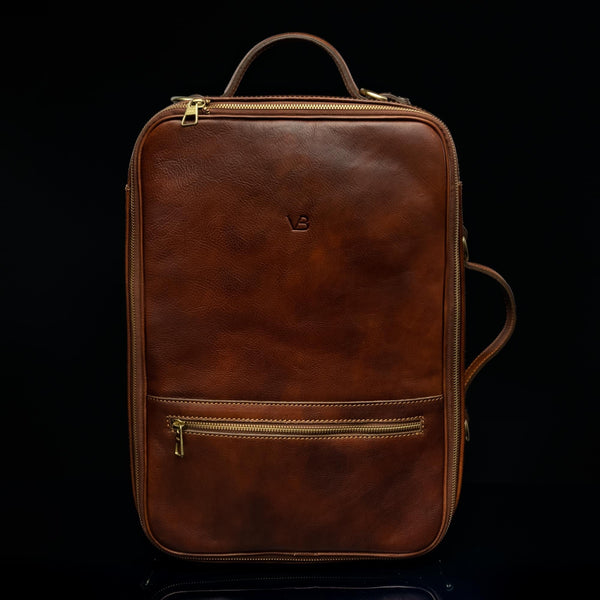 Solid Brown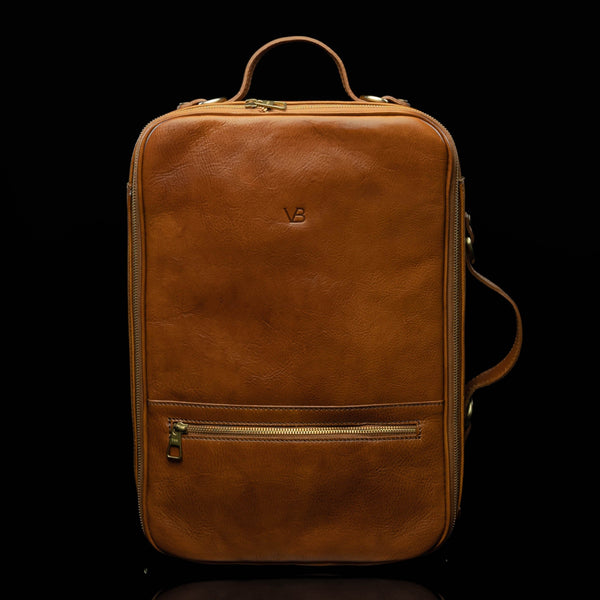 Classic Tan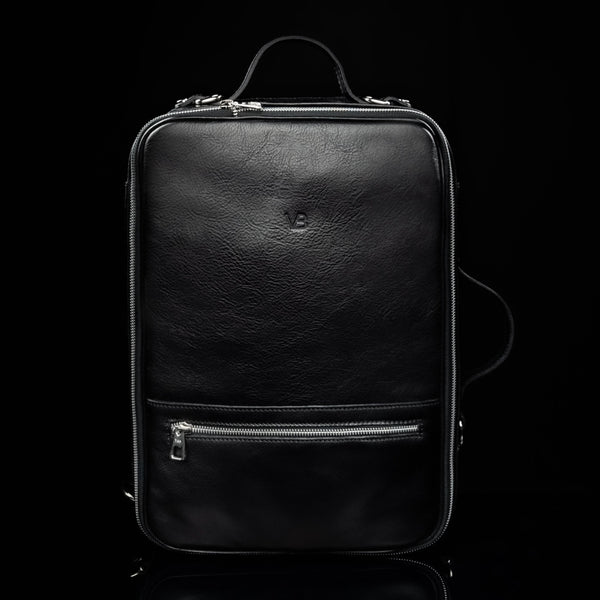 Elegant Black
What makes a Von Baer Large Travel Bag so special?
Handmade leather travel bags
Von Baer travel bags are expertly handcrafted by vastly experienced craftsmen in family-owned studios in Florence, Italy. This ensures every travel bag meets the demands of your contemporary life without compromising on quality.

Highest quality full grain leather
We only use the finest full grain leather for our Italian leather travel bags, which is the best that money can buy. You can tell when it's high-quality genuine leather, by the look and feel of the product, as well as how long it lasts. The Von Baer leather is vegetable tanned, handmade in small batches by artisan craftsmen in Florence, Italy.
Durable construction
Zips and metal on travel bags are common stress points, which is why the hardware Von Baer uses is high-quality metals with YKK zippers, to ensure very durable moving parts. The bag lining is made from premium durable cotton, ensuring a soft yet strong inner to your bag, able to handle the day-to-day of your journeys.
Colors without compromise
Von Baer travel bags come in 4 stylish leather colors, including black, brown, dark brown, or tan. These are all made from natural full grain leather, which ages nicely with leather patina. We also use solid brass hardware on all of our travel bags.
Dedicated compartments for your essentials
All Von Baer travel bags come with dedicated compartments for your essentials, including laptops, tablets, and more. Our range includes various sizes to accommodate all your travel needs.
Convenient carrying options
All Von Baer leather travel bags also come with a removable shoulder strap, allowing you to carry them comfortably during your journeys. They are ideal for both business trips and leisure travels, ensuring you have a stylish and functional companion.
Personalized with a laser engraving
Instead of monogramming, we use a high-quality laser engraving to personalize your travel bag, making it uniquely yours or a thoughtful gift for someone special.
Benefits
If you plan an adventure, a journey to see new places, or visit old friends or family, you might be in the market for a large travel bag. Large bags for travel aren't like other large bags – they have special design features and construction that make them ideal for journeys. Let's take a look at the benefits.
Ample Storage Space
The first and most obvious benefit is the large size. They can store all of your clothing and other items you'll need on the trip. If you are going someplace cold, you'll need more bag space than somewhere warm, to accommodate thicker clothing and extra sweaters or winter wear – but even in warm places it is nice to have ample packing room.
Versatility
Great for a few days away, or longer journeys, a travel bag is always ready to go when you are. They can even be used as gym bags, camping bags, or moving containers when you aren't traveling.
Durability
These bags are built to stand up to airport luggage systems, and train luggage racks, and are tossed into the back of taxis, jeeps, and busses – so they are made to last. They can stand up to the sometimes-punishment of travel and keep the items inside safe and secure.
Organizational Features
Travel bags are designed with travel needs in mind, like multiple pockets and compartments for essentials like passports, medications, lotions and sunscreens, sunglasses, electronics, clothing, keys, and much more. Some even have secret pockets for valuables and cash.
Compatibility
These bags interface well with packing cubes, TSA-approved padlocks, and universal zippers that work well with most luggage tags and trolleys. They also come is designs to match your travel style, from adventurous and classic to chic and stylish.
Comfort and Ease
Padded shoulder straps, ergonomic handles, smooth wheels, and other features ensure that you move through crowds with relative ease, silently snaking through knots of people with hardly any effort at all.
Security
Safety during travel is very important, so travel bags often have features like lockable openings and zippers, anti-slash materials, reinforced stitching, RFID-blocking pockets, and nametag pockets so you can be located if your bag goes missing and is found.
Stylish Design
A wide range of styles, colors, and features ensure you find one you love.
Environmentally Friendly Options
You don't have to compromise quality to be a responsible resident of the planet; eco-friendly and ethically produced options are always available.
Investment in Adventure
A reliable, high-quality bag will last and look good for a long time. Soon, that bag will be a familiar feature on all your trips, becoming a kind of souvenir – a trusted companion in your adventures.
How to Choose
There are a lot of options out there, and that wealth of choice can become overwhelming. Keep it simple by going step by step through the options, taking note of what you want and need… and what you don't. This guide should help you decide on the right features for you.
Size and Capacity
Do you want a bag that is suitable to use as a carry-on, or a larger one that requires checking-in? If the former, check with several airlines to understand the size limits. Remember, different airlines have different regulations, and they are smaller allowances for smaller planes, and on discount and regional airlines.
Material
Soft shell cases are easier to fit into airline carry-on compartments since they can be squished a bit, but that also means they provide less of a solid protective barrier around items inside the bag. This is fine for many items, but electronics or other more fragile items are more likely to get damaged. A hard-shell case is better for maximum protection – but they are less forgiving when it comes to airline size restrictions and tend to be a bit heavier.
Durability
Durable materials include high-denier fabric, ballistic nylon, and high-quality leather. Avoid thin materials or materials likely to snag and tear. Stitching should be strong and regular, and high-wear areas like corners and strap attachment sites should be double-stitched where available.
Weight
Lightweight bags are great for air travel, as you will avoid additional fees. Heavy-duty bags more quickly reach weight limits, but they stand up better to rough treatment, so for some types of travel it is worth the trade-off.
Wheel Configuration
Two-wheeled bags are lighter and can be easier to pull over curbs and uneven terrain, but four-wheeled bags are more stable and offer 360-degree movement. They can also be pulled alongside you more easily, whereas the two-wheeled versions need to be tipped and dragged. Ideally, go for a four-wheeled model that can be tipped when preferred, or pulled upright when the terrain is smooth and easy.
Compartments and Organization
Single-compartment bags are simple and easy, but items inside can easily get mixed around and jumbled up, increasing wrinkling and potential damage. Too many pockets, at the other extreme, can get confusing and add unnecessary weight to the bag. Try for a useful medium: all the pockets you think you'll need, plus one or two for added items along the way.
Locking Mechanisms
Locks should be TSA-approved to avoid them being cut off for security checks. Padlocks add security when not in flight, but can add weight and knock into or scrape things when in use.
Aesthetics
Darker colors don't show the dust of the road (or cargo hold) as easily, so your bags will look better for longer. You might also want to choose a bold or unique design so you can more easily spot your bag on the carrousel – and so others are less likely to pick it up by mistake.
Price and Warranty
Choose a bag with a good warranty. A good warranty shows that the manufacturer is confident in the construction quality of the bag. Paying a bit more for a bag that will last longer, and function better, works out cheaper in the end. Avoid cheap bags that break down and need to be replaced too soon.
Types
There are many styles of travel bag, but each of them fits into a few general types. Let's take a look at these types and how they differ in design and use.
Duffel Bags
Duffel bags are usually soft bags, of a cylindrical shape, with a top closure using a drawstring or zipper. They often have both a shoulder strap and dual handles for carrying.
Rolling Suitcases
Rolling suitcases are any style of bag (though usually a rectangular hard shell) that is equipped with two or four wheels and a telescopic handle for pulling. These cases take the weight from the shoulders and roll it along behind or beside you, making them the easiest to move around. The wheels and handle do, however, add weight to the overall bag, so you can't put as much in them.
Travel Backpacks
Taking the best from traditional backpacks, and adding features like TSA-approves locks, RFID document pockets, padded laptop sleeves, and other travel-friendly features, the travel backpack is the champion of all-terrain travel needs. Great for carrying through airports, over cobbled streets, or up and down unpaved trails, the travel backpack gets the job done.
Garment Bags
On the other end of the spectrum is the garment bag. Made to keep formal wear wrinkle-free and pristine, garment bags are like mini closets, sometimes even including a compartment for shoes and/or other accessories. They are equipped with a hanger for easy placement in closets or wall hooks, and often fold in half for more compact travel.
Tote Bags
These oversized, open-topped bags are as simple as they are stylish – top marks for both! Coming in a wide range of colors and various features and options, a tote fits any style. Great for shopping, sightseeing, and carrying onboard a plane, the only drawback is that they do not normally have many security features, so you'll have to keep an eye on them without the aid of locks.
Some are available with RFID protection though, or you can use an RFID wallet inside for the same level of protection.
Alternatives
Sometimes the best way to zero in on the right large travel bag is to consider first the traveling you'll most often be doing. More than one bag might suit each travel type, so take a look and consider which one seems best to you.
Long-Term Travel
A large travel bag is great for long-term and extended vacations, because it can hold everything you need – and you don't need to move it around much once you get there.
If you are going on a vacation that involves frequent changes in the hotel or the need to move about with your clothing throughout the day, a rolling suitcase is probably a better choice. You should be able to find a large bag fitted with wheels.
Outdoor Expeditions
For those that are in one place – like camping – or involve a means of moving the bag along with you easily – like canoeing, 4x4ing, or trail riding – then a single large bag works well. You will want to consider specialist bags though, such as waterproof bags for water trips, or paniers for trail riding. If you are hiking, then a backpack is the obvious best choice.
Sports Equipment
A large travel bag is ideal for carrying sports equipment, including helmets, balls, pads, and multiple jerseys or suits of clothing. The only time it becomes the second choice is if the items you need to carry are of unusual shape or size and require a specialized bag. Skis, firearms, and golf clubs are typical examples.
Family Travel
Allow one parent to focus on keeping track of little ones, while the other parent moves everyone's belongings along in a single bag… or maybe two. A good, wheeled, large travel bag is easy enough for one person to carry, and it is sometimes possible for one person to handle two of them, greatly expanding the amount of gear and belongings you can take. As the kids get older, it is more practical to have each carry their own, smaller case, as the volume of their luggage needs expands.
International Relocation
Moving internationally is a feat of logistic magic, and large travel bags suit it very well. Robust, easy to pack and haul, they are the best option if you carry your items in transit. The only easier alternative? Ship the items and hope you get there at somewhere close to the same time.
Post Purchase Considerations
Post Purchase Considerations
It is important to us that you not only choose and use the right bag for you but also enjoy the whole process of selecting, purchasing, and getting the most out of it. We've gathered a few considerations to go over, once you've narrowed down your choices, to make sure you haven't overlooked any key needs or features.
Sizing and Weight Limitations
Bag dimensions are included in individual product descriptions, and each airline will have its size and weight limitations (and additional fees) listed on its website. It is mainly the weight consideration that can fluctuate widely but is under your control.
Large bags can hold a lot, so put heavy items in smaller bags and bulky ones in the big bags. This will better distribute the weight carried, avoiding additional fees for overweight bags when you have other ones that are underweight. It is worth investing in a hand-held luggage scale to make sure at home, before sorting it out on the airport floor.
Security Measures
Use TSA-approved locks and make sure all zippers and clasps are in good condition. Carry valuable items or important documents with you in the cabin, whenever possible, and only check things that you can replace if something goes missing.
Matching Personal Style
If your bag looks good, but too much like every other bag, consider adding a personal touch with embroidery, custom tags, or some other unique marker. Avoid putting personal information on bags though, as that information will be available to everyone who sees it.
Storage Needs
Put heavier items near the bottom of the bag for best stability. Large items can go in next, followed by smaller ones that can fit in nooks and crannies. Stow anything more breakable in the center of the bag, protected by softer items all around it. However, carry breakable items in the cabin with you when possible.
Consider a packing cube or similar item if you want better organization and can spare a little added weight.
FAQs
What is the weight and size limit for these bags?
Most of our bags are suitable for most airlines, but rules vary.
Are these bags suitable for international travel?
Yes. These bags are durable and designed for easy travel.
Do the bags come with a warranty?
Yes. Most of our products carry a manufacturer's warranty. Check the product description for details.
Are these bags waterproof or water-resistant?
Many are water-resistant, and a few are fully waterproof. Check the product description for specifics.
Do they have compartments for laptops or other electronics?
Some models include padded compartments for safe laptop and/or tablet transportation. Product descriptions include details on these features.
How do I clean or maintain my travel bag?
Cleaning and care differ, depending on the material from which the bag is made. Care instructions are included in product details and with each item when it ships.
What kind of security features do these bags offer?
It varies from bag to bag, but common security features include built-in, TSA-approved locks, RFID blocking technology, padded compartments, and anti-slash materials.
Can I customize my bag?
Some brands and models have customization options, such as monogramming or color changes, which you can request at purchase.
What is the return policy?
We offer returns and exchanges for unused, undamaged products within 30 days of purchase. See our Returns and Exchanges page for full details.