Professional and stylish designer briefcases and laptop briefcases for men.
Made from the finest full grain leather, handmade in Florence, Italy.
Personalizable too, for a bag you'll be proud to wear into the office.
No.1
Men's Leather Briefcase
$1,295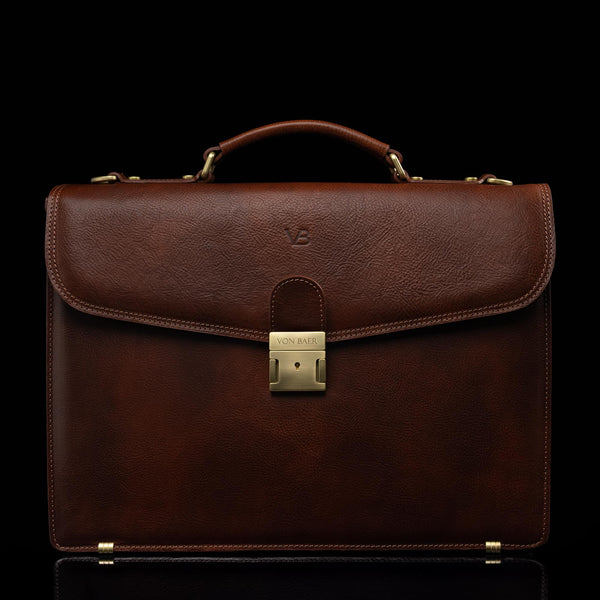 Solid Brown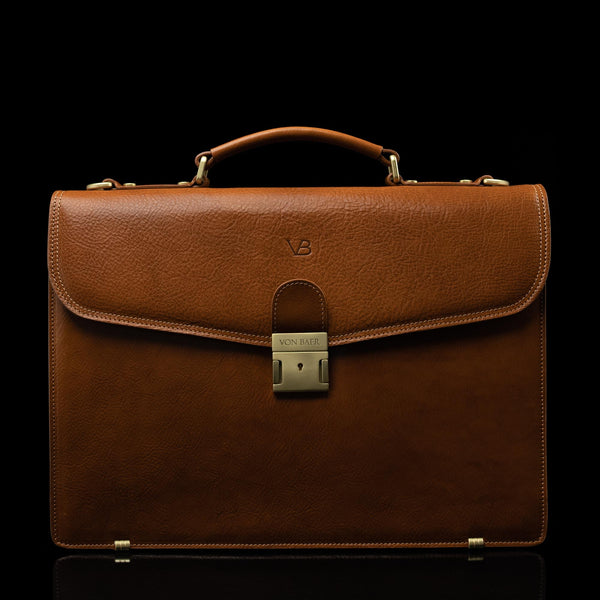 Classic Tan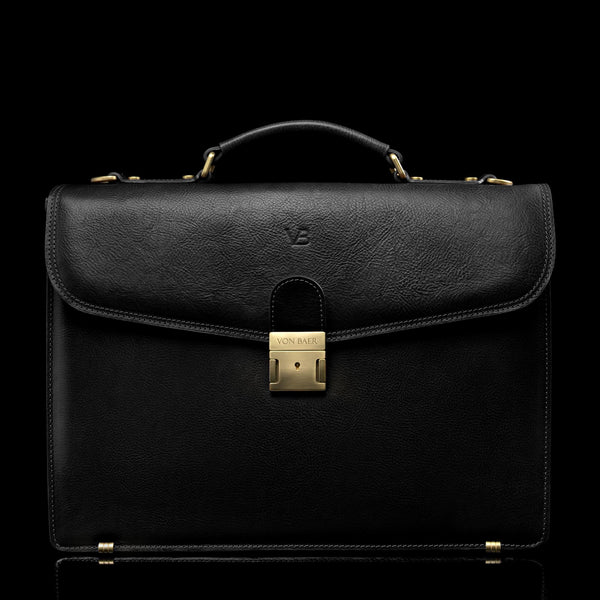 Elegant Black
Essential
Modern Briefcase
$875
Solid Brown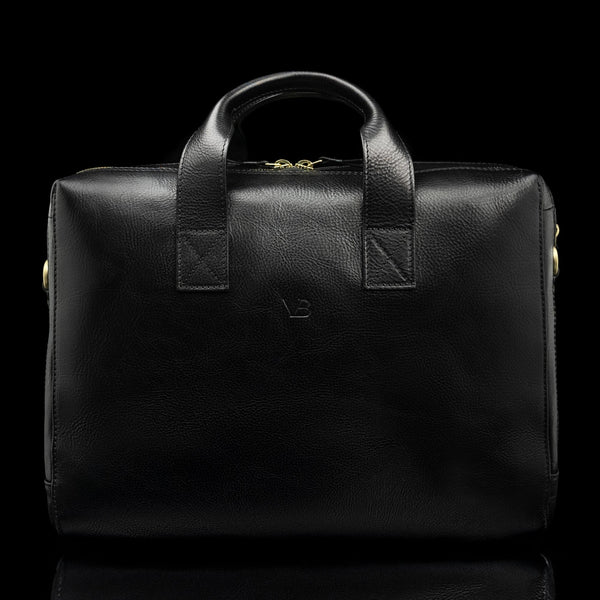 Elegant Black
Deep Red
City
Leather Laptop Bag
$995
Solid Brown
Elegant Black
Deep Red
Elegant
Slim Leather Laptop Bag
$895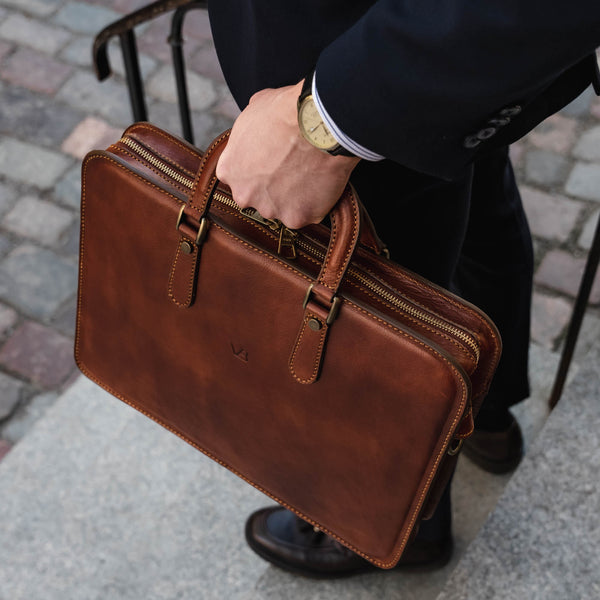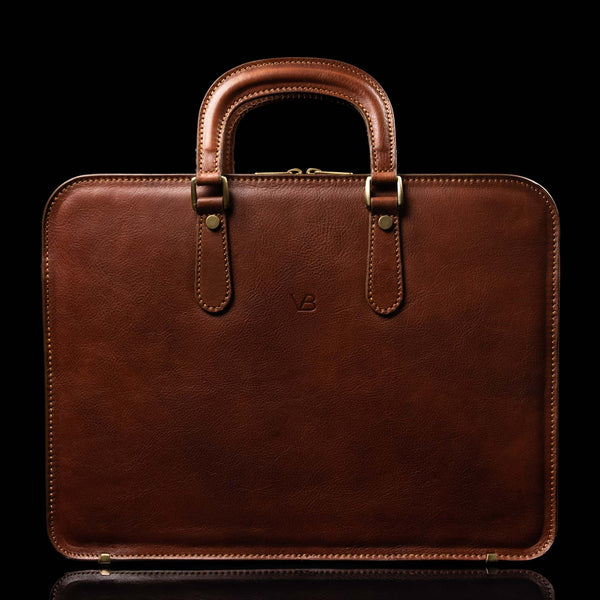 Solid Brown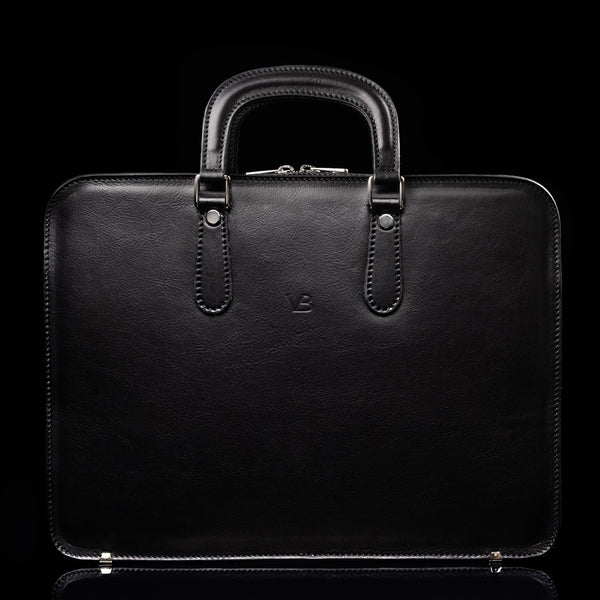 Elegant Black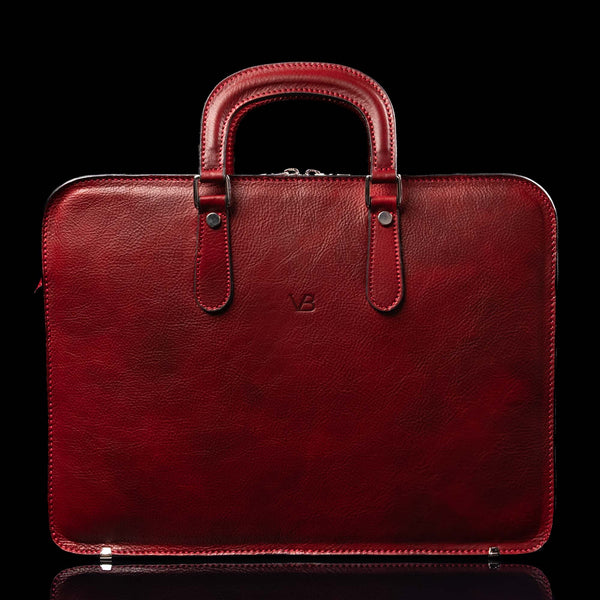 Deep Red
City Large
Leather Laptop Bag
$1,395
Solid Brown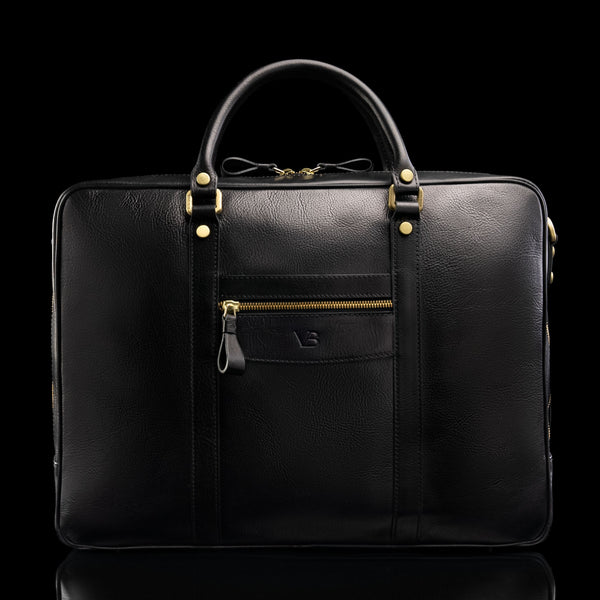 Elegant Black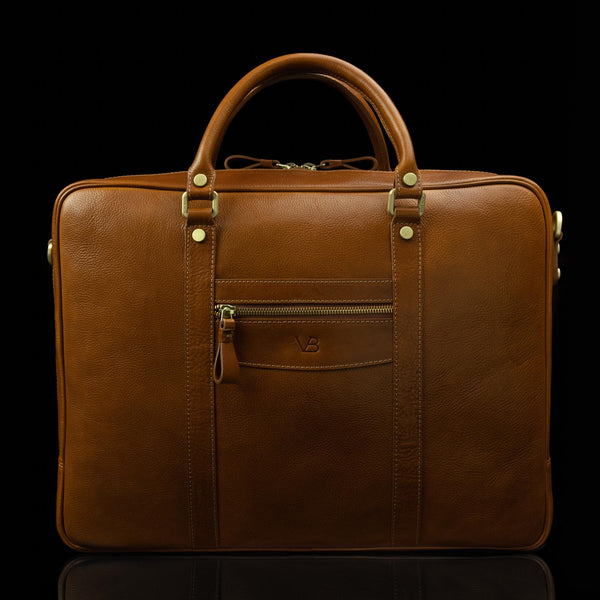 Classic Tan
Deep Red
10X
Leather Laptop Travel Bag
$1,295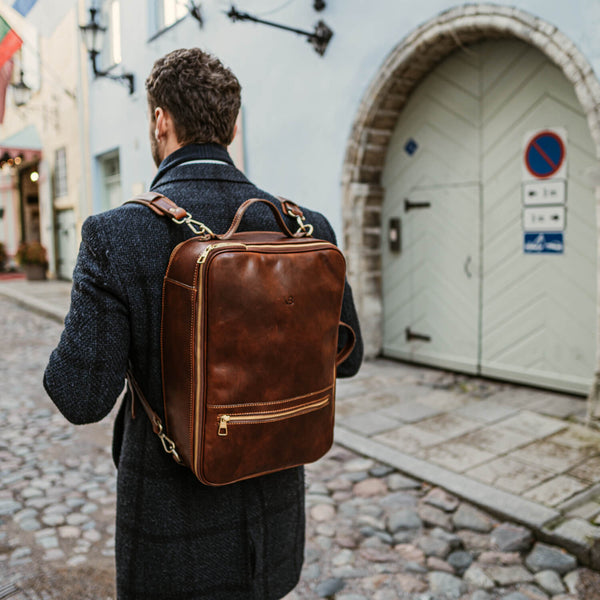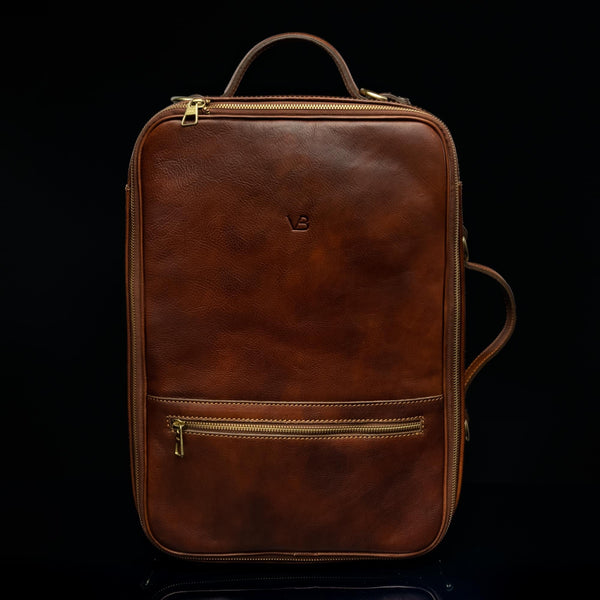 Solid Brown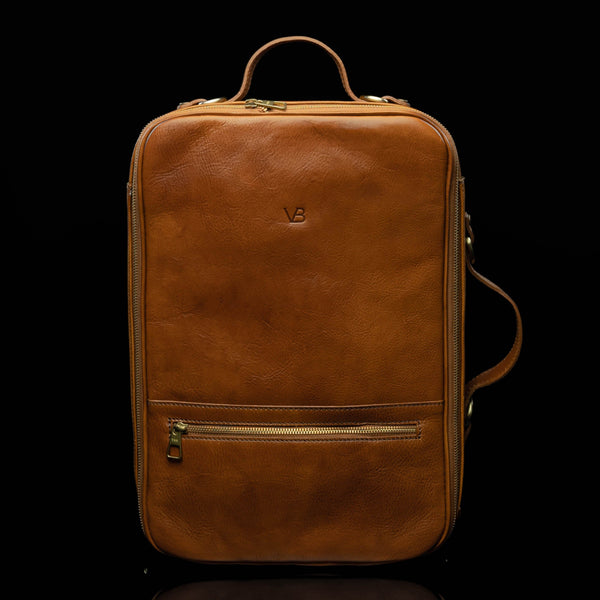 Classic Tan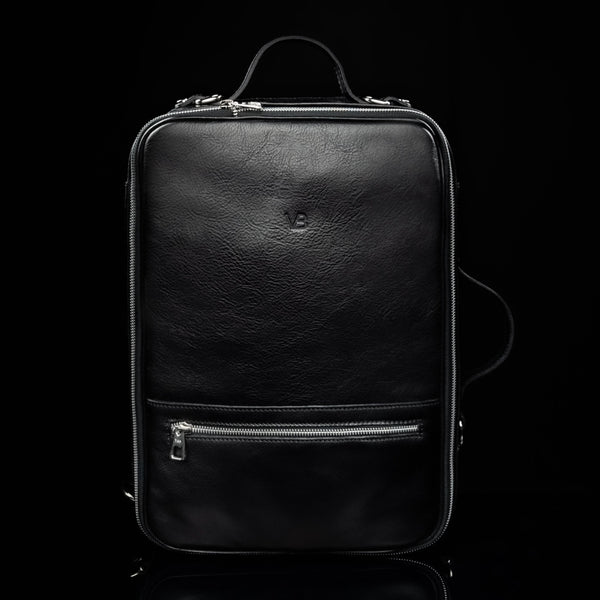 Elegant Black
No.2
Leather Messenger Briefcase
$1,495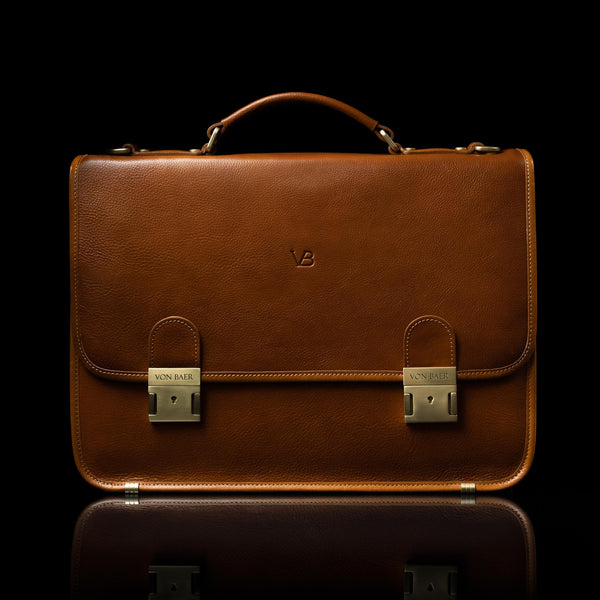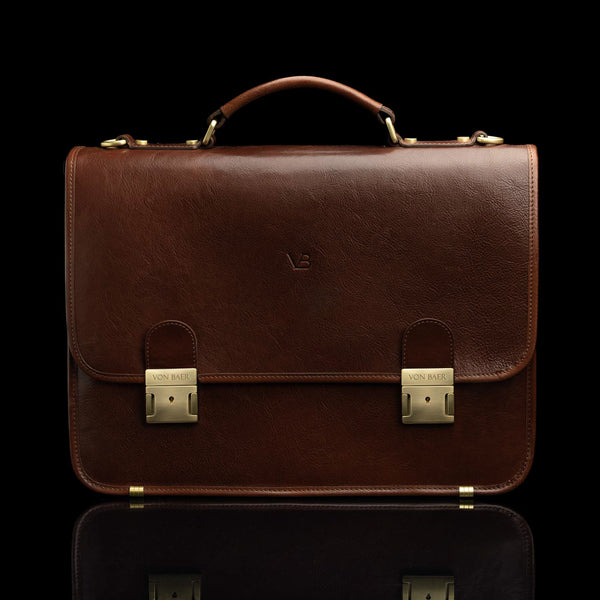 Solid Brown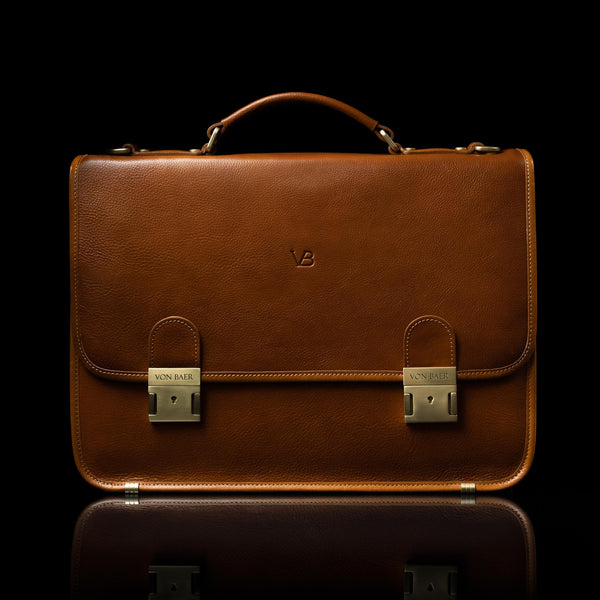 Classic Tan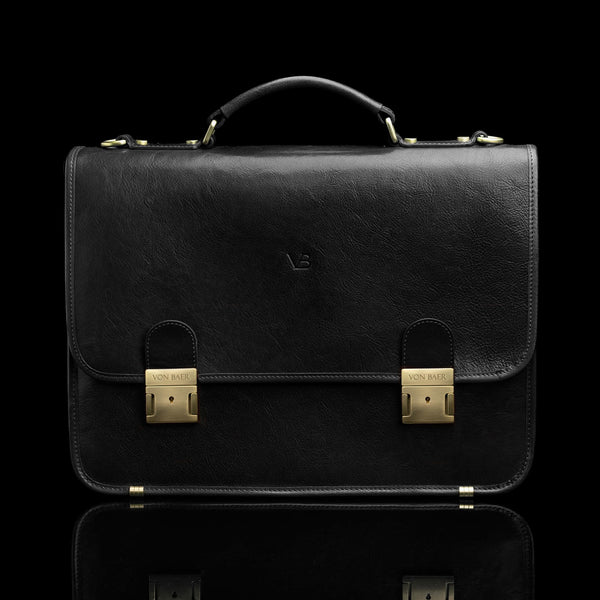 Elegant Black
No.3
Leather Messenger Briefcase
$895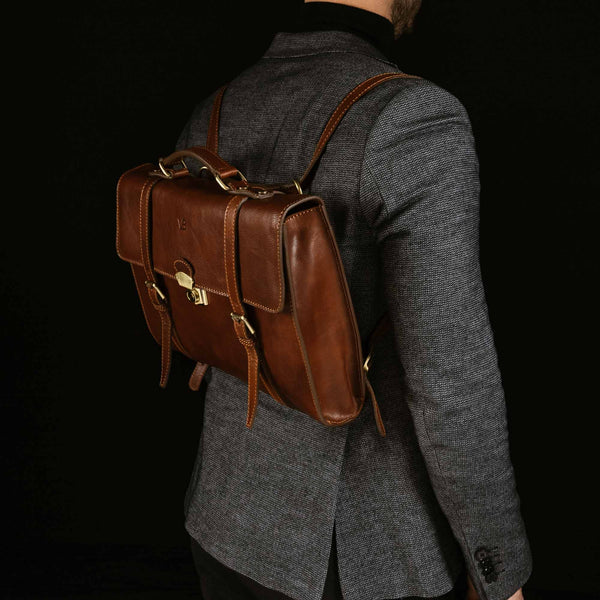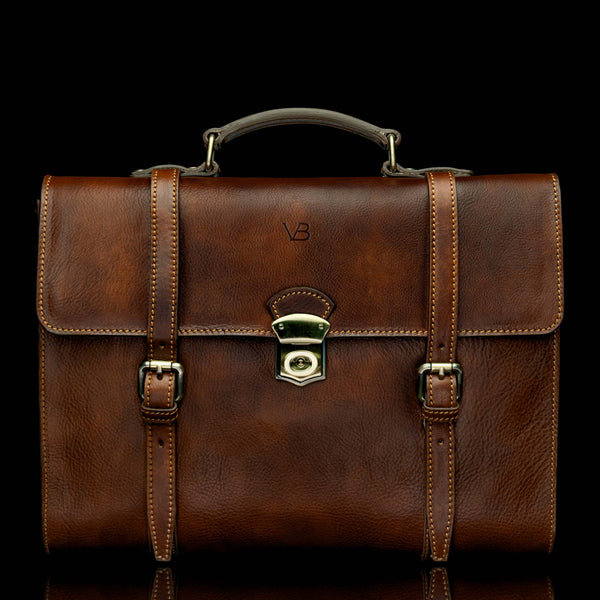 Solid Brown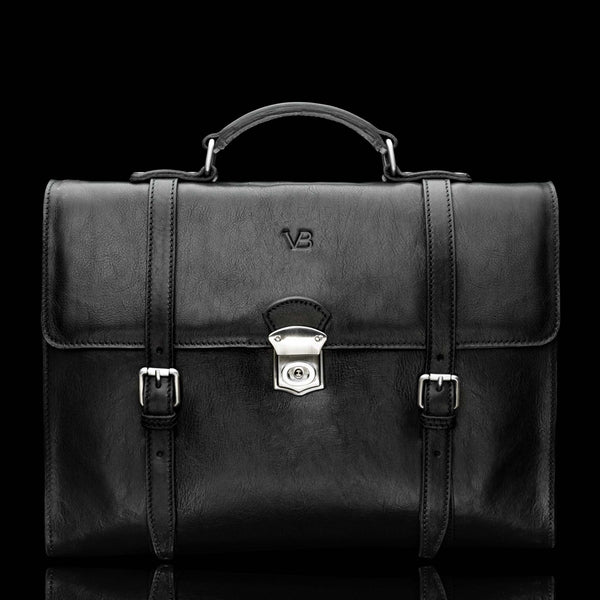 Elegant Black
Classic Tan
Exquisite
Slim Leather Laptop Briefcase
$1,095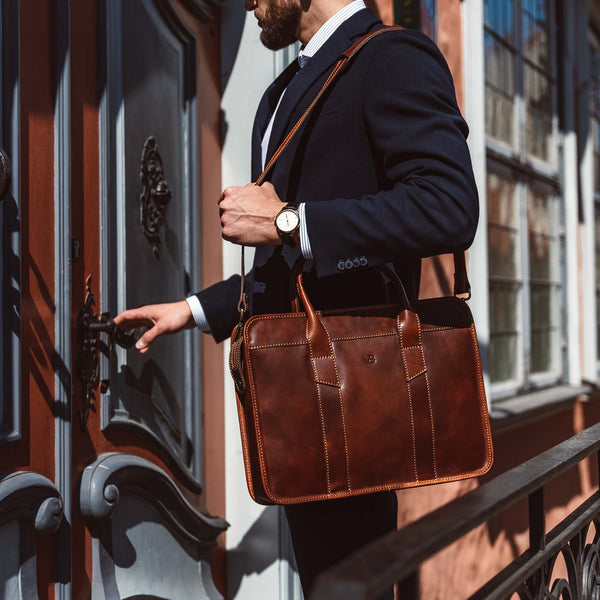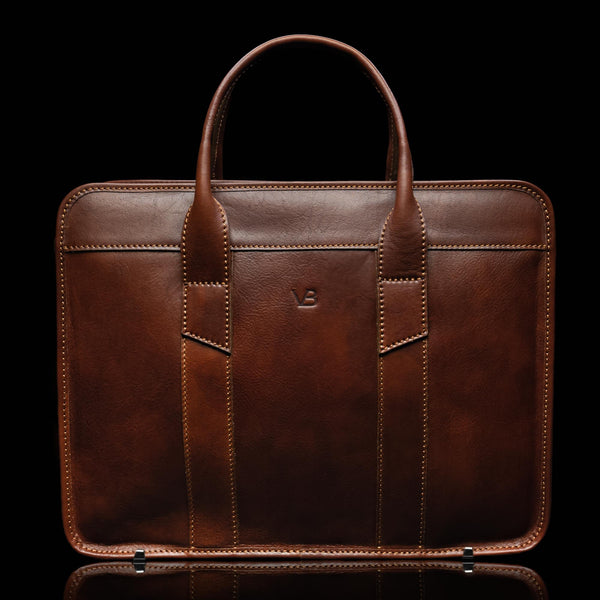 Solid Brown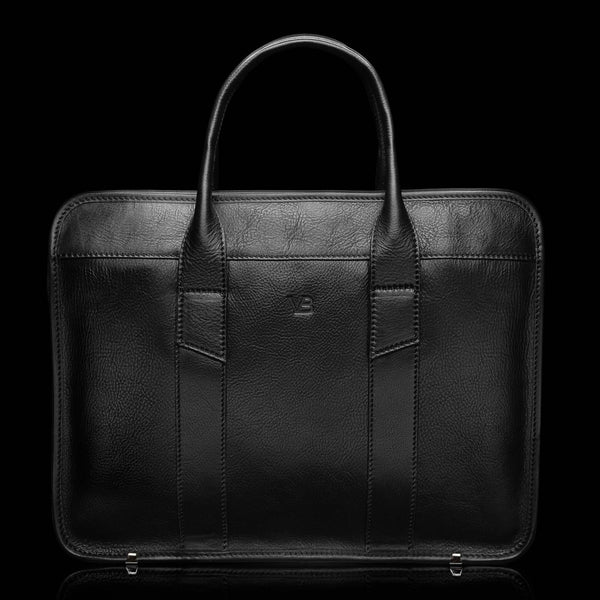 Elegant Black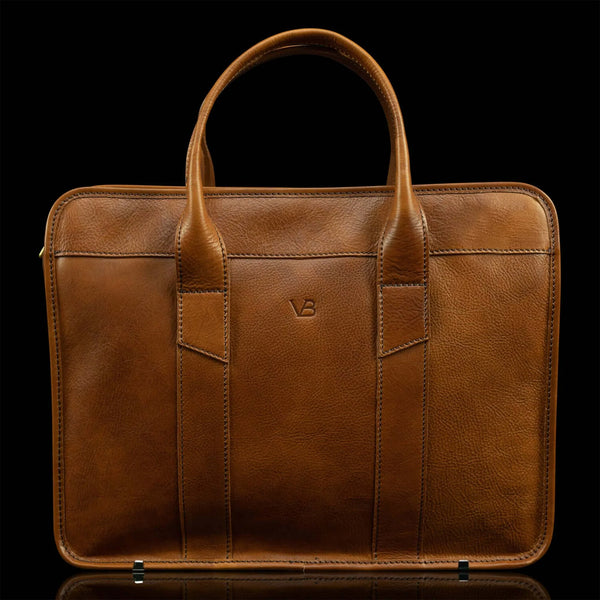 Classic Tan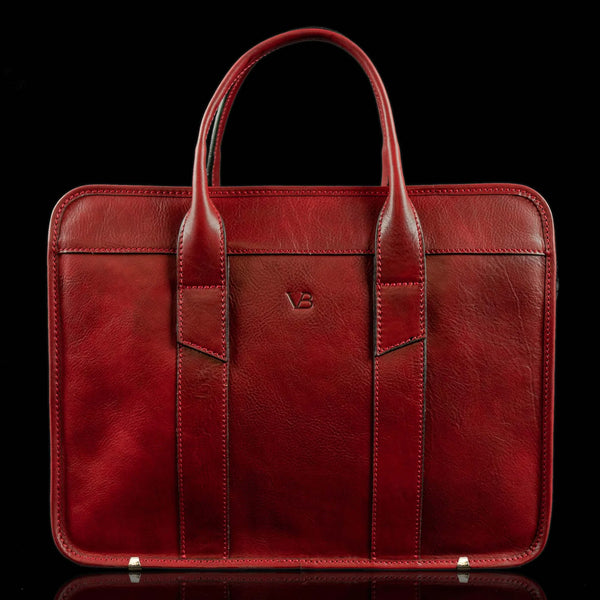 Deep Red
City
Women's Laptop Bag
$995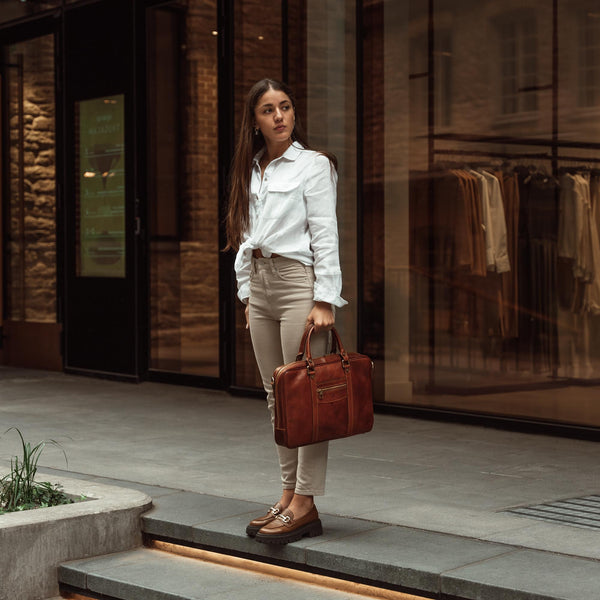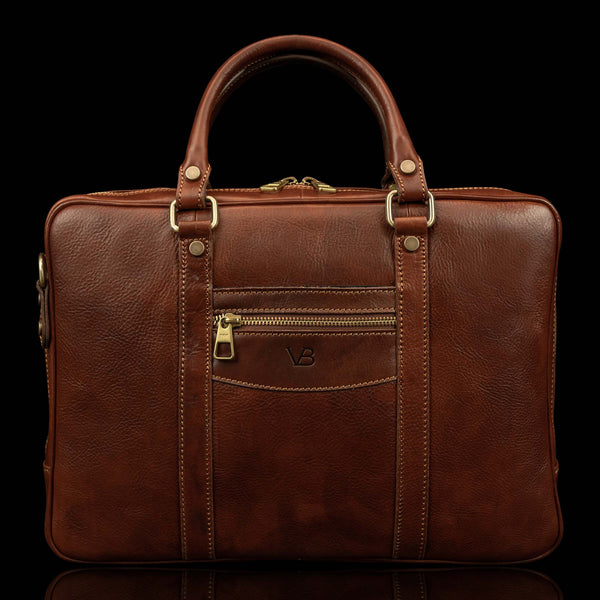 Solid Brown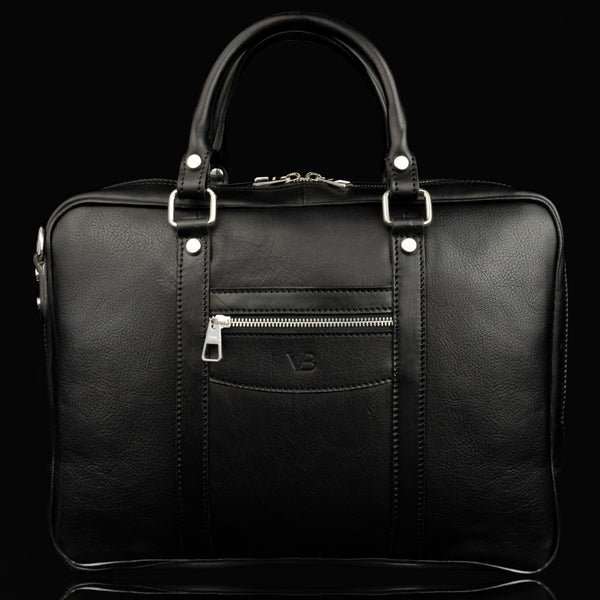 Elegant Black
Deep Red
10X
Women's Leather Laptop Travel Bag
$1,295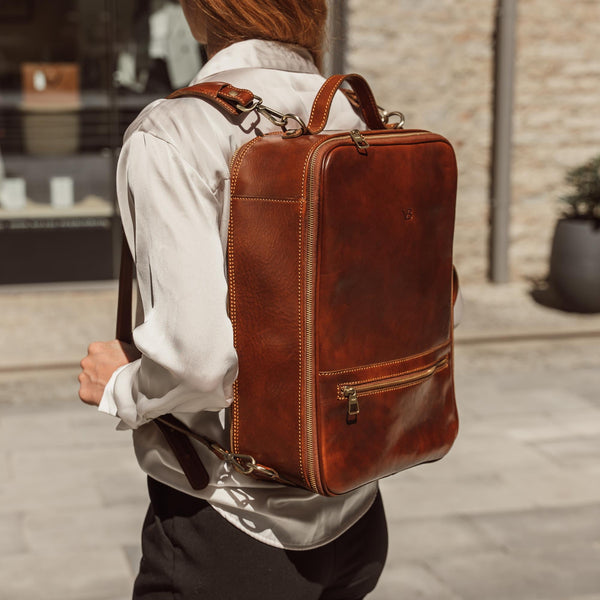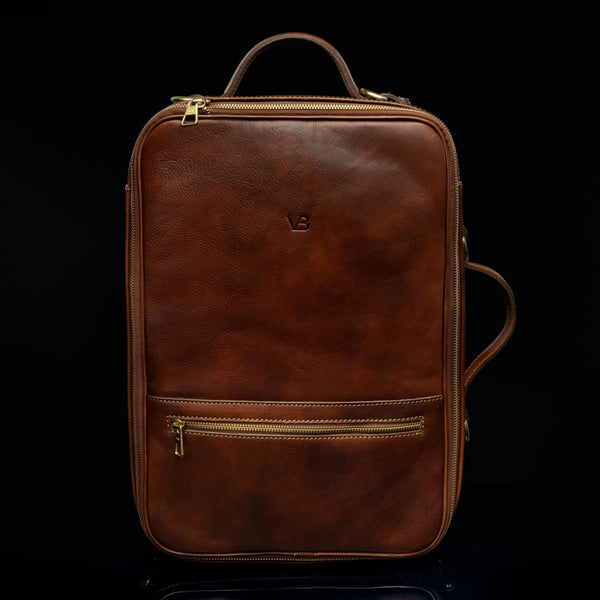 Solid Brown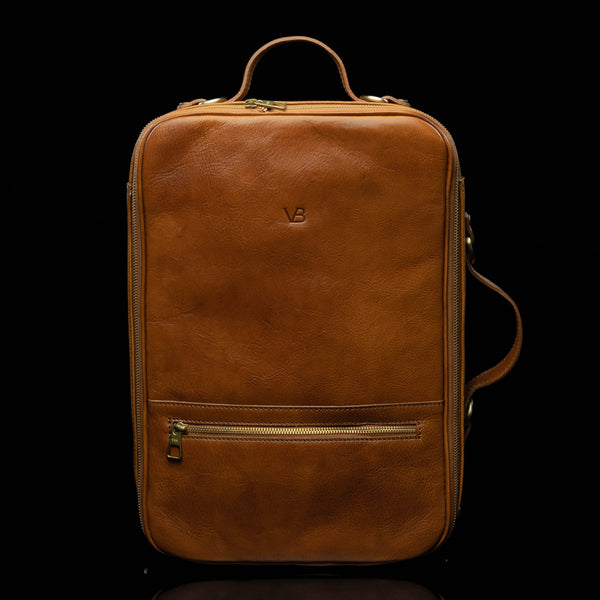 Classic Tan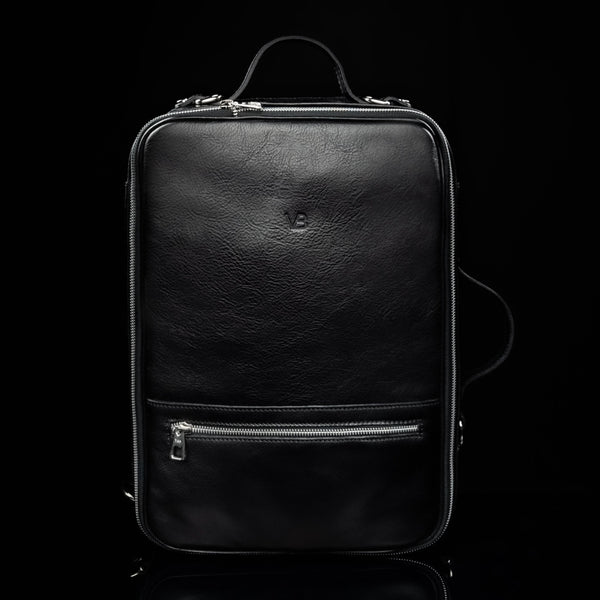 Elegant Black
Well-Organized
Leather Laptop / Macbook Case
$695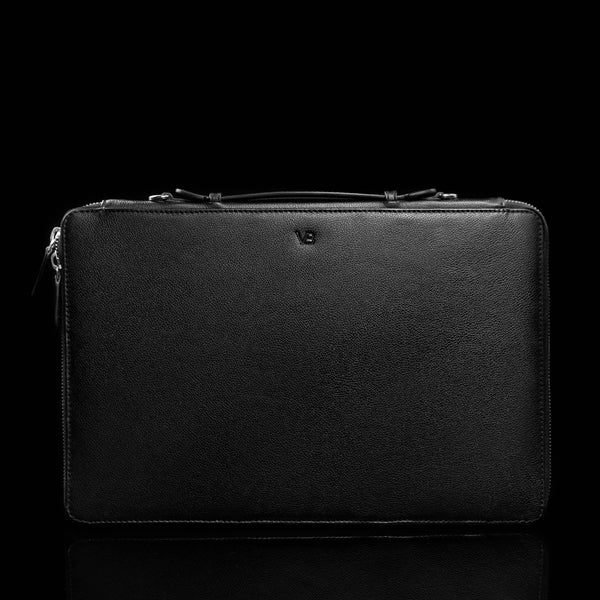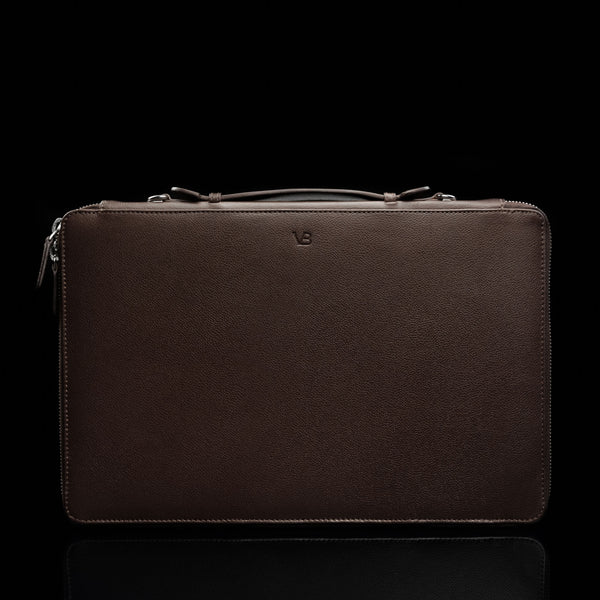 Dark Brown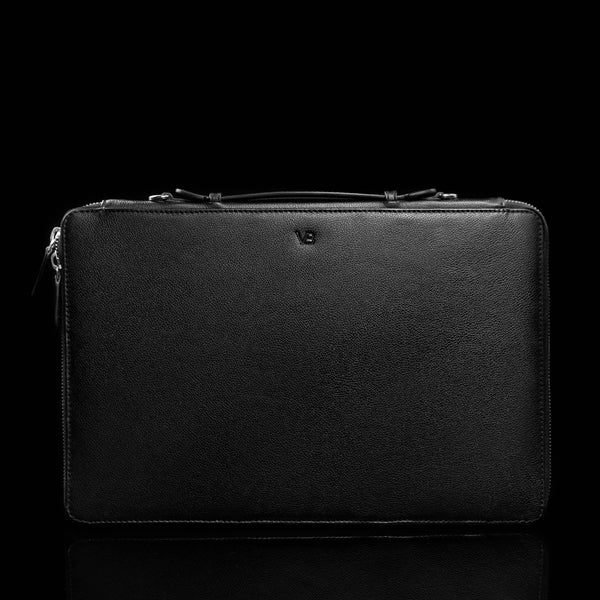 Elegant Black
Elegant
Women's Laptop Briefcase
$895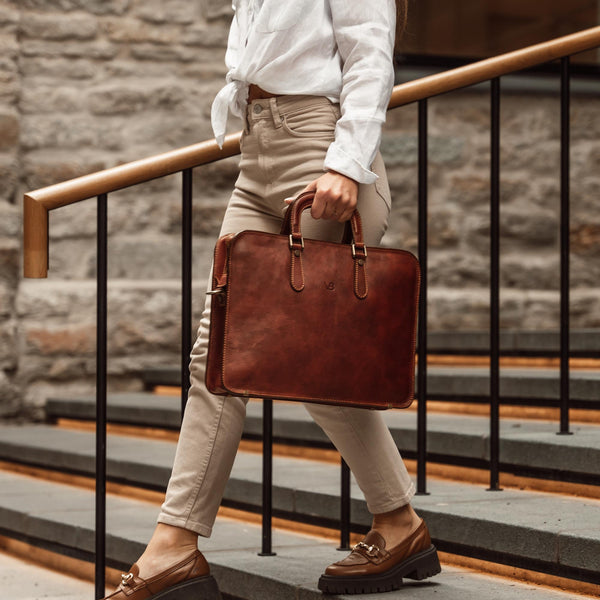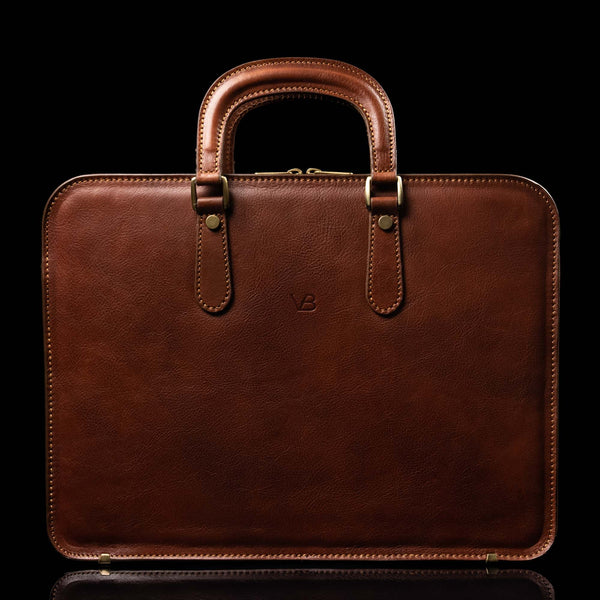 Solid Brown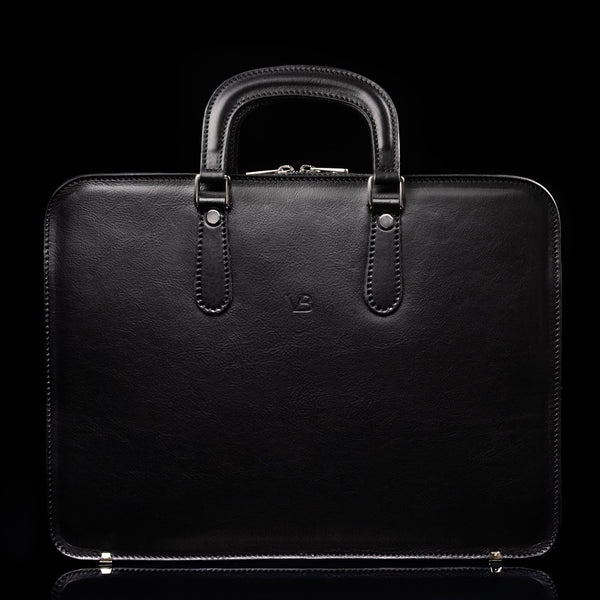 Elegant Black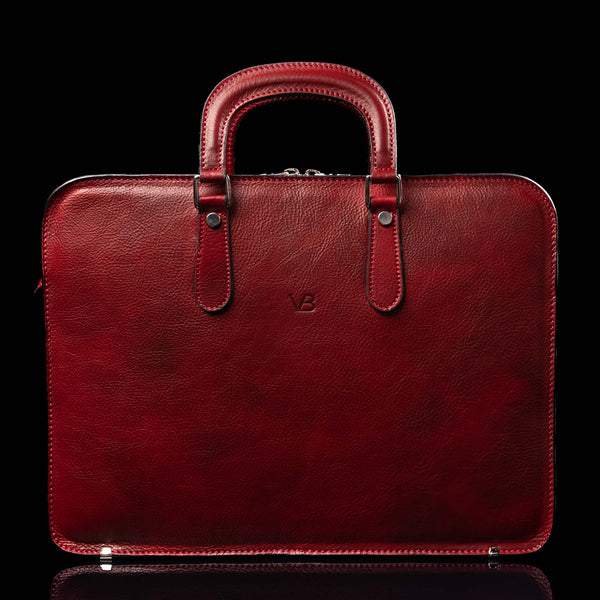 Deep Red
What makes our Designer Briefcases so special?
Handmade leather briefcases
Our Designer Leather Briefcases are expertly handcrafted by highly experienced craftsmen in family-owned studios in Florence, Italy. This ensures that every briefcase meets the demands of your contemporary life without compromising on quality.

Highest quality full grain leather
We only use the finest full grain leather for our Designer Leather Briefcases, which is the best that money can buy. You can tell when it's high-quality genuine leather, by the look and feel of the product, as well as how long it lasts. Our leather is vegetable tanned and handmade in small batches by artisan craftsmen in Florence, Italy.
Durable construction
Zips and metal on our Designer Leather Briefcases are common stress points, which is why we use high-quality metals with YKK zippers to ensure very durable moving parts. The bag lining is made from premium durable cotton, ensuring a soft yet strong inner to your bag, able to handle the day-to-day of a busy commute.
Colors without compromise
Our Designer Leather Briefcases come in 4 stylish leather colors, including black, brown, dark brown, or tan. These are all made from natural full grain leather, which ages nicely with leather patina. We also use solid brass hardware on all of our briefcases.
Dedicated laptop compartment
All our Designer Leather Briefcases come with a dedicated compartment for your laptop or tablet. Our range includes 13-inch, 15-inch, and 17-inch compartments, so you can choose one that fits the tech you own.
Shoulder straps included
All our Designer Leather Briefcases also come with a removable shoulder strap, allowing you to turn them into a shoulder/messenger style bag. They are ideal for the daily commute to and from the office while keeping your hands free. Our briefcases also come with exterior handles, usually two top handles.
Personalized with a laser engraving
Instead of monogramming, we offer high-quality laser engraving to personalize your Designer Leather Briefcase, making it ideal for your own use or as a gift.
Can your briefcases hold a laptop?
Show more
Yes, our luxury leather briefcases can hold up to a 15.6-inch MacBook or similar sized PC. Along with your main device in the main compartment, you will have ample room for other essentials too.
We haven't forgotten about your other gadgets, tablets, phones and even the odd paper file!
Carrying all of your essentials doesn't mean skrimping on style though. Not at all! Our bags are designed to look great while being very functional.
Are your briefcases made from leather?
All of our cases are made with Italian vegetable-tanned leather for the highest quality and best look. The case bodies, handles and shoulder straps are all of premium leather, and all bags are hand-made by skilled artisans in Florence Italy. This tradition creates timeless classics, giving you the best luxury briefcase to augment your work attire.
How much do your designer briefcases cost?
Our designer brief cases cost from $635 (£499) to $1400+ (£1100), with extra features like laser engraving and gift wrapping available at a small additional charge.
Why choose a briefcase from Von Baer?
Von Baer designer briefcases are handcrafted to ensure the best quality with none of the manufacturing flaws that can be overlooked in mechanized production. You get old-world quality and tradition with today's best styles.
Our cases are also constructed of the finest materials, from the premium Italian full-grain leather of the body, handles and straps, to the durable cotton lining, to the heavy duty YKK zippers.
Thoughtful features like rounded leather handles on some styles, additional shoulder straps, and handy pockets for essentials like cell phones are not forgotten either.
Von Baer sacrifices none of the essential functionality you need from a work bag, while providing all of the luxury, style and statement of a truly high quality designer briefcase.
Show less
Benefits
Versatility and Functionality
Carrying all of your daily essentials is the main goal of any case, but convenience and organization are important too.
A quality case will keep your laptop, tablet, documents, cables, stationary, phone, and other items safe and easy to reach when you need them.
Stand-out Style
Anything you wear or carry adds to your style in some way and style is as important in a professional setting as it is in a social one.
In any business situation, from the long table in the boardroom, to the presentation stage, to impromptu coffee meetings or even after-hours drinks – the right case can assure your colleagues that they are working with someone with an eye for success.
Durability
A quality designer briefcase uses high-quality materials and construction techniques. Each one is built to stand up to the bumps and knocks of the daily grind, while still looking great.
Compatible with Various Brands
Because of the classic components and construction materials, a designer briefcase looks great with a wide range of designs and styles. Hugo Boss, Canali, and Ralph Loren suits pair nicely with a designer case.
Inside, everything from Apple, Samsung, Dell and others, sit snugly in their safe compartments, ready for quick and easy access when needed.
Over a wide range of lifestyles and fashion styles, a quality designer briefcase will not only fit in, it will elevate.
Optimum Security
Most designer briefcases come with security features. A locking mechanism is almost standard, and other features, additional padding are also available in various designs.
Safe in the office, on your commute, or at a social gathering to talk over the day.
Enhanced Professionalism
The modern world puts a lot of stock in a person's appearance and style. Your image says a lot about your ability, so make sure it is lifting you up, rather than keeping you down.
A quality, stylish designer briefcase will keep important items and information safe, and will add to the trust others will have in you as a professional.
How to Choose
Material
The material from which your briefcase is made has a huge impact on both durability and style. The top choice is high-quality full grain leather.
It offers a timeless, sophisticated look that can be both modern and traditional at once, exuding an image of strong tradition blended with innovation. It can also last for decades, with proper care.
Hardware and Stitching Durability
Don't forget to look beyond the material itself, to the hardware and stitching that hold it all together.
Metal hardware is better than plastic and should be finished to a high standard. Cheap finishing probably means cheap quality beneath it – plus it doesn't look good – so watch for that.
Size & Structure
The size and structure of your case depends entirely on your preferences and intended use. If you carry a tablet and a few documents, a small bag is best.
If you carry a laptop or have daily essentials you want to have on hand, then a medium case will suit you best. If you need product samples, models, tools, or similar, bulkier items, then a large case will fit the bill.
Weight
We all want the lightest case possible, but at some point, lighter means less durable. When it comes to weight, like size, it is all about striking a balance between conflicting desires.
Higher quality materials will generally mean lighter weight while maintaining good durability. This may come at a higher price, but the investment will give added value over time and continued use.
Style
Style is personal, but we all know the difference between something that suits our chosen profession, and something that doesn't.
Designer briefcases come in a wide range of styles to suit flashier, fashion- or design-oriented industries, all the way to the most formal diplomatic or corporate settings.
Within your industry, you might choose a sleek, minimalist design, a traditional style, or something that evokes images of a technical tradesperson.
Whatever your style, there is a case that will suit it, and still fit the professional mandate.
Interior Design
Of course, the first thing we consider is the design of the outside of the case, but since you're going to be spending a lot of time accessing items from the inside of it, the interior matters a lot too.
Look for organization that suits your preferences and the items you need to carry. Interiors should be big enough but also organized in a practical way, with easy access, safety for items in case of a bump or fall, and security features that suit your needs.
Color
Classic brown is perhaps the most versatile color for professional settings, but black works well too. White is popular with many female professionals, though it can be difficult to keep clean and requires more maintenance and care. Darker colors show less wear with time and use.
You aren't limited to brown, black, and white though. If you want to make a stronger style statement, other colors are available, from classic blues to bright pinks.
Price
Prices for designer briefcases vary with quality, style, and brand name. You can get a designer case for a few hundred dollars, or you can spend many thousands.
Value for the dollar depends on your preferences, how good a deal you get, how new the style is, and the quality of the briefcase.
Sustainability
Some brands take the environment seriously, ensuring best practices for using sustainable and eco-friendly materials and processes.
Minimizing waste, using eco-friendly materials, ensuring fair labor practices, all are ways that companies ensure an ethical product at the end of the day.
Leather Origin and Treatment
The place to start is "genuine leather"; you don't want bonded or faux leather if you want a durable, high-quality product. But there is more.
Full-grain leather is more durable than top-grain, but top-grain can have a smoother finish. Depending on your needs and style, the one might be better than the other.
Types
Portfolio Briefcase
With a sleek, straightforward design, the portfolio briefcase is minimalist in style. It doesn't have pockets and compartment dividers, providing instead a simple, single compartment for documents or a slim laptop.
Originally used by artists to keep sketches safe from the elements, the portfolio case is high on style, but lower on versatility.
If your need is for a case that can suit several diverse professional situations, you'll want something else – but for the simple, regular transfer of a laptop or some documents, this case suits wonderfully… and in style.
Attaché Case
Originally used by diplomatic couriers (attachés) to carry sensitive documents and political secrets, this case looks highly professional in a traditional way.
Usually rectangular and boasting a hard-shell exterior, often covered in classic leather, these cases keep contents safe from impact, drops, and the usual roughness of a regular commute or busy workplace.
Internally, there are usually two main compartments. The first suits a laptop or sheaf of documents well, and the second is often equipped with pockets and other organizational features for stationary and/or small personal items.
Flap-over Briefcase
A bit less formal, while boosting up the style within a traditional look, is the flap-over briefcase. As the name suggests, the main closure is a flap that folds over the opening and buckles to the side face of the case.
This bag easily transitions from professional situations to more casual ones and exudes a sense of artistic creativity to otherwise formal business styles.
Usually equipped with a shoulder strap, the interior is easily accessed while leaving both hands free. Probably evolving from military dispatch case styles of the World War eras, this style provides protection of contents with quick and easy access.
Messenger-Style Briefcase
If you were to cross a traditional briefcase with a messenger bag, to arrive at something versatile and easy to carry and yet at home in an office, you would have the messenger-style briefcase.
Most at home in creative and more casual industries, this case has flexible storage space, a stylish appearance, and can keep your hands free for carrying other items, like architectural models, storyboards, or presentation graphics.
Rolling Briefcase
Do your needs include carrying heavy items, traveling frequently, or commuting for an extended period? With its smooth-rolling wheels and telescopic handle, the rolling briefcase handles the heavy work, leaving you free to navigate, take a walking call, or just relax between meetings or flights, rolling the case easily behind you.
Often available in larger than average sizes, the rolling briefcase is a real spine-saver and can make business travel a lot more pleasant.
Expandable Briefcase
If you need a lot of space in your briefcase – but not all the time – then an expandable case might be the answer.
In their normal configuration, the expandable case looks and functions as a traditional briefcase, but when business calls for more cargo – more documents, a second laptop, a change of clothes – it steps up with an easy conversion to a larger size.
Alternatives
Specific situations or purposes may require a specialized case or bag, rather than one of the briefcases described above. Consider the following to make sure you invest in the right item for your needs.
Professional Office Use
Depending on your workplace environment, a designer backpack may be a stylish, more casual look for less formal offices. They are also great for bike commuters and for those who simply want a hands-free and balanced way to carry things.
Business Travel
Differences in overhead baggage allowances, space in cars or buses, and exposure to the grime and buffets of business travel in general can make versatility of shape and ease of cleaning a must.
Add to this the need for more space for clothing and personal items, and a designer duffle bag might actually be a better choice than a briefcase. Some of these include laptop compartments and other features to suit your particular needs.
They are more casual looking than briefcases, but when on the move, this might be a trade worth making.
Client Meetings
When wanting to break the ice or keep things friendly and easy with clients, a designer messenger bag is a great choice.
The formality and strict lines of a traditional briefcase can be intimidating to some, but the professional, more relaxed look of a designer messenger bag can help to put them at ease socially, while keeping the professionalism of your style intact.
Conferences and Seminars
If you have extra items to carry to a seminar or conference – or if you're anticipating some good swag on your way out from one – then a designer tote bag might be the best way to go.
The formality of a briefcase is less of a need at a conference, and the added versatility of the tote's shoulder strap can keep your hands free for greetings and business card exchanges.
Daily Casual Use
If your day includes frequent client meetings and formal situations, the briefcase is probably a must, but if much of your day is just you, or you and some colleagues, then a designer crossbody bag can be a great choice.
It makes carrying your items easy, comfortable, and suited to car, train, or even bike commutes.
Post Purchase Considerations
Post Purchase Considerations
While purchasing your designer briefcase, there are a few things that we at Von Baer think you should keep in mind.
This will help ensure that you invest in the right item for your needs and that you won't have any surprises or unanswered questions when you get your item home.
Adjustment to Size and Weight
When you first carry one, you may find the premium leather briefcase to be heavier than expected. A little bit more weight is a necessity for a durable case that will last for years, or even decades.
Don't worry, you will quickly adjust to it and not notice it, day to day.
Maintenance and Care
Genuine, full-grain leather does require occasional leather conditioning – every three to six months, for regular use.
This is an easy task, the conditioners are not expensive, and you may even find you enjoy taking the time to care for the case and really appreciate the grain of the leather, and its developing patina.
Storage
Improper storage can cause warping or other structural damage to a briefcase. When not in use, always store your briefcase in a cool, dry place, out of direct sunlight.
Fill it with bubble wrap, tissue, or even a sweater or two to help it keep its shape. Don't pile heavy objects on it.
Understanding Leather Patina
Natural leather changes over time. Rather than a bad thing, this patina development is considered one of the benefits of a high-quality leather product.
It makes each bag truly unique, very beautiful, and like a constantly evolving piece of art… that you carry to work each day.
Match with Wardrobe
Will your new accessory match your wardrobe? Well, that depends. If your wardrobe is very colorful and varied, then you'll want to choose a bag that is versatile – maybe black or gray, as these neutrals go with anything.
Brown is also a classic choice, going well with black, gray, white, blue, or brown suits. For most men's business attire, brown is the most adaptable color.
FAQs
At Von Baer, we want to ensure that you are truly happy with your investment in a quality designer briefcase or other items, so our dedicated customer service team is always there to assist you.
You might also find these frequently asked questions and answers helpful.
Do these briefcases offer compartments for tech devices?
Yes, many of our cases are designed for tech-savvy businesspeople, with specific compartments for laptops, phones, and accessories of various sizes.
What are the available color options?
We stock cases in black, brown, tan and red leather – so whatever your workplace expectations are – you can be equipped with a case that makes the statement you want to make.
How can I care for and clean my work bag?
Cleaning and care vary according to the individual attributes of the case you buy. At the point of purchase, you will receive advice and printed instructions on how best to keep your specific case looking great and lasting as long as possible.
Do you offer international shipping?
Yes, we provide international shipping to most countries in the world. See our Shipping Policy for details.
Are these briefcases suitable for professional environments?
Yes, these men's designer briefcases are designed and manufactured with today's workplaces in mind. We are confident that we carry a design that suits your personal needs and professional environment.
Can I gift wrap my order?
Yes, we offer gift wrapping services as an option at checkout.