Professional business laptop bags for Men, made from full grain leather.

Handmade in Florence, Italy. Can be personalized with a laser engraving.
Perfect for executives and professionals, these bags are an ideal choice for work or business settings.
City
Leather Laptop Bag
$995
Solid Brown
Elegant Black
Deep Red
No.1
Men's Leather Briefcase
$1,295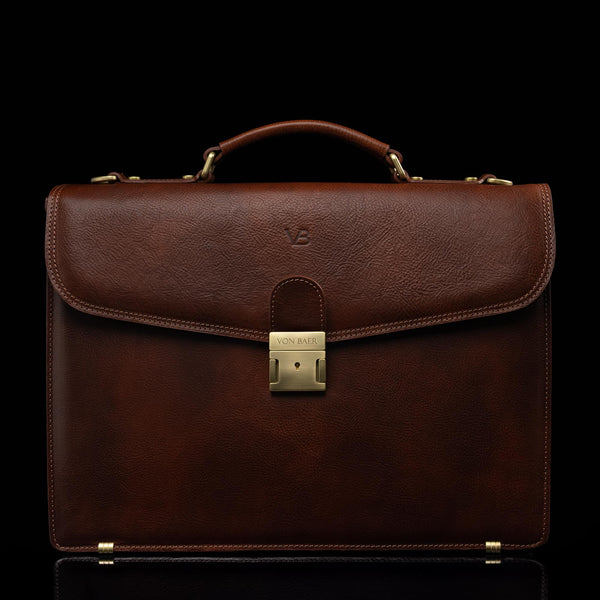 Solid Brown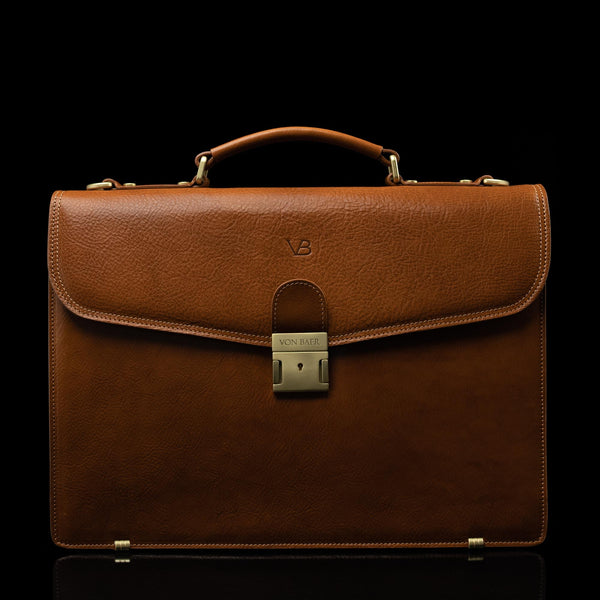 Classic Tan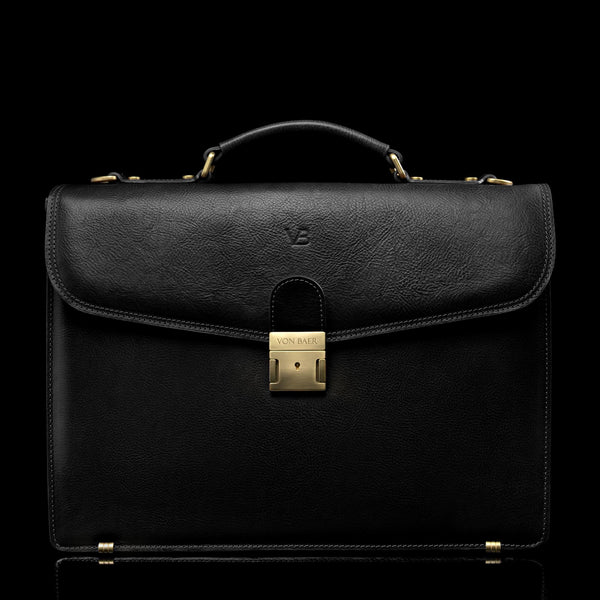 Elegant Black
Essential
Modern Briefcase
$875
Solid Brown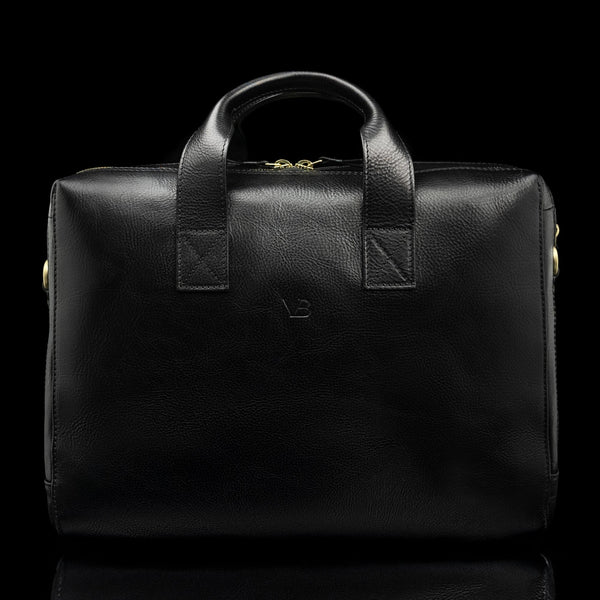 Elegant Black
Deep Red
Elegant
Slim Leather Laptop Bag
$895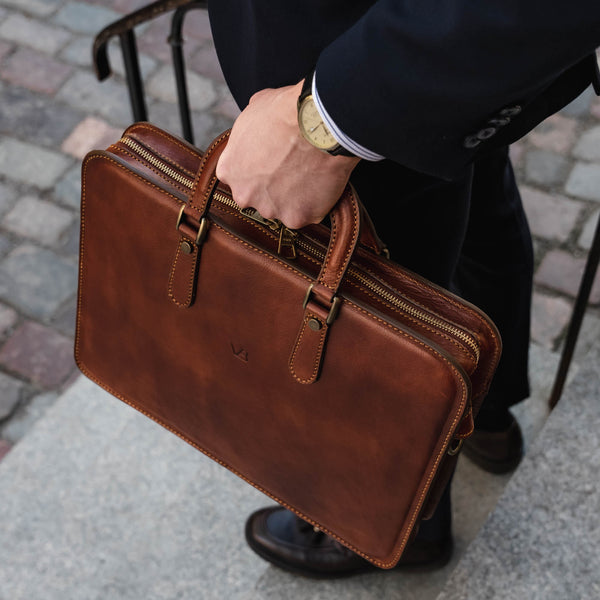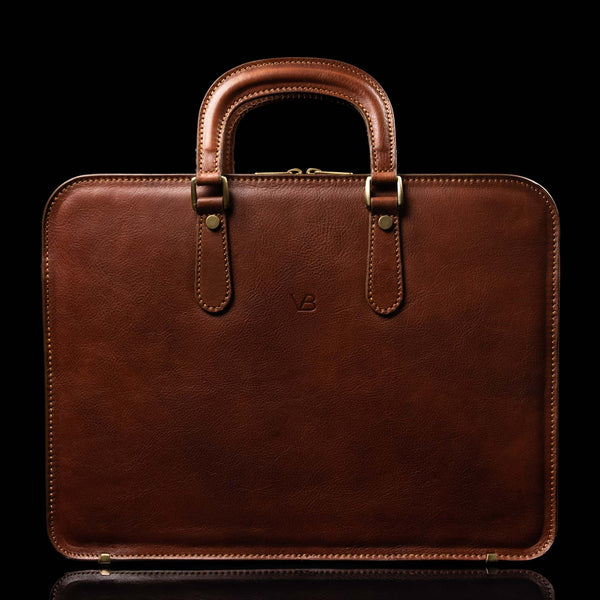 Solid Brown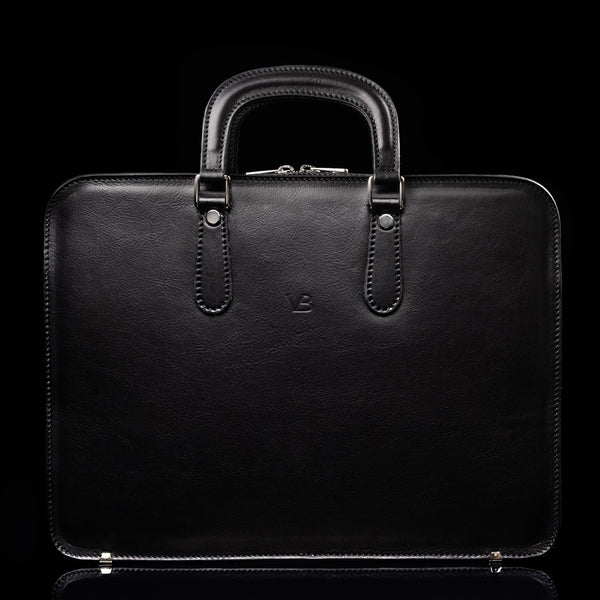 Elegant Black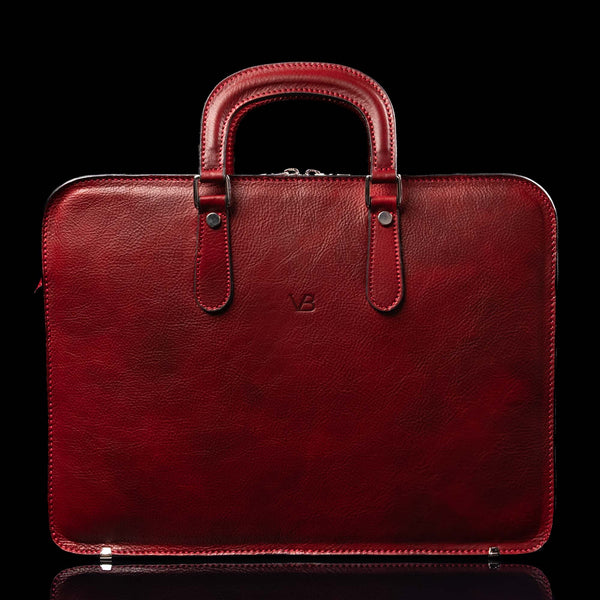 Deep Red
No.3
Leather Messenger Briefcase
$895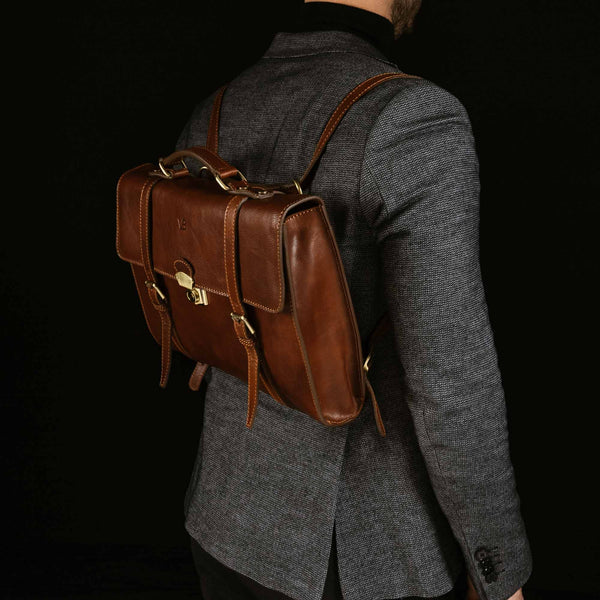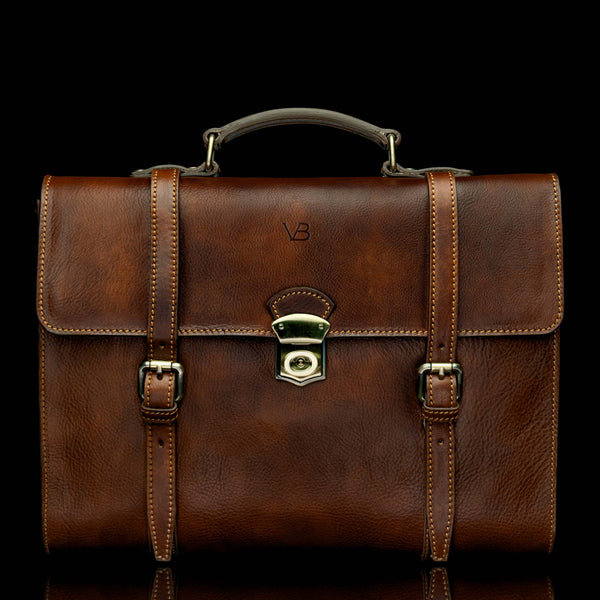 Solid Brown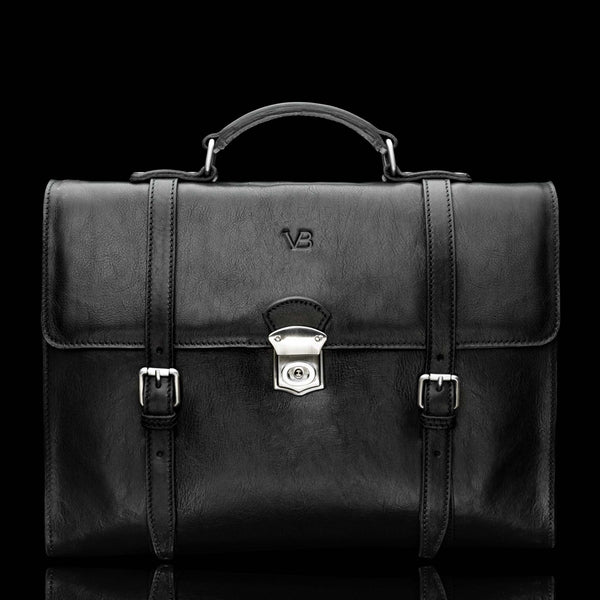 Elegant Black
Classic Tan
City Large
Leather Laptop Bag
$1,395
Solid Brown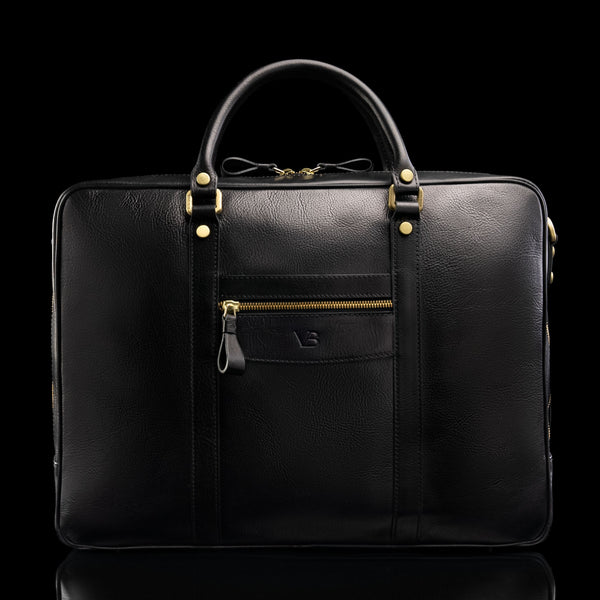 Elegant Black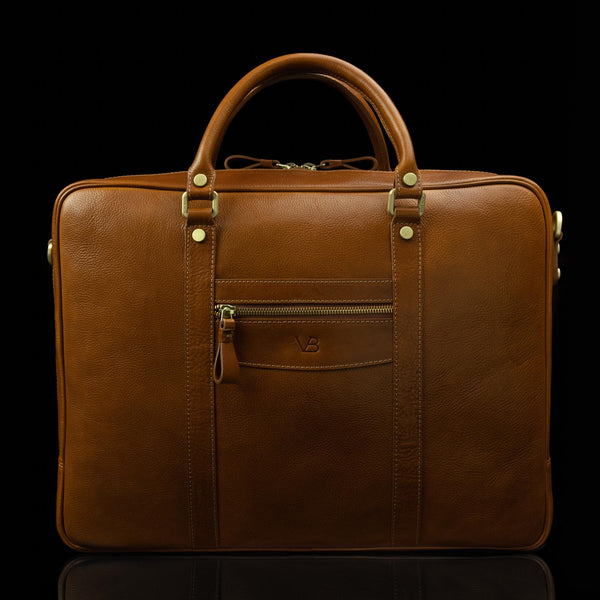 Classic Tan
Deep Red
No.2
Leather Messenger Briefcase
$1,495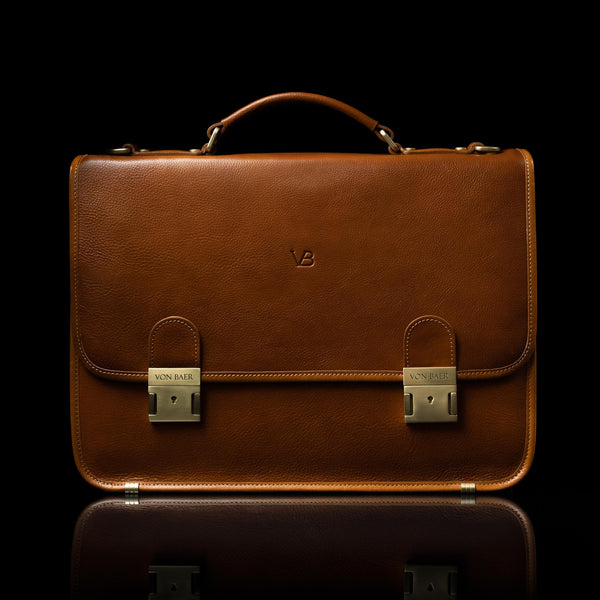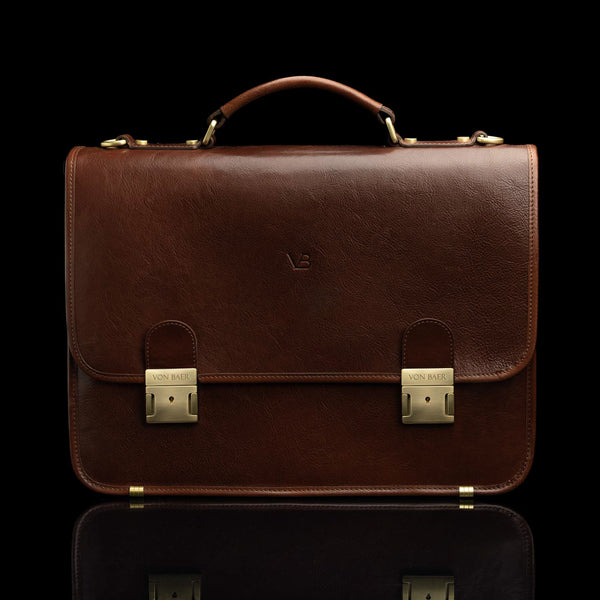 Solid Brown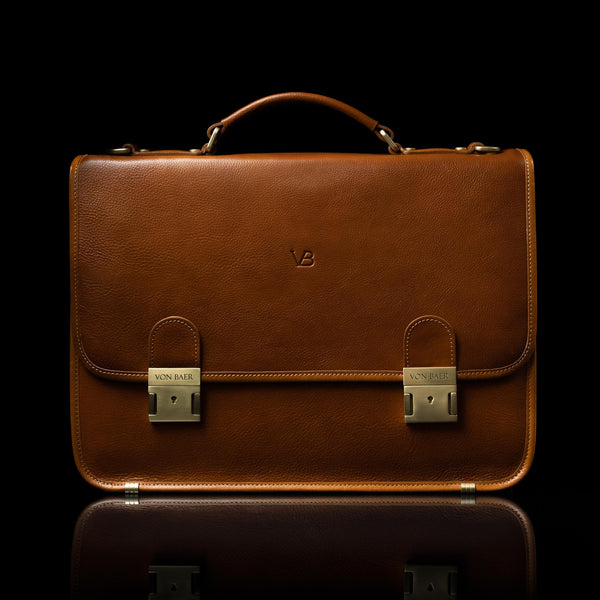 Classic Tan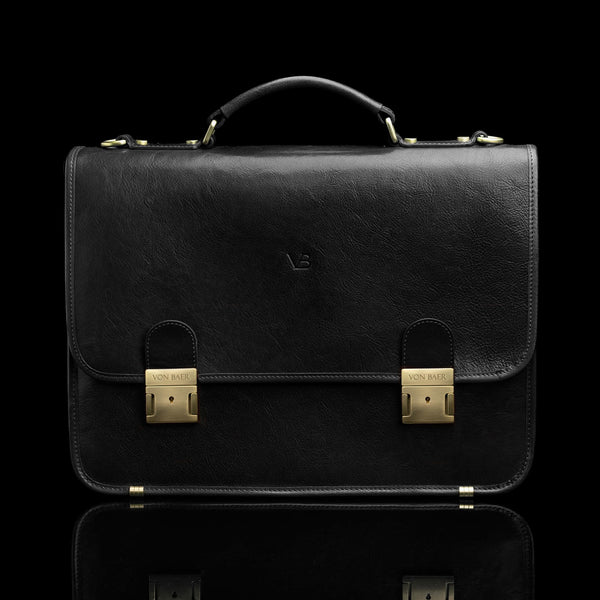 Elegant Black
10X
Leather Laptop Travel Bag
$1,295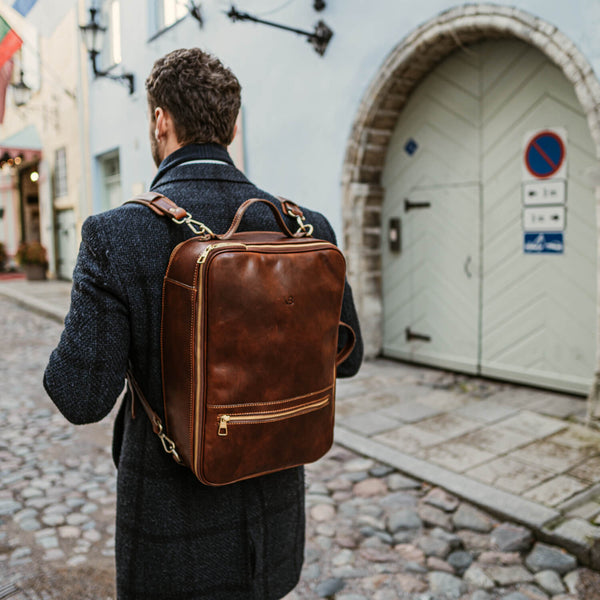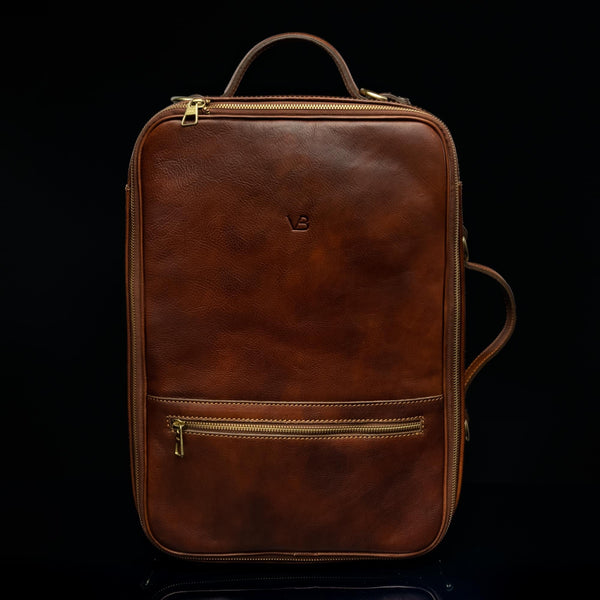 Solid Brown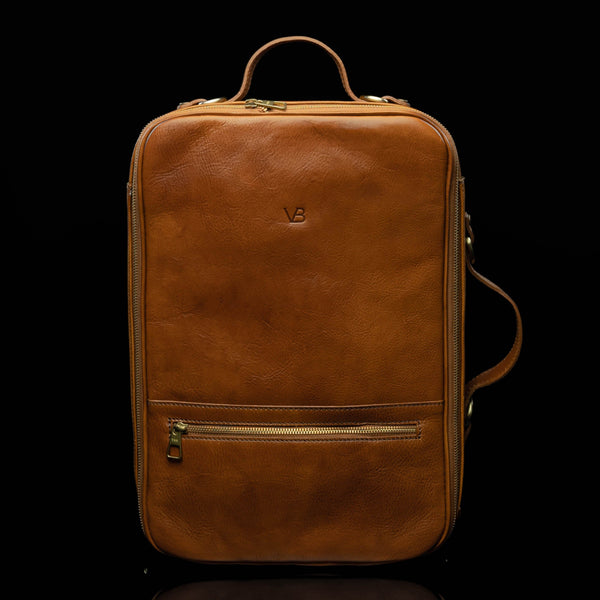 Classic Tan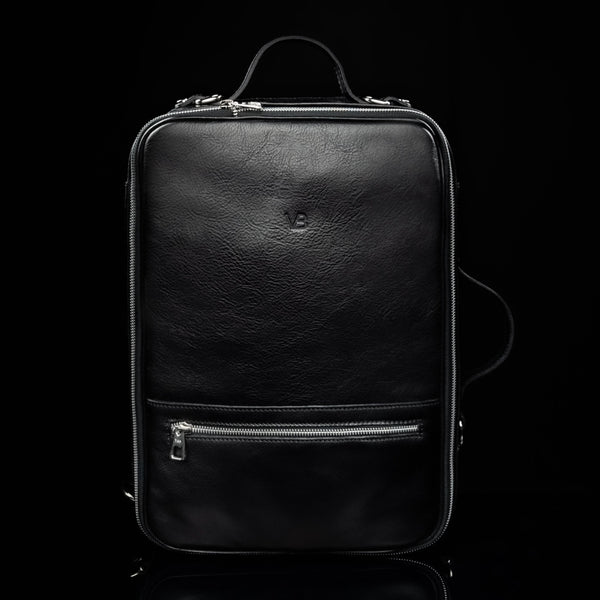 Elegant Black
Exquisite
Slim Leather Laptop Briefcase
$1,095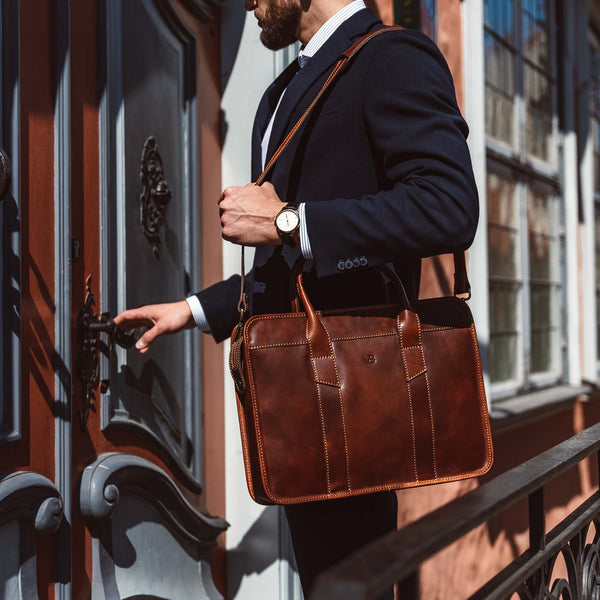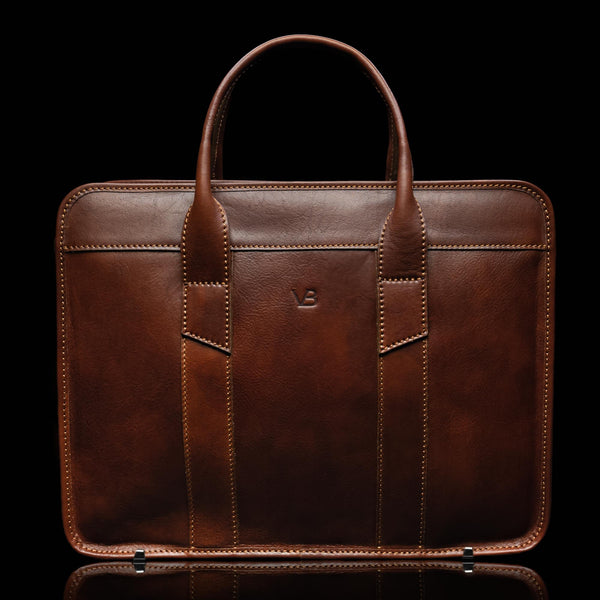 Solid Brown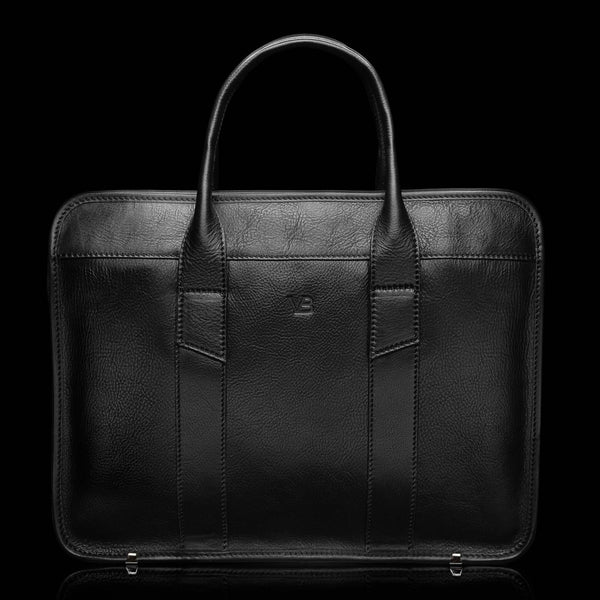 Elegant Black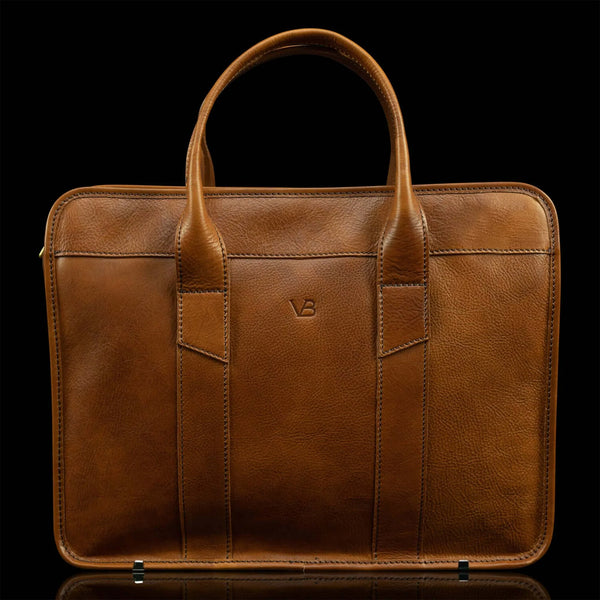 Classic Tan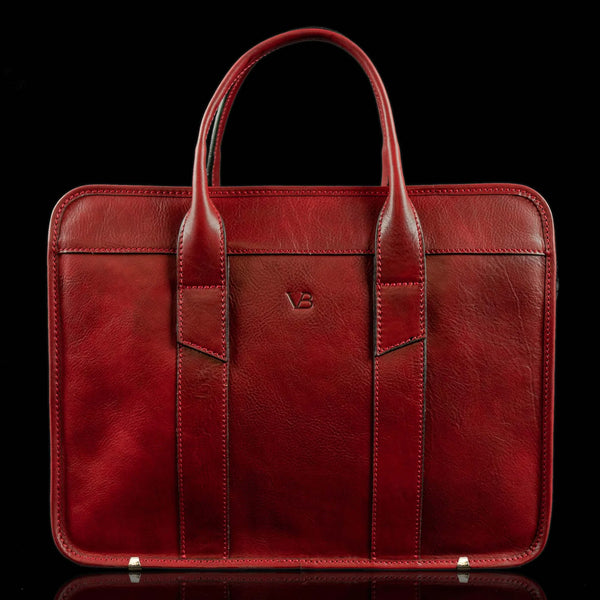 Deep Red
Well-Organized
Leather Laptop / Macbook Case
$695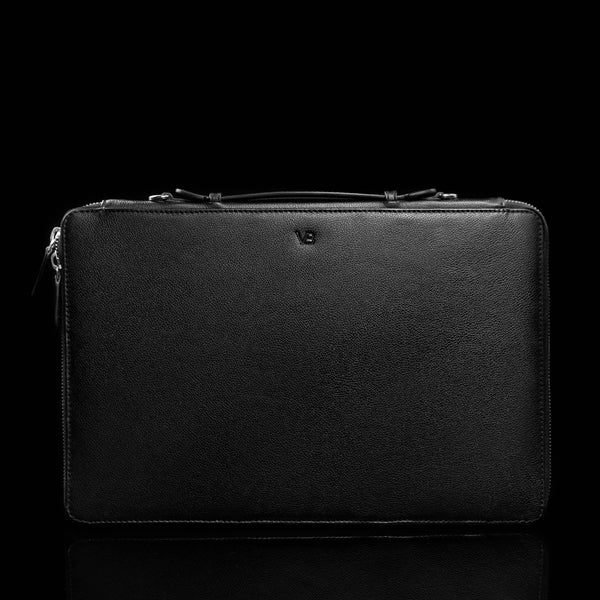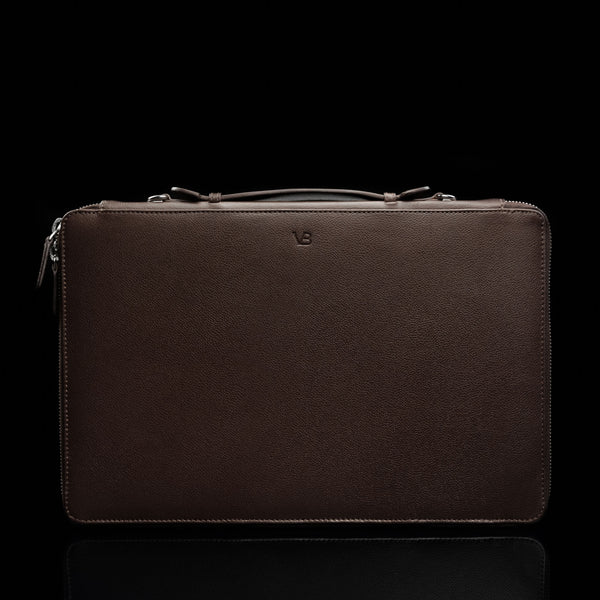 Dark Brown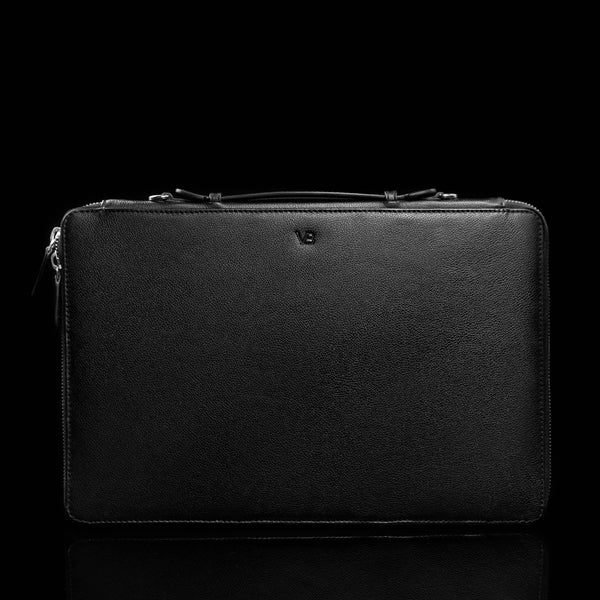 Elegant Black
What makes a Business Laptop Bag from Von Baer so special?
Handmade Business Laptop Bags
Von Baer Business Laptop Bags are expertly handcrafted by vastly experienced craftsmen in family-owned studios in Florence, Italy. This ensures every laptop bag meets the demands of your contemporary life without compromising on quality.

Highest quality full grain leather
We only use the finest full grain leather for our Italian leather Business Laptop Bags, which is the best that money can buy. You can tell when it's high-quality genuine leather, by the look and feel of the product, as well as how long it lasts. The Von Baer leather is vegetable tanned, handmade in small batches by artisan craftsmen in Florence, Italy.
Durable construction
Zips and metal on Business Laptop Bags are common stress points, which is why the hardware Von Baer use is high-quality metals with YKK zippers, to ensure very durable moving parts. The bag lining is made from premium durable cotton, ensuring a soft yet strong inner to your bag, able to handle the day-to-day of a busy commute.
Colors without compromise
Von Baer Business Laptop Bags come in 4 stylish leather colors, including black, brown, dark brown, or tan. These are all made from natural full grain leather, which ages nicely with leather patina. We also use solid brass hardware on all of our Business Laptop Bags.
Dedicated laptop compartment
All Von Baer Business Laptop Bags come with a dedicated compartment for your laptop or tablet. Our range includes 13-inch, 15-inch, and 17-inch compartments, so choose one that fits the tech you own.
Shoulder straps included
All Von Baer Business Laptop Bags also come with a removable shoulder strap, helping you turn them into a shoulder/messenger style bag. They are ideal for the daily commute to and from the office while keeping your hands free. Our Business Laptop Bags also come with exterior handles, usually two top handles.
Personalized with a laser engraving
Instead of monogramming, we use a high-quality laser engraving to personalize your Business Laptop Bag, ideal for your own bag or when buying as a gift.
Benefits
Business leather laptop bags have many benefits for individuals working in several industries. Let's examine some of the most significant advantages of owning a business leather laptop bag.
Organization and functionality
This kind of bag has been specifically designed to meet the needs of professionals daily.
The bags have separate compartments for housing laptops, documents, and other key business essentials.
They are designed to ensure easy access to all the items you need during the working day, whether you're on the move or in the office.
A professional look
Business leather laptop bags give you a stylish and professional look. They're great for many environments, including conference rooms, boardrooms, and offices.
They're also a suitable match for casual social scenarios. This could be your bag if you want to optimize your appearance by showing off your tastes and attention to detail.
Durability
These bags are made from high-quality leather, so they're designed to withstand everything daily business use can throw at them. They tend to be tough enough to last for years before they need to be replaced, ensuring they're a great investment.
Compatibility
These bags are compatible with laptops from all the world's leading brands. Their design ensures secure storage for most laptop sizes, whether you have a large professional machine or a more compact notebook.
Versatility
These bags aren't just designed to carry your laptop. They can also be used as document holders, overnight travel bags, and accessories for style-conscious people on days out.
Protection
The bags are noted for their tough leather construction. They deliver excellent protection not only for your laptop but for other devices too. They can protect costly items from scratches, minor impacts, and bad weather.
Comfort tailored to you
The vast majority of business leather laptop bags have adjustable shoulder straps. These make it easy for you to carry them for long periods.
They can keep the strain and pressure on your shoulders and back to a minimum to keep you comfortable throughout your commute and as you work.
An eco-friendly option
Leather is very popular with many eco-conscious people as it's a long-lasting, natural and biodegradable option.
How to choose

Explore the significant considerations you must weigh before proceeding with your purchase.
Material quality
The quality of a bag hinges on its material. Full-grain and top-grain leather offer superior durability and longevity.
Leather thickness
Many people aren't aware that the thickness of the leather is highly influential on its durability. Bags that have thicker leather are better at withstanding wear and tear. If you travel a lot or carry heavy content regularly, this can be exceptionally useful.
Design
It's essential to choose the right kind of design for your needs. Design reflects your style and can help you maintain a professional image.
Size and capacity
Your decision may be heavily influenced by the size of your laptop and other items you must carry.
Large bags can be ideal for people with additional documents, tools, and personal items to transport with them, whilst a compact bag could be best for you if you need a lightweight or minimalistic option that will help you carry your laptop alongside other essential goods.
Interior organization
Think carefully about the interior features of your bag, including the compartments, padding, and pockets.
A multi-compartment bag could be ideal for you if you have several items to carry and need to be separately organized.
A minimal compartment bag could be a good match if you only have a laptop and a few small items, especially if a sleek and uncluttered interior appeals to you.
Customizable interiors
Some bags come complete with adjustable or removable compartments. These are perfect for anyone who wants to customize the interior layer of their bag to meet specific needs, whether they need to house another device, work documents or personal belongings.
Compartment padding
Look for a bag with padded compartments, especially if you want to protect your laptop and any other gadgets against accidental drops and other impacts.
Compartment padding may not be a visible feature, but it can be worth its weight in gold.
Bag weight
It's important not to overlook the weight of your bag. If you have a lighter bag, this will cut the strain on your back and shoulders, particularly when it's holding your laptop and other essentials.
Try to prioritize lightweight design but don't compromise on durability to achieve outstanding long-term comfort.
Bag feet
These feet don't appear on every bag, but they can be very useful. They can keep your bag upright when you place it down and stop it from directly contacting the floor. This protects your investment from staining and scratches.
They tend to come in the form of small knobs located at the bottom of business leather laptop bags.
Comfort
It's very important to think about how comfortable the bag is, particularly if you're carrying it for long periods of time.
Durability
The durability of your bag is essential to its lifespan. Look at the stitching, whether it has metal parts, and how well the bag performs under weight.
Trolley sleeves
If you fly regularly, a trolley sleeve can be very useful. It can enable your bag to attach safely to the handle of your luggage for easier transportation.
Metal hardware
Look for quality metal zippers and clasps as these are less likely to jam, break or wear out than plastic hardware. Durable hardware may seem like a minor detail, but it can play a big role in prolonging the lifespan of your bag.
Price
Unless money is no object, it's inevitable that your bag will play a big role in your final decision.
Types
Briefcase laptop bags
These are traditional bags that have a timeless appeal thanks to their classic look as well as their structured design. They have a rectangular shape as well as a top-carry handle.
They tend to come complete with interior padding, which protects your laptop, and you can also expect to gain access to compartments for goods like pens, documents, and a smartphone.
If you regularly move between the courtroom and meetings, this could be your option.
Messenger laptop bags
These bags are renowned for their crossbody straps and flap closures. They give you the ideal blend of casualness and formality, giving you simple access to your laptop whilst helping you to create a relaxed appearance.
Popular with cycling commuters as well as anyone else who requires hands-free convenience whilst they're on the move, they are frequently purchased by freelance creatives and those who work in casual offices.
Satchel laptop bags
These bags are not dissimilar to messenger bags. However, they usually have a pair of vertical handles and a tougher structure.
If you want a bag that you can carry across your body that will give you a more polished appearance, need easy access but require something that's rather more formal than a messenger bag, a satchel laptop bag could be perfect.
Rolling laptop bags
These bags come complete with wheels and have an extendable handle. This makes them perfect for business travel. This bag should give you extra storage space and more compartments than other leather laptop bags.
Perhaps you're a sales professional or a consultant who travels for work frequently? Then this could be the bag for you.
Convertible leather bags
These multifunctional bags can be used as messenger bags, backpacks, and briefcases.
They come complete with adjustable straps and are noted for their versatility. They are great for people who work in dynamic environments and have become very popular with remote workers.
Backpack laptop bags
These big-selling bags blend a casual look with a practical design. A big benefit of this bag is that it will distribute weight over your shoulders evenly.
The bags come with dedicated padded laptop compartments as well as multiple pockets for additional items. These bags are particularly popular with students and people who work in casual settings.
Alternatives
Backpacks
Backpacks are noted for their convenience and flexibility. They are as stylish as they are practical, great for those who love hands-free travel and long-distance commuters.
They also provide separate compartments for laptops and other essentials. Nonetheless, they are only sometimes a great match for particularly formal business spaces.
Briefcases
These classic work bags are synonymous with professionalism. They can be great alternatives to business leather laptop bags, allowing you to create a more business-focused appearance.
They're an excellent match for executives and those working in high-ranking roles where creating a more polished look is vital.
Laptop sleeves
Laptop sleeves are targeted at people who prefer a more lightweight, minimalistic option. If you work from one location but need to carry your laptop occasionally, this could be a great option.
You can pair them with other bags too. They will give you protection for your laptop without the additional weight.
Messenger bags
Purchase a messenger bag to access your goods and enjoy the cross-body style easily.
These bags fit well into casual and semi-formal scenarios and are great for students and workers who need quick access to items like laptops, documents, and other essentials while on the move.
Tote bags
Tote bags deliver a fantastic blend of functionality and style. If you want to generate a more feminine look but maintain the organization of your laptop and other items, a tote bag could be for you. These bags are great for casual business environments alongside people seeking versatile options for both work and leisure.
Convertible bag
Consider buying a convertible bag if you can switch between backpack, briefcase, and messenger bag modes. These bags target those who like to adjust their bags to meet various preferences and requirements.
Post-Purchase Considerations
Post-Purchase Considerations
Creating the right fit
Perhaps you are concerned that your laptop and other essentials won't fit inside your bag?
If so, get your laptop measurements and compare them to the bag specifications you want to buy.
Remember to consider other essentials you need to house, including your notebooks, chargers, and tablet.
Leather quality
If you are concerned about leather quality, look for the Von Baer leather certificate of authenticity. This will guarantee the quality of the leather.
Maintenance concerns
If you are worried about keeping your bag in good condition, read the instructions that come with it. This will help ensure your bag ages well and maintains its charm and character.
FAQs
What kind of leather is used to make these bags?
Von Baer bags are made from the best quality full grain Italian leather.

How can I maintain and clean my leather laptop bag?
To keep your leather laptop bag in good condition, dust it with a soft dry cloth. If you want to do a deeper cleaning, you can use a specialist leather cleaner and a conditioner.
This will help you maintain the flexibility and appeal of the leather. It's wise to initially test out any cleaning product on a small hidden area.
What sizes of business leather laptop bags are available?
Von Baer stock business laptop bags with laptop compartments up to 17-inches.
Are leather bags water-resistant?
While leather has water-resistant properties, it is not waterproof. Business leather laptop bags may offer some level of water resistance, but prolonged exposure to water can damage the leather.
A leather protector can help enhance water resistance but always test it on a small hidden area first.
How much weight can these bags carry?
The weight capacity of business leather laptop bags can vary depending on their design and size. Look for bags with good reviews and designed to hold laptops and other work essentials comfortably.
It's best to check the product specifications or contact the manufacturer for specific weight capacity information.
Can these bags be personalized?
Yes, all Von Baer bags can be personalized with a laser engraving, perfect for a unique bag for you or a gift for a loved one.